Paradise on Earth | 4 Day Whitsundays Yacht Charter
If a holiday in paradise is calling your name, a private yacht charter across the Whitsundays is your answer. Shades of pure white and blue stretch across this most picturesque region of Australia, offering a haven of bliss like no other. Experience pure relaxation under the sun of Northern Australia, as you coast along the Great Barrier Reef on your private yacht. From Hamilton Island to Whitehaven Beach, this 4 day charter across the Whitsundays is the ultimate luxury reset, offering the perfect balance of fun and tranquillity for you and your crew.
Our favourite yachts for this region
Your pre charter checklist
Passport and copy; Email a copy to yourself

Visa document and copy; Email a copy to yourself

Drivers, Boat or Jet ski Licenses

Reading glasses / Sunglasses

Chargers

Camera

Books / Kindle
your 4 day itinerary
Day 1
WHITEHAVEN BEACH
KEY HIGHLIGHTS
No doubt the most pictured beach in the Whitsundays (and arguably the country), Whitehaven Beach's swirls of aqua blue waters and fluorescent white sands exude the feeling of a tropical paradise like nowhere else in the world. This award-winning beach is protected by the national park meaning there is an abundance of marine life for discovery when snorkelling beneath the surface. If you really want to treat yourself to a one-of-a-kind experience, hop off the private yacht charter and into a helicopter for a breathtaking scenic flight over one of the world's most famous beaches.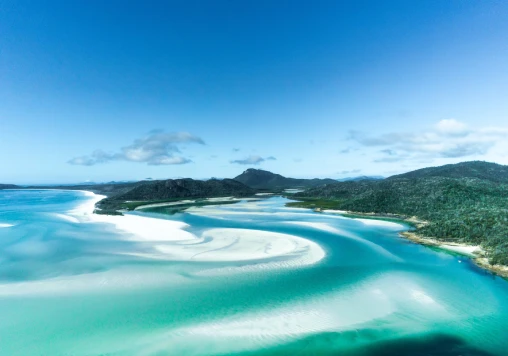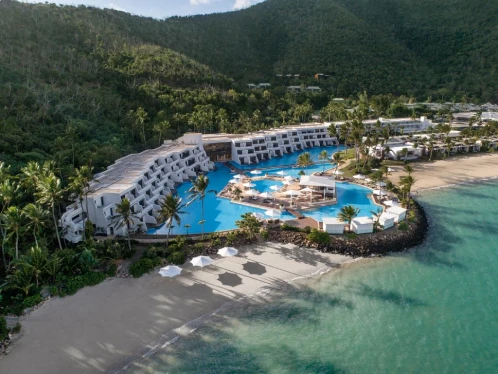 Day 2
HAYMAN ISLAND
KEY HIGHLIGHTS
A private yacht charter to the Whitsundays would not be complete without a stop at the ultra-luxurious and privately-owned Hayman Island, where lush green hills drop into secluded bays and low valleys. Its highest peak, Dolphin Point, sits 250 metres above sea level and can be reached by a steep uphill walk that is well worth the spectacular panoramic views over the Great Barrier Reef. But the best vantage point is the one from above—so a seaplane ride over the majestic Whitsundays and Hayman Island is highly recommended and a bucketlist experience.
Day 3
NECK BAY
KEY HIGHLIGHTS
Often completely secluded, Neck Bay on Shaw Island is an anchorage on a sand spit that is well worth exploring. Sitting as one of the most southerly anchorages in the Whitsundays, you'll discover a protected bay ideal for fishing, swimming and walking; sans the tourists. If you feel like hopping off the boat, take the trail that leads you from one side of the island to the other; you'll likely be the only person walking it. This secret slice of paradise is only accessible by water and is popular among kayakers heading from Mackay Beach to Airlie Beach.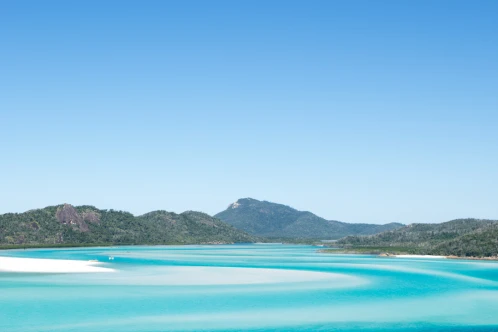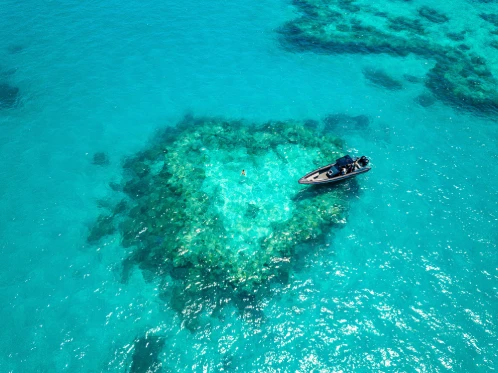 Day 3
HAMILTON ISLAND
KEY HIGHLIGHTS
Motor vehicle-free and predominantly covered in rich bushland, it's no surprise this paradise-like island floating on the edge of one of the world's most beautiful reefs attracts the world's crème de la crème. Whether your pastime prefers teeing off at the Par 71 Hamilton Island Golf Course with a backdrop of Coral Sea views, hopping on a jet ski at Catseye Beach, trekking to the top of Passage Peak for some seriously incredible panoramas or discovering the vibrant underwater nirvana that surrounds the island; there's something for everyone on Hamilton Island.
Enquire now