Insta-Worthy Snorkelling Spots to Visit in 2021 | Superyacht Itinerary
When you feel like you've had more than your fair share of nightclubs, museums, beaches and historical architecture, heading underwater is the only way to go. Access a world of tropical fish, friendly sharks, majestic turtles and beautiful reefs from the convenience of your superyacht.
These underwater worlds are just made for Instagram, with each one serving up its own unique look and feel so pack your finest swimsuit, snorkel and GoPro. Are you ready to dive into some of the most beautiful snorkelling hotspots around the world and discover the hidden beauty beneath the waves? Here are some of our favourites to get you started.
St Thomas | Virgin Islands
While St John is usually the place most people first think of when looking to go snorkeling in the Virgin Islands, St Thomas is definitely worth checking out. The rocky reef located on Coki Beach is perfect for all ability levels, with friendly fish and turtles swimming right up to snorkelers and divers. The popular beach has plenty of restaurants and bars if you fancy a midday snack, alternatively, you can enjoy a decadent beach picnic prepared by your personal superyacht chef. For somewhere a little bit more private, check out the waters of nearby Secret Harbour. A popular spot with residents and visitors alike, there's always something to see both above and beneath the waves. Once you've enjoyed a day of snorkeling, return to your luxury yacht for a sunset cocktail and an alfresco dinner as the sun sets over the ocean.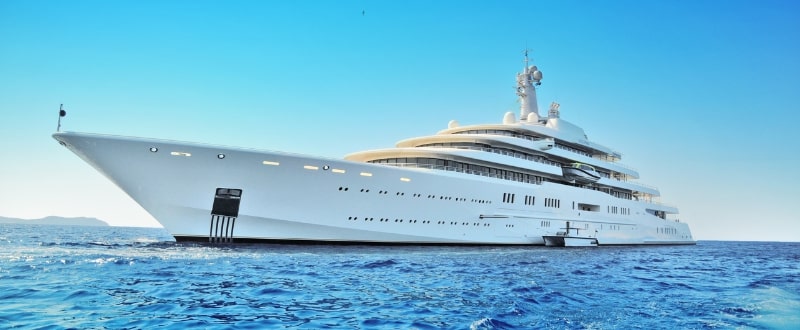 Bait Reef Lagoon | Australia
Australia is home to the world-famous Great Barrier Reef. If you want to enjoy a private underwater paradise, Bait Reef Lagoon is the place for you. Located in the dreamy Whitsundays, Bait Reef is a protected lagoon teeming with aquatic beauty. Head beneath the gentle waves at Gary's Lagoon and enter a world of soft corals, turtles and schools of fish at every stroke. For those looking to take their snorkelling to the next level, moving out into the reef edge will give you a glimpse into the clear open waters teeming with young sharks, jellies and larger fish.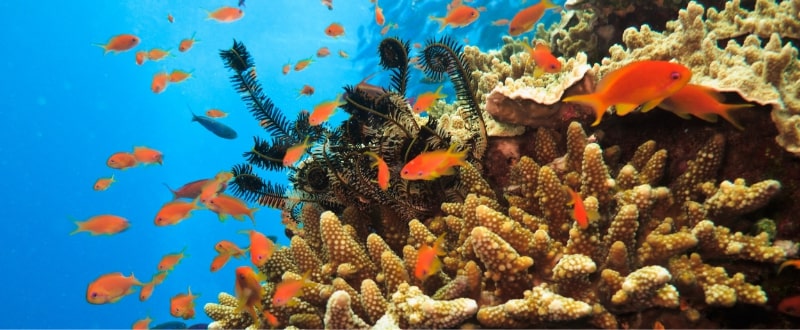 Komodo National Park | Indonesia
Home to the rare and prehistoric Komodo Dragon, Komodo National Park is a haven for snorkelers and scuba divers alike. From the reef of Siaba Besar with its shallow waters and gentle currents to the vibrant, fish-filled reef of Tatawa Kecil, there's something for every level of experience. For those looking to get up close and personal with giant manta rays, sharks, huge schools of colourful fish and Hawksbill turtles, Mawan Island is the perfect place to drop anchor and dive in. If drying off on a tropical beach after your time beneath the waves sounds like your thing, then the waters of Kanawa Island will tick all the boxes.
Baa Atoll | Maldives
Possibly one of the most beautiful places on Earth, the Maldives have the clearest, calmest and warmest sea to be found in the world. Hanifaru Bay is home to the best snorkelling spots, offering plenty of opportunities to swim with rays, clownfish, and even the largest fish of all, whale sharks. The shallow waters of the protected lagoon make it perfect for even the least experienced snorkelers. With 75 islands spread out over 1,200 km2 and enough 'thila' (underwater islands) to keep you engaged for weeks, this Biosphere Reserve has it all. Superyachts , secluded tropical islands, stunning marine life and great weather – what more could you wish for on your next yacht charter holiday.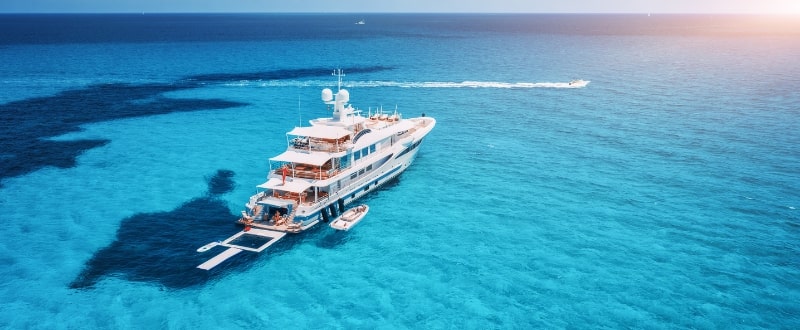 Blue Lagoon | Malta
While the Blue Lagoon in Malta doesn't have any reefs, there is so much to enjoy here. Located on the island of Comino, it's heaven for snorkelling, diving, swimming and photography. On the opposite side of the lagoon, you'll find Cominotto, which is less crowded and perfect for enjoying the clear, warm waters in peace. To really escape the crowds, nearby Crystal Lagoon has all of the same beauty but a fraction of the crowds that flock to these iconic waters. At their deepest, the lagoons are just a few metres deep – making them ideal for even the most inexperienced snorkelers. Brilliant sunshine, towering cliffs and plenty of marine life, along with island walking trails and scorching Mediterranean vibes, make Malta a must for those looking for something extra special in the summer.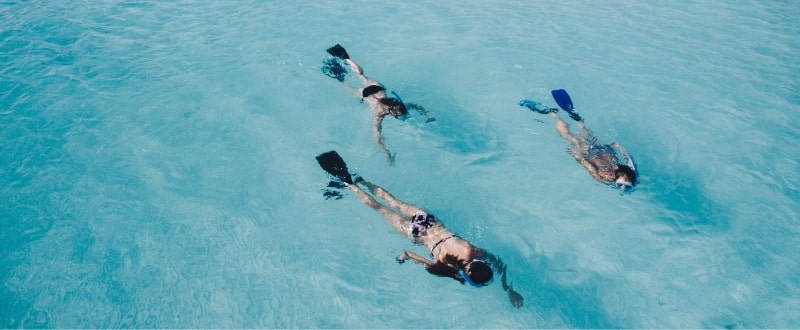 Cala Luna | Sardinia
With its towering limestone cliffs, turquoise waters, lush foliage and white sands, Cala Luna is a fantastic place for heading beneath the waves. Reaching this little slice of paradise only accessible easily by yacht.- makes it much less crowded than many of the other beaches in Sardinia. Enjoy spending the day diving with colourful fish, crustaceans and turtles before making your way to the majestic Bue Marino Caves and their treasure trove of stalagmites, stalactites and rock carvings. In July, calm ocean waters, gentle currents, and a sea temperature of around 24 degrees celsius provide optimal swimming, snorkelling, and diving conditions. Other notable beaches to explore include Cala Brandinchi, Cala Mariolu and Tuerredda.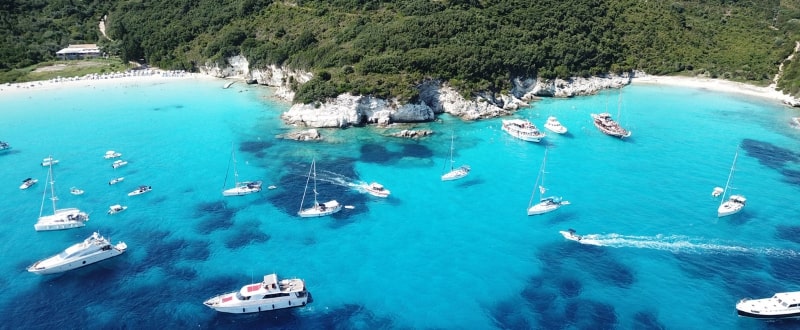 Koh Nang Yuan | Thailand
Thailand is a land full of beauty. From glittering temples and tropical jungles to mountain plateaus and palm-fringed beaches – beauty isn't only found on land. The island of Koh Nang Yuan, near Koh Tao, is the perfect place to enjoy snorkelling in crystal clear waters. Reaching the island is a short cruise from to Koh Tao onboard your superyacht, so take this time to enjoy a hydrating coconut water or mocktail before heading below the water's surface.. . Just meters off of the main beach, hard and soft coral reefs wait to be explored. The Japanese Gardens and Green Rock are two excellent places to dive with Trigger Fish, turtles and a plethora of aquatic life in calm, shallow waters.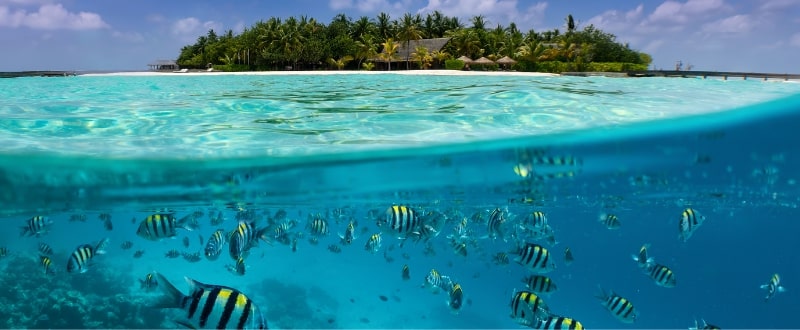 Snorkelling Hotspots & Luxury Superyacht Rentals
Spend long, lazy days exploring coral reefs, colourful marine life and hidden coves while travelling in style. Enjoy an authentic 5-star experience from the moment you embark and get ready to rediscover the true meaning of luxury with Ahoy Club. From world-class superyachts to impeccable service every step of the way, we'll make your escape one to remember.

Ready to enjoy the best of life both on and beneath the waves? Get in touch today or browse our charter yachts to inspire your next visit and explore the many options we have available.