CREATING UNFORGETABLE MEMORIES GLOBALLY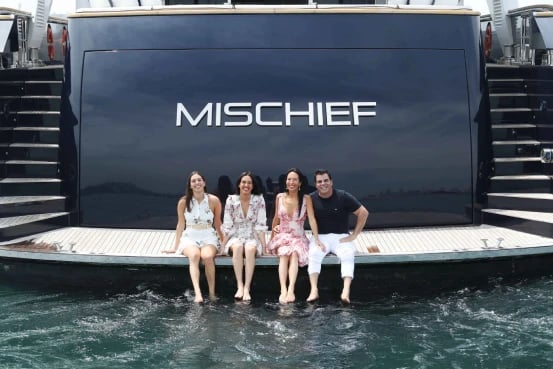 YACHTING IS IN OUR DNA
Ahoy Club was founded in 2018 by the Malouf family from Sydney Australia, seasoned yacht owners and charterers who after working with traditional yacht agents, wanted to create a better way for customers to charter or purchase yachts, providing owners with an agent that can truly create customer loyalty, and an unrivalled global presence.
We have the world's largest online selection of over 3,000 yachts, the industry's best chartering technology, access to real-time consumer insights and seven-star customer service, we're set to become the fastest-growing yacht charter company in the world.
A GLOBAL TEAM PRESENCE
Our team are experts in the yachting industry. From top destination insights, to selecting the best yacht for your purchase or chartering needs, they're just as passionate about yachts as you are.
FAST FACTS
ACCESS
4000
Yachts Globally
THOUSANDS
OF CONVERTED CLIENTS
CONSISTANT
5-STAR
GOOGLE REVIEWS
OVER
5000
PARTNERS WORLD-WIDE
OUR SERVICES
Ahoy Club's access to thousands of yachts globally, plus a fleet of owned superyachts, megayachts, villas and jets, combined with our personal concierge and over 20 years' experience in brokerage, enables us to offer unique and unrivalled experiences to our customers. We add value far beyond a satisfying purchase, with invitations to bucket list events, exclusive members discounts, insider's recommendations, trend analysis, insights and unrivalled accessibility to the global luxury market. We hope to get the chance to serve you and welcome you into our Club of fulfilled customers.
CUSTOMER TESTIMONIALS
"So Easy!"

I recently booked a day charter for Sydney Harbour via Ahoy Club. The website booking process was so easy to use, and the staff were very kind and helpful answering all my questions. We will definitely use Ahoy again for our next day charter!

Aaron. R

"Beyond Our Expectations"

We met Ahoy Club at the Sydney Boat Show, Ellie from Ahoy Club, took time and sat with us to go through what they did. Very informative and such great people.
We booked our first charter with Ahoy Club recently, and everything that was requested was fulfilled beyond our expectations. Thank you so much Ahoy Club for an amazing experience.

Sarah. A

"Seamless Experience"

Ahoy club have always helped me out seamlessly we'll with my requests. I am a recurring customer as I find them so easy to deal with. Specifically Sophia who has great attention to detail and understands exactly what I need right away (without even much detail from me). Thank you to the team at Ahoy Club!

Ben. P

"Outstanding from beginning to end"

We have just completed a wonderful charter through the Greek Islands all expertly arranged by Ahoy Club. The Ahoy App made comparing and selecting yachts so simple. We were able to arrange all onboard provisioning simply by using the App. Ahoy's experienced travel concierge meticulously planned a bespoke itinerary and seamlessly arranged our transfers and connections. Our first charter experience with Ahoy was outstanding from beginning to end.

Sarah. D

"First Hand Experience"

Sophia and Ellie always do a great job. They s'ent me a number of yachts to consider and were very thorough throughout the selection process. It helps that the girls have had tangible experience staying/enjoying yachts so they can speak first hand about their recommendations.

David. G

"Amazing Day"

I would also like to compliment your team, the service from our arrival right through to our departure was second to none. The food and drinks, service and attention to detail to ensure our guests were looked after by Amanda and her team was exceptional.
You should be very proud of your team and the standards you achieve, it is rewarding for all to see.

Daniel. F

"Highly Recommend"

Ahoy Club are fantastic and highly recommended for corporate events with a gold star!

Olivar. M

"Helpful Team"

Ahoy has been so helpful in trying to make this last-minute event happen. They were always ready to answer questions and made sure the boat was exactly what I was looking for.

Navroz. S

"I loved everything about it"

Ahoy Club have been so great throughout the whole process of organising the boat. It was a complete luxury and I loved everything about it

Amber. O

"Superstar Agent"

Georgie Damianakis was a superstar

Patric. R

"Fantastic company"

Fantasic company to deal with

Tony. S

"Friendly, professional and thoughtful"

The ladies at Ahoy were incredibly accommodating and professional. To be available for a boat visit early on Boxing Day to the chasing up of preference sheets and discussions of all requirements on board they were friendly, professional and thoughtful. Thank you ladies.

Kate. S