Bucket List Moments - Explore Australia on a Superyacht
The most rewarding way to explore Australia is certainly by a luxury yacht charter and if you're thinking about ticking this experience off your bucket list, then this blog will tell you everything you need to know. Offering a range of sailing yachts, motor yachts and catamarans, Ahoy Club's team of professionals will ensure your charter holiday is one that you will never forget. Whether you're wanting to explore the turquoise waters of the Whitsundays, the secret coves in Sydney or visit the unique pearl farms in the Kimberley region, it is all doable via a luxury yacht charter with Ahoy Club.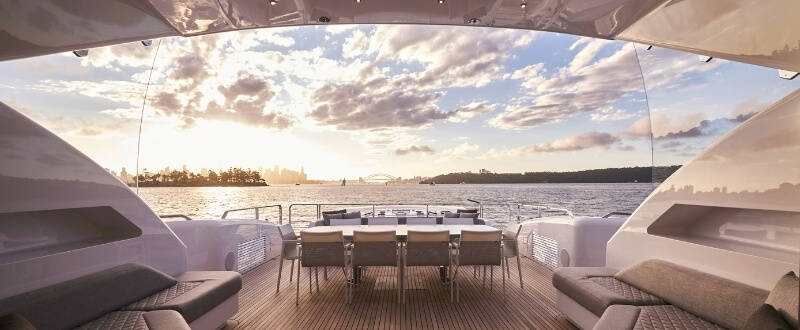 Why Explore Australia on a Superyacht
There are lots of reasons why superyacht hire in Australia is the best option for exploring this ancient landscape. With the ability to create your own personalised itinerary suited to your interests, here are just a few experiences that you'll enjoy on this bucket list trip of a lifetime: All the luxuries of home, no matter where you go
– A professional crew to guide your travels
– The ability to travel on your own schedule
– Easy access to Australia's most tropical locations and attractions
– Visiting one of the natural world wonders; The Great Barrier Reef
What are you waiting for?
What to Experience
Chartering a luxury yacht in Australia gives you the chance to visit some of this country's best sites and indulge in the best experiences. From Sydney's vibrant firework display on the harbour or whether you're cruising the pristine waters of the Whitsundays, the world is your oyster.
Sydney Harbour New Year's Eve
Sydney Harbour is considered to be one of the most beautiful harbours in the world. The harbour boasts incredible blue water and is surrounded by some of Australia's most famous sites, including the eminent Harbour Bridge and the Sydney Opera House.
The weather in Sydney is also splendidly perfect, particularly if you visit in the warmer months. What could be better for days on the harbour?
New Year's Eve in Sydney Harbour is an extra special event. Filled with boats, luxury yachts, revelry, activities and an incredible atmosphere, it's the pinnacle of the New Year's celebrations in Australia. There is no better way to spend your evening than on a luxury yacht, sipping the finest champagne with front-row views of the impressive firework display.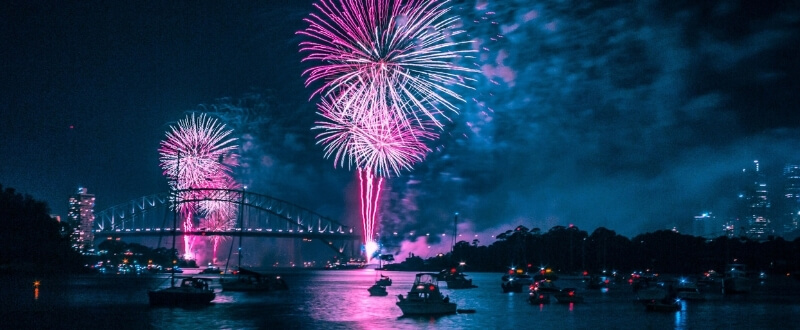 The Kimberley Region
The Kimberley region in Western Australia possesses some of the most starkly and breathtaking landscapes in Australia, whilst also being incredibly remote.
This is your chance to see the rugged ranges, thousands of miles of white sand beaches, dramatic gorges, and ancient sites that make up WA's northern region. The best thing about it is that you'll get to do it knowing that your luxury yacht with its own private chef is waiting for you once you complete your day of exploration.
There's nothing like retreating from a day of adventure into a luxurious, air-conditioned yacht for a bit of recovery time. To elevate your experience even further, ask your professional crew to organise a spa afternoon on the sundeck, where you will be pampered all afternoon with a beverage of choice.
Numerous sites in the Kimberley region are worth exploring, including:
– Windjana Gorge National Park, with stunning limestone cliffs
– The Horizontal Falls
– The weirdly wonderful 360-million-year-old Bungle Bungle Range in the World Heritage Purnululu National Park
– Rock art, exploring Aboriginal Dreamtime stories
– Cable Beach, one of the most beautiful and secluded white sand beaches in the world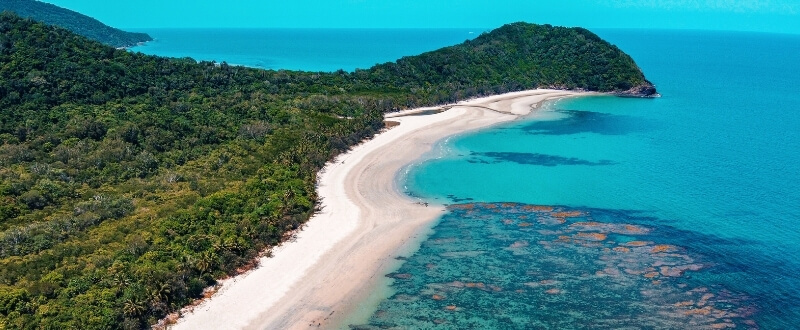 The Whitsundays
The Whitsundays are a collection of islands on Queensland's Central Coast. The islands are all beautifully unique and are also located right in the centre of the famous Great Barrier Reef. So if you enjoy swimming, snorkelling, or diving, then this is your dream location. Even better, enjoy a few hours of paddleboarding, jet skiing or kayaking with the watertoys available onboard.
The Great Barrier Reef is the world's largest coral reef and home to countless marine species. It's one of the most beautiful sights in the world and a must-see on everyone's bucket list.
It also offers lots of chances to get up close and personal with local wildlife like whales on their migration, dolphins frolicking and thousands of species of fish.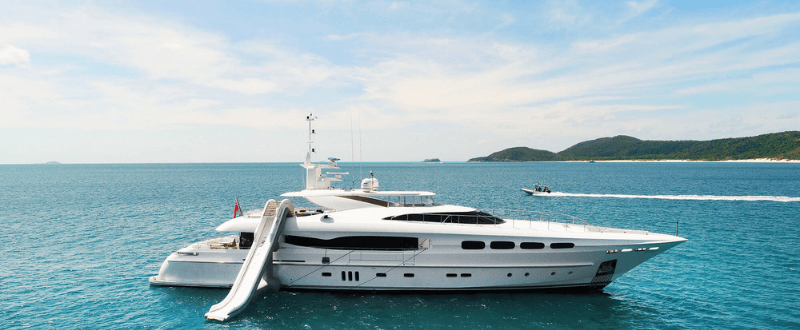 Superyacht hire in Australia gives you the chance to explore this natural area as much as you want. You should also take the opportunity to spend some time on a few of the local islands, such as:
– Hamilton Island, for great water and land activities as well as shopping and luxury boutiques
– Whitsunday Island, which is mostly uninhabited and offers a fabulous national park with great hiking trails
– Hayman Island, for high-class restaurants
– Long Island for untouched landscapes and more adventurous travel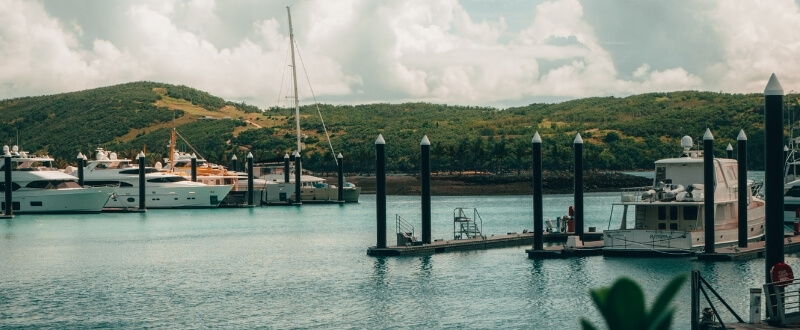 Sydney Harbour
You already know that you need to visit Sydney Harbour for New Year's Eve. However, you should also take the opportunity to get there a few days early for the Sydney to Hobart race.
An iconic summer sport in Australia, the Sydney to Hobart race was first held in 1945 and has been gaining in popularity as the years go by.
The race sets out on Boxing Day, the day after Christmas. The race itself takes 3-4 days and sees maxi yachts and weekend racers from all over Australia participating.
The beginning of the race is really a stunning sight, with yachts of all kinds lining the famous Sydney Harbour. It's even better if you can see it from the water and avoid the crowds of people who line the harbour in anticipation of the start of the race.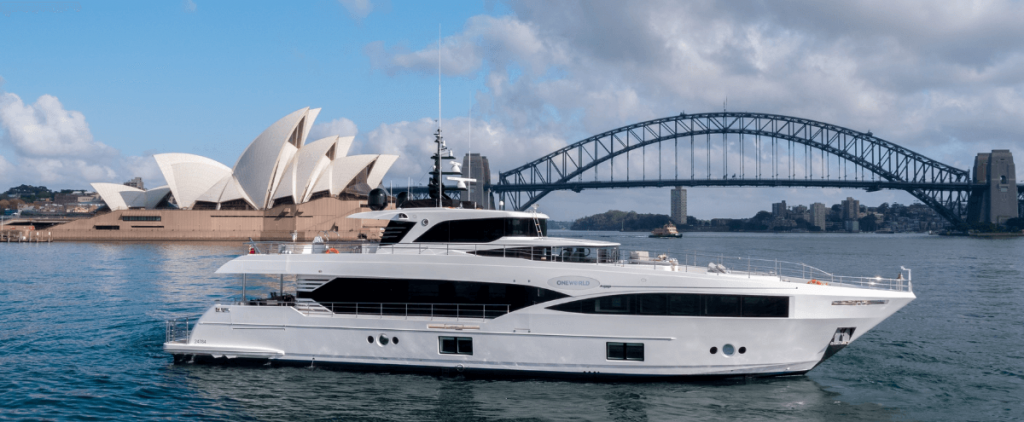 Your Next Bucket List Moments Await in Australia
The best thing about hiring a superyacht in Australia is the chance to explore this enormous country in your own time and in perfect luxury. You will also have the comfort of knowing that your trip will be as smooth and easy as possible when you book through Ahoy Club.
Focusing on delivering a seven-star experience, work with our team of charter specialists on creating your dream holiday in Australia. Contact us today about your yacht charter adventure.