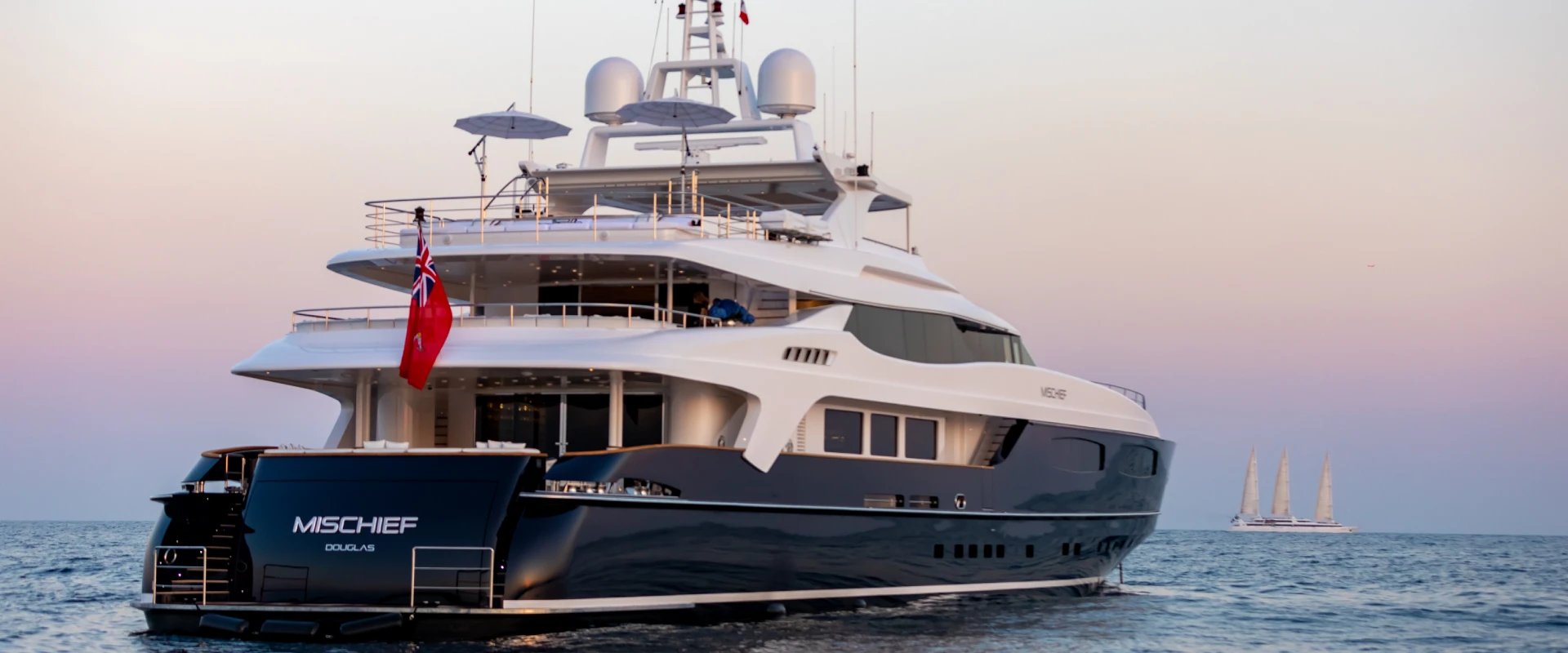 MISCHIEF YACHT
Ahoy Club's MISCHIEF superyacht is one of our most popular yachts for day and term charters. Strikingly modern, MISCHIEF stands out among the crowds of superyachts with its sleek lines and modern design.
As the largest commercial superyacht in Australia, this superyacht isn't all flash and no substance. The inner spaces are designed to be luxurious and comfortable, perfect for parties, corporate events, and relaxed holidays cruising beautiful destinations.
Book Mischief Now
Our Favourite Features on Mischief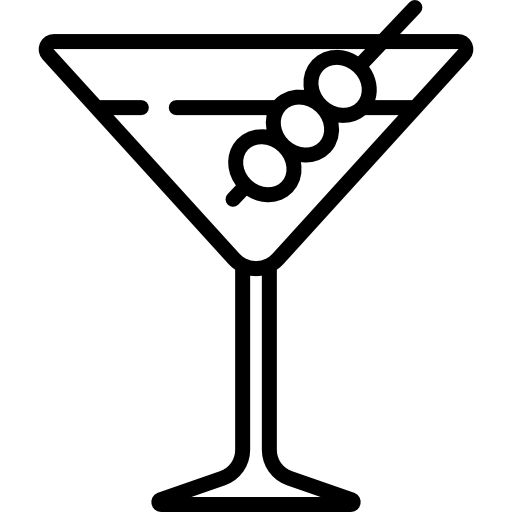 A main salon with a large marble bar perfect for event charters or late night cocktails.

A full master suite cabin with an incredible ensuite and infrared sauna.

Tri-deck yacht with spa pool.

6 cabins in total with two twin rooms perfect for children or convertible to super kings for adult guests.

Dining options on all decks. For day charters, MISCHIEF can host up to 100 guests for formal dining or 200 guests for cocktail events.

Electronic entertainment options from Apple TV to an Xbox and an extensive movie and music library.

Extensive choice of water toys.
DAY CHARTER AND TERM CHARTER OPTIONS
MISCHIEF superyacht is suitable for a range of trip types and travel styles. Delight in the luxury and charm of this yacht whether you are sailing along the Whitsundays for two weeks or partying on a day charter in Sydney Harbour.
MISCHIEF is perfect for all types of charters
Day Charter
Is there any better way to impress your friends, colleagues, or clients than with a day charter on a beautiful superyacht? Plan your next special corporate event, party, wedding or family outing aboard MISCHIEF.
Here's the wide range of features available on MISCHIEF for your day on the water:
3 decks perfect for entertaining and large groups
Largest yacht in Australia for charter
A dedicated and experienced crew
Spacious, comfortable interior spaces for parties or events
Opportunities for decorating – perfect for brand events
AV equipment for all your audio and visual needs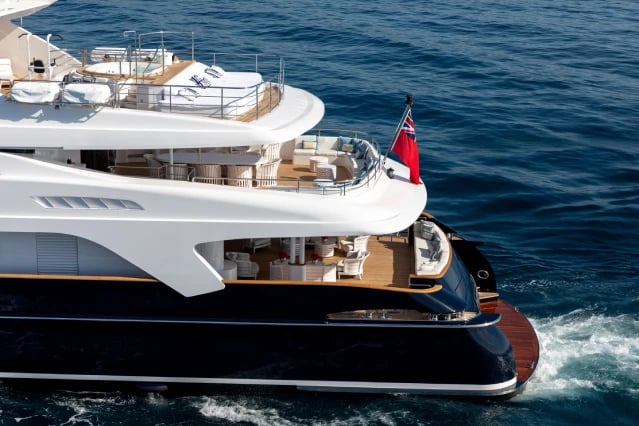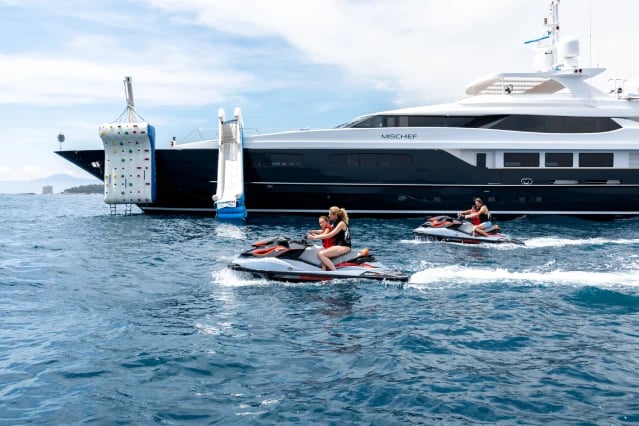 Term Charter
MISCHIEF superyacht also has a range of features to keep you happy and entertained on longer-term charters. This means you can cruise to some of the most beautiful spots in the world in complete comfort and luxury!
Here's what makes MISCHIEF ideal for longer yacht charter trips:
6 luxurious cabins perfect for couples, families, and friends
Sleeps 12 guests
Spa pool on the sundeck
Master cabin ensuite comes with an infrared sauna
Experienced crew of 14 for the highest level of service
Tri-deck so everyone has their own space
Multiple outdoor dining spaces for alfresco meals
Abundant choice of water toys available onboard ranging from Fliteboards to paddleboards and inflatables
When you travel with Ahoy Club, you travel with the experts. With every yacht charter, you'll enjoy the guidance and assistance of a dedicated Ahoy Club experience team.
Your dedicated team can help with everything from choosing the right destination to ensuring that every aspect of your trip is enjoyable and tailored to your preferences.
PRIVACY AND LUXURY
When you travel by yacht, you get to see the best that the world has to offer. MISCHIEF allows you to just enjoy the world and your own freedom with the highest standard of service.
On a superyacht, you have the perfect, luxury base to come back to when you get tired of the crowds on shore. You'll also have the chance to explore hidden, secret parts of the world that few other travellers get to see. You'll also be able to travel under your own power, without following anyone's itinerary but your own.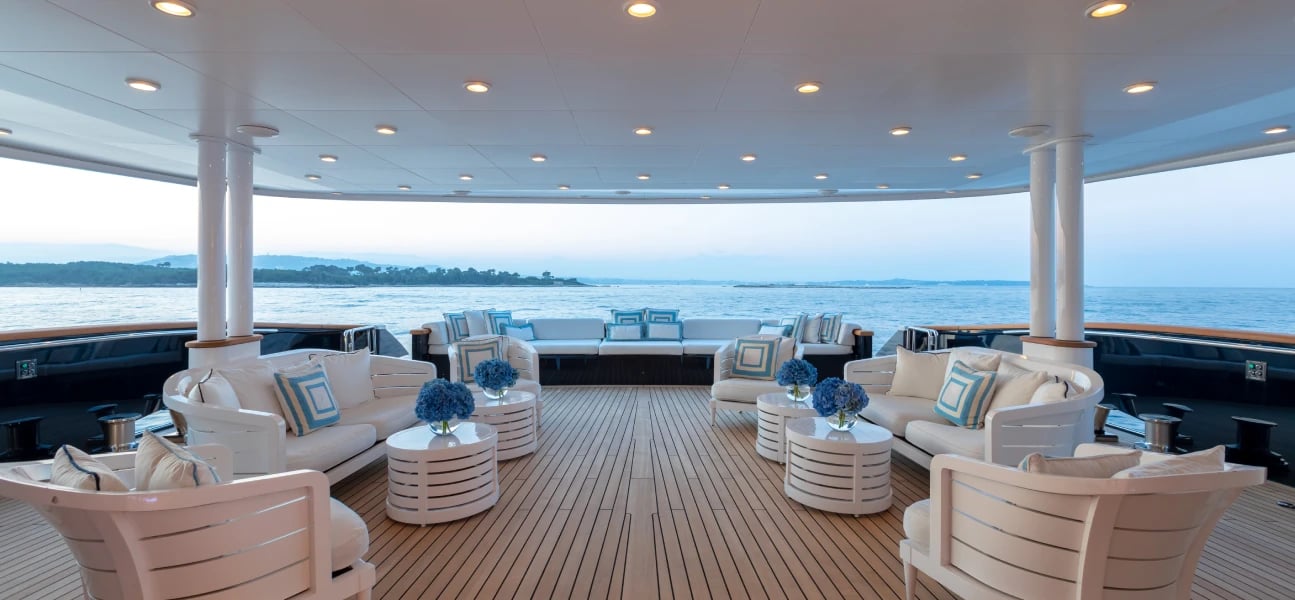 BOOK MISCHIEF SUPERYACHT TODAY
Cruising on MISCHIEF whether it's for a day or longer trip, is the perfect luxury travel option. This striking yacht contains everything you'll need for a fun, activity-filled time out on the water, as well as a few luxurious extras to make your trip even more memorable.
If you're ready to head out on the seas to see what the world has to offer or need a location for that upscale corporate event, then let Ahoy Club show you how luxury travel should be.
Enquire today about making your luxury superyacht booking and start looking forward to the yacht charter trip of your life.
Enquire Now
Our Favourite Itineraries onboard Mischief
You May Also Like