Plan the Perfect New Year's Eve Yacht Party
There is nothing like Sydney on New Year's Eve. Especially around the harbour. The fireworks, the atmosphere. It is electric. The only downside is the crowds. So why not rent your own private space, and enjoy a yacht party this New Year's Eve.
Get a front-row seat to the most spectacular New Year's Eve party on Sydney Harbour with your own private party by booking a yacht charter with Ahoy Club.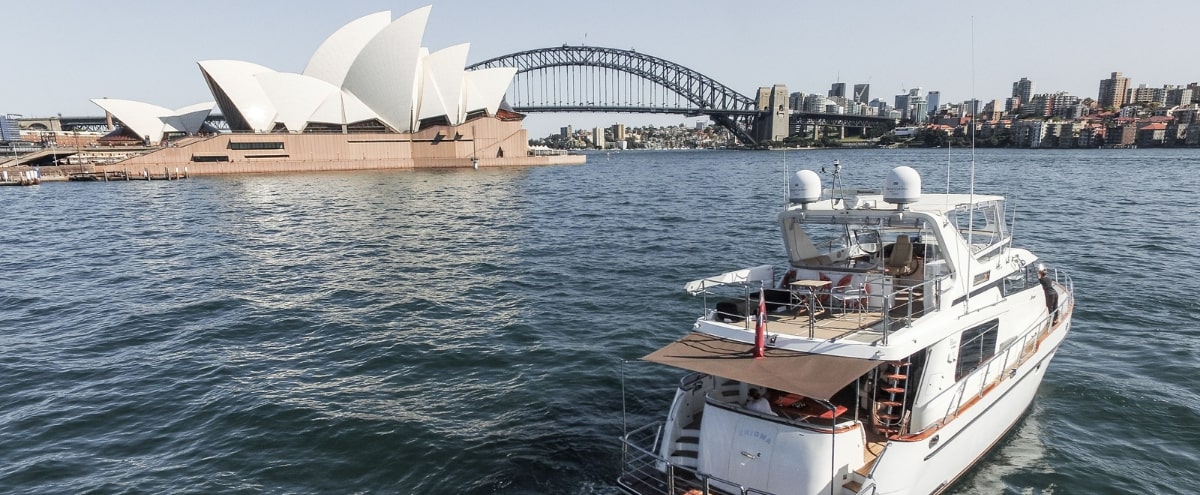 A Yacht New Year's Eve Party Will Be Your Best Idea This Year
Ahoy Club has over 130 charter yachts in Australia so you will be able to find one that is suitable for your party size and vision of the party.
The main benefit to having a yacht New Year's Eve Party is the space and the privacy. With Sydney always being referred to as one of the best places in the world to bring in the New Year, you know that space is not something easily found unless you are at a private party. So why not have that private party on the water.
The harbour is the place to be at midnight, with the fireworks display signalling the New Year, going off from the Opera House and Sydney Harbour Bridge, as well as strategically placed barges throughout the harbour. Visions of boats anchored in the midst of all this are magical and an experience like no other.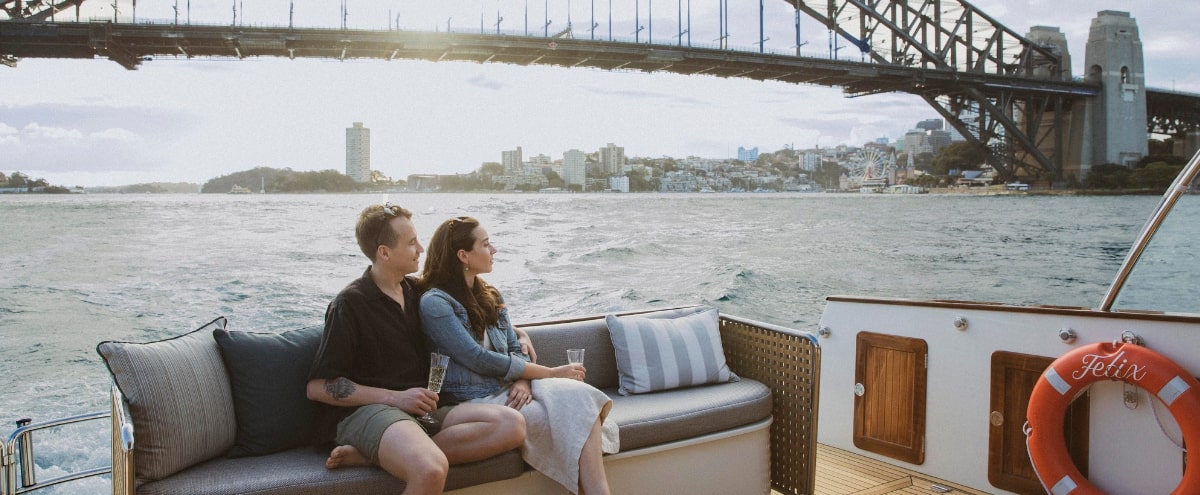 An Ahoy Club Experience is 5-Star
When hosting a yacht New Year's Eve event, you want it to be perfect. With Ahoy Club your experience is 5-star from the moment you easily book online until the disembarkation at the end of your charter.
Your Ahoy Club concierge and charter manager will plan all the finer details with you about your New Year's Eve event and will be with you every step of the way. Planning the perfect party is their speciality, from catering, to the bartenders, decor, and entertainment.
Once on board, let the professional and attentive crew take care of your every need and ensure that every single one of your VIP guests is taken care of during the evening. Highly trained specialists at what they do, Ahoy Club can arrange as many crew as you require onboard from bartenders that specialise in cocktail mixology to a private chef who can whip up a variety of cuisines tailored to the needs of your guests.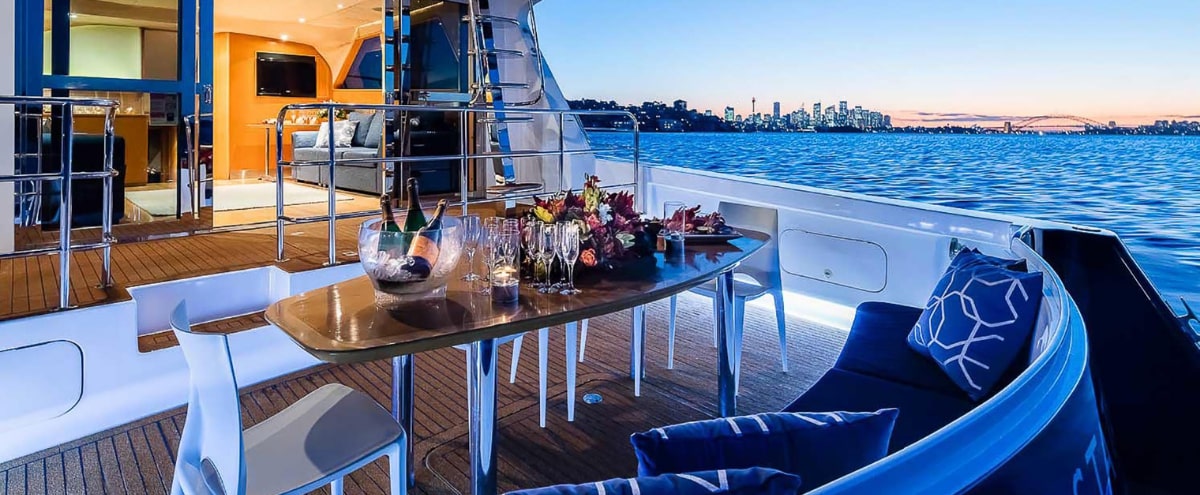 Ahoy Club Yachts Are Party Ready
Each charter yacht features exceptional facilities, inside and out. All their yachts show off modern decor and stunning features, all unique to each vessel. Minimal decoration will be needed and your Ahoy Club event manager will work with you to ensure you get the ambience you envision.
No one says you need to wait until nightfall to start the party, Ahoy New Year's Eve Yacht Charters begin at 6 hours minimum, so take advantage of the beautiful sunshine in the day, watch the sunset over the harbour, and welcome the New Year with the most spectacular fireworks display on the harbour bridge. All the Ahoy Club charter yachts can be tailored to your guest's entertainment needs. Maybe you want to take advantage of the water during the day. Ahoy Club has many water toys that are available with their charters such as paddleboards, inflatable slides, and water trampolines. For the less adventurous or those just wanting to stay dry for the day, laze in the sun in comfortable lounge chairs while sipping a speciality cocktail.
Your New Year's Eve yacht party wouldn't be complete without music and entertainment for the evening. All yachts feature state-of-the-art sound technology to really get the party started no matter how many guests you are hosting. Ahoy Club can arrange everything from karaoke and gaming consoles or even a live DJ for larger onboard events.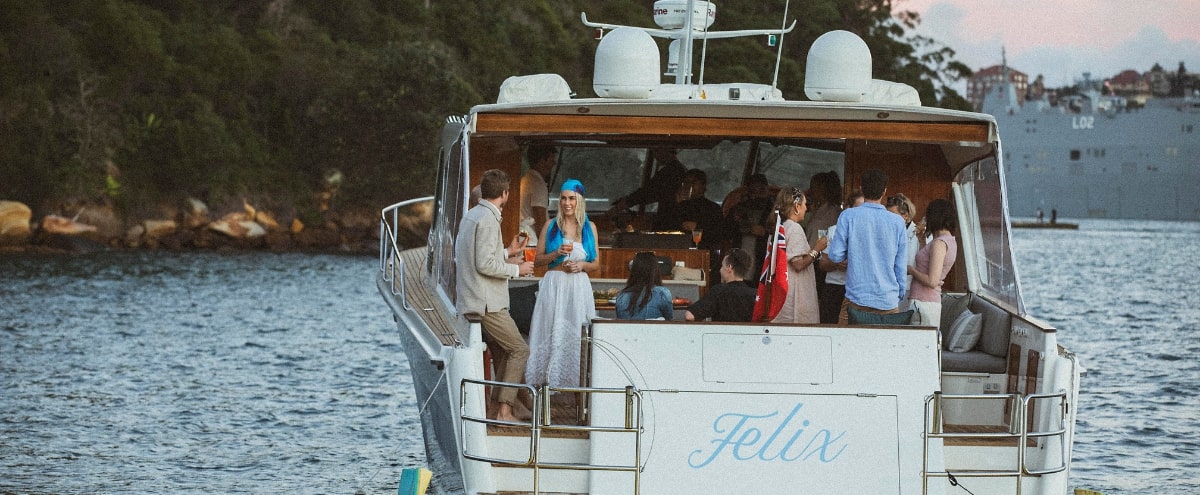 Now All You Need To Do is Choose the Right Charter Yacht For You!
With so many perfect yachts to choose from, you may not know where to start when planning your yacht New Year's Eve Party.
All of Ahoy Club's charter yachts and their unique features are available to view online. The easy-to-use filter system allows you to search for exactly what you would like in your charter yacht for the event. When you are ready to book, you can do so online for seamless and efficient service.
Your Ahoy Club concierge and event planner will also be able to assist you with the finer details and recommend the perfect yacht for you. Discuss with them from the get-go what you envision the event to look like, what onboard entertainment you would like available to your guests, and what water toys and features you think your guests would enjoy during the day.
From there you can find the perfect on-water venue for your New Year's Eve party.
STATE OF THE ART
For those wanting to bring in the New Year with a more intimate group of close friends and family, then consider STATE OF THE ART. A yacht with a stunning commercial kitchen, this vessel is suitable for parties of up to 20 guests for a gorgeous formal sit-down meal or 12 guests if you plan to stay on board for the evening.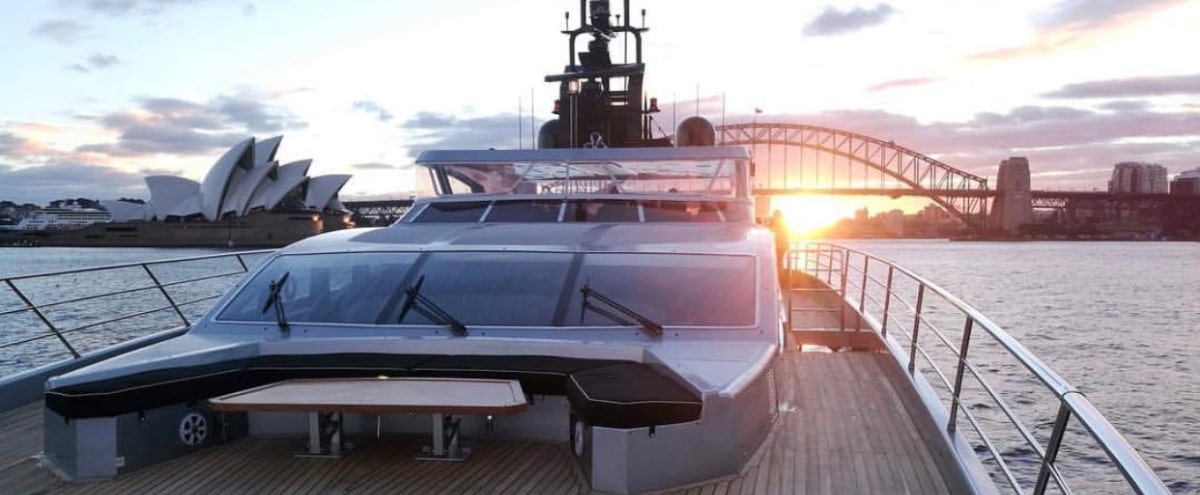 After a day in the sun on the luxurious sun lounges and taking advantage of the swim platform, dance the New Year night away, both inside and out with plenty of space to party and relax.
GHOST II
If subtle and intimate is not your style, then check out the sleek motor yacht, GHOST II. On board you'll find some kayaks ready for those who are keen to get out on the water for some fun before the celebration begins.
For those guests not wanting to get off the yacht for any reason, they can relax in the sun, both on the sun lounges and in the jacuzzi located on the flybridge. When the party starts, up to 110 guests can enjoy exquisite cuisine from the specially catered menus and get closer to the fireworks with views from the balcony, enjoyed with flowing champagne brought to your guests all evening by the professional waitstaff.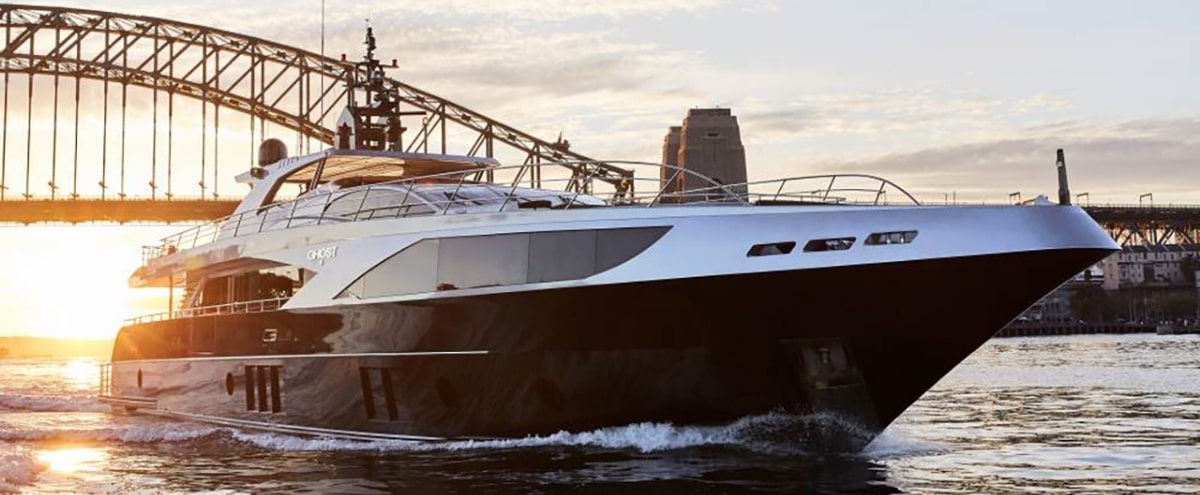 MISCHIEF
Looking for the ultimate experience on New Year's Eve in Sydney? Charter 54m (177ft) superyacht MISCHIEF for the evening or go all out and enjoy waking up to 2022 on Sydney Harbour on Australia's largest superyacht. MISCHIEF boasts three decks, 6 luxurious cabins, a spa pool, main bar and a crew of 14 to take care of your every need whilst on charter. Let us plan the ultimate New Year's Eve yacht charter for you and your guest.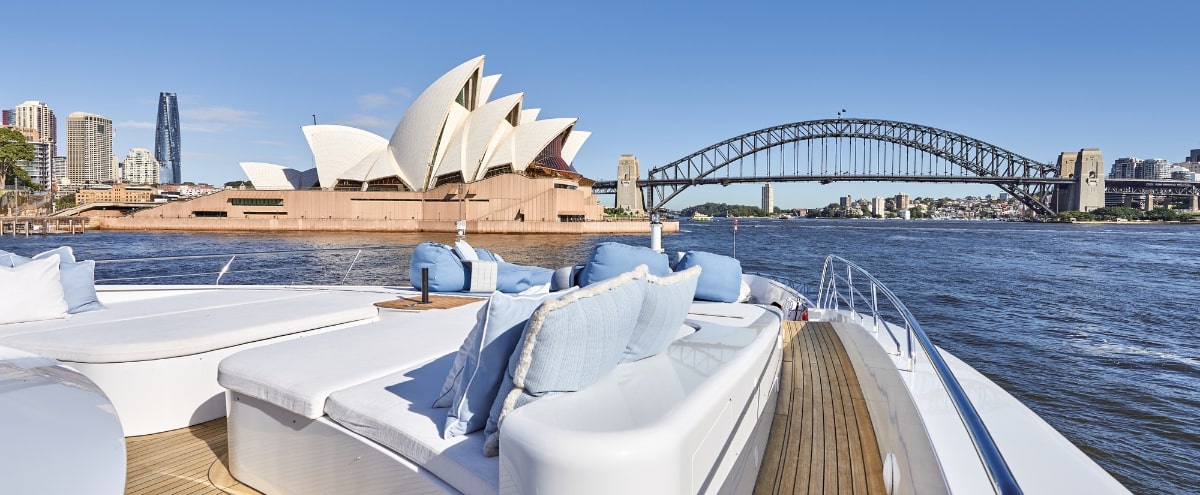 Booking is Easy
Booking a yacht New Year's Eve Party has never been easier than it is with Ahoy Club with their online instant booking feature. They are available 24/7 to answer any questions you may have, as well. Get in touch now.