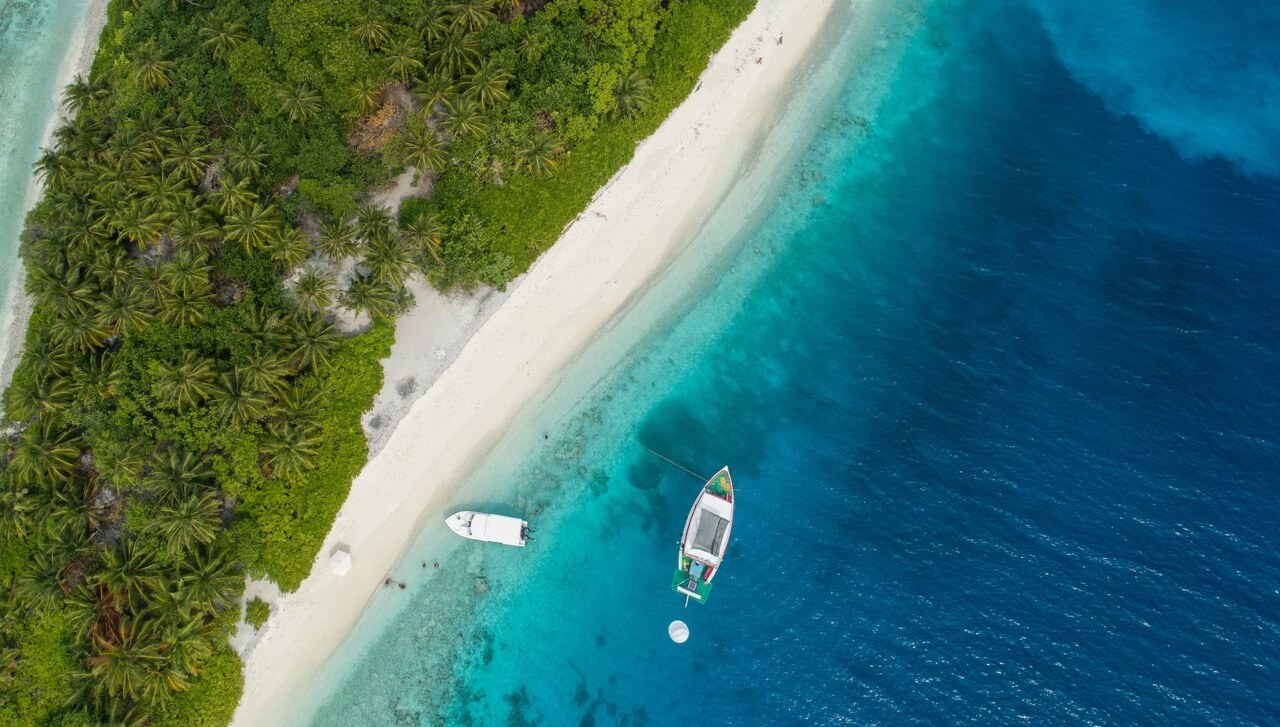 If you're looking for a destination that offers beauty, relaxation, and adventure, look no further than the Bahamas! With its crystal-clear waters, powdery white sand beaches, and year-round sunshine, the Bahamas is the perfect place to escape.
With more than 700 islands, cays, and inlets making up the archipelago nation, there's something exciting and unique waiting on each one. Whether it's soaking up the sun, riding the waves of crystal blue waters with some of the best Windsurfing and Kite-surfing in the world, or venturing deep undersea for a once-in-a-lifetime dive to see incredible coral reefs and other tropical fish, travellers can discover something new at every turn.
Best time to visit: December – April (Peak Season)
Temperatures hover around 75-85 degrees Fahrenheit (24-30 degrees Celcius), with an abundance of sunshine and very little rain.
Although there is very little rain that falls on the islands, it is important to note that they are located within the hurricane belt and storms do occasionally occur even though they may be relatively rare.
Getting to the Bahamas
The Lynden Pindling International Airport is the main airport to fly into and is located in Nassau, the capital of the Bahamas. The Grand Bahama International Airport in Freeport (found on the Grand Bahama Island in the northwest Bahamas) is another popular airport.
Here's a few of our favourite things to do, places to eat and ways to enjoy the crystal clear water.
Bucket List Experiences: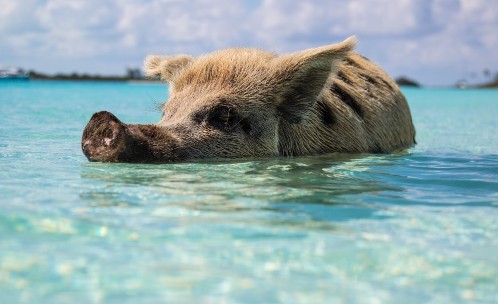 1. Visit Pig Island
Pig Island, also known as 'Big Major Cay', is a small island located in the Exumas chain of islands in The Bahamas. The pigs will swim out to your boat as you approach the island and depending on their mood, will hang around for a swim and a snack or two so make sure you're prepared!
2. Swim with nurse sharks at Compass Cay
If you're looking for a unique and thrilling experience, it doesn't get more adventurous than swimming with sharks in Compass Cay! You'll have direct interaction with these graceful creatures, up close and personal as you swim side by side. A once-in-a-lifetime experience that you won't soon forget!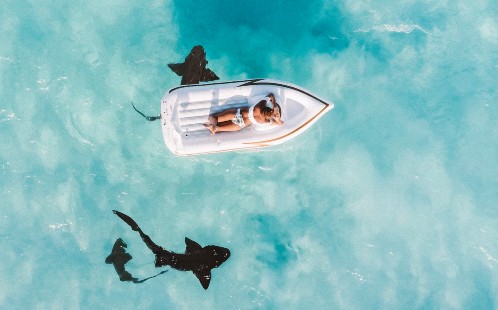 3. Snorkel at the plane wreck
Exploring the plane wreck in Norman Cay is an unforgettable experience! Said to have belonged to the Colombian Cartel, the plane wreck lies beneath 35 feet of crystal clear water, making it easily accessible for divers of all levels. Eager to view marine life? This plane wreck is teeming with coral and reef fish as well as sea turtles and stingrays!
4. Visit the pink sands beach on Harbour Island
This distinctive beach derives its unique pink hue from microscopic coral insects, known as Foraminifera. With over three miles of striking white coral sand that gradually turns shades of rosy pink and azure blue water, it's easy to see why Pink Sands Beach has been voted one of the best beaches in the world.
5. Enjoy a BBQ on the Beach
There's nothing quite like a BBQ on the beach. Your crew will set everything up in a hidden spot so that you can enjoy your private beach, with the freshest cuisine grilled and BBQ'd in front of your eyes!
6. Dive or Snorkel at Thunderball GrottoThunderball Grotto is widely considered to be one of the best diving spots in the world. At this stunning underwater cavern you can expect to spot giant manta rays, moray eels and snappers. You can also swim through sunken cargo ships and explore legendary caves laden with ancient artifacts.
7. Dive at 'The Aquarium'
The Aquarium Bahamas is the perfect place to get up close and personal with marine life. Snorkelers and divers of all skill levels can explore an underwater paradise with a diverse selection of sea creatures and vibrant coral. With ample shallow areas to explore, non-divers can swim over sunken ships, observe walls of vibrant angelfish, or take a leisurely stroll in the crystalline waters of this Bahamian gem.
8. Eat conch fritters from a tiki hut on Junkanoo Beach
This beach is known for its festivals and warm paradise vibes, not to mention its amazing food. A visit to Junkanoo Beach isn't complete without sampling the local fare. Conch fritters, made with fried dough and seasoned conch meat, are one of the most popular sandwiches served in tiki huts along this sunny stretch of coastal bliss.
9. Walk to Highborne Cay
Taking a walk to Highborne Cay can be a unique and memorable experience. The hike itself is relatively easy, with just a handful of steep inclines as you journey through the tropical rainforest. Along the way, you'll get to take in awe-inspiring views of the Caribbean Sea, wild banana trees, and plenty of vibrant wildlife – think toucans and macaws! You'll reach Highborne Cay after approximately 2 hours, where you'll find pristine white sand beaches backed by lush vegetation and coral reefs teeming with marine life.
10. Have lunch at MacDuff's burger
MacDuff's Restaurant is a renowned Bahamian outpost that has been providing visitors with delicious eats for years. Originally known as a landmark for boat men to meet over a burger on the island diners can enjoy the famous cheese burgers, freshly caught snapper and refreshing salads amongst rustic chic decor and exposed wood beams.
11. Dine at Michelin Starred 'Dune' at the Four Seasons
Michelin-starred chef Jean-Georges serves an imaginative blend of French-Asian cuisine with a seafood twist and a dash of Bahamian spice in an inspiring setting atop a white-sand bluff.
There's no denying that the Bahamas are stunningly beautiful. The islands boast miles of pristine beaches lined with swaying palm trees and crystal clear waters that sparkle like diamonds in the sunlight – it's easy to see why they are such a popular destination. In addition to its stunning natural beauty, the islands also feature numerous historical sites and cultural attractions that make them even more special.
With its unbeatable weather and endless activities to choose from, there really isn't another place quite like it. So if you're looking for somewhere truly special for your next getaway – look no further than this breathtaking archipelago in the Caribbean Sea! You won't regret it!
Enquire now!
You May Also Like