What's Included in a Luxury Yacht Charter? Ultimate A-Z
A luxury yacht charter can provide you with everything you need for the most amazing adventure possible. In today's world of superyachts, opulent interiors, state of the art entertainment facilities, water toys, gourmet menus and luxurious sleeping quarters are a must.
When it comes to most luxury yacht charters, your charter fee will cover the hire of the yacht, the yacht's insurance and the crew. All other expenses are in addition to the charter fee and are paid via the APA (Advance Provisioning Allowance). Essentially, the APA covers all costs outside of the charter fee, including things like food, alcohol, fuel, dockage fees and communications.
To help you understand what you can expect from your next charter with Ahoy Club, here are a few highlights you'll get to enjoy.
A Dedicated Crew
When chartering a superyacht, it's the small details that make the biggest differences. As part of your charter, a dedicated crew will take care of your every need, waiting on you hand and foot as you are whisked from destination to destination. From concierge to waiting staff and butlers to cleaners, your superyacht is effectively an exclusive resort on the water – staff included. With your dedicated crew taking care of things behind the scenes, you'll be able to enjoy an amazing charter that is as effortless as it is luxurious. Not sure what crew you'll need for your next escape? Let the experts at Ahoy Club build the perfect team for you, giving you one less thing to think about.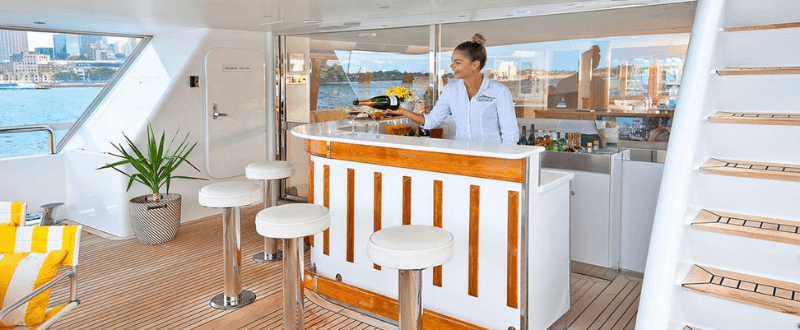 A Private Chef
As part of your dedicated crew, having access to a private chef enables you to put on the perfect dinner party, cocktail event or intimate meal without any fuss or stress. Superyacht chefs are typically the best in their field, serving up award-winning dishes that use local and seasonal ingredients – and all made freshly to suit your dietary requirements. Fancy a late-night sandwich after a busy day of exploring? Let your chef know and you'll have a freshly made sandwich ready to go in minutes. From helping you plan an amazing gathering on the waves to creating a daily menu for you to enjoy as you sail from destination to destination, your private chef will take care of all your food and drink requirements, day or night.
Personalised Menus
As part of your luxury yacht charter, meals and beverages will play a big role. Imagine waking up to an abundance of Michelin star quality food, cooked exactly how you like it and using only the finest ingredients. Try something new and exciting surrounded by exquisite decor, impeccable service standards and served when you're ready. Unlike restaurants, you get to indulge in a fine dining experience without noisy crowds disrupting you. Simply fill in your electronic and interactive preferences sheet prior to your charter and let your chef create a menu that delivers on quality, freshness and flavour. There's nothing quite like having exclusive access to your own restaurant on the water.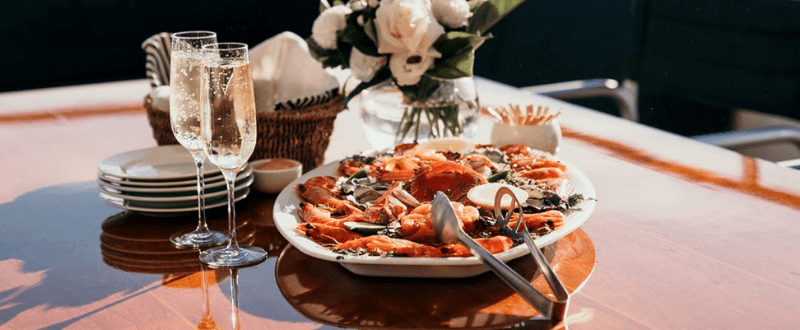 Tenders & Water Toys
Tenders and water toys help make your trip all the more fun. From boarding your luxury yacht from the shores of the mainland you'll have plenty of water-based activities to enjoy wherever you go – these are a must. Water toys range from paddleboards, jet skis, kayaks and zorbs to tenders that include small boats or speedboats. Other additions may include diving boards, water slides, netted sea pools, scuba diving gear and water-propelled jet packs. Whether you're enjoying water sports or a spot of fishing in the open ocean, they are designed to bring fun to the waves.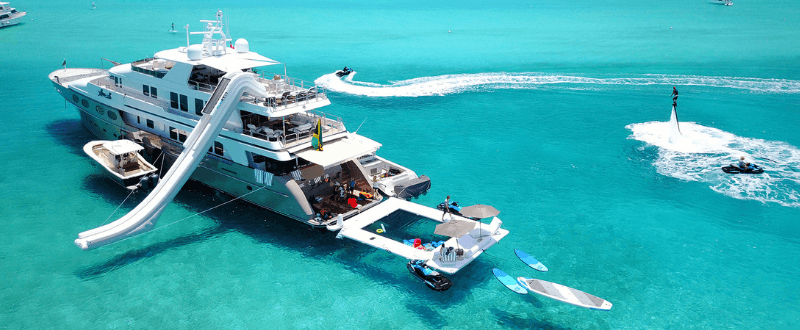 Amazing Amenities
Luxury superyachts are typically kitted out with all of the latest entertainment facilities and amenities that you could need. From private cinemas under the stars to swimming pools and hot tubs to gyms, saunas and silent discos – you'll find it all as part of your yacht charter. Depending on the size of your superyacht, you can expect to find a private bar, cutting edge audiovisual technology, smart assistants, onboard spas and so much more. Amenities are what takes a special trip to the next level, giving you access to the latest mod-cons around the clock. Not quite sure what you'll want on your next yacht charter? Let our team of knowledgeable experts help you find your dream vessel fitted with everything you want.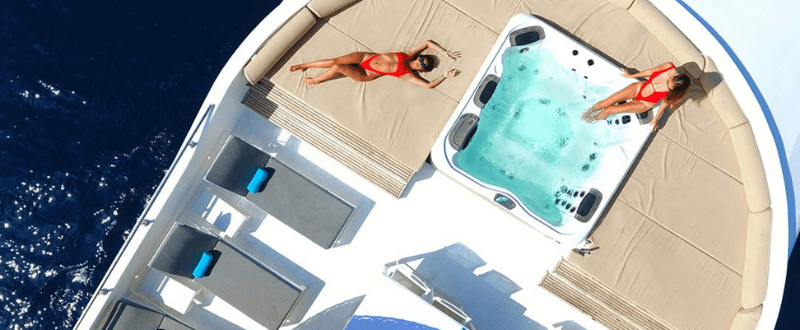 Luxurious Accommodation
When it comes to accommodation on your superyacht, comfort and style is everything. From staterooms to luxury cabins, there's something for everyone. Sleep in king-sized beds and enjoy rooms fitted with large flat screen TVs, ensuite bathrooms and opulent fittings. Wake up to a freshly cooked breakfast in bed before taking to the deck for a spot of morning yoga. Freshen up with a power shower or an afternoon siesta, put on your finest glad rags and dance the night away in some of the world's best party hotspots before settling down for the night in bedding that hugs you while you sleep. Whether you intend on staying in luxury resorts or spending evenings on your superyacht, quality and comfort add that extra touch of glamour to your stay.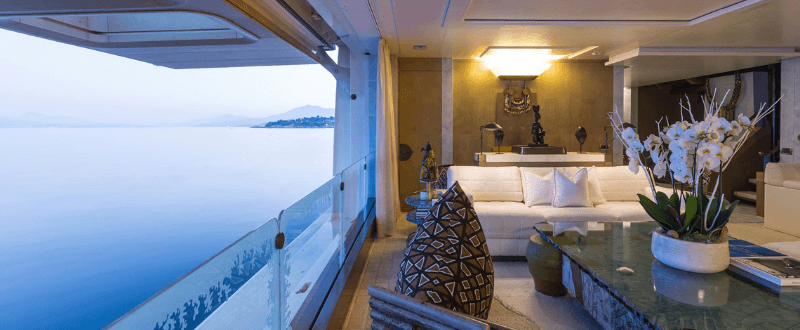 Discover The Best Luxury Yacht Charters Around
Whether you're looking to charter a superyacht for a new adventure, host an amazing cocktail party on the water or spend the summer island-hopping around the best hotspots in the world, nowhere does luxury quite like Ahoy Club. With a huge selection of yachts, fitted with all of the latest technology, facilities and amenities – along with only the finest levels of service from the moment you step on-board, discover the difference of Ahoy Club.
Ready to charter the best superyachts for the best price? Get in touch today or browse our charter yachts below to inspire your next escape and explore the many options we have available. No matter your plans, we're here to make them happen.