Bahamas Island Hopping By Yacht | Best Yachting in the Bahamas
Made up of 700 tropical cays and islands in the clear waters of the Atlantic, the Bahamas are among the most beautiful islands to explore. When enjoying a Bahamas yacht charter, you get to explore the best-hidden gems, private coves, coral reefs and resort destinations, day by day.
From mind-blowing pink sand beaches to swimming with pigs in the sea and luxury dining to snorkelling, scuba diving and watersports – time in Barbados is time well-spent. Kick back and relax with a rum-based cocktail, soak up the chilled ambience and let your imagination run wild.
To help you make the most of every moment, here are some of the best destinations to check out on your next Bahamas yacht charter.
Nassau
Not only is Nassau the largest city in the Bahamas, but it's also the country's capital. Perfect for kick-starting your yacht charter experience, explore the pastel shades adorning the old British colonial architecture, lose yourself on beautiful beaches.
The ocean off of Nassau is a treasure trove of colourful coral reefs, majestic marine life and ancient wrecks. With as much beauty beneath the waves as above them, watersports are hugely popular here. Its 17 stunning beaches each provide their own unique atmosphere, bringing warm sand and palm-fringed waters to the forefront.
Come evening, dig into alfresco island meals prepared by celebrity chefs. With a whole array of upscale restaurants, beachside bars and cafes, enticing grills and seafood galore, excite your taste buds while soaking up some of the most breathtaking views imaginable.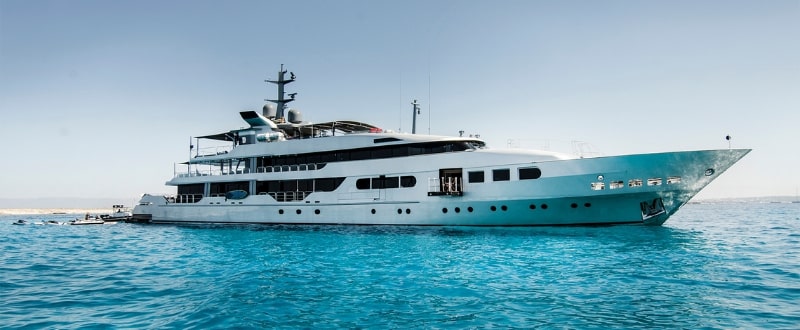 Norman's Cay
Nestled in the warm waters just south of Nassau, Norman's Cay is a small but mesmerising destination to visit in the Bahamas. Home to the sunken drug plane of Pablo Escobar, snorkelling and scuba diving are the top activities here.
Being such a small island, it's definitely more of a place to kick back and relax on quiet, tropical island beaches. Featuring a delicate coral atoll, crystal clear waters and the sunken plane wreck to explore, intense downtime is on the agenda here.
Spend long, lazy days topping up your tan on the deck of your yacht charter, then hit the waves and make the most of your water toys. Sunset over Norman's Cay is spectacular, providing the perfect backdrop for those all-important Instagram photos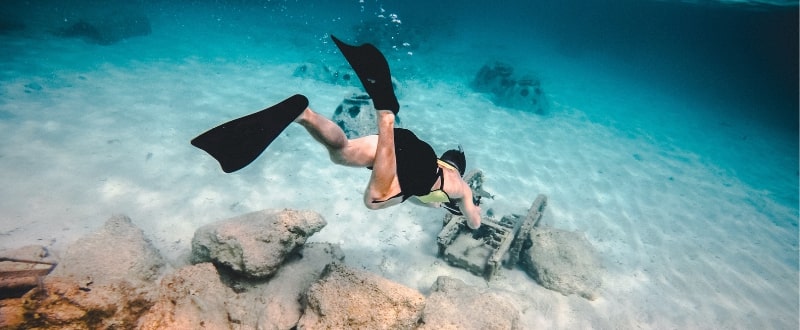 Shroud Cay
Located in north Exuma, Shroud Cay is a picture-perfect tropical idyll. This small, uninhabited slice of paradise is popular with superyachts, dropping anchor offshore and heading on land via jet skis, kayaks and tenders. Home to a wide array of reptiles, aquatic life and birds, mangroves ebb and flow across the cay, creating a place of superior natural beauty.
Warm, inviting waters and hot white sands make it ideal for a day of beach fun. Snorkelling, swimming, scuba diving and paddleboarding are all popular sports to enjoy, with gentle currents and a vast variety of fish, turtles and corals waiting to be found.
Shroud Cay is also a fantastic spot to anchor up overnight and enjoy dinner on the waves. Spend the evening making the most of the cool sea breeze with a glass of bubbles and watch as the sunsets over the Bahamas. As the island is uninhabited, light pollution doesn't disrupt the night's sky, delivering spectacularly bright stars and glimpses of the Milky Way.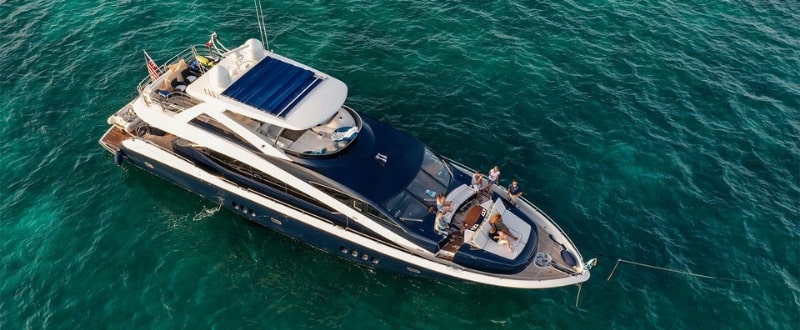 Big Major Cay (Pig Beach)
Big Major Cay is famous for a few things, but swimming with pigs in the sea is definitely one of the biggest draws. Another uninhabited island (except for its porcine residents), beaches, swimming, and island walking makes up the bulk of what to do.
Nobody knows how the pigs arrived in Big Major Cay, but these friendly animals enjoy nothing more than swimming with people and getting attention from visitors. Waiting on the beach for arrivals, you can swim right up to them (if they don't get to you first) and enjoy a truly unique experience.
Other activities on Big Major Cay include a visit to James Bond Thunderball Grotto, walks through the jungle interior and getting close to Bahamian Rock Iguanas. A luxury yacht charter is the best way to reach Pig Beach, giving you access to a once in a lifetime experience without restraint.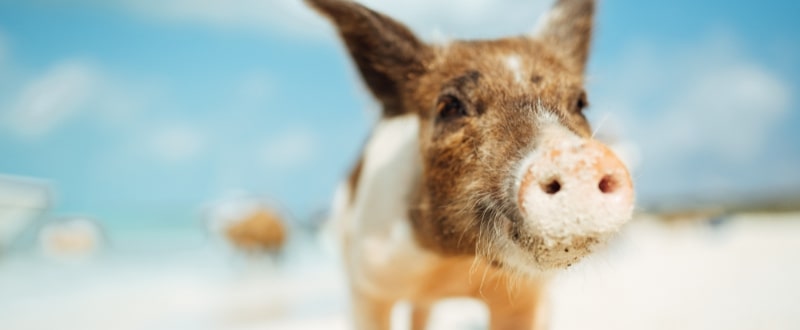 Staniel Cay
Located between Bitter Guana Cay and Big Major Cay, Staniel Cay is a haven for boating, watersports, wining, dining, and living the Bahamian beach life. Beaches are big business here, with South Beach and Town Beach being two of the most popular. Spend the day breathing in the fresh, salty sea air as you explore the sandbars. Then enjoy a little bit of beachcombing before cooling off with a refreshing dip.
Head out beyond the Land and Sea Park to indulge in a spot of recreational fishing, with plenty of marlin, snapper, grouper, and tuna to be found. Home to a handful of luxury villas and seafood-focused restaurants and cafes, stay overnight and enjoy the tropical paradise to its fullest.
Musha Cay
This privately owned island is another popular hotspot for those looking to make the most of beautiful beaches, watersports and luxury living. It's a place to enjoy a game or two of tennis, a dip in some of the beachfront pools, moonlight picnics under the stars and sunrise yoga on the beach.
Owned by David Copperfield, Musha Cay and the islands of Copperfield Bay are a stunning refuge away from the crowds, bringing luxurious touches and tropical vibes to guests. Jet skiing, diving, snorkelling and swimming are all popular activities, with fine dining options available to guests.
As the Cay only has five unique guesthouses, there will never be more than a handful of people around. What better way to end your Bahamas island-hopping adventure than here?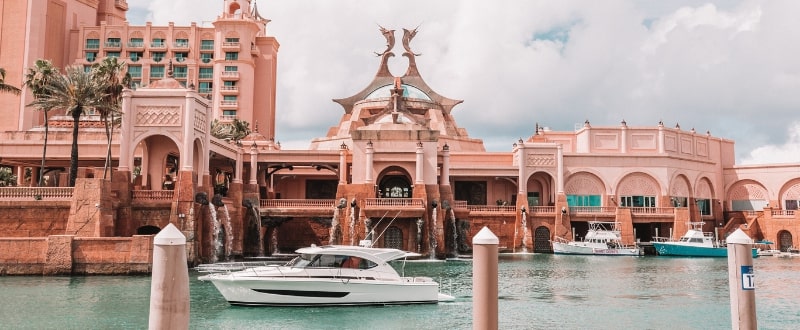 Book Your Bahamas Charter, Today
Explore the best of the Bahamas and its treasure trove of hidden gems when booking your next luxurious yacht charter with Ahoy Club. Rediscover the true meaning of absolute luxury and unrivalled service levels, with everything you could need for an unforgettable charter in the Bahamas.
With a wide range of superyachts, catamarans and sailing yachts available, your itinerary will take in all of the most iconic sights and attractions. A dedicated crew and private chef will take care of your every need, letting you spend more time having fun.
Ready to take the next step toward your getaway? Get in touch today and discover the difference of Ahoy Club