Yacht Season | Best Destinations For Yachting in August
In the Northern Hemisphere, summer reaches its peak during August, making it a popular month for luxury yacht charters. With average daily temperatures hitting between 30ºC to 34ºC, it is the perfect place t o soak up 11 hours of glorious sunshine each day. The Mediterranean is certainly where it's happening this summer.
Other destinations to check out in August include Australia's western and northeastern coastlines, where spring is making a welcome return, kick-starting the Southern Hemisphere's yachting season.
Not sure where's best to drop anchor this month? Here are some of the best yachting destinations to visit with your yacht charter this August.
Greece | Cyclades
The Greek Cyclades of Milos, SifnosIos, Santorini, Paros, Naxos and Mykonos are shining at their brightest during August. With waters as blue and clear as the cloudless skies, it's almost impossible to see w here the horizon ends. What better way to spend the summer, island hopping and taking in some of the most iconic architectural and cultural icons that have shaped the modern world while enjoying Greek meze and ouzo on the shores of the Mediterranean. The best way to explore the Cyclades is by starting your yacht charter in cosmopolitan Athens, sailing your way around these glistening jewels of the Med and creating yo ur own itinerary of cobalt blue waters, beach clubs, snorkelling and feasting on gourmet greek fare.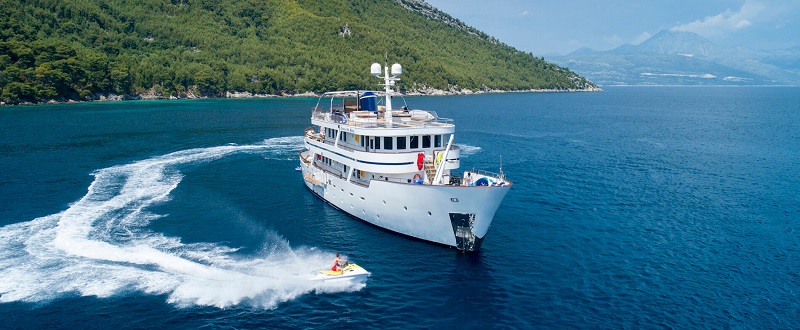 Croatia & Montenegro
Croatia is perfect for yachting in August, with average daily temperatures of 30ºC and evenings cooled by the gentle sea breeze. Spending time between Croatia and Montenegro is the way to go, with each count ry serving up its own unique culture and atmosphere. Sail from Montenegro to Split on a grand yacht charter, stopping off at some of the most popular hotspots along the way, including Sveti Stefan, Dubrovnik, M ljet, Korcula, Hvar and Solta Island. With more than 5,835km of coastline to explore, beaches, islets and coastal towns are plentiful. Sample local delicacies such as crni rižot (black risotto) and Travarica (a herbal alcoholic beverage), all while soaking up the Adriatic coast and its rustic yet modern charms.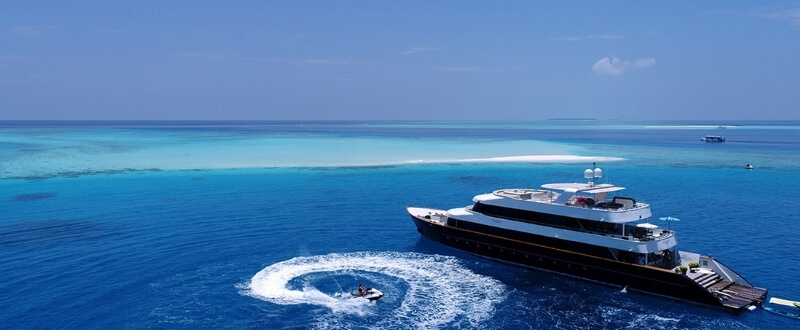 Turkey
Turkey is arguably one of the best destinations to check out by yacht in August, thanks to its blissful daily average temperature of 33°c, clear skies and gentle ocean breezes. When it comes to the most popu lar places to drop anchor and explore the best that this Eurasian country has to offer, Bodrum and Fethiye take the top spot. Bringing the beauty of the Mediterranean together with the exotic east, stunning bea ches, historical architecture, vibrant culture, and fantastic weather await those who visit. Other popular hotspots include Datca, Marmaris, Kas, Gocek, Yalikavak and Turkubu, each bringing its own unique style and charm to intrepid explorers.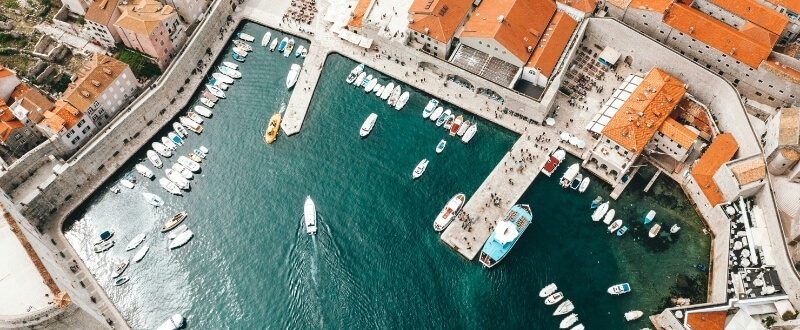 French Riviera
The French Riviera becomes one of the busiest spots on the Med for a super yacht charter from July to September. Make your way around some of the most iconic towns, villages and cities, including Monaco, Bea ulieu-Sur-Mer, Ville France-Sur-Mer, Antibes, Cannes, St Tropez And Nice. With average daily temperatures of 29°c and very few clouds in the sky, it's the perfect place to soak up the culture, wine, and atmosph ere of one of Europe's most popular yachting destinations.
Amalfi Coast
With average daily highs of 30°c, the Amalfi Coast gives you a glimpse of traditional Italy during the summer. Thick with the scent of citrus, lavender and rosemary, the long and hot summer days are perfect for enjoying a glass of Limoncello and a bowl of ravioli Caprese while watching the world pass by. Some of the most popular hotspots on the Amalfi Coast include Naples, Ischia, Capri, Amalfi, Ravello, Positano and Sorrento – each coming with its own unique charm and style. Why not spend a week sailing from one end of the Amalfi to the other while stopping off at boutique stores, designer shops and exclusive restauran ts along the way?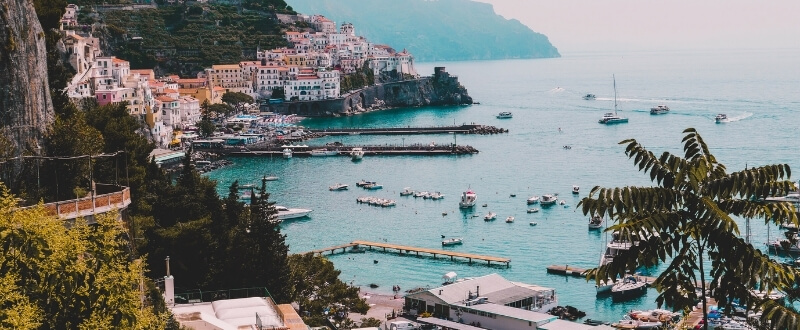 Balearics
Often referred to as the jewels of the Mediterranean, Ibiza, Formentera, Mallorca, and Menorca come together to create the beautiful Balearic islands. Forget about Mykonos in August – Ibiza becomes the queen of party towns. For those who want to appreciate the beauty of Ibiza without the bars, pubs and clubs, the Northern reaches of the island (which are also considered the most beautiful) give you that true Spani sh island feeling. Mallorca and Menorca bring gorgeous beaches, hidden coves and a more relaxed vibe to the forefront, while Formentera brings quaint charm and lazy days under the hot Spanish sun to the masses.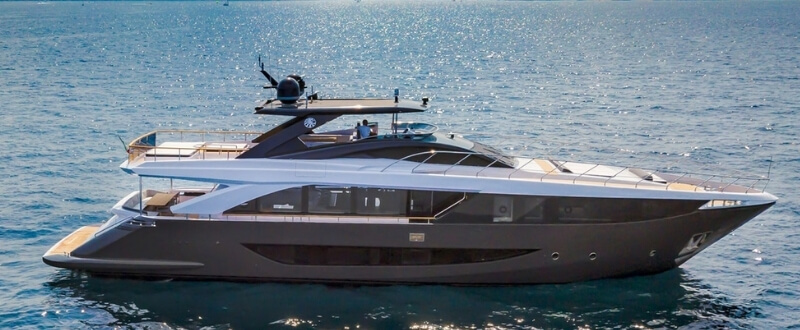 Whitsundays
Nested on the edge of the Great Barrier Reef, the Whitsundays are a little slice of heaven on earth. Made up of 74 picture-perfect tropical islands, it is the ultimate destination for those looking to head b eneath the waves. Some of the most popular destinations in the Whitsundays include Hamilton Island, Neck Island, Whitehaven Beach, Hook Island, Bait Reef Lagoon, Butterfly Bay, Hayman Island and Stonehaven – ea ch perfect for snorkelling, scuba diving, watersports, lazy beach days and reconnecting with nature. August tends to have few rainy days with daily temperatures hovering around 20°c – perfect for an early sprin g yacht charter.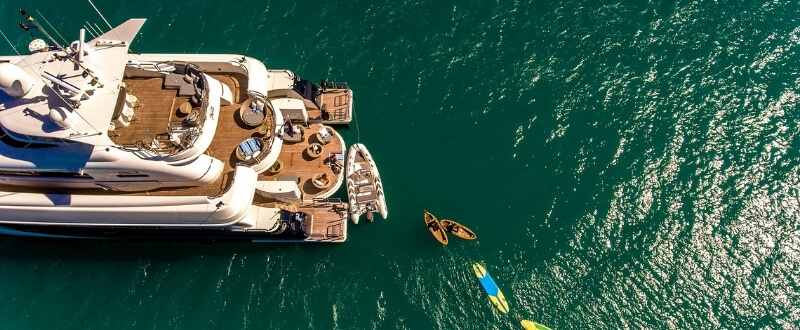 Kimberley Region
With spring making a welcome return across the Southern Hemisphere, the Kimberley Region bursts back into life. With average daily temperatures of 21°c, fewer clouds and plenty of sunshine, it's a haven for yacht charters looking for the weird and wonderful. Begin your trip in Broome before checking out the ice-white sands of Silica Beach. The tidal Horizontal Falls, Montgomery Reef, Prince Regent River, Hunter Ri ver, Mitchell River and King George Falls are all popular destinations to visit in August.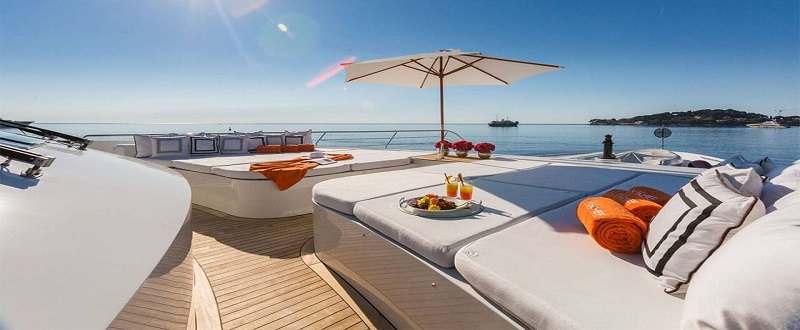 Where To Charter The Best Luxury Yachts in August
Make the most of the long and hot summer days in the Mediterranean and Australia with Ahoy Club. Climb aboard your dream yacht charter, with luxurious superya chts designed to take care of your every need in the world's most popular yachting destinations.
Ready to make your way to the hotspots on this list? Get in touch today or browse our charter yachts below to inspire your next visit and explore the many options we have available.