The Coral Ocean Experience | Palm Beach Boat Show
Hi, I'm Sophie. I'm EA to the CEO of Ahoy Club and recently flew to Miami to attend the Palm Beach Boat show where I was lucky enough to be staying onboard 73m Megayacht CORAL OCEAN.
After a long and uncomfortable 14-hour flight from Sydney, I was met at the luggage carousel by two deckhands and instantly felt better. It was a real VIP experience where they helped me with my luggage before we set off on the short 20-minute drive to the marina. Stepping onboard I was met by some lovely welcoming crew who gave me a hot towel and a refreshing spritz, just what I needed!
I was expecting to be staying in the supernumerary cabin onboard, an extra single cabin available for the staff of charterers (e.g., security/nanny/assistant), so it was a huge shock when I was led to one of the guest cabins on the lower deck. After asking 'Are you sure this is ok' multiple times, I stumbled into the cabin and found a box with my name on sitting on the bed. The box contained an itinerary for the weekend, a silk eye mask, some iKou lip oil, and a pair of personalised silk pajamas – it was at this point I realised they must be sure, and it sunk in that I would be spending the next 12 nights in pure luxury.
I then came across a scrabble board set out on the desk with cute little biscuits that spelt out CORAL OEAN. Wow, this level of attention to detail really blew me away.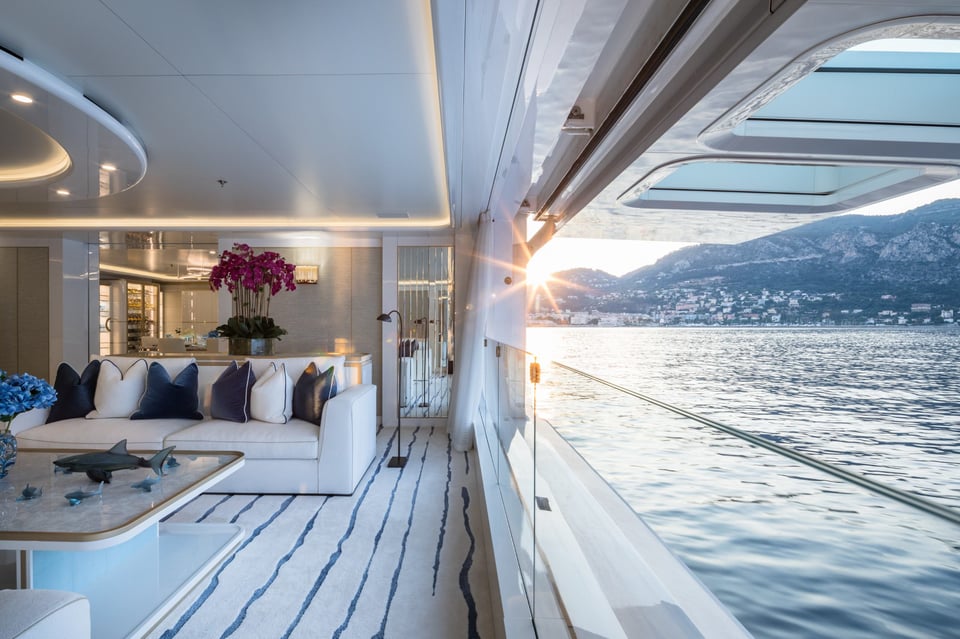 Having spent time onboard CORAL OCEAN many times before I thought I had experienced her to almost her full extent but boy was I wrong. Being a staying guest onboard is an entirely different experience and one I hope to enjoy again soon. From the moment you wake up each morning to the second you go to bed you are waited on hand and foot. It's like the crew have a sixth sense – I went to look for a laptop charger one day and without me asking, one of the amazing stews popped out of the pantry with one ready for me to use!
During my stay onboard it was a fellow guests birthday and it was the most incredible evening thanks to the crew's thoughtful planning and 7-star service.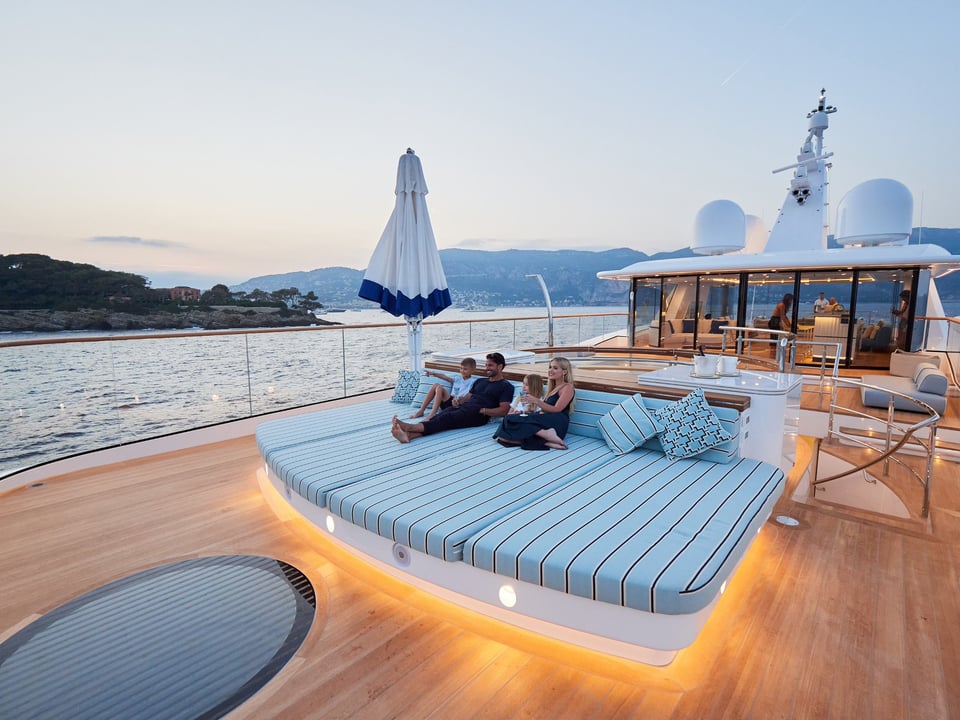 We started off with personalised champagne cocktails and canape's in the bridge deck bar. The sun was setting over the city skyline of Miami and it felt like something from a movie! Soon after this we were treated to caviar bumps and ice-cold vodka – so boujee and over the top but an absolute must on a mega yacht, right?!We were then led through to the formal dining room which had been fully decked out in pink, disco theme décor, a ceiling of balloons and photos of the birthday girl through the years hung around the room. We devoured a magnificent 7 course meal, which included an edible menu (of course!) and then danced the night away on the sundeck.
The attention to detail onboard didn't stop at the personalised silk pyjamas. The crew knew all my dietary requirements and let me know which dishes were safe without me ever having to ask – a small thing but a luxury to someone who suffers with allergies! They remembered my coffee order each morning and they sent me a square of dark chocolate with my fresh mint tea each night.
My favourite little touch that they did was the handwritten note on my pillow at the end of each day. It was always accompanied by a Baci chocolate and made me feel even more welcome than I already did.
Chartering CORAL OCEAN is truly a must-do experience in your lifetime. There's no 5-star hotel on earth that delivers the luxury and service that you can experience onboard.