Luxury Corporate Events in Sydney | Yacht Charters Sydney Harbour
Corporate yacht charters provide the ultimate setting for a luxury business meeting, conference or event that's set to impress. Whether you're looking to host an elegant evening event or a weekend of team building and bonding, a superyacht helps to create an unforgettable occasion your attendees will talk about for years to come.
Tailored to fit your needs, a luxury yacht charter on Sydney Harbour, can whisk you from Circular Quay through the iconic harbour with Sydney's most iconic landmarks – or perhaps you have a backdrop in mind and are looking for something a little bit more static. With maximum style and class, one thing is for sure – that your corporate event will be talked about for all of the right reasons.
Not quite sure if a luxury yacht charter Sydney will fit your plans? Here are a few examples of why it's the best choice.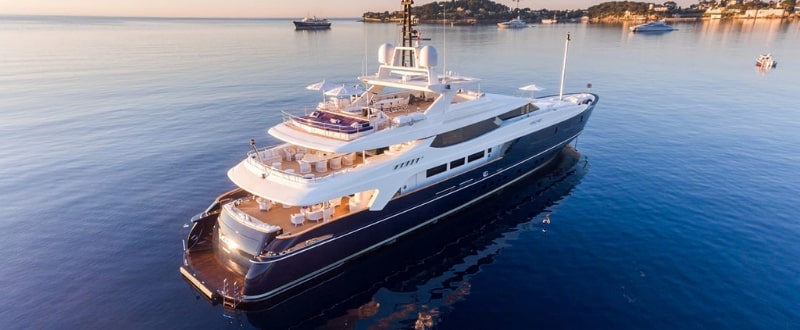 Hospitality & Corporate Entertainment
Enjoy all of the perks and amenities of a land-based venue with a fresh and inspired twist. With yachts being able to accommodate up to 200 guests, adding a genuine touch of luxury can elevate your event to a whole other level. Arrange your event to coincide with other events, such as the Vivid Sydney or New Years Eve and enjoy a front-row seat in a prime location.
Some of the most popular hospitality and corporate entertainment events where a yacht can up the ante includes:
Charity dinner gala
Celebrations of new contracts
Retirement celebrations
Wining and dining potential investors
Elegant cocktail parties
Board of investors annual meeting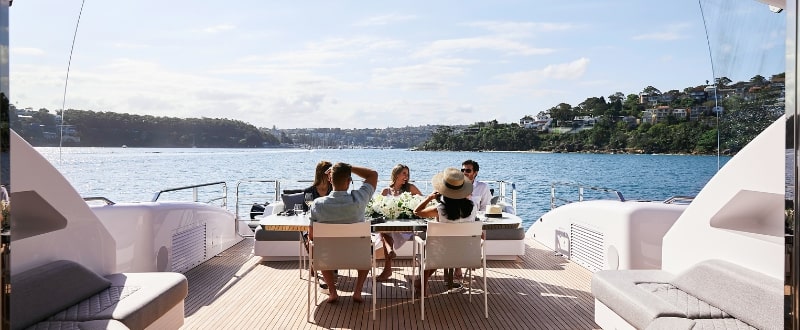 With all of the facilities you need to host an opulent sit-down meal or gala, along with 5-star service levels and exquisite attention to detail, your dedicated team will ensure everything runs smoothly, allowing you to focus on the business at hand. For added glamour, why not start your event at Crown Sydney and sail your way under the harbour bridge before anchoring at a harbour bay.
Meetings & Conferences
Meetings and conferences are often conducted in meeting venues and conference rooms in hotels – making them mundane and predictable for your attendees. A luxury yacht charter in Sydney provides an amazing venue for getting down to business while showing your guests that you genuinely care about them and the image of your business. Move away from the distractions of the office, enjoy an alfresco meal without the formalities and constrictions of a restaurant, and merge the perfect balance of business and leisure exactly as you wish.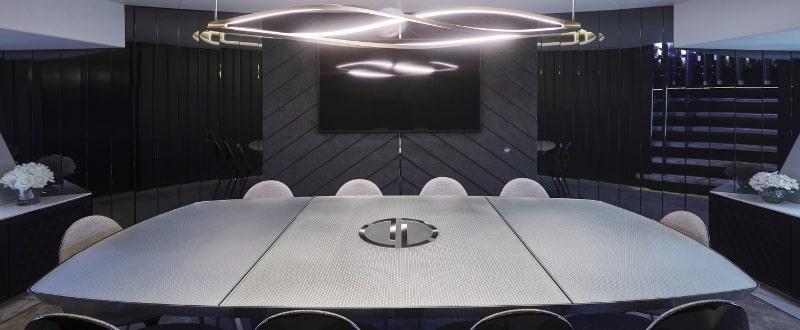 With plenty of space, modern amenities and speedy communication equipment on board, superyachts are the perfect place to build lasting relationships with clients and employees whilst giving you maximum freedom of flexibility. Whether you want to get down to business or relax as you sail through the harbour, you set the basics and let our dedicated team bring everything together.
Team Building & Incentives
Sometimes, an extra special occasion can bring the best out of your teams. Recognising and rewarding their hard work not only encourages them to continue surpassing their achievements, but also something to aim toward. You could send the highest achievers on a luxury yacht charter in Sydney, treating them to a spectacular day out in stylish surroundings.
Perhaps one of your offices has surpassed sales records – or a team has landed a lucrative contract – dinner and drinks on the harbour to celebrate will let them know you notice and appreciate all of their hard work and their effort.
As most superyachts come with onboard facilities, they are also an amazing option for hosting team building events. From navigating the waterways to playing team building games, a yacht charter is the ultimate way to bring your teams together and encourage participation.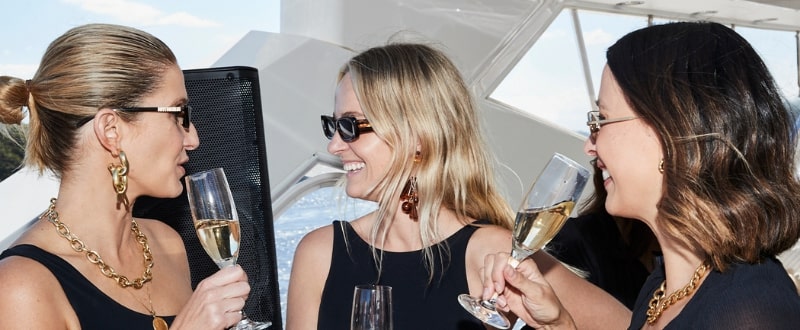 Things to Look For
When looking to charter a luxury yacht on Sydney Harbour, it's essential that all of your needs are met and taken care of in the most professional way possible. After all, the whole experience is a reflection of you and your business. Catering is often one of the most important elements of a successful event or occasion, so you'll want to look for an experienced charter crew with knowledge and expertise with off-site catering and large parties.
Choosing the best type of luxury yacht will also play a role in setting the tone for your event. While sailing yachts look spectacular with their sails owing in the wind, they are best suited for smaller, more intimate events. For more significant events with many attendees that require additional space, a motor yacht is a fantastic choice. The expected number of guests will play a big part in making this decision.
Accommodation is also another thing to consider. Do you intend on hosting guests overnight? Will you require space to change outfits and freshen up? Most superyachts will have several luxury cabins or staterooms for you and your guests to use. Lastly, are there any other facilities you would like for your guests? A jacuzzi or onboard swimming pool? A theatre or entertainment room? A bar, perhaps? Whatever it is you need, there is a yacht charter ready to provide.
Make Your Next Event One to Remember
At Ahoy Club, we're here to help you find the perfect luxury yacht charter for your corporate meetings and events in Sydney. With some of the finest yachts in the city, our 5-star service levels and attention to detail will guarantee you enjoy an event that's as special as you.
From small and intimate celebrations to large and grand networking events, we're here to create uniquely magical occasions from the moment you step foot onboard. Have an idea you would like to discuss? Or perhaps you already have a yacht in mind that you would like to know more about? Get in touch today or browse our charter yachts below to inspire your next visit and explore the many options we have available.