Luxury Yachts | Choosing the Right Yacht for You
Finding the perfect yacht can be more than overwhelming. Whether it's a superyacht or standard charter, the choices out there can be dizzying – often leaving people more confused than before they began – well that's before Ahoy Club came along.
Luckily, we know our yachts, in fact we created the first online digital charter platform that allows you to filter your searches and compare over 4,000 yachts worldwide. To help you understand a little bit more about choosing the right luxury yacht, here are some of our top tips to help you choose your next yacht charter with Ahoy Club.
1. Your Budget
We recommend you to start with a budget range in mind for your weekly luxury yacht charter. Yacht pricing varies based on many factors such as build year, last refit date, amenities and facilities onboard.
Once you have a figure in mind, take our fun and interactive experience builder to find the yachts available within your price range. Coming up with a lower and upper budget will help narrow down the number of available yachts, helping you make an easier decision.
2. The Location
Location influences the availability and price of charter yachts. In more exclusive locations such as the Bahamas, the Caribbean and the Mediterranean, charters are popular, which can drive down availability and push up prices. If you haven't yet made up your mind on a destination, Ahoy Club can help recommend where to go with sample itineraries and access to over 4,000 yachts around the world.
Other things to consider are seasons, and the type of experience you're after. For example, July and August are when the hurricane season hits the Caribbean and the Bahamas, while November to April is cold, wet, and stormy across the Mediterranean.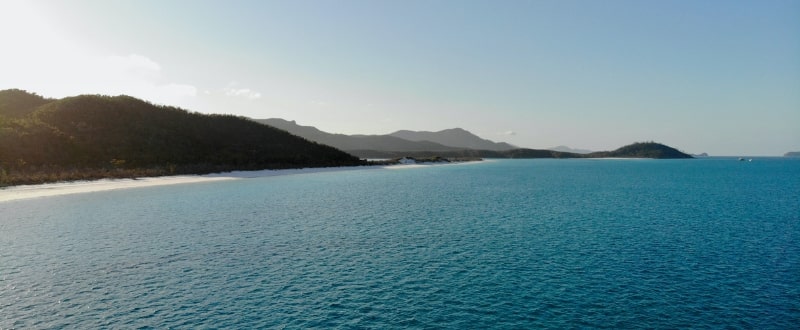 3. Yacht Size
It is really important to decide what size of yacht you need when choosing your perfect luxury yacht for charter. The yacht size will determine how many crew the yacht can sleep, larger yachts often sleep more crew members; it will also play a role in how close to shore you can cruise. For example, in the Bahamas, we often recommend shallow-draft sailing yachts or catamarans as many of the anchorages can be just one to two metres deep.
Of course, size plays a significant role in choosing a vessel that fits your needs. If you're travelling as a group or with an entourage, you'll want plenty of space and room to breathe. Solo travellers and couples can benefit from chartering a smaller yacht, with all of the facilities and mod-cons included to fit your budget.
4. Yacht Type
When it comes to yacht types, there are many types of yachts but the two popular types are sailing yachts and motor yachts. Motor yachts are streamlined, speedy, sleek and designed with space in mind, creating many of the world's most luxurious superyachts. Motor yachts are also more stable on open water, making them an excellent choice for those who are still growing their sea legs.
Sailing yachts are the epitome of traditional seafaring. Impressive sails propel the vessel along without the need of an engine – although most sailing yachts have a motor included too. This allows sailing yachts to be used as hybrid vessels, reducing your carbon footprint and providing a quieter experience.
Motor yachts are the best choice for larger groups, and those who appreciate having additional space to enjoy while sailing yachts are best for smaller, more intimate yacht charters that use the ocean currents and wind to sail from a to b.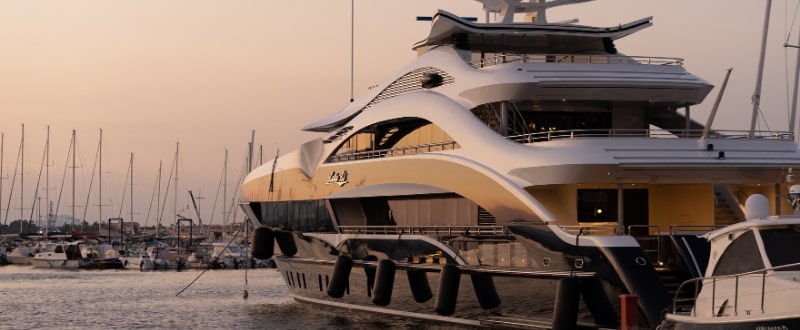 5. Yacht Amenities
Yachts have an abundance of amenities to choose from, whether it's stabilisers, a spa pool, a gym or the latest watertoys, you'll never be short of amenities to choose from.
Are you heading off island hopping and need something to tender you from the yacht to the shore? Wanting to host an extravagant party and need a bar and dance floor? Perhaps you want to travel in style with friends – you'll want plenty of cabins to accommodate your guests.
6. To Tender or Not to Tender
Many superyachts are equipped with a tender and your Ahoy Club charter agent will perfectly match you with yachts with tender should you wish to reach hidden covers or inlets during your charter. Or maybe you're a water sports fanatic at heart and want the option of water skiing or wakeboarding during your charter.
The helicopter tender is becoming a popular choice, but whether this is possible or not depends on whether your yacht charter has a helipad or not? Either way, the type of tender you want will help you narrow down your search.
But more than just arriving at your yacht, a tender also lets you disembark at various destinations or take part in watersports such as jet skiing, wakeboarding and paragliding. Some of the larger yachts and superyachts house their own tenders on a specially sectioned off space, lowering and raising it as and when needed.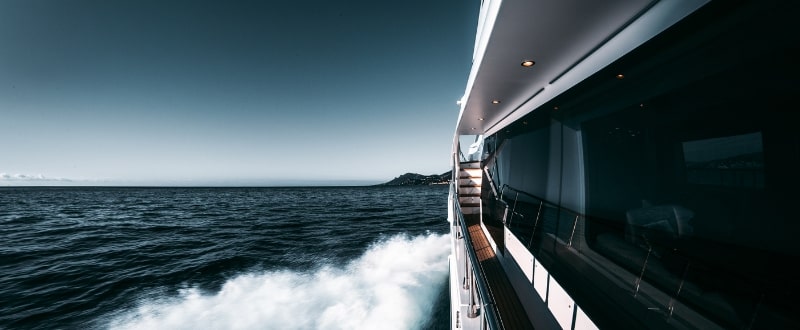 7. Number of Guests
Choosing the perfect luxury yacht for your next charter will depend on many aspects but a lot of the consideration will come down to the number of guests you have joining you on the charter. The cabin configuration would be the first aspect to confirm within the yacht specifications. Does the yacht offer a mix between doubles and twins? If it is all couples onboard the charter you may wish to have double beds for all your guests. However, if you have children onboard the charter, then you'll want more cabins, usually with twins beds or even a pullman option.
Large yachts provide more space in the cabins and can often allow for supernumeraries. A mid-sized yacht is an excellent choice if you're hosting a celebration or having guests accompany you for a day or two, while a large yacht charter is more appropriate for larger groups, families and corporate vacations where you want to impress with style and stature.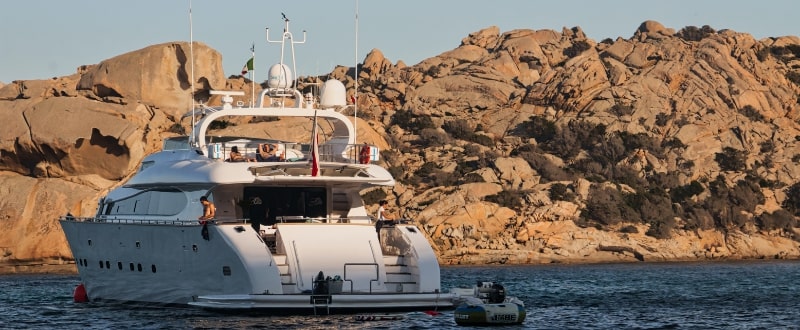 8. Yacht Style
Traditional or modern? Sailing or motor? Exploration or standard? All of these will help you to choose a yacht made just for you. Luckily Ahoy Club's charter fleets contain every type of yacht available for charter. From expedition yachts to gulets, sailing yachts to motor yachts; we offer it all.
Traditional yachts have a look and feel of the golden age of European sailing, often featuring vast sails, luxury interiors and stunning 1920s style designs. By far, motorised yachts are the most popular choice with today's yachting enthusiasts, but sailing yachts still offer a luxury look and feel.
Choosing the Best Luxury Yachts with Ahoy Club
We know just how overwhelming it can be to find exactly what you're looking for in a world of a thousand yachts, especially if it's your first time choosing one. Once you have an idea of your budget, the number of guests and the destination, we can help narrow down the search until you find the ultimate luxury yacht charter specific to your needs or use our interactive yacht search.
With luxury charter yachts on every continent and spread out across all of the hottest destinations, yachting is our expertise. From planning the perfect itinerary to ensuring everything is in place before, during and after your charter, let us take care of you exactly as you deserve.
Ready to set sail to your next must-see destination? Get in touch today, pack those cases and get ready to discover the difference of Ahoy Club.