Ahoy Club Client Reviews

TESTIMONIALS
See what some of our clients have said about chartering with Ahoy Club:

"Can't wait to book again soon."
October 2023
Had an amazing experience chartering on Sydney harbour through Ahoy Club. The team went above and beyond from the beginning and the service on board was exceptional. Can't wait to book again soon, thank you Ahoy !
Claudia Mc.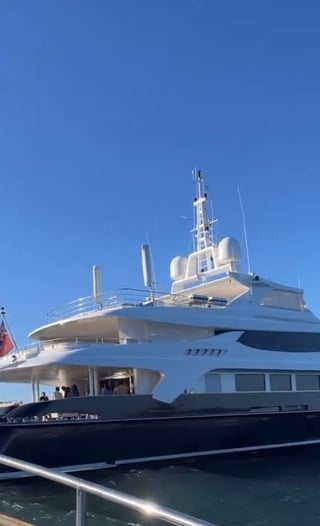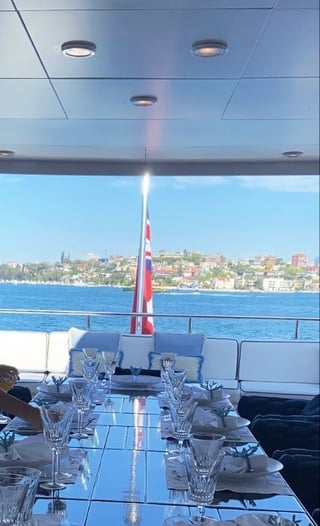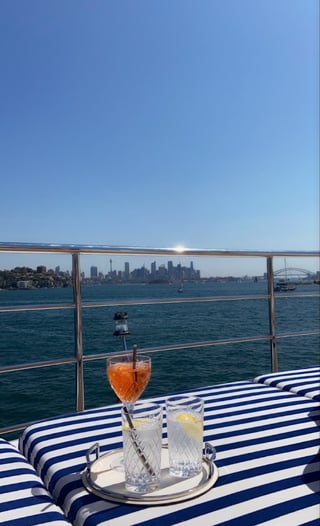 "Felt like royalty!"
October 2023
I'm not usually a boat person but this boat and the service provided made for a perfect afternoon. Delicious food and very comfortable amenities. Definitely felt like royalty! Staff were super helpful and efficient. Awesome views and great to swim off the boat!
Carly S.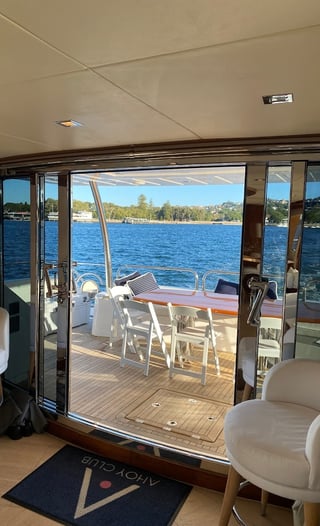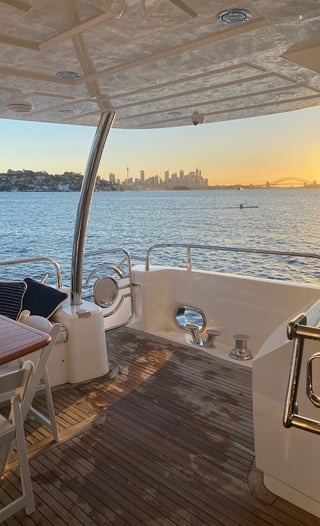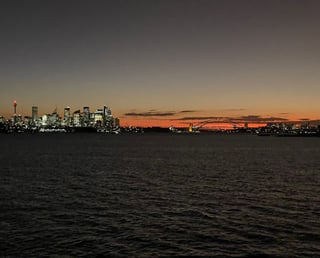 "Look no further than Ahoy Club."
October 2022
I have booked a few yacht charters in Sydney with ahoy and have been extremely impressed and satisfied with the service and experience each time. When it comes to chartering a yacht I would look no further than Ahoy Club.
Bill M.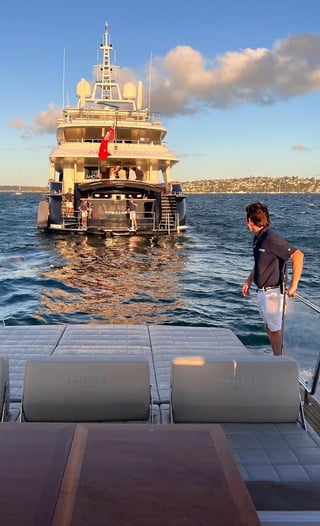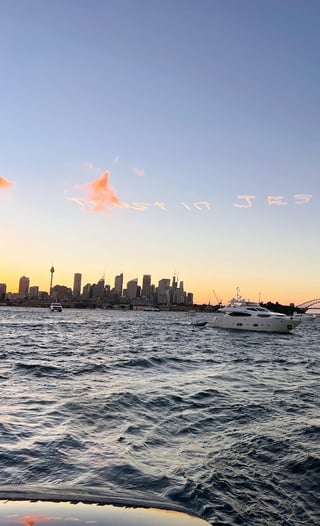 "The experience was out of this world."
October 2022
My husband and I spent the night on Mischief in July this year.The experience was out of this world.The staff and crew were very attentive but discreet.Food was amazingThe yacht was spectacular. Weather was perfect at Whitehaven beach.Can't get any better than that!!!
Heather M.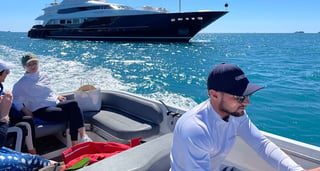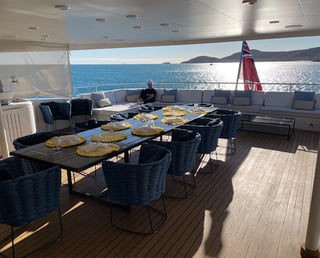 "So Easy"
I recently booked a day charter for Sydney Harbour via Ahoy Club. The website booking process was so easy to use, and the staff were very kind and helpful answering all my questions. We will definitely use Ahoy again for our next day charter!
Aaron R.

"Beyond Our Expectations"
We met Ahoy Club at the Sydney Boat Show, Ellie from Ahoy Club, took time and sat with us to go through what they did. Very informative and such great people.
We booked our first charter with Ahoy Club recently, and everything that was requested was fulfilled beyond our expectations. Thank you so much Ahoy Club for an amazing experience.
Sarah A.

"Seamless Experience"
Ahoy club have always helped me out seamlessly well with my requests. I am a recurring customer as I find them so easy to deal with. Specifically Sophia who has great attention to detail and understands exactly what I need right away (without even much detail from me). Thank you to the team at Ahoy Club!
Ben P.

"First Hand Experience"
Sophia and Ellie always do a great job. They sent me a number of yachts to consider and were very thorough throughout the selection process. It helps that the girls have had tangible experience staying/enjoying yachts so they can speak first hand about their recommendations.
David G.

"Amazing Day"
I would also like to compliment your team, the service from our arrival right through to our departure was second to none. The food and drinks, service and attention to detail to ensure our guests were looked after by Amanda and her team was exceptional. You should be very proud of your team and the standards you achieve, it is rewarding for all to see.
Daniel F.

"Perfect from start to finish. "
October 2023
We recently held an event on an Ahoy Club boat. Staff were great and the boat was very special. Thank you for looking after us Ahoy Club!
Ben G.

"Flawless hospitality!"
March 2023
Flawless hospitality! Thanks Ahoy Club for a great time on Mischief on the Sydney Harbour ⚓️
Andrew B.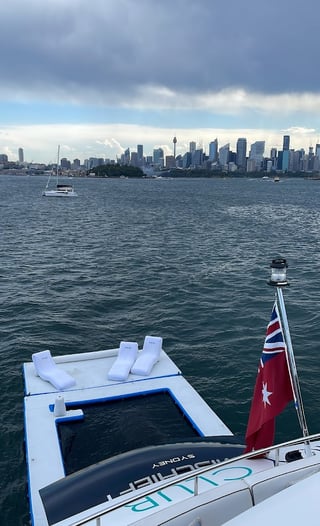 "Highly Recommend"
Ahoy Club are fantastic and highly recommended for corporate events with a gold star!
Olivar M.

"Helpful Team"
Ahoy has been so helpful in trying to make this last-minute event happen. They were always ready to answer questions and made sure the boat was exactly what I was looking for.
Navroz S.

"I loved everything about it"
Ahoy Club have been so great throughout the whole process of organising the boat. It was a complete luxury and I loved everything about it.
Amber O.

"Superstar Agent"
Georgie Damianakis was a superstar
Patric R.

"Fantastic company"
Fantastic company to deal with
Tony S.

"Friendly, professional and thoughtful"
The ladies at Ahoy were incredibly accommodating and professional. To be available for a boat visit early on Boxing Day to the chasing up of preference sheets and discussions of all requirements on board they were friendly, professional and thoughtful. Thank you ladies.
Kate S.

"INCREDIBLE INCREDIBLE INCREDIBLE! "
January 2023
We were so delighted to host our event on this yacht! A fabulous Xmas milestone celebration for our team, the organisation felt easy and the crew was brilliant! Would definitely recommend, look forward to host other events with Ahoy in 2023!
Jessica B.

"We cannot exaggerate how good the experience was. "
October 2023
Had a 48 hour charter on Chaos with Ahoy Club on Sydney Harbour. We cannot exaggerate how good the experience was. made so by the whole crew (especially Capt Tom, Chef David and C Stew Amanda). The team at the office in arranging everything were excellent. Thanks Ahoy Club Team.
John S.

"I couldn't recommend them more."
October 2022
The team of Ahoy Club goes above and beyond for all their events and charters. They sit down with you and take their time to plan your trip with awesome insider tips, up to the finest detail. Everyone has a big smile from the booking team up to the crew on board. I couldn't recommend them more.
Lara S.

"First-class customer service and attention to detail "
October 2022
Beautiful memories with Ahoy Club both at Sydney Harbour and overseas. Unforgettable experience with first-class customer service and attention to detail with personal requests. I am looking forward to my next adventure with Ahoy.
Thomas H.

"Seamless, enjoyable and unforgettable."
October 2023
All my experiences chartering through Ahoy have been seamless, enjoyable and unforgettable. The process was made easy through the lovely staff who always make your experience a priority. Couldn't speak more highly of the company and the team.
Lianna P.

"Excellent support, service and care "
October 2022
The Ahoy Club team provide excellent support, service and care throughout the journey from Pre book to post.The experience for us as a business, our partners and attendees has been nothing but excellent.Overall this event is a stand out for providing customers and staff alike; a memory that will be ever lasting. We highly recommend the experience.
Jonathon J.

"Cannot recommend Ahoy Club enough"
July 2022
We rented Chaos for 10 days in the Whitsundays with our family of 3 boys and girlfriends. It was the most wonderful trip. Chaos has been appointed meticulously catering for everything you could need and more. The staff were above and beyond brilliant, making sure there was never a dull moment and everyone was happy with constant activities and excursions. I cannot recommend Ahoy enough, their professionalism and service is 6 star.
Ciara G.

"Quick and easy from enquiry to booking, boarding and beyond."
June 2022
Ahoy! What can I say, this team is phenomenal, they make your every wish come true. Their attention to detail and customer experience team make you feel like everything is custom made to you. There isn't a stone unturned and everything was quick and easy from enquiry to booking, boarding and beyond. You are missing out if you don't book with Ahoy Club!
Nicolette R.