Tropical Yacht Charters | 7 Days in Thailand
With 1,400 islands and islets hugging the mainland coast, deciding exactly where to charter can be tricky. From the glass-clear waters of Koh Lanta to the famous James bond island of Phang Na Bay in Phuket, there's nowhere quite as remarkable as Thailand.
With perfect year-round sailing weather, mouth-watering cuisines, coconut-laden palm trees, picturesque bays, and some of the friendliest locals around – here are seven reasons why Thailand should be your next destination for a tropical yacht charter.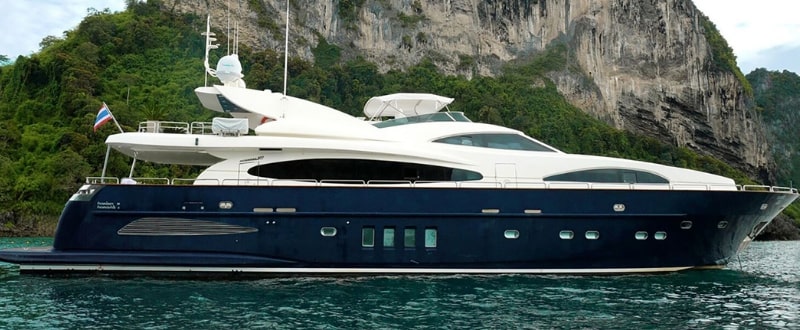 Day 1. Phuket
Not only is Phuket the largest island in Thailand, but it's also the perfect place to explore the southern reaches of the country. A popular destination for those looking to scuba dive, soak up the sun, enjoy the vibrant nightlife and bargain hunt at one of the many markets – Phuket has more than earned its name as the Pearl of the Andaman. With a similar look and feel to Bali, Phuket brings beautiful beaches, pristine waters and mountains to the forefront. Catch a glimpse of the giant white buddha before making your way to the towering rock formations of Phang Na Bay. At night, markets burst into life, and fragrant aromas assault the senses from every direction as street food vendors cook up a storm. Pull up a seat at one of the many beach bars or restaurants, enjoy cocktails out of baby coconuts and watch the sunset over the Andaman in style.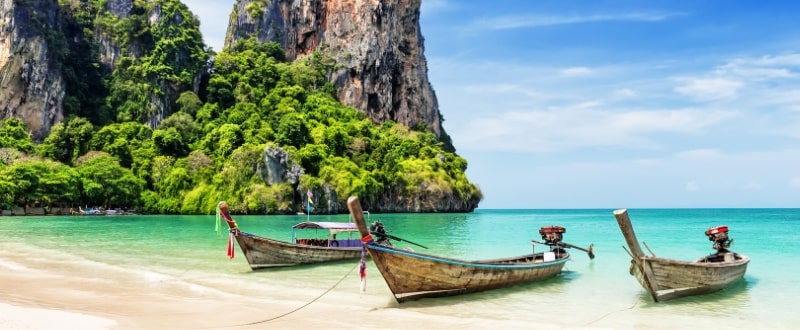 Day 2. Phi Phi Islands
Located off the coast of Phuket, the six idyllic islands of Koh Phi Phi Don, Koh Pai, Koh Phi Phi Leh, Koh Yung and two small islets form the Phi Phi islands. A popular choice for snorkelling and diving in crystal clear lagoons, soaking up the sun on tropical beaches and exploring jungle-covered mountains, the Phi Phi islands are everything you could want from a tropical paradise. Unlike nearby Phuket, the nightlife on Koh Phi Phi is more subdued and upscale. Many of the best bars and restaurants are found in the luxury resorts, with international cuisine served to Michelin standards. Evenings are filled with the song of cicadas and geckos while the islands are lit up with candles and lanterns, ensuring even the dimmest stars can be seen.
Day 3. Koh Lanta
On the island Koh Lanta, here you'll find never-ending white sandy beaches that are rarely overcrowded, lush jungle-covered mountain ranges, warm, turquoise waters and a truly laid back atmosphere. Unlike many of the other Thai islands, Koh Lanta has managed to see off mass development. If you're looking for a tropical beach all to yourself, then you'll want to head to the southern part of the island. Bamboo Bay, waterfall Bay and Kantiang Bay all offer serene escapism free from hordes of tourists. In the Old Town of Koh Lanta, teak and bamboo houses on stilts jutting out over the sea give you a glimpse into how life used to be here. Explore the nearby Trang Islands, snorkel or kayak to Koh Rok and enjoy a traditional Thai massage on the more popular beaches.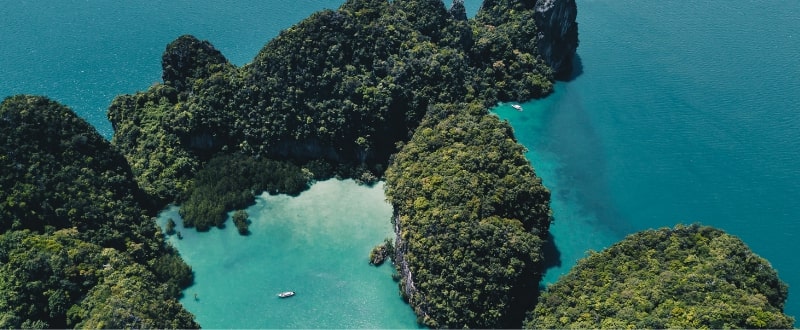 Day 4. Koh Muk
Heading south, you'll find the small island of Koh Muk. Located just a few kilometres from the Hat Chao Mai National Park on the mainland, Koh Muk is where you'll find the famous Morakot Cave (Emerald Cave). Enter a world of exotic beaches, lush, jungle landscapes and hidden caves only discovered a few decades ago. The main attraction on the island is the Emerald Cave, which is only accessible by kayak or swimming. Make your way through sparkling green waters before emerging into an enclosed beach and lagoon surrounded by towering limestone cliff faces. Other draws to Koh Muk are its fantastic snorkelling locations, tropical beachside bars, traditional night markets and fresh seafood restaurants.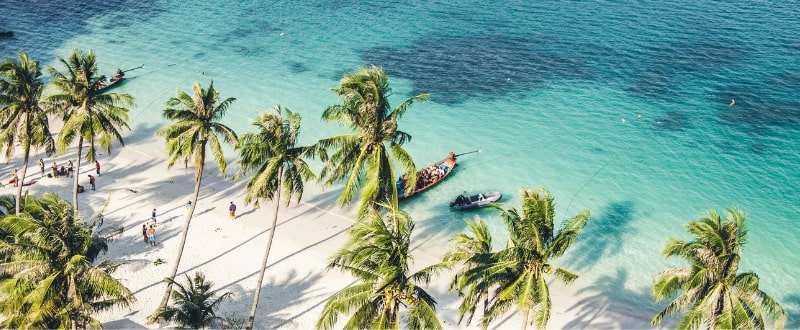 Day 5. Koh Rok Nok
Koh Rok Nok is one of the best islands for exploring the vibrant coral reefs of Thailand however, the island is closed to visitors between May and October each year to preserve and maintain the delicate ecosystem. One half of twin islands, its sister island, Koh Rok Nai, is where you'll find the only restaurant of the two. Undeveloped and uncrowded – Koh Rok Nok and Koh Rok Nai are fantastic for snorkelling, diving, swimming and escaping the crowds, no matter the season.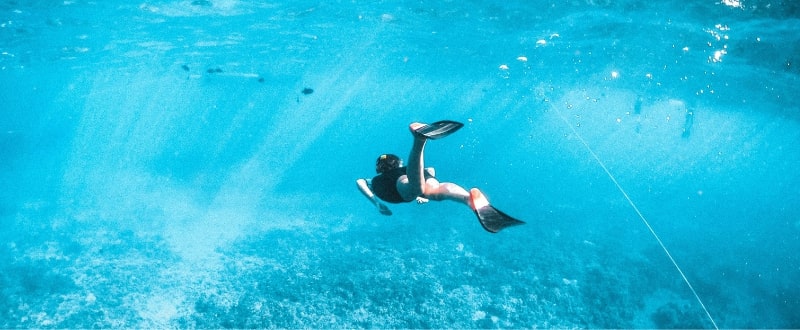 Day 6. Koh Adang
South of Koh Rok Nok and Koh Rok Nai, Koh Adang is among one of the last islands in Thailand before entering Malaysian waters. Forming part of the Koh Tarutao Marine Park, the island is largely untouched by tourism and mass development. Unless you're a local, a fee is paid to enter the national park – well worth it to preserve the environment. There are limited places to eat and drink on the island, and you'll only find a couple of places to stay. It's great for relaxing on isolated beaches or exploring the marine world beneath the waves; it's definitely somewhere to relax and experience how Thai islands used to be just 20 years ago. Hungry? Fear not. Neighbouring Koh Lipe has all of the bars, restaurants and amenities you could want come evening time.
Day 7. Koh Lipe
The suggested final stop on the itinerary is at the small but perfectly formed island of Koh Lipe. As with all of the other islands on this list, Koh Lipe is all about the beach. At night, bamboo huts and wooden restaurants light up the lush forests around them, while beach bars and table service deliver fresh seafood, local cuisine and cocktails to your table on the sand. The shallow and calm waters of the island make it unbeatable for swimming and snorkelling, while the hot, white-sand beaches fringed by palms are perfect for working on your tan. Enjoy a traditional Thai massage onboard your private yacht or take part in an outdoor yoga class beneath the mountains on the sundeck. Koh Lipe perfectly marries traditional Thai culture and beauty with modern facilities for an all-inclusive resort-style destination.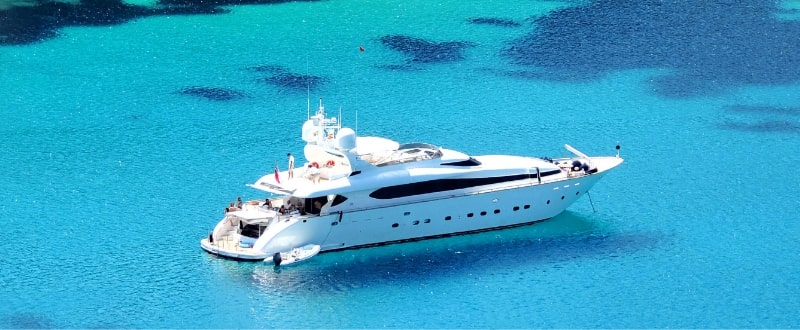 Explore The Thai Islands in Style
With so many tropical islands to explore along the Thai coastline, the only decision you'll have to make is which ones to visit. Whether you want to create your own itinerary or let us do the planning for you, our concierge team will whisk you off to the destinations you want to see most.
With Ahoy Club, you'll enjoy an authentic 5-star experience from the moment you embark on your Thai island getaway, helping you rediscover the true meaning of a luxury holiday. Get in touch today or browse our charter yachts below to inspire your next visit and explore the many options we have available.
Yachts for Charter Near You