The Biggest Yachts in The World
From water toys and tenders to luxurious facilities and amenities, superyachts are made to impress. Equipped with dedicated crews and featuring stylish interiors designed by world-renowned interior designers, size matters when it comes to enjoying a fantastic yacht charter getaway.
With more than 4,000 superyachts, sailing yachts, motor yachts and catamarans located on all seven continents, Ahoy Club brings luxury, exceptional service and style to ocean-going adventurers. From the imposing FLYING FOX to the impressive AQUARIUS, here are some of the biggest superyachts in our fleet for you to enjoy.
Whether you're looking to book your next superyacht charter or just after a little bit of inspiration – here are five of our favourites to consider.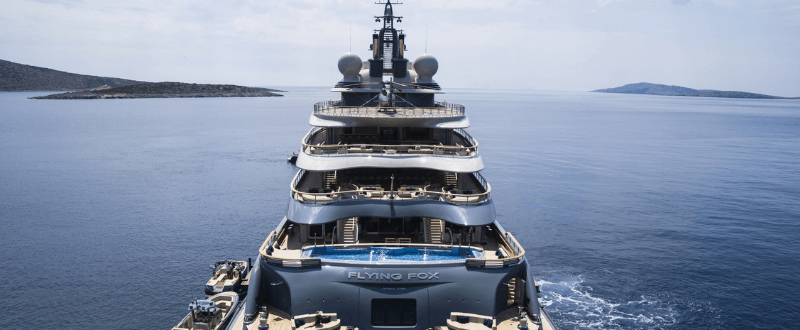 FLYING FOX
Built by Lurssen in 2019, FLYING FOX measures 136m (446ft). This luxury megayacht sleeps up to 25 guests, with 11 well-appointed and comfortable cabins. FLYING FOX calls the Mediterranean home, whisking guests off to some of the region's top hotspots.
With a cruising speed of 15.00 kn/pH and a dedicated crew of 55 members, five floors of luxury await. The interior has been perfectly designed by Mark Berryman using soft shades of white and blue finished with light wooden touches for maximum use of space and light.
Delight in the large outdoor pool or hot tub and spend the day soaking up the sun on the deck. The addition of a helipad ensures you can travel from a to b in no time at all, whilst generous hosting areas and plenty of seating keep guests comfortable. Fitted out with everything you need for an incredible getaway, FLYING FOX takes luxury yacht charters to a whole new level.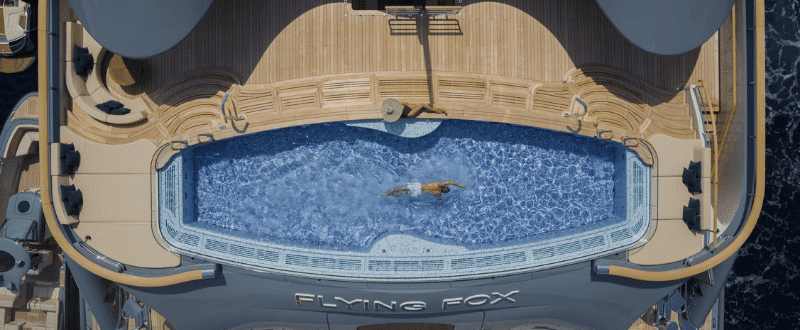 LUNA B
Another superyacht found in the Mediterranean, LUNA B, measures in at 66m (216ft)and was refitted in 2019. With two double cabins, two single cabins, one master cabin and one VIP cabin, she is able to sleep up to 12 guests.
The interiors have been designed by Alberto Pinto, taking advantage of soft creams and light pine wooden features. Spread out over three decks and featuring a hot tub pool, internal and external dining and seating zones, three tenders including Limousine Royal Denship, Sports Royal Denship and Rib Nautica – everything you need for the perfect escape can be found. LUNA B offers an array of amenities such as an incredible beach club, jacuzzi, helipad, movie theatre and spa. Everything you could possibly want awaits on LUNA B.
Reaching a top speed of 15.00 kn/ph and with a crew of 18, explore the very best of the Mediterranean in absolute luxury and style. Better still, the generous proportions of LUNA B give you all of the space that you need while providing a stylish base to call home during your travels.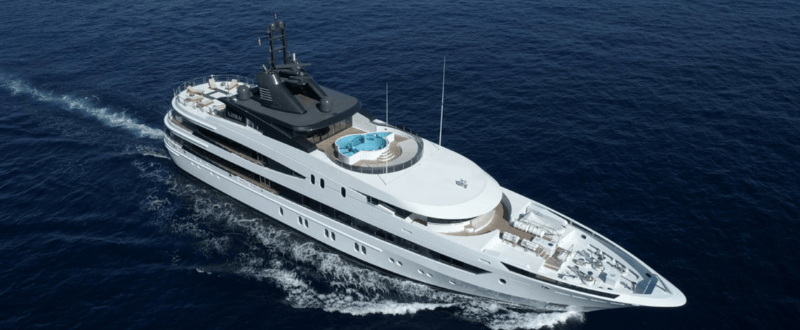 AQUARIUS
Also found in the Mediterranean is a superyacht that's the epitome of luxury – AQUARIUS. With 92m (302ft) of perfection on offer, this custom Feadship raises the bar on perfection and delivers maximum quality, style and comfort in one sleek design.
Spread out over three decks, and with seven stylish cabins, AQUARIUS is able to sleep 12 guests comfortably across seven rooms and consists of a crew of 31 members. Onboard you'll find a swimming pool, gym, massage room, cinema room, helipad, swimming platform, jacuzzi, health spa, a variety of water toys, modern entertainment systems and a choice of tenders.
The perfect choice for those who appreciate the finer things and who want to make the most of every moment on the waves, this contemporary design and plush interiors will not disappoint. Well designed spaces, generously sized cabins and design elements that breathe life into all parts of the vessel make AQUARIUS a must for those who appreciate the beauty and style of modern yachts.
MADSUMMER
Measuring 95m (312ft) and sleeping up to 12 guests, MADSUMMER is a well balanced, stylish and sleek superyacht made for luxurious yacht charters. Built by Lurssen in 2019, with the interior meticulously designed by Laura Sessa Romboli, where she utilises a variety of textures and shades that combine an inviting warmness with contemporary style.
The 12m swimming pool on the main deck features an integrated jacuzzi, while the Wintergarden provides ample space for wining and dining. This incredible vessel also comes with a firepit and Teppanyaki grill for fun group dining! Large sliding doors give way to the luxurious salon, while ten guest cabins deliver custom furnishings and calacatta marble ensuite bathrooms. The master cabin comes with it's own private terrace – perfect for that morning alfresco coffee while you cruise into a new port.
Other luxurious features include an enormous cinema, a spa, beach club, wellness centre, gym, spacious sundecks and electrically dimmable glass windows. With a real focus on delivering maximum comfort and style, MADSUMMER marries luxurious elements with modern design to create an impressive superyacht that commands attention.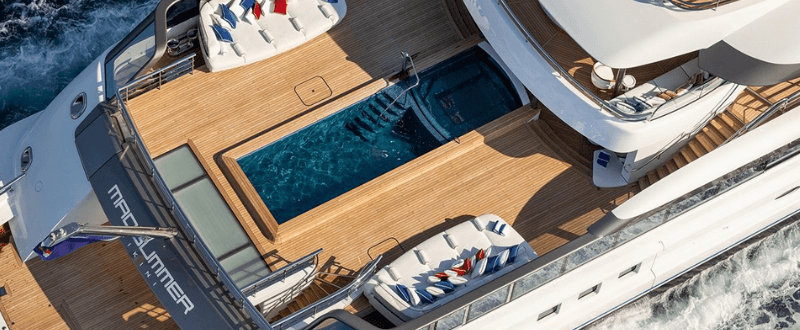 KISMET
Designed and built by Lurssen, KISMET comes with five decks and measures a massive 95m (312ft). While her size is impressive, it's the exquisite attention to detail and luxurious touches that truly steals the show. Featuring a double-height atrium, sweeping staircase and substantial video walls – no stone has been left unturned when it comes to luxury and indulgence.
With two master cabin's, two VIP cabins, two double cabins, and two twin cabins, KISMET comfortably sleeps 12 guests. A crew of 28 take care of the running of the superyacht, ensuring your every need is taken care of. A vast selection of water toys and luxurious amenities, including a jacuzzi, gym, swimming pool, sauna, beauty salon, swimming platform, private bar, chase boat, elevators, a cinema room and a beach club is included.
Modern technology, including a home theatre, entertainment screens, Wi-Fi, gaming consoles, outdoor cinema and advanced AV tech, keep you connected on the move. Dark tones and jewel colours create an opulent interior, which works perfectly with the amount of space it offers. The ultimate superyacht charter, KISMET takes super-luxury to the next level in all the best ways possible.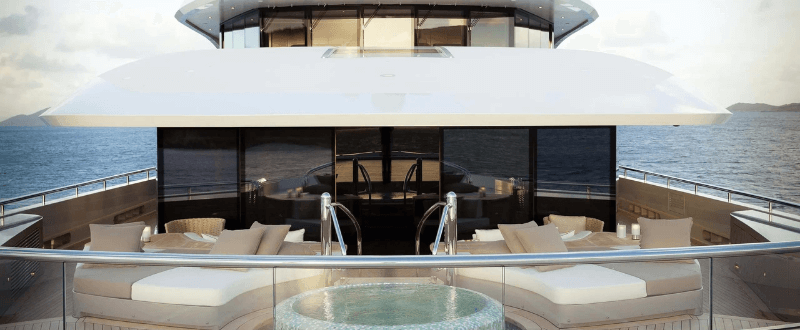 Rediscover the Meaning of Luxury
Whether you're looking to charter a superyacht in the Mediterranean, Caribbean, Australia, the Indian Ocean and beyond, rediscover the true meaning of luxury with Ahoy Club. Explore a vast range of superyachts designed to deliver a memorable experience, featuring modern and stylish interiors, luxury facilities and amenities and a dedicated crew waiting to deliver.
From the moment you step foot on board until the day you disembark, we go above and beyond to deliver the experience you deserve. Ready to charter one of the largest superyachts in our fleet? Get in touch today or browse our charter yachts to inspire your next escape.