Superyacht Destinations to Visit in South America
The Galapagos Islands are an amazing place to visit in South America. The archipelago, which belongs to Ecuador, is home to the best wildlife viewing and bird watching on earth. It's also very remote, beautiful with unspoiled natural landscapes and a place where you can participate in a wide range of outdoor pursuits both on land and in the water. The Galapagos Islands region is also designated a National Park. The region consists of 19 islands and many islets. It's for these reasons that this spectacular destination is among the best superyacht destinations to visit in South America.
While exploring the Galapagos Islands on a superyacht, you'll visit a series of locations across an array of islands. Each location is different from the others and has unique attractions to explore and exciting activities to participate in but they all have one thing in common: pristine, natural beauty, home to some of the most unique plant and animal species in the world.
In this article, we'll discover these locations and discover why they're considered to be some of the best superyacht destinations to visit in South America.

Santa Cruz
Santa Cruz is one of the islands in this archipelago and it's mostly known for its beautiful sandy beaches, such as El Garrapatero, and the lively town of Puerto Ayora. As you explore the island, you'll see marine iguanas, Galapagos crabs and many species of birds. You'll also have a chance to visit attractions such as the Charles Darwin Research Station, the Lava Tunnels, the Stand of Scalesia, El Chato and the Rancho Primicias Giant Tortoise Reserve and Black Turtle Cove.
Floreana Island
Punta Cormorant on Floreana Island is another top location you can easily reach via a superyacht. Here, you'll find a lagoon with a large flamingo population, a beach with extra-soft coral sand and a short nature trail where you can admire the views and observe a variety of bird species. You may also spot some Pacific Green turtles, blue-footed boobies and reef sharks near the shore.
Isabela Island
Isabela Island is the largest island in the Galapagos and it's a nature lover's paradise known for its unique volcanic landscape. Some of the attractions you'll find here include El Muro de las Lagrimas and Albemarle Point. As you hike the trails, you'll spot diverse wildlife and vegetation. Snorkelling is also popular along the coast.
Punta Moreno on Isabela Island is also home to diverse bird, animal and plant species. Great blue herons, pelicans, lizards and many species of birds are commonly spotted here and one of the most prominent features of this location is the spectacular views of three active volcanoes that are nearby.
Urbina Bay
Another great location to explore via superyacht is Urbina Bay. Urbina Bay is known for its crystal clear waters that make it a top destination for snorkelling and diving. Beneath the waves, you have the chance to spot sharks, turtles and many species of colourful fish. From land, you can observe whales, sea lions, penguins and the biggest marine iguanas in the region.
Fernandina Island
Punta Espinosa on Fernandina Island is another popular destination that is easily reached with a superyacht. It's a great place for observing marine life both in the water and from the shore. During low tide, you'll spot eagle rays and turtles and the tide pools are home to many creatures including octopuses. The hiking trail is a great place to observe the incredible animal and plant life of the area.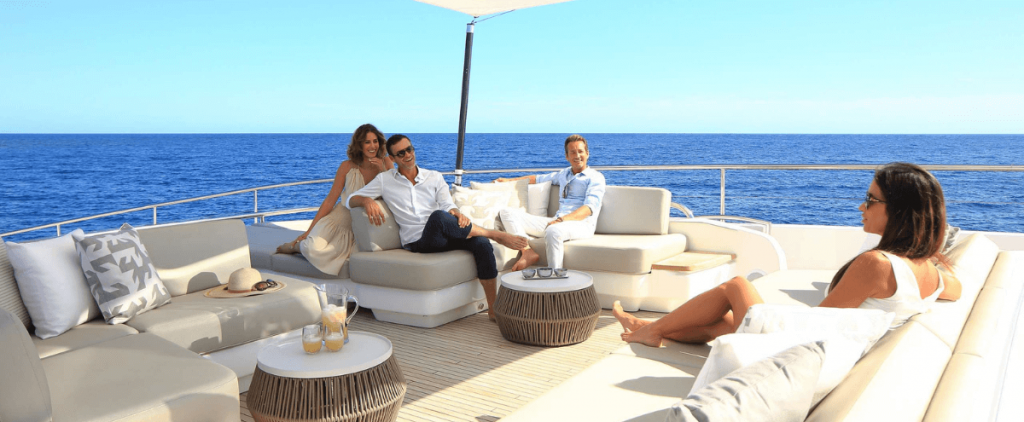 Punta Vicente Roca
At Punta Vicente Roca, you'll find another one of the region's best snorkelling areas in the Bolivar Channel. This is where you'll be able to experience one of the planet's richest marine sanctuaries. It's also a sea turtle nesting area. If you love bird watching, you'll find plenty of species to observe at this location.
Puerto Egas
When you reach Puerto Egas via your superyacht, you'll find a lovely beach where you can spend an afternoon swimming and snorkelling. There's also a hiking trail where you can observe a wide variety of bird species, fur seals and sea lions. Sugarloaf Volcano is a prominent feature in the distance.
North Seymour Island
North Seymour Island is a small, unpopulated island where you can observe a variety of land and sea life including many species of sharks that swim close to shore. The island is home to the biggest sea lion colonies in the region and its spectacular rocky coast can be explored via a hiking trail.
If you're seeking to hire a superyacht for your next South America Adventure, you have a few options to choose from:
– SACAJAWEA is a beautiful option with a sunbaking area on deck and kayaks for your offshore adventures.
– KNIGHT features a Jacuzzi and sunbed and a jet ski, paddleboard, fishing gear and snorkelling and scuba gear are available for your enjoyment.
– A gym, Jacuzzi and several sun lounges are some of the amenities onboard TSUMAT and you'll also have access to a canoe, wakeboard and slide.
– VALERIE is air-conditioned with a sunbed, swimming pool and jet skis.
– WHY NOT has a swimming platform and an inflatable water park.
Doesn't this sound like the ultimate vacation? Picture yourself at sea, sailing among beautiful islands and playing in water so clear, you can see right to the bottom. Endless fun in the sun, afternoons sunbathing on deck and evenings eating expertly crafted culinary delights and sipping tropical drinks while you relax in comfort.

Your private superyacht charter also comes with a professional crew who are there to ensure your vacation is the best it can be. They provide luxury service to you and your guests 24 hours a day so you can relax and not worry about mundane things like preparing meals and doing housework. That means you can travel worry-free and have more time to enjoy the sights and sounds of the amazing destinations you'll discover along the way.