Mischief Makers
The Malouf family are seasoned yacht owners who are determined to shake up the charter game. The Superyacht Report sits down with the family aboard their 54m M/Y Mischief to find out more.
By Rachel Rowney
The name of a yacht, the story that inspired it and the owners who chose it always brings out the curiosity in me. So when I met the owners of M/Y Mischief I couldn't help but be intrigued. Mischief, launched in 2006, is a 54m Baglietto, originally designed by Francesco Paszkowski and now owned by the Malouf family.
"Our families have had boats all our lives, from a little tin dingy upwards," begins Ian Malouf. "In 2003, I bought a 22m Princess, which in Sydney Harbour was considered a pretty big boat at the time, but on the European scale, that's quite funny." The Maloufs held on to the Princess for more than a decade before deciding to sell for something bigger. As chance would have it, Ian missed buying the 100ft vessel that he was initially interested in and fate brought a larger one into their sights. "I wanted to upgrade to a 100ft boat, I missed it, went to buy a 120ft, missed it. So we ended up buying Mischief."
Larissa, his wife, remembers the process of purchasing a vessel based in Europe. "We started looking at the bigger one to move home to Australia and we were looking online and this was going on for weeks, months, and looking at all the pretty pictures online just isn't the same. So I said, 'Let's just get on a plane and go and do a road trip'." The couple then travelled from Australia to see the yachts available first hand. "We did a three-day road and air trip, commencing in Greece, through Italy and finishing in the south of France, and looked at all the boats we had shortlisted, which was great. Then we found the one we loved and in turn renamed [her] Mischief."
Superyacht CEO Report – An interview with the owners of M/Y Mischief
The decision to purchase such a vessel wasn't entirely premeditated ("We were just looking for a bigger yacht and then bigger just became a little bit bigger. We saw Mischief and decided on her within 30 minutes," says Ian), and the initial idea to bring the vessel to Australia has still to come to fruition. "We had chartered overseas for many years and we had every intention when we bought Mischief to bring her home, and then we thought we would leave her in Europe for a year and she's never come home," laughs Larissa. "Three years later, she's still there!"
Following the purchase of the yacht in 2015, the Maloufs used her almost exclusively for the next six months. "After the six months, Mischief had to go into the shipyard for the 10-year survey and that was a big learning curve," recalls Larissa. "As an owner, even if you have people helping, you have really got to be on top of everything. At the end of the day, you are the one writing the cheques. You learn a lot. People think [that] as you have a superyacht, the costs don't matter, but that is not the case."
When the Maloufs are on board Mischief, it's dedicated family time. With five children, Larissa sees it as an opportune way to ensure everyone is together and enjoying themselves. "It is probably the most family-orientated holiday you can experience and everyone is happy. Keeping five kids in one place, with one activity, is hard. They are all opinionated and it's rare that we're all together, so that's our time. The kids jump off, they do all the water sports, hang out on the beach clubs. It has everything for everyone and we're all together. So that's why I think it's amazing."
Ian and Larissa Malouf
This family focus has also influenced the design and feel of Mischief. When the Maloufs bought her, the interior featured a lot of dark wood and felt too formal to be a comfortable place where everyone could relax. After a full refit, Larissa wanted to make sure the entire family felt at home. "We completely gutted it, so everything has changed – from the interior furniture to colours to carpet to a full external paint job," says Larissa. "We've made it really comfy. It has beautiful colours, we have kept it light and bright, and it's homey. We want to lie down, chill out and all watch movies together." The family wanted to avoid 'stuffy' or traditional furniture that wasn't inviting to guests, seeing Mischief as an extension of their home.
The elements enjoyed on board by the family are also what make Mischief such a popular charter vessel, with repeat clients coming back each year. The Maloufs all enjoy water sports and often purchase the latest toys on the market. "We are a family that uses them a lot!" says Larissa. When it comes to finding a balance between using the yacht for the family and ensuring Mischief is available during key times of year, she always tries to block out weeks during their children's school holidays in Australia.
Ian also believes owners don't take sufficient advantage of the traditional Mediterranean season. "I think that in September and October, there is a long, great shoulder season in the Med that is just lost." The family tend to head back to Australia for the whole of August, reaping the financial benefits of peak season in Europe before returning in September to have, as Ian says, "just as much fun". Mischief doesn't have a home port but has mainly spent time in Palma and the south of France because of her busy charter calendar. "Mischief is always doing something!"remarks Ellie, the couple's eldest daughter.
The family's favourite cruising grounds tend to be in Europe, with recent cruises along the Amalfi Coast, the Balearics and the south of France, and Mischief did venture to the Caribbean for a long period. However, they decided to ship her across the Atlantic to avoid the wear and tear that crossings can bring. "We took her to the Caribbean for four months, we chartered her for two weeks followed by a month on her with the kids, and then Ian and I had eight weeks on her, just the two of us, for our 25-year anniversary," says Larissa.
The family feel of Mischief also extends to the crew. Larissa stresses the vital role of chief stewardesses and is committed to ensuring they have a good relationship. "When on board, you are living with your crew and they are so important. With [our] chief stewardess, we've become friends as they become family in a way and I like that. A lot of owners are very formal with their crew. They will only speak to the captain and the captain will pass it on. I don't know if it's an Australian thing, but we don't do that."
At the end of the day, she believes it is in an owner's best interests to make crew contentment a priority. "When you live with them, you really have to get on. And it can make or break it. If the crew are unhappy, it shows in their work and then it reflects on our holiday."
The happiness of the crew is also important for Mischief as a charter vessel. Ellie highlights that positive working relationships mean that the crew are committed to ensuring charter clients have the best experience on board to ensure they return the following season. "When you get along with [the crew], they really want to care for you and they want to get those charters for you. It becomes their business as well."
Both Ellie and Larissa agree that the standard of European crew is incredibly high and this is a source of huge pride for those on board. "It's their reputation and they are very proud of the boat," says Larissa, who illustrates how the family show their appreciation for all the hard work the crew put it. "[At the end of the season] we go for dinners and take them out as we appreciate what they've done for the season. On board, between family use and charters, it is non-stop."
Ian aboard the M/Y Mischief
From Ian's experience, he believes a crucial part of successful ownership is knowing the right people to rely on. "I think I was lucky to have a good yacht manager from the first day. I think it's a really important part of owning a superyacht. For owners to do it on their own is not a good idea. I think I fell on my feet there. I am pretty alert and interested in everything that goes on and around the yacht. You have to keep an eye on costs." He compares ownership to running a small business with lots of "moving parts".
Although the family always considered yachting to be a passion, for Ian, a successful businessman in Australia, the idiosyncrasies and perceived inefficiencies in the yachting market were very frustrating. As both a charter client and an owner, he and his family have experienced both sides of the coin. He recalls many situations in yachting that would be unheard of in any other business sector (contentious issues such as backhanders or overcharging). As a result, the family began to work on an electronic platform for the industry to ease the process of chartering a yacht. "It's in my DNA that when I see something inefficient it plays on my mind and I want to see where I can do it better," says Ian. "I can't believe we are the ones doing this because someone should have been doing it long before now." The platform, named Ahoy Club, was launched this summer.
"I think that people overuse the world 'disruptor' but I'm definitely an 'improver. Improvement is our foundation. What we, through Ahoy Club, are bringing is a significant improvement to the yachting market."
– Ian Malouf
The Ahoy Club online platform and application are, in Ian's view, the key to a more efficient market for all parties, be it captains, owners, charter clients, agents or brokers. "When you're used to working hard and you're sitting back and looking at stuff, your brain starts to tick in and, all of a sudden, what was my hobby is now to become a significant business for the family." Ahoy Club has been labelled as disruptive, but that is not a term that Ian embraces. "I think that people overuse the word 'disruptor' but I'm definitely an 'improver'. Improvement is our foundation. What we, through Ahoy Club, are bringing is significant improvement to the yachting market."
Ian also sees this is as an opportunity to democratise the process, opening up the world of chartering to clients who may not have seen yachting as a viable option. "What we're doing is bringing a different market to the world. We're going to get rid of the ridiculously mundane tasks that are taking place, where captains and first mates and chief officers are becoming secretaries rather than doing the yachting. What we've done is take mundane, boring processes out of play and put business logic to them and automated them. Complicated tax structures, believe it or not, are automatable, and that's what we've proven."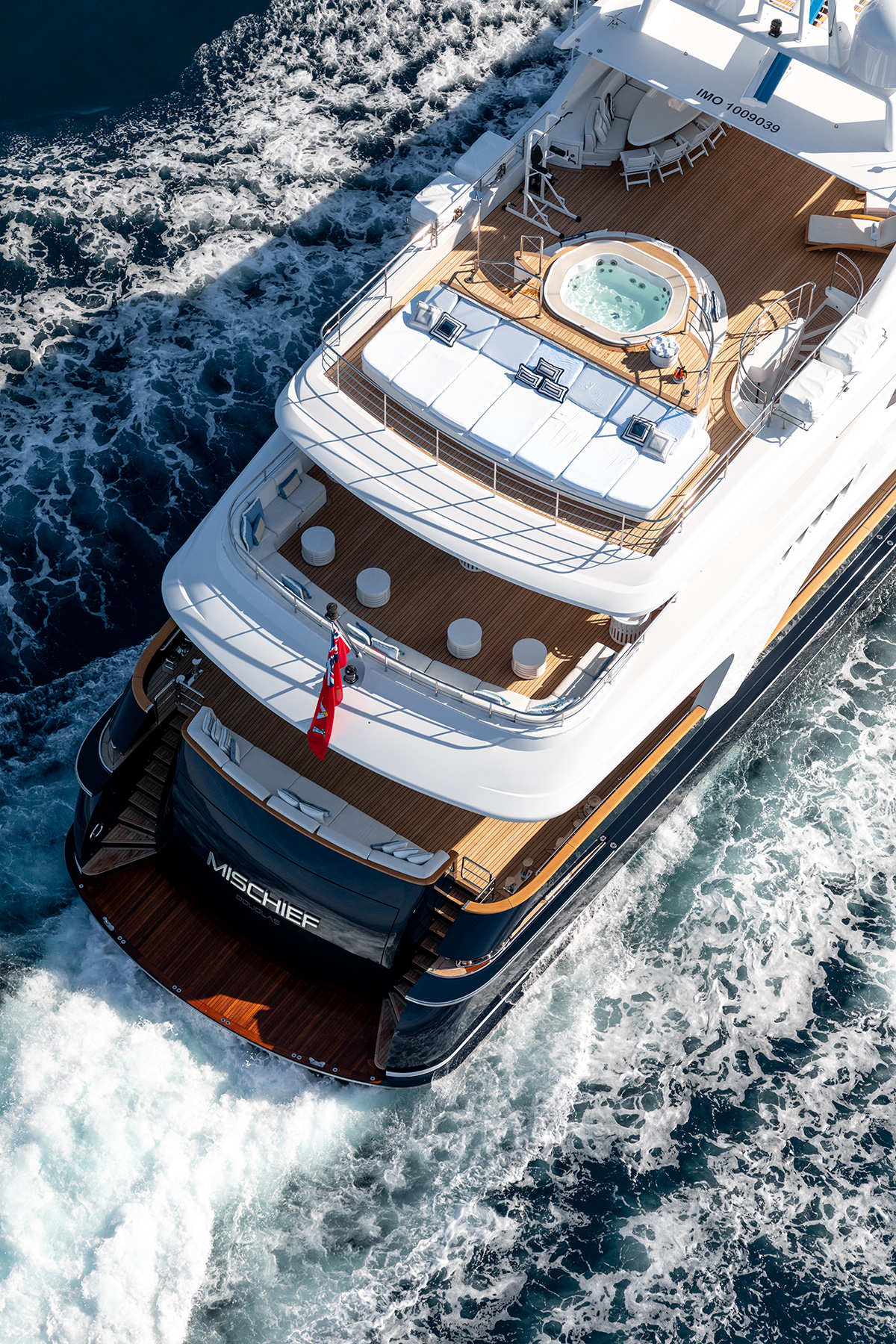 M/Y Mischief
The Malouf family also believes the Ahoy Club platform will increase revenue for owners by opening up the market to a longer season and in the Mediterranean for shorter charters. In their native Australia, it is common to have daily and hourly charters. "We want to bring this [concept] to the Mediterranean," says Larissa. "Owners can actually go out for six hours and charter the yacht for lunch; people just don't know that you can do that." The family often charter vessels in Sydney Harbour and have spent weekends in the Whitsundays.
Ian doesn't deny the mixed reception to the platform. "We've got some really good supporters of what we do and we've got some really harsh critics, so we appreciate both sides. Obviously, you like the support more than the other, but I think the critics drive you. They are wishing us to fail and I don't do failure." For Larissa, Ahoy Club is designed by owners, for owners. "We're coming at it from both sides. We're here to make a difference because we want to make a change, we want to make it better because we love yachting."
Ian and Larissa Malouf with their daughter, Ellie
Like many yacht owners, the Malouf family's journey has not been the one they expected. Their commitment to the yachting industry is evident in their personal use of the vessel, as well as their jump into the business side of the market. When asked if he has any advice for those entering the market, Ian says nothing really prepares you for ownership. "In a way, the journey and the mistakes are inevitable. Some of what you're about to experience when moving into major yachting you can't explain to any believable level."
As I leave the yacht after our interview, the drinks are flowing and the disco has started, and I think about the name of their vessel and how it perfectly complements the Malouf family. Perhaps yachting needs a little bit more Mischief.