How to Make this Years Christmas Party One for the Books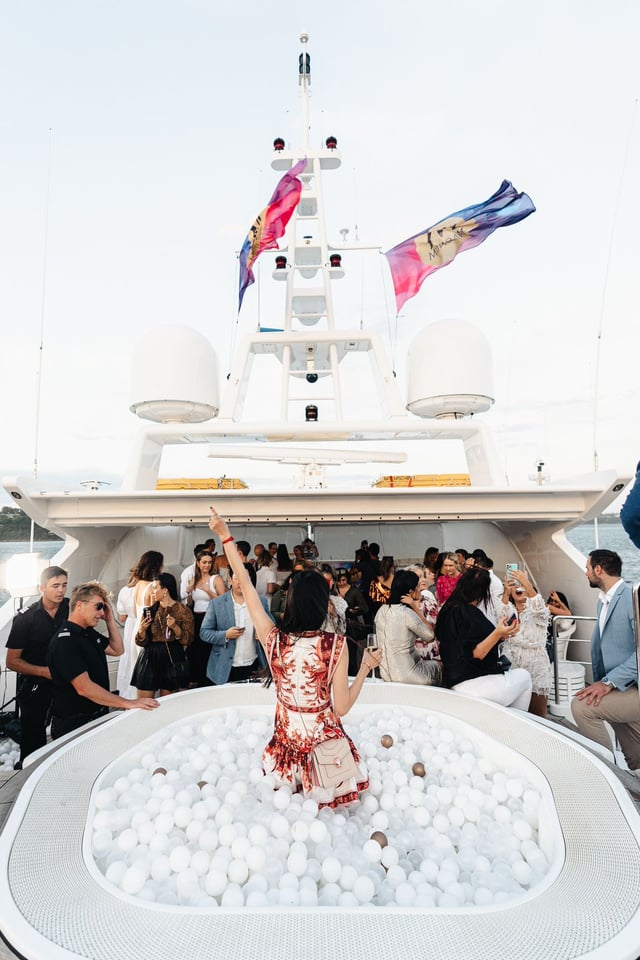 How to Make this Years Christmas Party One for the Books
This holiday season, treat your colleagues to an exceptional Christmas party experience they'll cherish. Contact Ahoy Club today to start planning your luxury corporate Christmas party on a yacht in Sydney Harbour. Don't miss the opportunity to make this year's celebration one for the books.
Planning a Christmas party can be a logistical nightmare, but it doesn't have to be. With Ahoy Club's expert assistance, you can leave the stress of organizing to us. We take care of all the details, from yacht selection to catering, so you can focus on enjoying the festivities. Say goodbye to the headache of coordinating your venue, decorations, and entertainment – we've got it all covered.
Gourmet Catering & Premium Alcohol Offerings
Ahoy Club partners with 5-star catering services to provide a culinary experience that will impress even the most discerning foodies in your group. From fresh seafood platters to delectable canapés, our menu options are designed to please.
And what's a luxurious Christmas party without premium cocktails and alcohol packages? We offer a wide selection of fine wines, champagne, cocktails, and spirits to ensure that your guests have access to the very best. Whether it's a classic champagne toast or custom-crafted cocktails, our onboard bars are stocked with your favorites.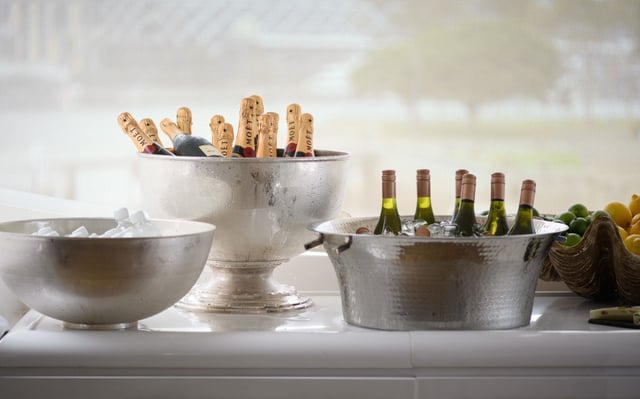 A Rival to Traditional Office Venues
Why settle for a crowded, uninspiring office party venue when you can offer your team an unforgettable experience on a luxury yacht for a similar price-point? Yacht parties are not just about celebrating; they're about creating lasting memories. The unique ambiance of a yacht sets the stage for an event that will be the talk of the office for years to come.
Things to Consider When Planning Your Corporate Christmas Yacht Party
Planning in Advance: As with any exclusive event, planning ahead is key. Yachts, especially during the holiday season, tend to get booked quickly. To secure your preferred date and yacht, it's advisable to contact our team a few months ahead of the season to work through your requirements. This way, you'll have the best selection of vessels and greater flexibility in customizing your party.
Guest List & Yacht Size: Determining the size of your guest list early in the planning process is important. Yacht capacities can vary significantly, so knowing the number of attendees will help you choose the perfect-sized vessel. You want to ensure everyone is comfortable and has ample space to enjoy the festivities.
Weather Contingency Plan: While Sydney enjoys pleasant weather during the holiday season, the weather can sometimes be unpredictable. Most of our yachts on offer have covered indoor areas in case of inclement weather. Discuss weather contingencies with our concierge team in advance to ensure a seamless transition if required.
Theme & Decor: Elevate the ambiance of your yacht party by choosing a theme and appropriate decorations. Whether it's a classic winter wonderland, or something more suited to your specific business, our concierge team can arrange grand decor options ahead of your event.
Entertainment: We can arrange a live band, DJ, or entertainment acts to keep the party lively. Our yachts have space for various activities, such as dancing, casino games, or even water sports. These additions can elevate the fun factor and make your event unforgettable.
Photography & Memories: Don't forget to capture the magic of your corporate Christmas yacht party. Arrange for a professional photographer or set up a designated photo booth to create lasting memories.