Dial a Dump founder Ian Malouf turns to yachting after $577m sale
Dial a Dump founder Ian Malouf turns to yachting after $577m sale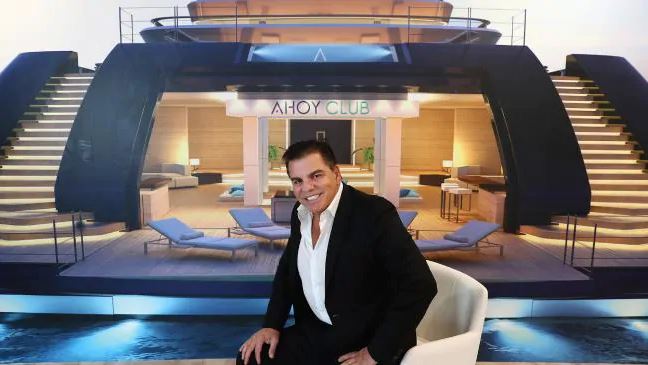 Ian Malouf says he knows how to work and how to party, combining both last night as 300 guests joined him over cocktails to celebrate the $577 million sale of his Dial a Dump waste business to the listed Bingo Industries.
Malouf, described as Australia's "richest garbo", partied on at Bar Machiavelli in Sydney's Rushcutters Bay in an event meant to launch his rapidly growing Ahoy Club charter platform, which is shaking up the superyacht industry around the world.
"We'd originally planned it as a success party for Ahoy and as an excuse to reintroduce ourselves to the yacht market here ahead of the Australian summer," Malouf told The Australian.
"But its fair to say it's a good coincidence [with the Bingo deal] and the party could go on for a little while. We will have a lot of fun."
Malouf owned the majority of Dial a Dump, which he started as a one-man rubbish collection business while still a student in 1984 and built into a business that had pre-tax earnings of $51.6m in 2018. Earlier this year he struck a $100m deal with billionaire retailer Brett Blundy to buy out his share of the business ahead of the Bingo sale.
While Malouf will receive what he calls "a telephone number" in cash for the deal announced yesterday, or most of $377.5m, he will also get the bulk of $200m in Bingo shares issued as part of the deal and join the company's board.
"This is a smart move. There was not a lot of overlap in the assets and they have a great management team at Bingo. So this is not goodbye to the waste industry," he says.
"It may have been a little while since I've yielded a shovel but I still know how to use one. I've still got a lot invested in it. And you can work from anywhere in the world these days."
For Malouf that increasingly will mean Europe. He has just returned to Sydney to finalise the Bingo deal after spending the northern summer flitting between Cannes, Monaco and other ports in his $40m 52.4m yacht Mischief.
His Ahoy Club is based in London and plans to open for business in cities such as New York and Hong Kong, offering steep discounts on deals for the mega-wealthy to rent superyachts.
Yacht brokers have charged 20 per cent commission for deals that run into the hundreds of thousands per week but Malouf's company, which he runs with daughter Ellie, charges just 4 per cent and offers an app for users to find yachts in all price ranges.
It is capitalising on what Malouf believes is wealthy people's eye for a bargain, however big their fortune is.
"I don't care how rich you are — everyone wants to find a good deal," he says.
"We previously had Mischief on the market for €295,000 per week and now with us it's €254,000. So that's a €50,000 saving, and for anyone that's substantial."
He says Ahoy has already brokered 100 charter contracts in only a few months of operation and has 2500 yachts on its platform. About 80 per cent are in Europe but with the northern summer soon to end, Malouf is targeting the Caribbean and Australian markets.
Ahoy has also put a few noses out of joint in the charter industry.
"We got banned from the Monaco Yacht Show [in September]. It's run by brokers and they got wind we were going. They offered our money back but I said no. So it's my first legal battle in the industry. I don't shy away from a fight."
Malouf has long been a superyacht connoisseur. Mischief's features include marble floors, leather walls, on-deck clay pigeon shooting and a climbing wall that lowers into the water.
But the Bingo sale means Mischief is on the market.
"The deal allows me to upgrade to an even bigger toy, I suppose," says Malouf with a laugh. "You've got to get out there and have some fun."