Destination: Western Australia
It's time to explore Western Australia
Australian's frequently escape their home country when heading on holiday but often neglected are the natural beauties and unspoilt landscapes within our home country. If you love adventure and getting off the beaten track, the Kimberley region in Western Australia is for you. Prepare yourself for a trip filled with fishing, heli-tours, hiking, climbing, chasing waterfalls, beach picnics and immerse yourself in historic art and true Australian culture. We recommend a 10 day to a two-week trip through the Kimberley's as the region stretches over 400,000 square kilometres and trust us, you won't want to skip a beat. With a population of fewer than 40,000 people, you'll be exploring surreal landscapes in complete privacy.
Our experienced Ahoy Club Concierge Team have created the perfect itinerary for you and your guests to enjoy onboard an Ahoy Club yacht.
Journey Overview of the Kimberley Region
Best time to visit: April – October
Weather: 25 – 33°C
Ideal for: Action and adventure / Art and culture
Recommended length of stay: 10 – 14 days
Embark at Wyndham
Wyndham is the Kimberley's oldest town along with owning the title of Western Australia's northernmost town. On the road from Kununurra to Wyndham, a deep gorge known as The Grotto offers a picturesque and safe swimming spot.
Berkeley River
The stunning Berkeley River offers tumbling waterfalls, gorge and sandstone cliffs. This is a great opportunity to enjoy a spot of fishing and take a dip in the freshwaters swimming pools.
King George River
Explore the King George River which boasts the highest twin falls in Western Australia. Marvel at thundering water plunging over red sandstone cliffs, if you are feeling adventurous you can enjoy an invigorating freshwater shower as its base.
Koolama Bay
Visit the enriched Koolama Bay (formerly known as Rulhieres Bay) where the 1942 MV Koolama bombing attack by Japanese air raids occurred.
Vansittart Bay
After a helping of history and breathtaking landscapes, it's only fair that you enjoy some art and culture with the oldest rock art in the Kimberley region at Gwion Gwion Rock Art.
Mitchell River
This large river is fantastic for perfecting your fishing skills of the elusive Barramundi and exploring freshwater creeks; you'll likely spot a couple of crocodiles here too if you haven't already on your trip. Take an aerial view of the impressive waterfalls by air for an unforgettable experience.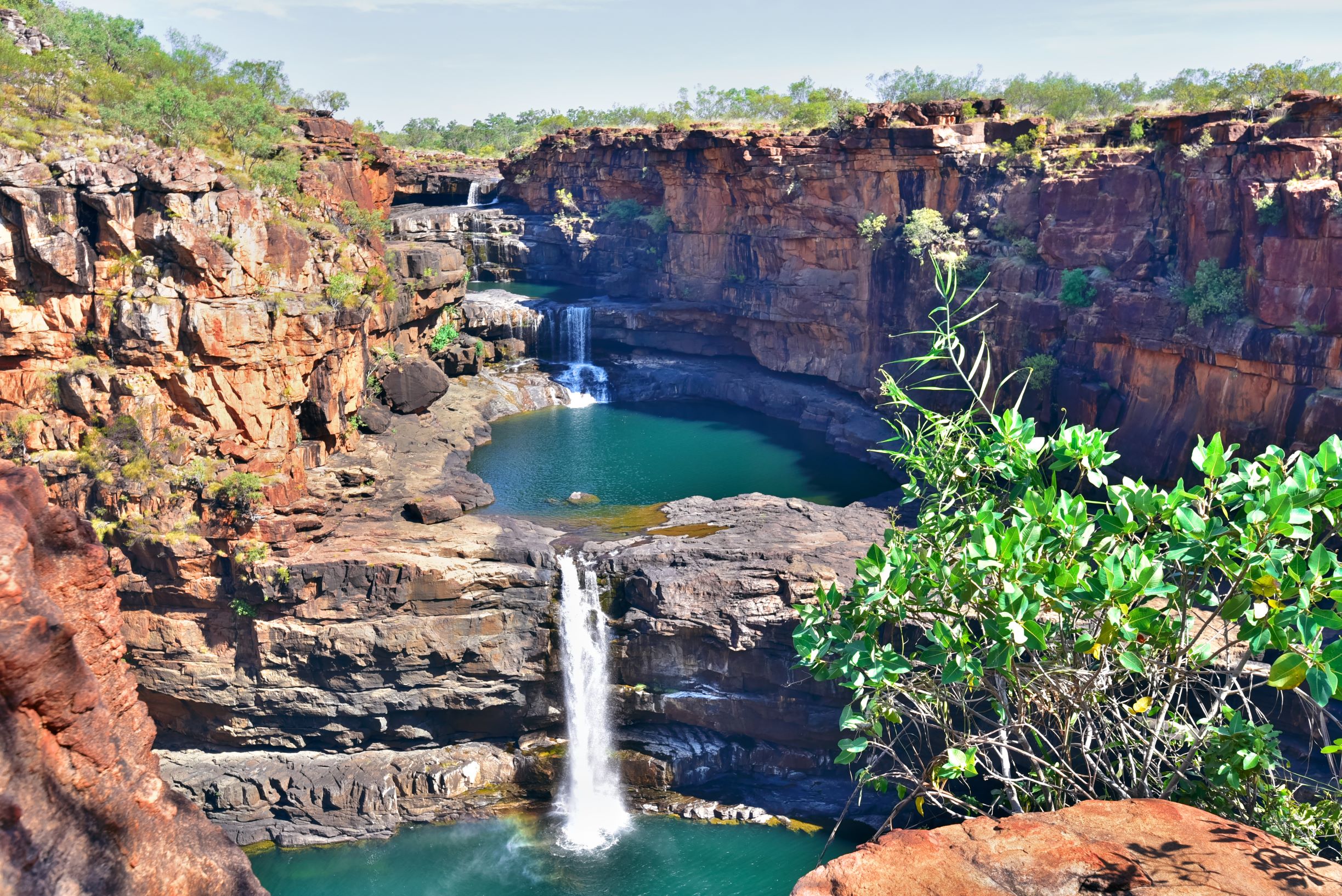 Swift Bay
Enjoy a morning oyster harvest on the exposed rocks if the tides are in your favour followed by exploring the cultural significance of Swift Bay that was once an important meeting place for the Indigenous people.
Bigge Island
Bigge Island is the second–largest island of the Bonaparte Archipelago (after Augustus Island). This historic sandstone island is surrounded by reef filled bays and is home to several endangered mammals like the Monjon.
Hunter River
If you didn't get a chance to perfect your fishing skills at Mitchell River, you can try again here, and the mangroves are home to juicy mud crabs too. Enjoy the impressive rock formation at the river mouth along with two waterfalls, which drop almost 90m.
Prince Regent River
At Prince Regent River, watch your private yacht's bow manoeuvre directly under King Cascade Falls. Enjoy a refreshing cool down on the deck or partake in an excursion climbing to the top of the falls for a freshwater swim.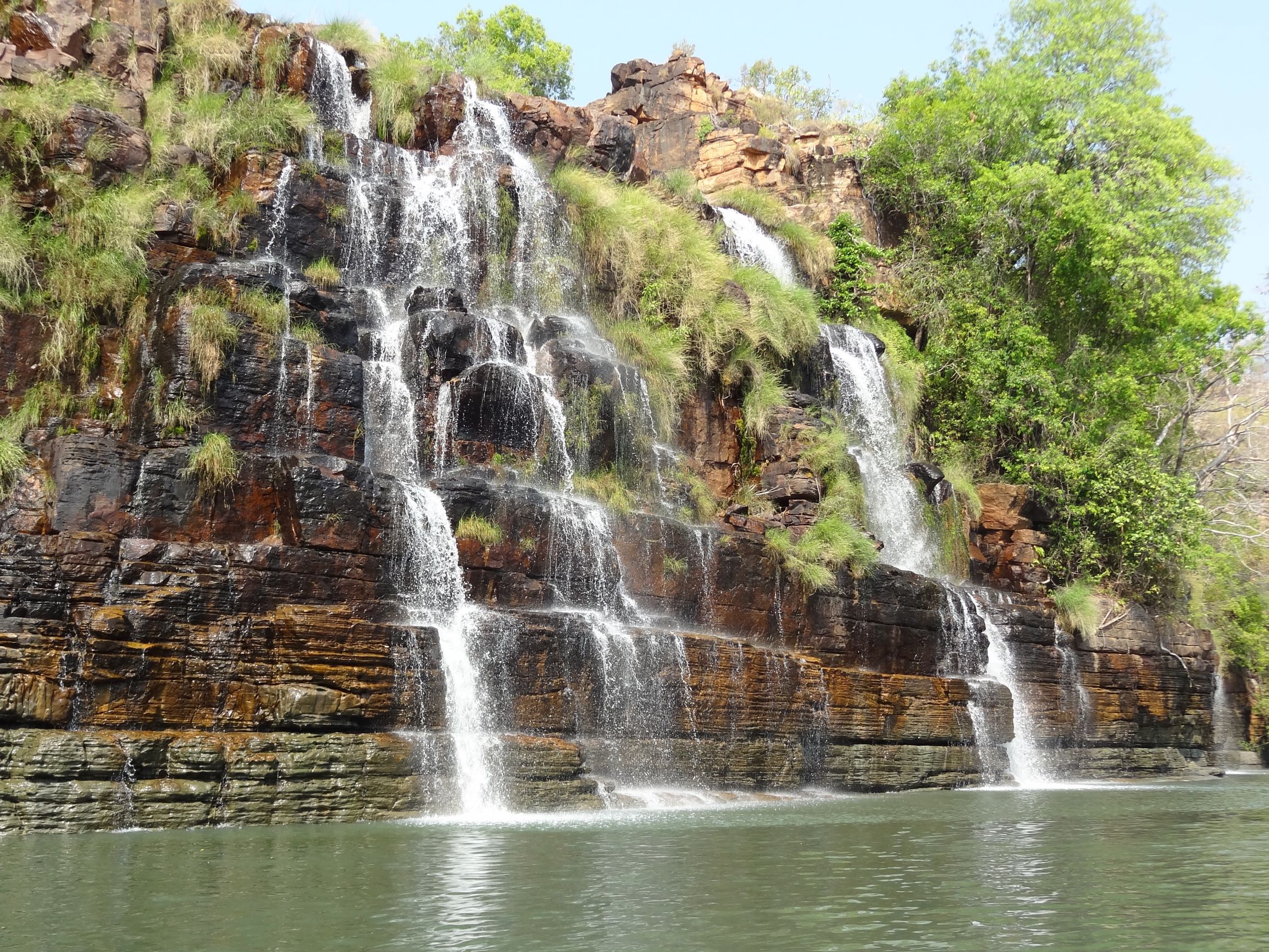 Montgomery Reef
Located on the Southern Kimberley coast, you can explore the Montgomery Reef in by sea or take a scenic helicopter ride. Here you will see an array of wildlife such as manta rays, dugong, crocodiles and fish before enjoying a swim at Ruby Falls.
Horizontal Falls
David Attenborough once described this stunning waterfall as "Australia's most unusual natural wonder". The name comes from the fast-moving tidal currents at Talbot Bay squeeze through two narrow gorges of the McLarty Range, forcefully pushing the water into rapid like formations which rush through the gaps at an astounding pace, producing waterfalls turned on their side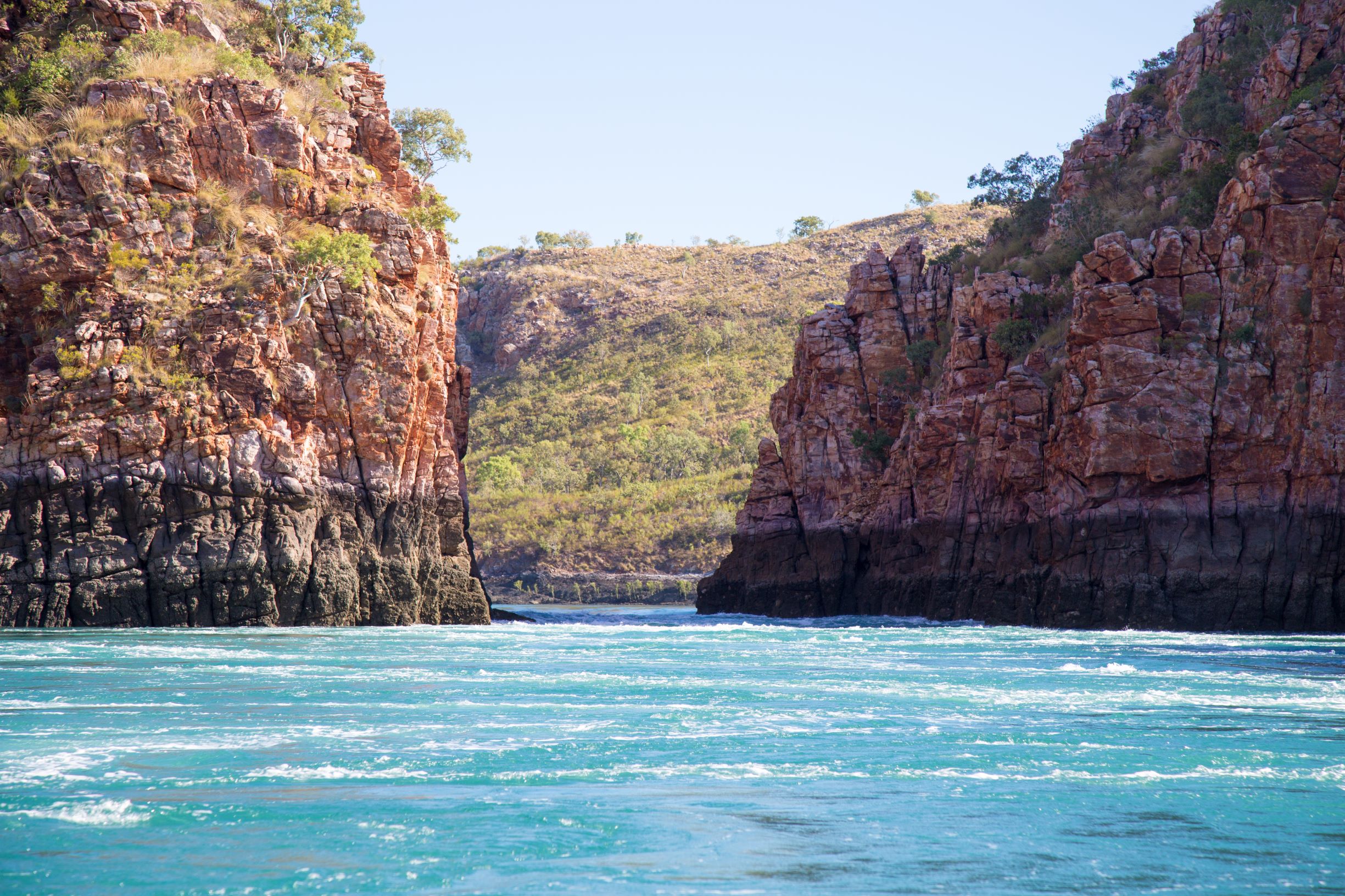 Silica Beach
Located on Hidden Island, this pristine white sand beach is the perfect place for a swim. This is the only silica sand beach located on the Kimberley coast and it squelches beneath your feet.
Broome
The final stop on our recommended itinerary for the Kimberley Region is Broome, where you should watch the sunset over the Indian ocean and reflect on your amazing charter experience in Western Australia.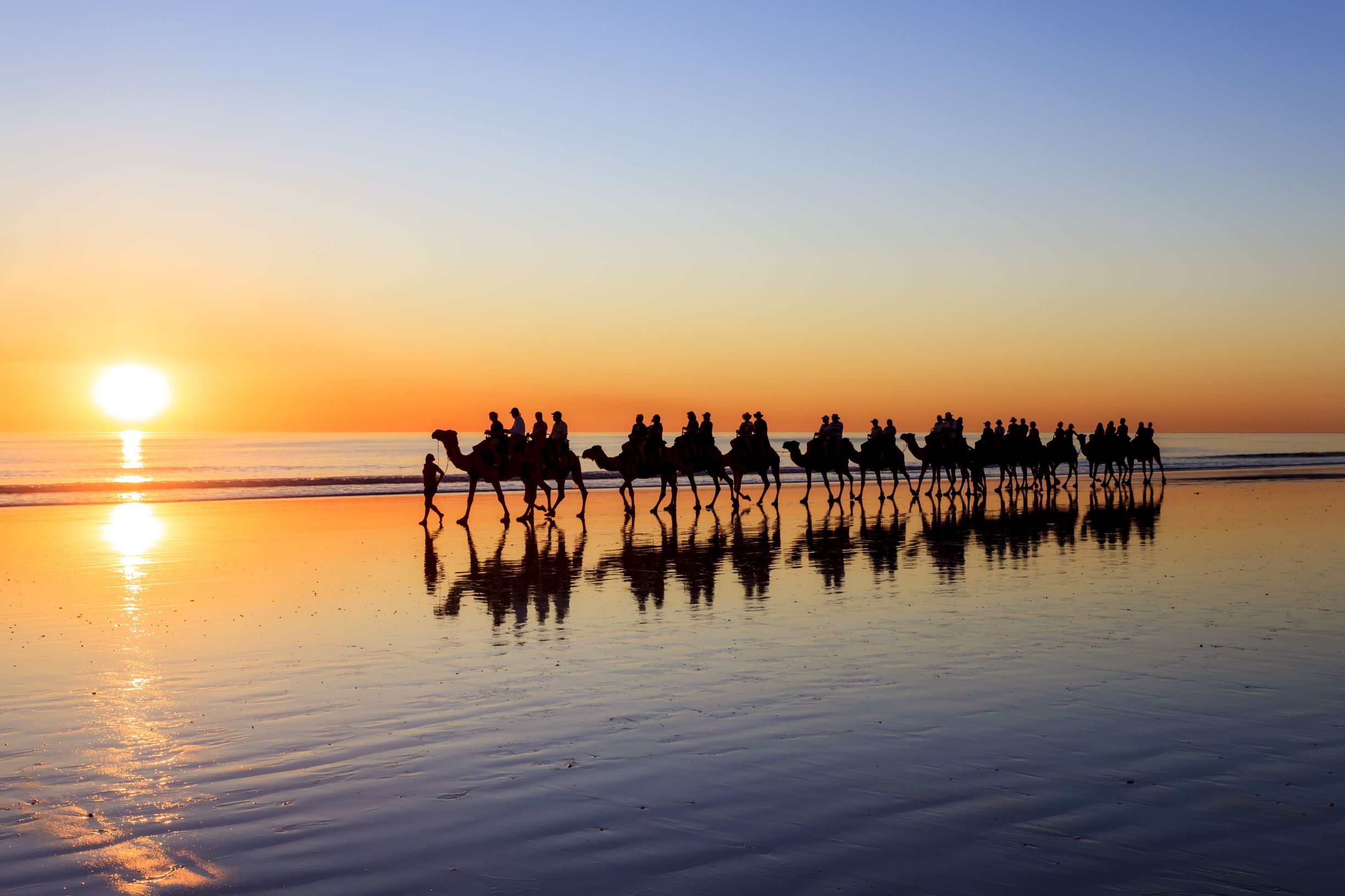 If you have time or enjoy being blown away by breathtaking scenery, swimming with exotic animals and relaxing on white–sand beaches, then exploring further along the west coast of Australia is for you. The beauty of travelling this vast landscape on a luxury yacht is that you get to wake up to a different scenery every morning. Our Broome to Perth route explores many beaches and reefs to enable you to make memories that will last a lifetime in your own country. With Ahoy Club offering over 100 luxury yachts in Australia, we will ensure it's a trip of a lifetime.
Journey Overview of Broome to Perth
Best time to visit: November – May
Weather: 25 – 33°C
Ideal for: Action and adventure / Relax and unwind
Recommended length of stay: 10 – 14 days
Broome
Enjoy a sunset camel ride along Cable Beach in Broome, sample a locally brewed mango beer at Matso's Brewery, and visit the local markets.
Exmouth
Located 12 hours north of Perth and boasts incredible marine life, gorges and canyons. Take a walk to Vlamingh Head Lighthouse, or relax on the pristine beach at Turquoise Bay.
Cape Range National Park
Enjoy spectacular views from the Thomas Carter lookout or visit the red limestone cliffs and deep blue waters of Yarkie Creek Gorge.
Coral Bay
This peaceful seaside town boasts beautiful white sand beaches and home to the World Heritage-listed Ningaloo Reef. Depending on the season, you will be able to swim with the gentle Whale Sharks or the world's largest rays, the Manta Ray. If you're a turtle fan, make sure you visit between January to March when it's hatching season for the large populations of green, hawksbill and flatback turtles.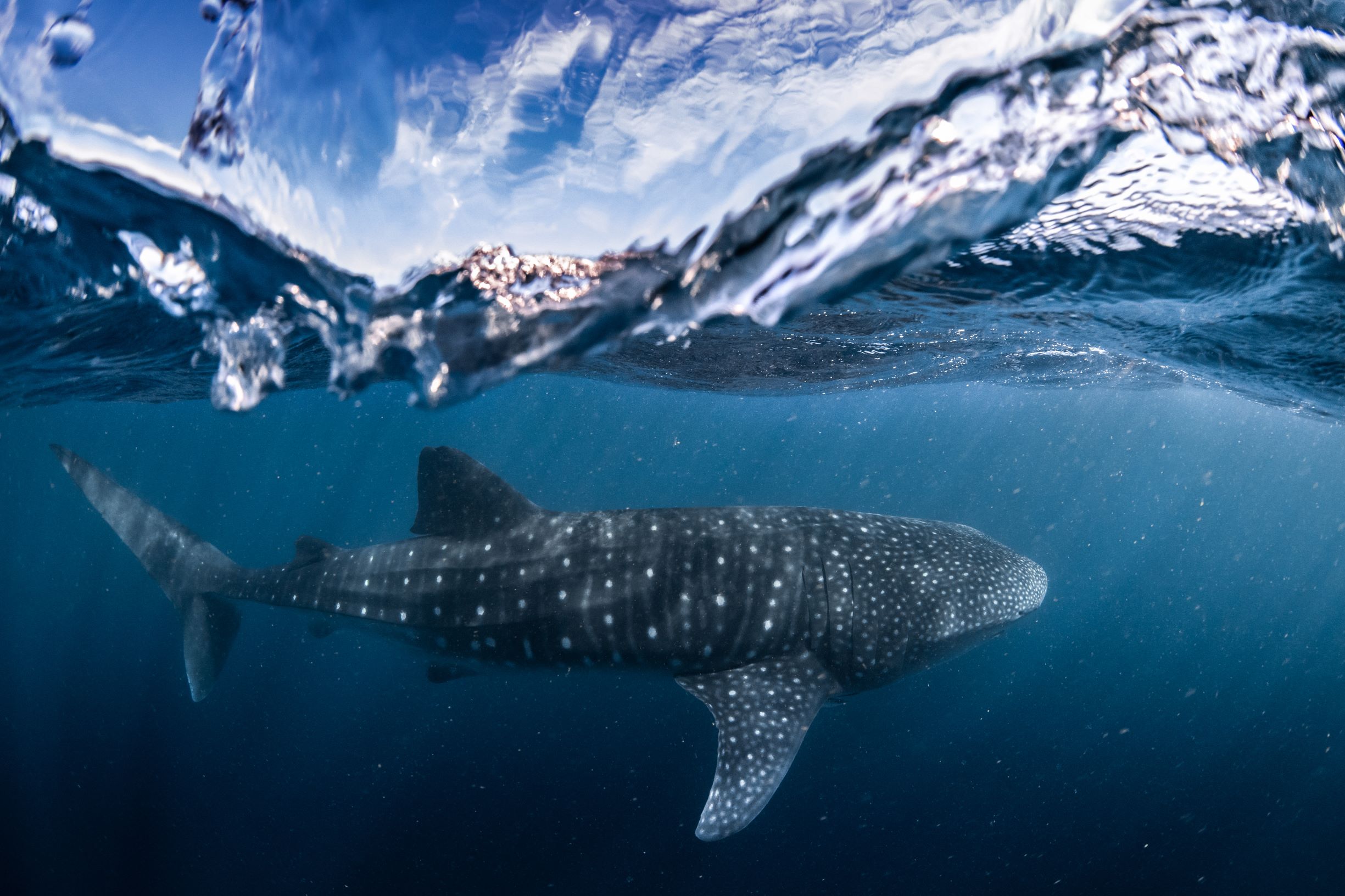 Carnarvon
With the majority of Western Australia's seafood sourced from Carnarvon, you must indulge your taste buds in the local produce of prawns, scallops, and crab.
Monkey Mia
Continue your travels down the Coral Coast to Shark Bay and Monkey Mia. Don't worry, these beautiful spots aren't named after their visitors; they are home to the Bottlenose Dolphin. Already you will have captured many inspiring photographs on this holiday but make sure you leave space on your camera to capture the vibrant red sand meeting the white sand beaches.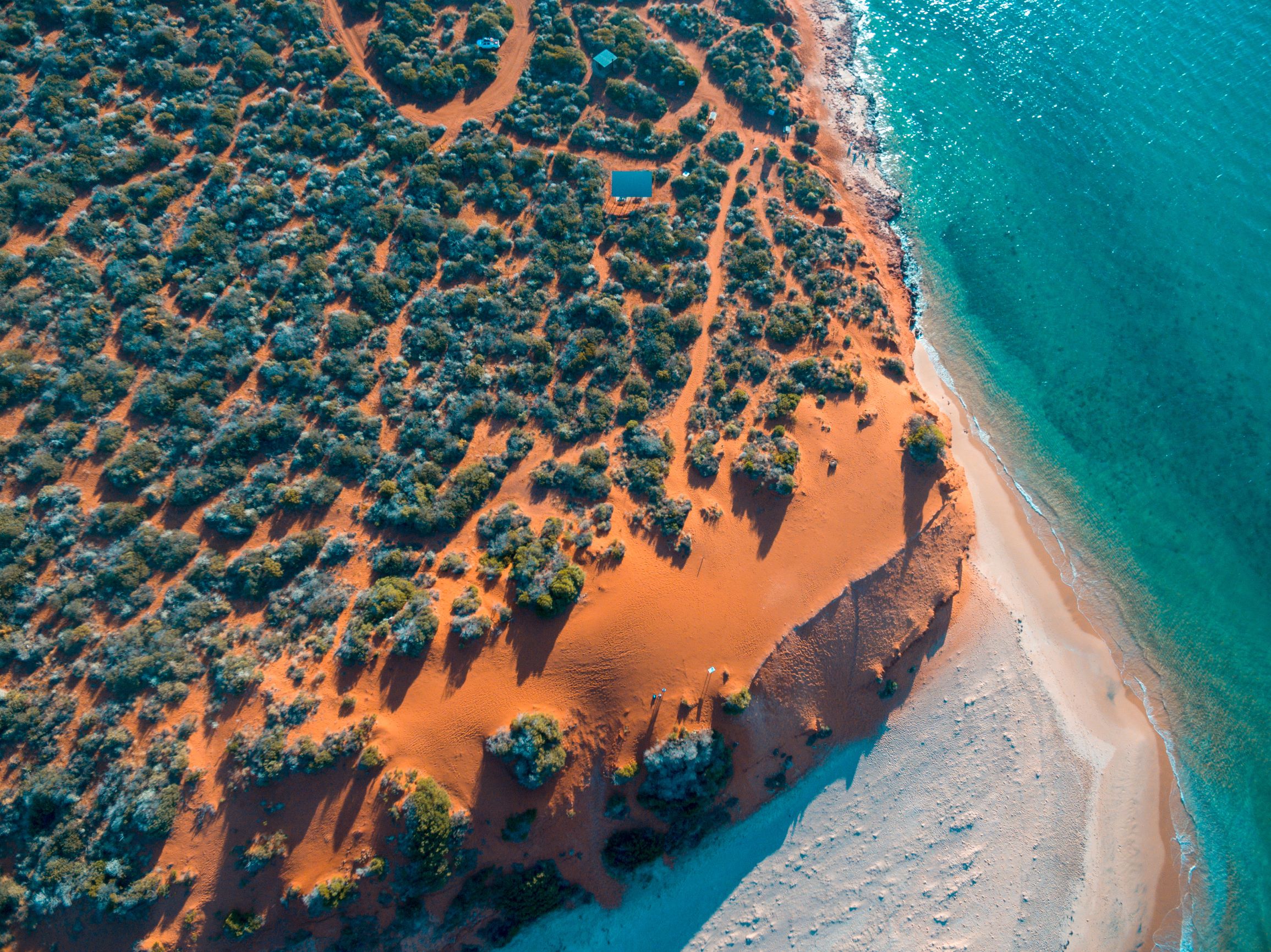 Kalbarri
If pink is your colour, make sure you have your camera fully charged for a scenic flight over the Kalbarri National Park where you will have the best vantage point for viewing the Lake Hillier (Pink Lake) and the Abrolhos Islands. This is also the perfect spot for fishing, whale watching (depending on the season) surfing or hiking.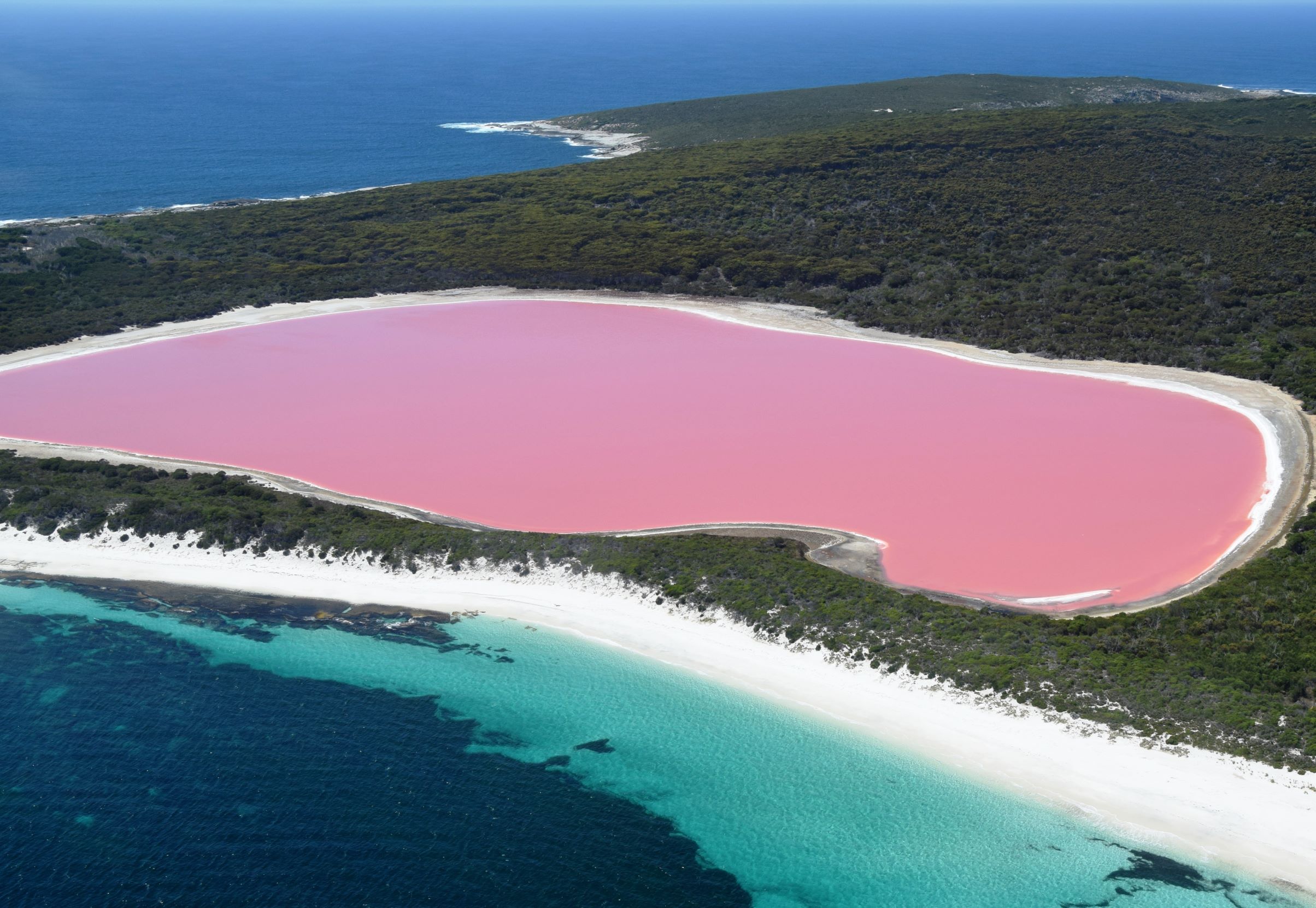 Geraldton
Blessed with beautiful beaches, a warm climate and only a short cruise from the Abrolhos Islands, it is no wonder why Geraldton is a must-see stop on your itinerary. On your way to Perth, you can also stop off at Nambung National Park to see the spectacular Pinnacles. These natural limestone structures, standing five metres high, were formed over 25,000 years ago after the sea receded and left deposits of seashells.
Rottnest Island
It would not be a trip to WA without getting your photograph with the happiest animal on earth, the Quokka. These photogenic furry friends can only be found on the beautiful beaches at Rottnest Island.
Perth
The capital of Western Australia where you can relax at the end of your trip and soak up WA's beach lifestyle or sample world-class local wines.
Discovering Western Australia on a luxury yacht is ideal as you can sip cocktails on the deck or from the comfort of your jacuzzi and take in the vast landscapes that unfold before you.