Explore the Bahamas on a Luxury Yacht
The Bahamas are often described as a scattered string of pearls, perhaps due to their sheer number, as well as their famously white sandy beaches. There is a huge variety to be found here, you could spend your entire charter exploring uninhabited islands, with your yacht providing all your daily needs. Conversely, if you enjoy the hustle and bustle of clubs and casinos, then you'll prefer to spend time near resort islands of New Providence, Paradise, or Grand Bahama. If you're into diving and sportfishing then the Andros islands might be perfect for you – The Eleuthera, like several other islands, has a long barrier reef to explore, plus some of the best surfing in the area.
All in all, the Bahamas makes a great yacht charter destination – many islands are only accessible by private yacht, the sand is white, clear waters and there is so much to do on and below the water that you will definitely make the most of all of your yacht's water toys.
With over 2,000 islands and cays, the Bahamas are home to some of the best beaches in the world and we've rounded up some of our favourite must-sees islands when chartering a luxury yacht in the Bahamas.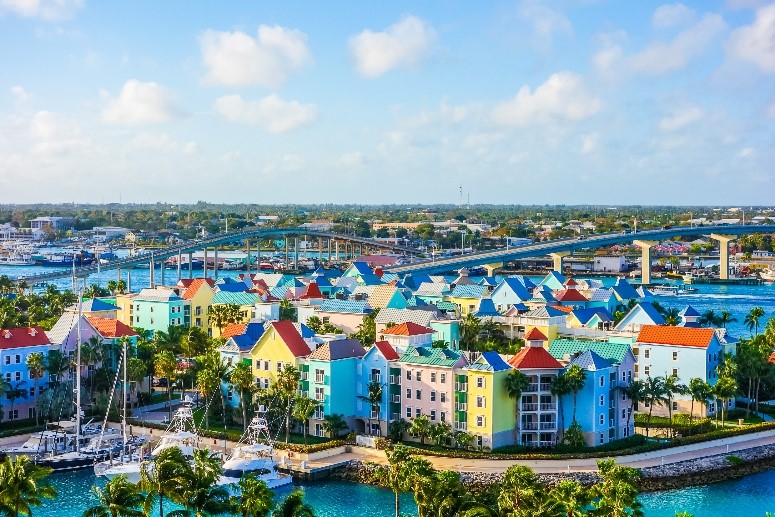 Nassau
The capital of the Bahamas and often the main port where you'll embark on your private yacht charter before cruising to the Exumas. Nassau is enriched in history dating back to the early 18th century, whether you're seeking culture, fine dining, adventure, shopping, or indulgence; there's a vacation for everyone.
Commonly referred to as the 66 steps, The Queen's Staircase is a major landmark that's located in the Fort Fincastle Historic Complex and make a great photo opportunity. Climb the 66 steps (hence the nickname) connecting Fort Fincastle to downtown Nassau and you'll be in awe of the hard labour it took the slaves in 1973 and 1974 to carve the Queen's Staircase out of solid limestone.
It's near impossible to talk about Nassau without mentioning Paradise Island, home to the renowned Atlantis Resort. Spend a day golfing, a night at the casino, relax at the state-of-the-art spa or make a splash in any of the eleven swimming pools. If the resort life sounds overwhelming, there are one-off adventures that are sure to inspire. Head to Stuart Cove for a diving experience you'll never forget with sharks and watch the Divemaster feed the 5 – 6 foot Caribbean Reef sharks off a long pole.
For culture-vultures looking to learn about The Golden Age of Piracy that lasted for thirty years in the early 18th century head to the Pirates of Nassau Museum. Whilst it may look like a tourist trap from the outside, it does a fantastic job of telling the tale of Nassau's pirate history through exhibitions and displays. Pirates believed the Bahamas were well-suited as a base because its waters were shallow enough for the fast, shallow-draft vessels that pirates favoured but not deep enough for powerful warships.
If visiting between the Christmas and New Year period, you will get to experience the ordinary festival of Junkanoo. This is an energetic and colourful street parade of brightly costumed people dancing to the rhythmic accompaniment of drums and whistles.
After exploring all that Nassau has to offer, step aboard your private yacht charter, and set off to the Exumas across the Yellow Banks, a stunning stretch of clear-blue water renowned for its coral heads lying just below the surface.
The Exumas
The Exumas are an archipelago of 365 cays and islands, beginning just 35 miles southeast of Nassau. Its footprint-free beaches with sapphire-blue waters make this tropical paradise an absolute gem to visit on your next yacht charter.
Arrive at Allan's Cay where you'll hopefully be lucky enough to feed the Bahamian Iguanas, a critically endangered species of iguana. Whilst they might look fearful, these little reptiles are friendly and welcoming to visitors who bring them gifts of vegetables and other yummy goodies.
After feeding endangered animals and swimming in azure-blue waters, hop aboard your yacht and head to Highbourne Cay where you can do nothing or everything. From swimming to checking out the stromatolites, snorkelling, exploring the coast or relaxing the choices are endless. After spending time in the water, you and your guests can enjoy a refreshing cool drink and bite to eat with stunning views at Xuma Restaurant and Bar.
If you enjoy diving, snorkelling, or fishing our concierge team will incorporate Norman's Cay into your itinerary. If you can find just the right spot in Norman's Cay, you can spy a sunken WWII-era military plane that was believed to be part of Pablo Escobar's cocaine trade before its untimely end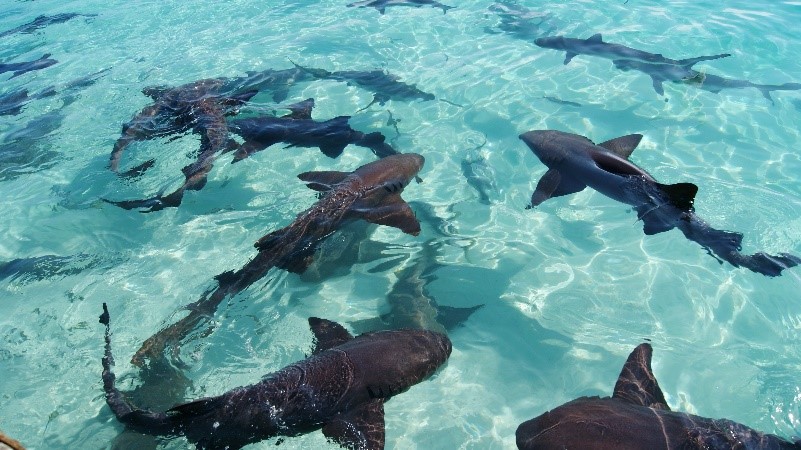 If you thought the Exumas was limited to crystal-clear waters and secluded beaches, you are mistaken. There's much more to this collection of cays than meets the eye. Get up close and personal with a feared predator, in the safest way possible at Compass Cay where you can swim with Nurse sharks. They're well-accustomed to human visitors and provided you're gentle, you can even give them a light stroke if you.
If you don't want to increase your heart rate, you can head to the north end of Compass Cay which is the home to "Rachel's Bubble Bath" – a natural whirlpool. Depending on the time of day and tide, this unique pool is either a calm, flat, peaceful lagoon or a bubbling bath.
Our next Exumas must-see is the famous Sea Pigs at Major Cays, also know Pig Beach. Home to more than 20 swimming pigs and piglets, Major Cays has become a hot spot for celebrities and tourists alike in recent years so we highly recommend visiting early for your meet and greet. Celebrities such as Gigi and Bella Hadid, Amy Schumer and Kourtney Kardashian have all flocked to see this unique attraction whilst enjoying a vacation on a superyacht.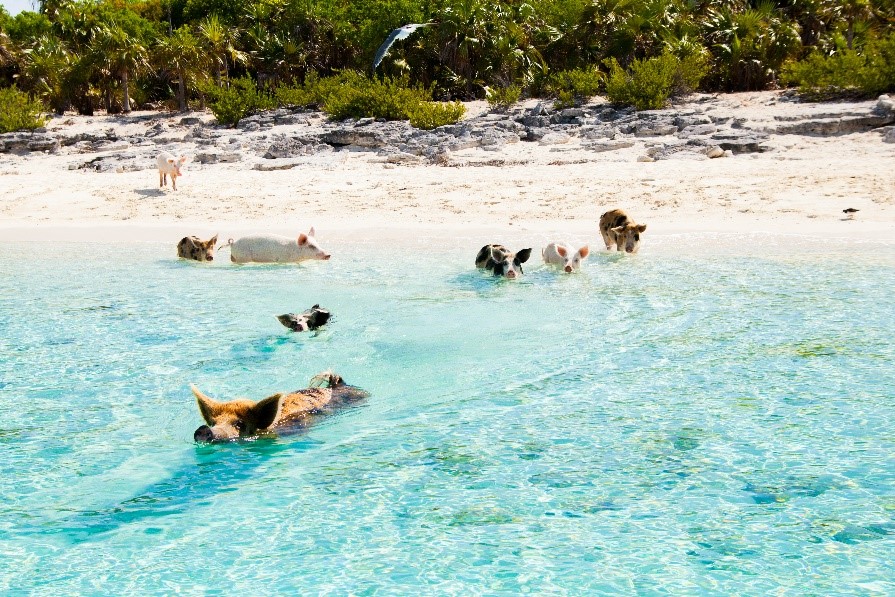 There are various rumours as to how the pigs came to live on this uninhabited island, some say the pigs were dropped off by sailors, while others insist the hogs were survivors of a shipwreck. The answer is still unknown but after feeding them some fresh vegetables and pitted fruits whilst they swim by your side, you'll be thankful they call Big Major Cay home.
Lastly, in the Exumas, we recommend visiting Cancer Beach where the Pirates of the Caribbean film series starring Johnny Depp and Orlando Bloom was filmed. Feeling peckish? Santanna's Bar and Grill was a frequent choice by the cast and crew of Pirates of the Caribbean during filming. They're a top choice for fresh seafood and rumour has it their jerk chicken is on point too. Also known as Pelican Beach, this is the longest beach on Little Exuma and prettiest in the chain.
The Abacos Islands
The Abaco Islands in the Northern Bahamas often get overlooked for other destinations in this region, but this series of islands offer hundreds of miles of uninhabited cays, forests, stunning coral reefs, and villages locked in time. On the road to recovery after the effects of Hurricane Dorian in 2019, there are beautiful bays, pristine beaches and miles of untouched sand that can be found here whilst chartering a yacht. In fact, The Abacos of the Bahamas is one of the world's top sailing destinations.
Some of our must-sees of the Abacos Islands are the sandbars of Leeward Beach at Treasure Cay that grants access to shells, sand dollars, and sea life at low tide. If you are looking for the iconic photographed candy-striped lighthouse then head to Elbow Reef. It is well worth climbing the 101 steps to the top for the stunning view over the Sea of Abaco. An interesting fact about this lighthouse is that it's one of the few lighthouses left in the world that burns pressurized kerosene and for that reason, it requires constant attention from the keeper.
For fantastic diving experiences, head to Green Turtle Cay. Coco Beach cannot be missed with its tranquil crescent-shaped beach lined with tropical pine trees.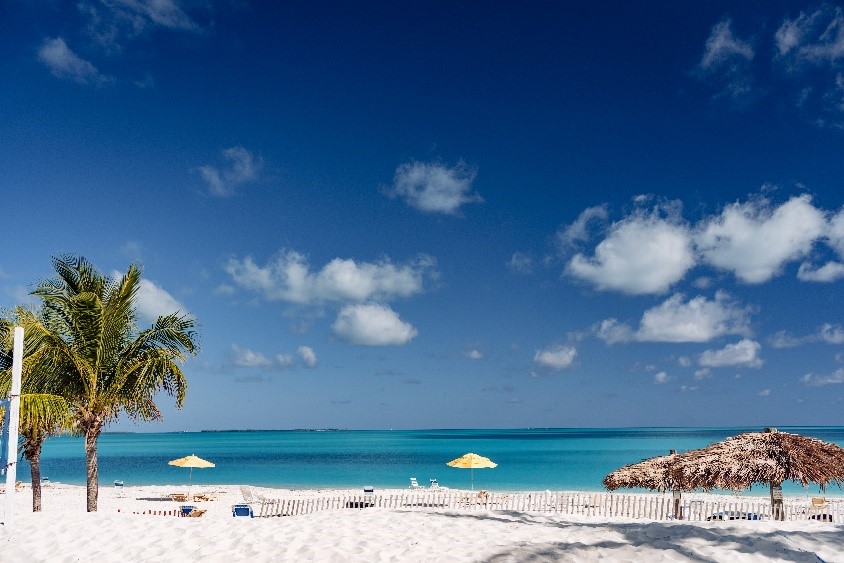 If you like deep-sea fishing or golfing, you can't miss out on Treasure Cay Beach. On land you can play on the 18-hole golf course, the only golf course in the Abacos. At sea, you can perfect your fishing skills, particularly sport-fly and bone-fishing.
With many atolls only accessible by private yacht, The Bahamas proves to be one of the ultimate places to charter a yacht. Postcard-perfect is a reality in this slice of heaven; with sapphire-blue waters and a backdrop of the seemingly endless ocean that you have to see to believe. Contact our Charter Team to enquire about chartering a yacht in the Bahamas.
Work with Ahoy Club's to design the perfect itinerary for an immersive charter experience. Our charter and concierge experts know the destinations inside and out, and they can make personalised recommendations based on your needs and preferences. View our full charter fleet here.