Aus-bound superyachts line up for a $1m night stand
Aus-bound superyachts line up for a $1m night stand
As seen on boatsales.com.au
Written by Stephen Corby
24 March, 2020
Would you pay $1 million for 12 hours aboard a superyacht on Sydney Harbour? If the answer is yes, join the queue
It's absolutely appalling how little you seem to get for $1 million these days.
Yes, we hear all the time that a lazy million is barely enough to get you a kitchen sink and a pot to pee in when it comes to the nation's prime inner-city locations.
But what if you wanted to drop a million on something fun, like a night out with your friends watching the New Year's Eve fireworks on Sydney Harbour or the Gold Coast Seaway?
Twelve hours. That's it. That's what a cool $1m would have bought you earlier this year if you'd wanted to hire the admittedly awesome Francesco Paszkowski-designed, Baglietto-built Mischief, which at 52.4 metres or 172 feet in superyacht speak, is the largest Australian-owned boat under commercial survey.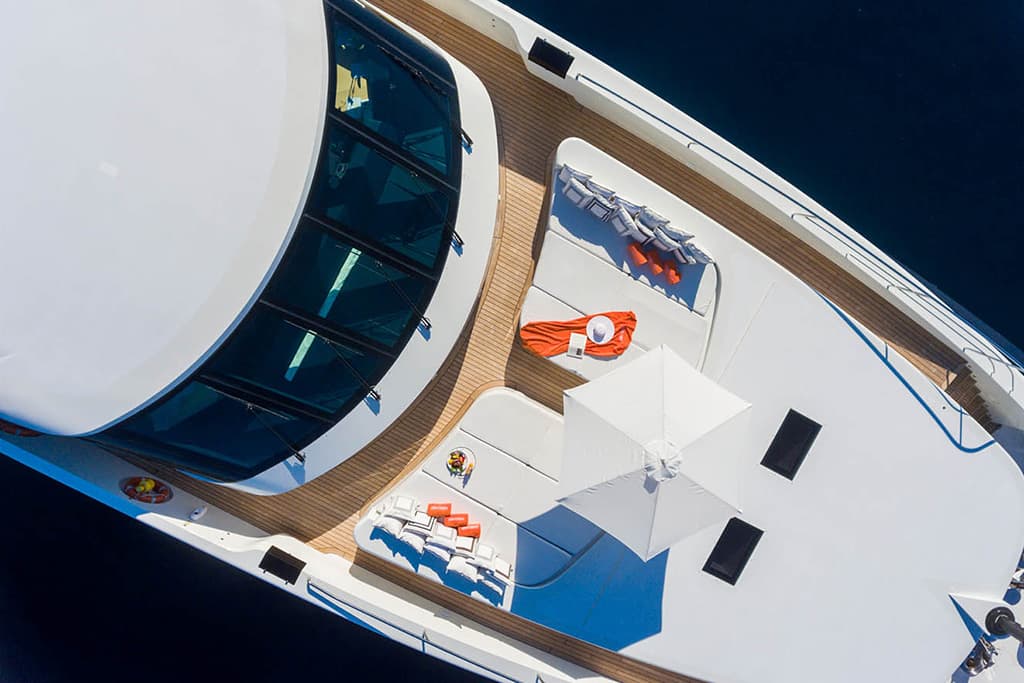 Ellie Malouf (whose father, ex-garbage mogul Ian Malouf, bought the floating pleasure palace for $40 million in 2015) looks at me as though I clearly don't know how to run a boat charter business when I ask, dumbfounded, how a million bucks didn't even get the unnamed American businessman a full day at sea.
"It was the overnight booking, not a whole day, so it's more like 12 hours, but Sydney Harbour is amazing, it's so busy, many of our boats are chartered out twice in a day, and obviously there's a massive mark-up on New Year's Eve," she trails off into severe understatement.
All-inclusive fee
Normally you and up to 200 of your friends – the million-dollar NYE customer only had 50 people tag along – can have Mischief for as little as around $20,000 for two all-inclusive hours and 20 people, or step up to around $495,000 for a whole week.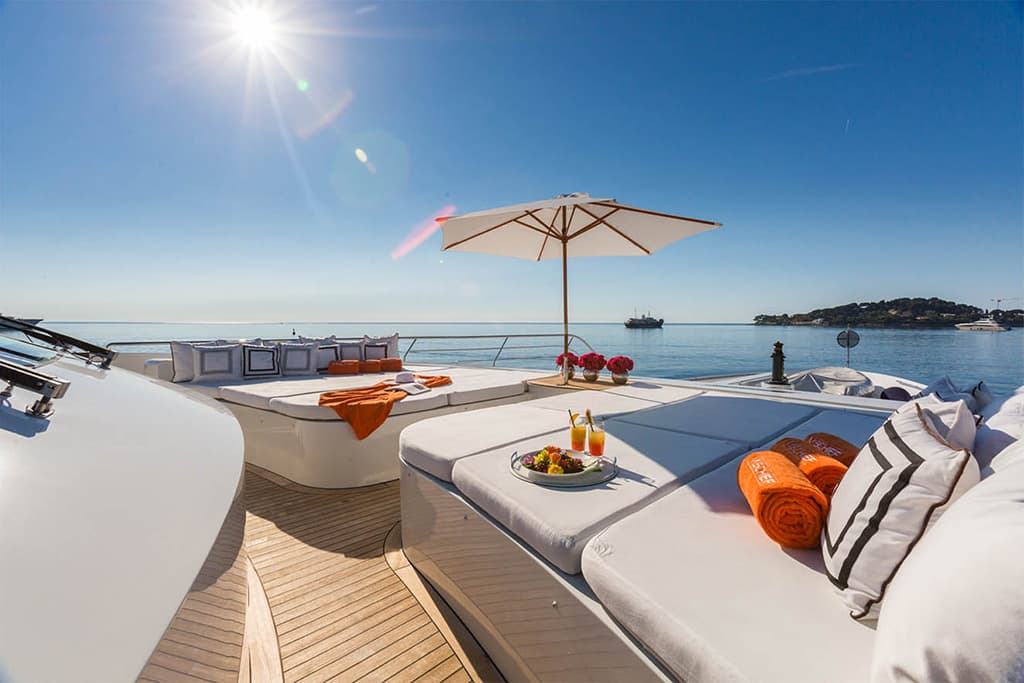 At the higher end, some charters can cost up to $3.2 million a week. Comparatively speaking, a week-long stint on Mischief looks like amazing value.
Once you've spent some time onboard breathing Mischief's sweet, super-rich air, it is easier to understand why people pay all that money.
Consider the main cabin (where I found someone ironing the sheets), which not only has two separate marble-tiled bathrooms but runs across the full 10.5-metre beam. Try and imagine a bedroom on land that big.
Party deck
Then there's the "party deck" with hot tub and a massive sound system, and a swathe of sun lounges so wide you could fit your entire extended family on there, even if you were a rabbit.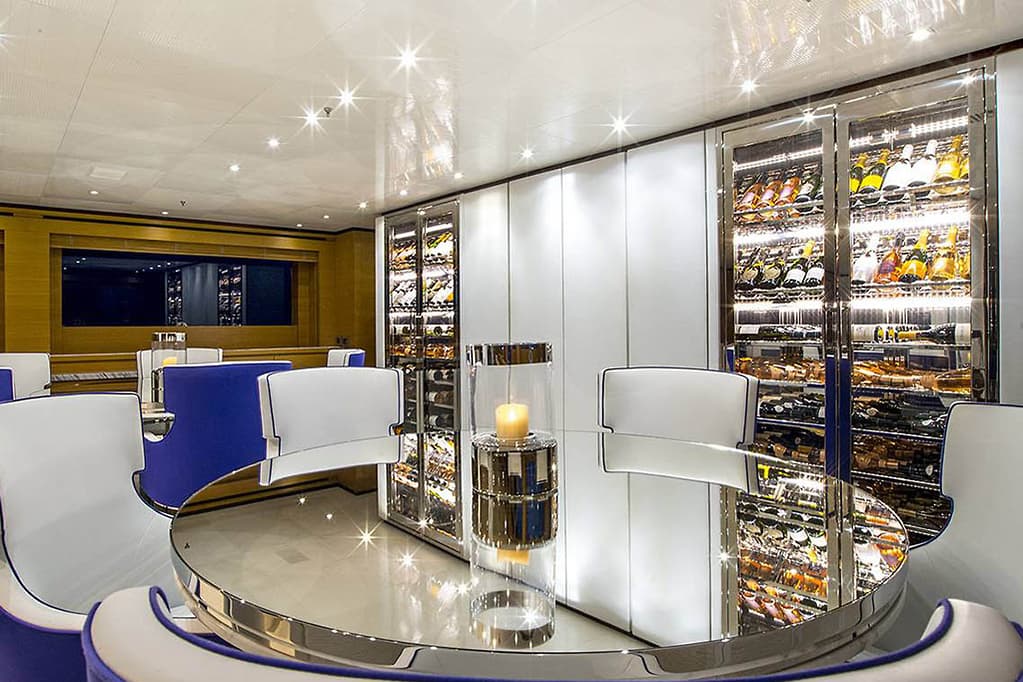 The bar area, rammed almost obscenely with bottles of vintage Dom Perignon, is mighty fine too, and you can bet the food, prepared and served by some of the 14 staff who live onboard permanently, is as perfect as everything else.
Just in case you could possibly get bored of the pampering and the views, Mischief also plenty of "toys", as Malouf explains.
"We've got everything you could possibly wish for here, like three Seabobs (underwater scooters), three flight boards, a giant inflatable waterslide, a climbing wall that goes on the side of the boat so if you fall you get a swim, and laser target shooting, which we do off the back," she says, sounding as if this is all just what I would expect.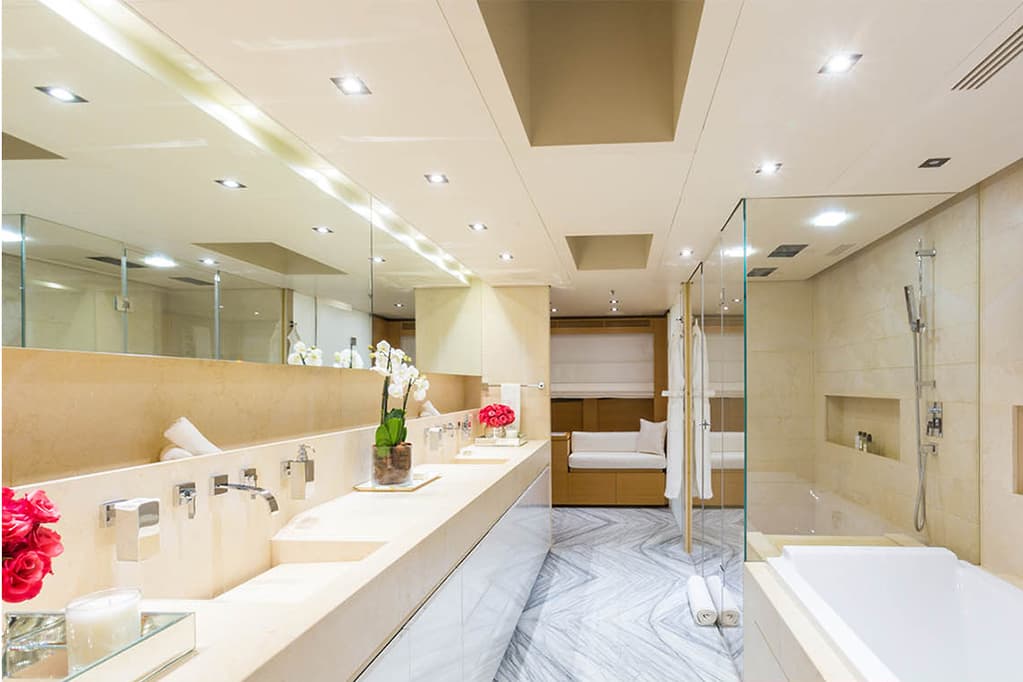 The Maloufs, who charter their superyacht and another 3500 like it worldwide via their Ahoy Club, recently moved Mischief to Sydney from the Mediterranean where it piggybacked on another boat to save mileage on a journey that took more than two months.
Superyacht playground
It is here because the Maloufs believe Australia is the best place in the world to charter boats, and that recent rule changes that make it easier for international charter boats to visit our shores will soon turn our coastline into a superyacht playground.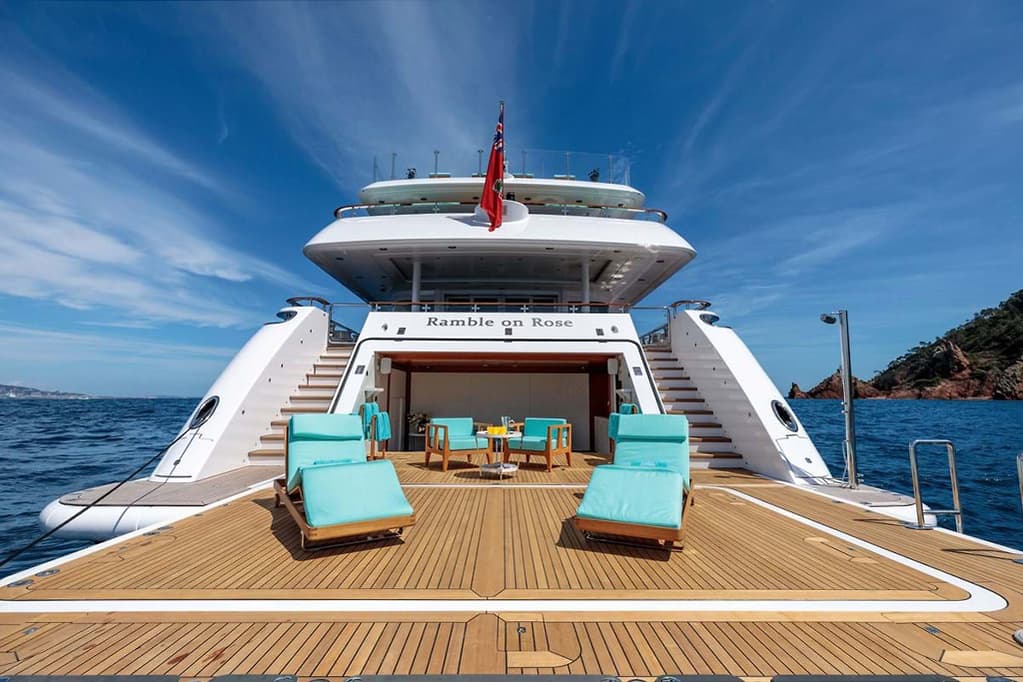 One such megayacht, the recently arrived 60-metre, $US375,000-a-week CRN-built Ramble On Rose, is already out doing Mischief on Sydney's famous waters, even if it is only by around $50,000 a week in charter fees, a few metres and an extra crew member.
Changes to our chartering laws, enacted last year, have removed the need for foreign-owned superyachts to be fully imported to Australia before they can start offering charter services.
Being able to operate, and sometimes at very profitable US dollar rates, while they are in Australian waters suddenly makes places like Sydney, the Gold Coast and the Whitsundays an even more desirable destination.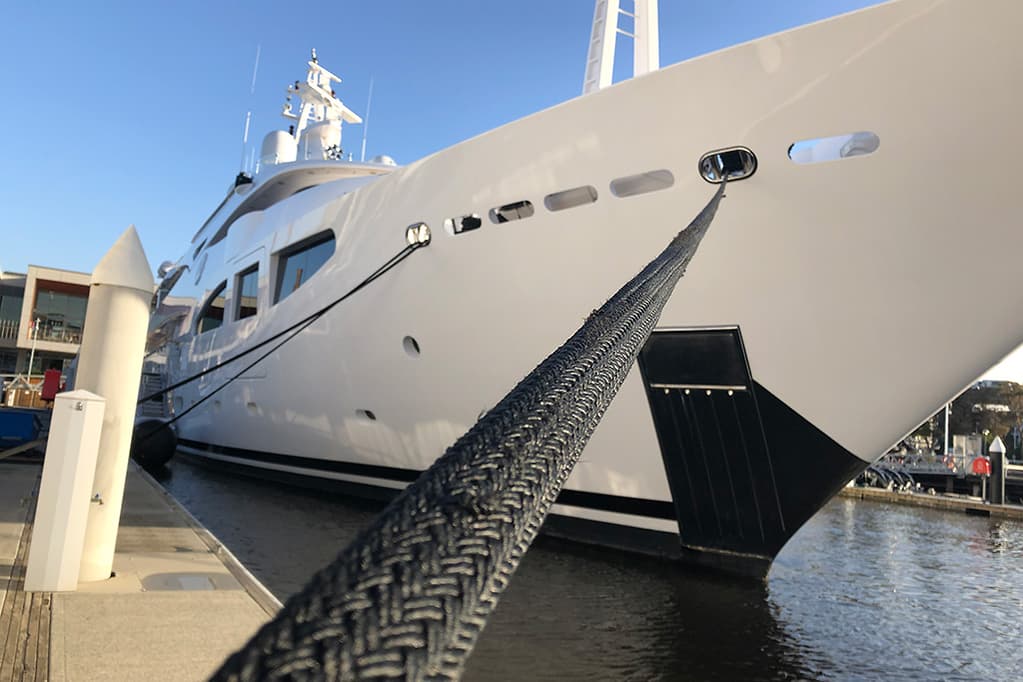 There are predictions we could be welcoming many more foreign-owned mega yachts now that we've raised the welcome flag.
Great for the industry
"With the new laws we're going to see a lot more coming to the region, which is really great for the industry," Malouf says, "and we're seeing new yachts come in here every single year, and I think the demand will grow with that, which is exciting.
"For the America's Cup in Auckland next year, which we'll be taking Mischief down for, there is expected to be about 80 superyachts that have confirmed already, and a lot of them are coming from Europe or the Caribbean, all to meet in New Zealand, and I think after that event we'll see a lot of them coming to Australia."
Malouf believes Sydney Harbour's unique advantage is that it allows charters to carry far more guests than are allowed on "enclosed waters" in other countries.
"We can host up to 200 guests here, cruising in Sydney, but when we were in Europe we could only cruise with 12 on the same boat," she says, "which just shows you the difference between the two markets.
"So within Sydney Harbour, you've got something that nowhere in the world offers where you can have big functions and events and really use the harbour as a function place."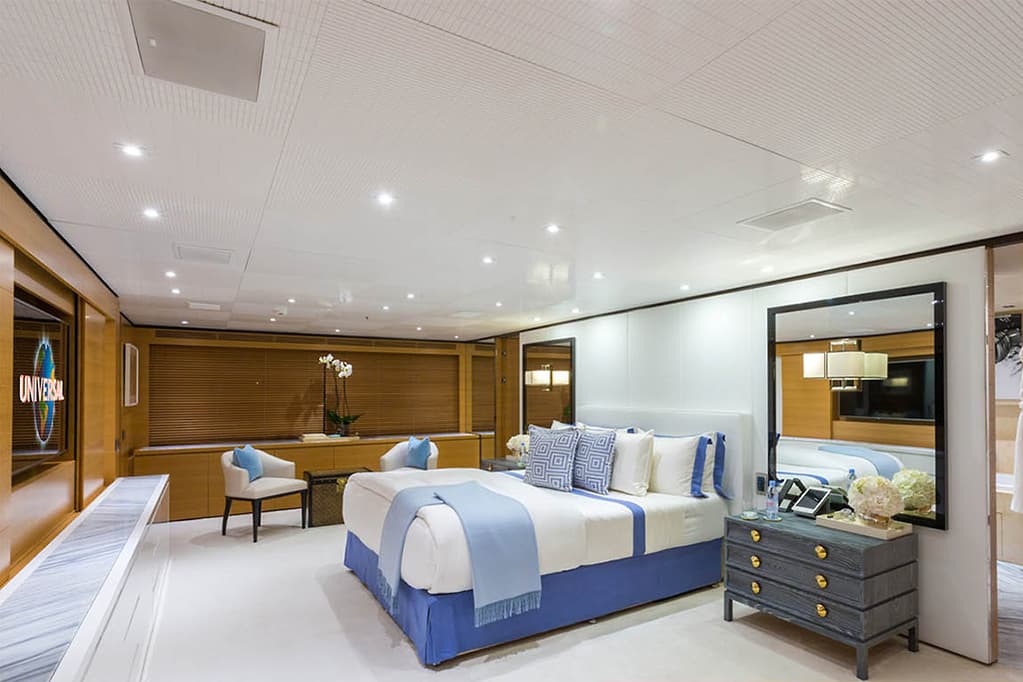 Even before next year's America's Cup, yachts are expected to be flocking south, some of them to watch the Olympics in Tokyo, before slipping down to the Australian Superyacht Rendezvous – Great Barrier Reef Edition, which will descend on Queensland's Whitsundays from October 15 to 18.
It's fair to assume quite a few of those rendezvous superyachts might then find their way to Sydney Harbour for this New Year's Eve, where some lucky charter boat owners will again hit the $1 million jackpot.