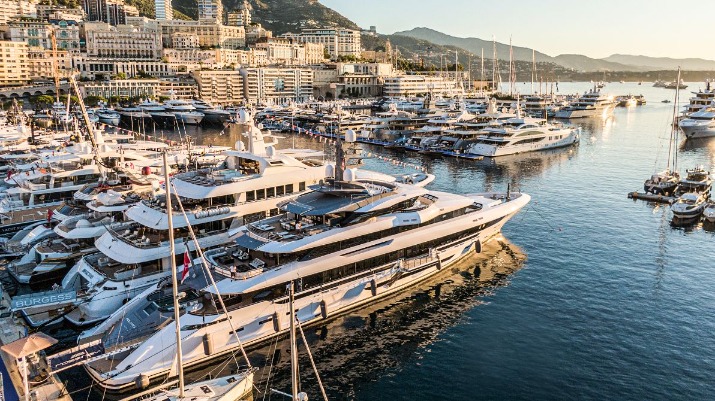 Monaco yacht show 2023

The Ultimate Luxury Yachting Experience
27-30 September
The Monaco Yacht Show, the largest annual gathering of superyachts in the world, is all set to welcome visitors from September 27th to 30th. This prestigious event is a unique experience for private owners and new clients looking to purchase or charter a yacht and indulge themselves in the world of yachting.
WHERE DOES IT TAKE PLACE?
The iconic Port Hercules, where the show takes place, adds to its allure, making it the perfect backdrop for the display of outstanding superyachts. Since its inception in 1991, the Monaco Yacht Show has enjoyed the support of His Serene Highness Prince Albert II of Monaco, adding an extra touch of prestige to the event.
PROMOTING INNOVATION AND EDUCATION AT THE MONACO YACHT SHOW
This year, the show will continue its three-year development program called "Seducation," which aims to promote environmental innovation, design, understanding of yachting, and visitor experience.
The Monaco Yacht Show will feature an impressive fleet of 120 superyachts and the highly anticipated 2023 launches. This show offers the opportunity to explore the latest lifestyle trends onboard yachts represented by dominant yachting companies, more than 500 exhibitors ensure a top-quality experience at the show each year. It is a perfect place to meet experts and professionals who will bring any yacht project to life. It is a unique occasion to attend conference sessions that provide information to yacht owners and potential yacht buyers and charterers.
MUST SEE YACHTS AT THE MONACO YACHT SHOW
The most exciting new yachts that will be displayed at the Monaco Yacht Show 2023 are:
LEONA: This 80m beauty, also known as "the Red Bullet," features a scarlet hull, a sleek profile, and an extravagant beach club pool.
O'REA: With a contemporary profile, this 77.7m yacht stands out with its vertical bow, trapezium-shaped windows, and meticulously designed interior.
CORAL OCEAN: This year, stop to view the impressive 73m Lürssen, the 2023 Superyacht Awards Winner, CORAL OCEAN.
ALCHEMY: This 65.7m superyacht features a signature Vitruvius hull designed by Philippe Briand and offers extensive al fresco areas and a strong focus on wellness.
ENTOURAGE: Designed in collaboration with Espen Øino, this 60m Amels Limited Edition 60 model boasts long strips of glazing that allow ample natural light into its interior.
GREY: Her unique features include a glass-sided swimming pool and a high-definition cinema screen. You will be impressed by this 50m Tankoa yacht.
ACE: This 44.3m superyacht, characterized by its distinctive "rolling wave" superstructure, offers a luxurious sundeck with a cinema screen and an infinity pool.
These stunning yachts and many more will be available for viewings at the Monaco Yacht Show 2023.
Mark your calendars for September 27th to 30th and get ready to experience the ultimate luxury yachting event - the Monaco Yacht Show.
To learn more about Ahoy Club's yachts for sale and charter, please contact our charter and sales team. They will be thrilled to show you some of the boats available for sale and charter at the Monaco Yacht Show. Additionally, Ahoy Club will also be attending the 2023 Fort Lauderdale International Boat Show.
We look forward to welcoming you to this unparalleled world of yachting!
Contact us
Popular Yachts for Charter in this Region:
Our top selection of yachts to view at the show