Destination: French Riviera
Explore the French Riviera
Known for its glamour, beauty and A-list celebrities, the French Riviera is one of the most iconic destinations for chartering a superyacht. Whether you love art and culture, relaxation, partying, or romance, the South of France offers it all and what better way to explore it than onboard any Ahoy Club yacht. Investing in team trips to the Cote d'Azur each year means our Concierge team can confidently recommend the best and latest restaurants and places to visit – below we've narrowed down six major highlights that we cannot let you miss out on.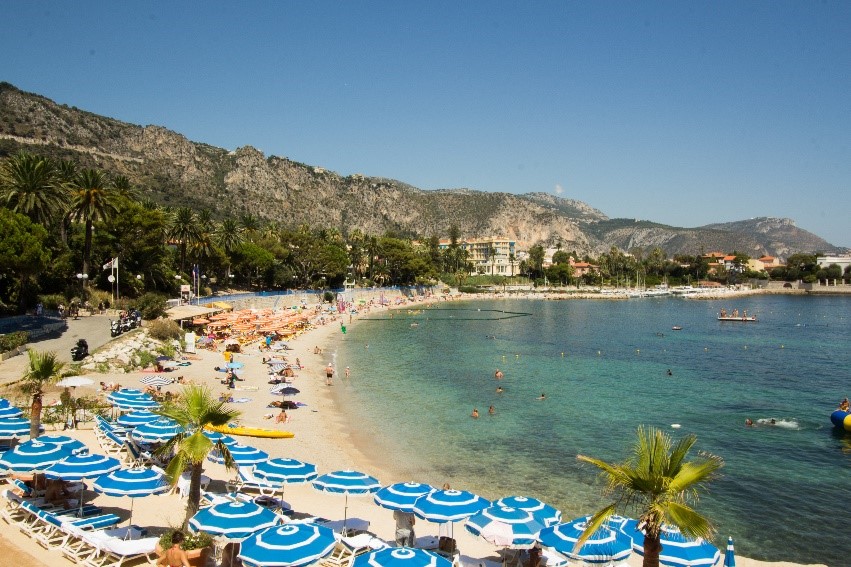 Monaco
Bordered by France on three sides, our first stop on the French Riviera must be the iconic superyacht destination of Monaco. Typically known as a playground for the ultra-rich, arrive in style on a luxury superyacht into the glistening port of Monte Carlo.
So much to see and do when visiting Monaco, from sunbathing at the Karl Lagerfeld-designed poolside restaurant, Odyssey, to a night at the legendary Monte Carlo Casino and everything in between. You certainly won't be bored at the first port of call onboard an Ahoy Club yacht charter.
If you love art and culture, your Ahoy Club Concierge can make an appointment at the Francis Bacon MB Art Foundation where there are more than 2,000 photographs and paintings detailing his life in Monte Carlo. You will also want to pay a visit to the Palais Princier de Monaco, where Albert II, (son of American actress Grace Kelly) the reigning Prince of Monaco, and head of the princely house of Grimaldi lives.
Monaco is renowned as the most glamourous event of the Formula 1 calendar. The event runs over four days, with qualifying from Thursday with the big race day on Sunday. Regardless of the day, for those watching it from onboard a superyacht, the experience is unmatchable and truly one of a kind. Chartering a yacht during the Formula 1 Monaco Grand Prix allows you to not only have possibly the best-watching spot in the whole of Monaco but also the most glamorous accommodation, right in the centre of the event's elite social scene. You can read more on the history and what to expect at the Monaco F1 here.
Beaulieu-Sur-Mer
The French Riviera really needs no introduction and whilst places like Monaco and Cannes are known worldwide, others manage to fly under the radar, like Beaulieu-sur-Mer which is in fact our favourite anchorage spot and the perfect place to bring out all the water toys. This picturesque seaside town is small, but it has lots to offer without the crowds of its neighbouring towns. Relax onboard your yacht charter and enjoy the amenities like a private swimming pool or jacuzzi or venture onshore to explore the beautiful beaches, markets, and museums.
Located on tip of the Baie des Fourmis in Beaulieu-sur-Mer, Villa Kerylos boasts breathtaking views across to Cap-Ferrat. Built by French archaeologist Theodore Reinach in the early 20th century, visitors come to Villa Kerylos to discover Reinach's collection inside the villa that possesses Greek artefacts, art, mosaics and frescoes.
Back outside in Beaulieu-Sur-Mer, the beautiful La Rotonde events venue is located on the waterfront and has fascinating domes, Corinthian columns, and curving windows that makes it stand out from the surrounding buildings.
If you are after something more active, enjoy a hike to Eze Village via the Nietzsche Path route which is around 5km hike uphill. Whilst the hike takes around 90 minutes to complete and it's all uphill, it boasts wonder views along the way. When in Eze Village a must-see is Jardin Exotique, which has over 400 hundred Mediterranean cacti, tropical plants, and citrus trees. You also get some stunning views from up here too.
One of the best things to do in Beaulieu-sur-Mer is to eat! An Ahoy Club favourite is La Reserve where guests can choose from four gastronomical experiences, from a Michelin-star restaurant to a friendly bistro atmosphere it all waits for you under La Reserve. If you're after something more authentic – be encapsulated by the incredible aura of a restaurant flooded with fresh flowers at Mas Provencal.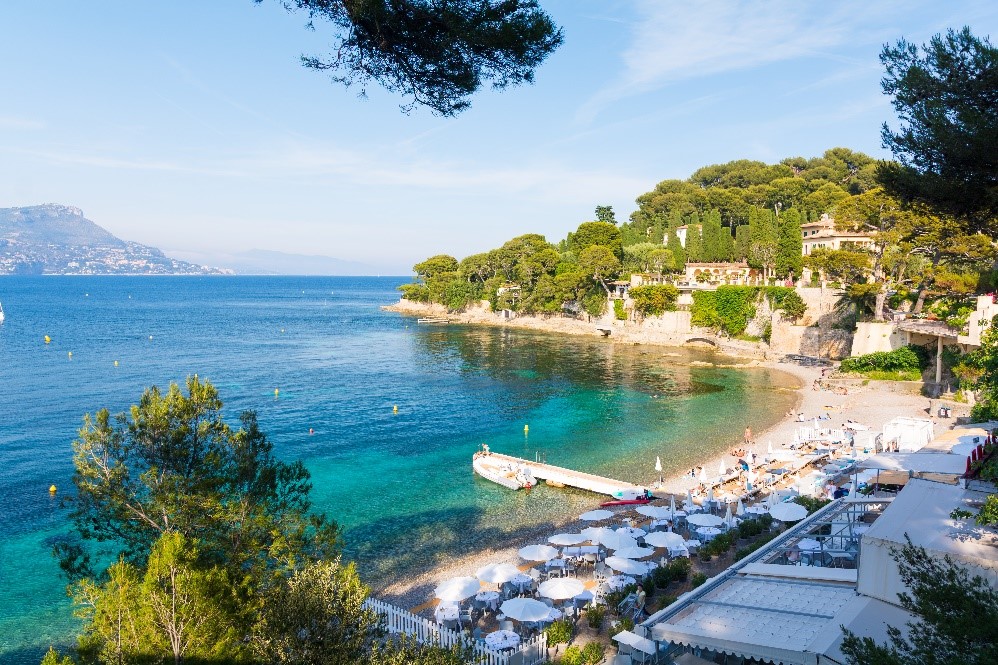 Saint Jean Cap-Ferrat
Located between Villefranche sur Mer and Beaulieu Sur Mer, Cap-Ferrat remains beautifully unspoilt. Offering warm, crystal-clear waters, the bay of Saint-Jean-Cap-Ferrat will allure you in for a leisurely swim or enjoy every kind of water toy your yacht offers. After working up an appetite in the water, head to a for a long lunch Paloma Beach before enjoying a few refreshing cocktails on the terrace of the Grand Hotel Cap Ferrat. This renowned hotel has welcomed many celebrities since it opened its doors in 1908, everyone from Elizabeth Taylor to Winston Churchill and has been the epitome of Côte d'Azur chic for more than a century. If you have time on your side, discover the secrets behind the making of French rosé wine from the cellar master himself and end the visit with an incredible picnic served in the vineyard.
Whilst visiting Cap-Ferrat do not miss the incredible gardens that surround Villa Ephrussi de Rothschild. This magnificent villa overlooks the bays of Villefranche and Beaulieu – a view you don't want to miss!
If you prefer relaxation and rejuvenation, indulge in some spa treatments in total privacy on your yacht charter or ask your Stewardess to make a reservation for you the Four Seasons Spa. You can also hire beach chairs and perch yourself on Paloma Beach with a great book and listen to waves lap upon the shore.
View the latest St Jean Cap-Ferrat luxury charter yachts available.
Antibes
The Ancient town of Antibes is one of the oldest and prettiest on the French Riviera. Antibes combines culture, relaxation and liveliness all in one – stroll cobbled stoned streets, relax on white-sand beaches, sit at authentic French cafes and see Port Vauban – home to some of the largest Megayachts in the Mediterranean including motor yacht Dilbar, the largest yacht by gross tonnage in the world.
Enjoy a leisurely morning stroll along the Cap d'Antibes, a headland that runs south from Antibes to Juan-les-Pins and take in the views. Head to the Le Marche Provencal, a market in the heart of the Old Town where you'll find an inspiring mix of cheeses, olives, flowers, fresh fruit and vegetables.
Spend your afternoon meandering through the cobbled streets of the city where you will discover The Musée Picasso, formerly the Château Grimaldi where Spanish artist Picasso lived. He fell in love with the town of Antibes so much that he donated a collection of artworks to the town and the rest were given later by his wife after Picasso's death. If you enjoy art and walking, you'll love Picasso's Trail, a walk which combines the distant mountains and the sparkling blue sea that inspired Picasso in 1946.
After all this exploring you'll deserve a delicious culinary experience at Hotel du Cap-Eden-Roc before heading back to your private yacht for a well-deserved sundowner and whilst you sail to Cannes.
Cannes
The iconic and glamourous Cannes, a destination notorious for stylish events and unrivalled luxury. If you're a yacht enthusiast and thinking of yacht chartering in the South of France then we highly recommend visiting during the Cannes Yachting Festival in September, as it's a great opportunity to witness world-class yachts in the sparkling bay of Cannes. If you love the glitz and glamour, then ensure you book your yacht charter during the iconic Cannes Film Festival in May.
With so many things to do in Cannes, first and foremost you must step off your superyacht and stroll down the promenade of La Croisette; a world-famous street offering access to well-known couture shops, Casinos, and sandy beaches. If you love history and culture, make sure to mention this to your Account Manager as the Palais des Festivals showcases many events through the season or visit Le Suquet, Cannes' oldest district. Meander through the narrow streets of pastel-coated homes to find Cannes' medieval castle and great views of the bay.
If you'd prefer to indulge in delicious French patisseries or sip champagne whilst soaking up the sunshine of the French Riviera on a sun lounger, then a visit to the iconic Carlton Cannes Beach Club is not to be missed. We couldn't mention Cannes without mentioning an Ahoy Club favourite, La Guerite Island Restaurant that's only accessible by sea. Expect champagne, good vibes and an exquisite Mediterranean dining experience when visiting the islet of Ile Sainte Marguerite off the coast of Cannes.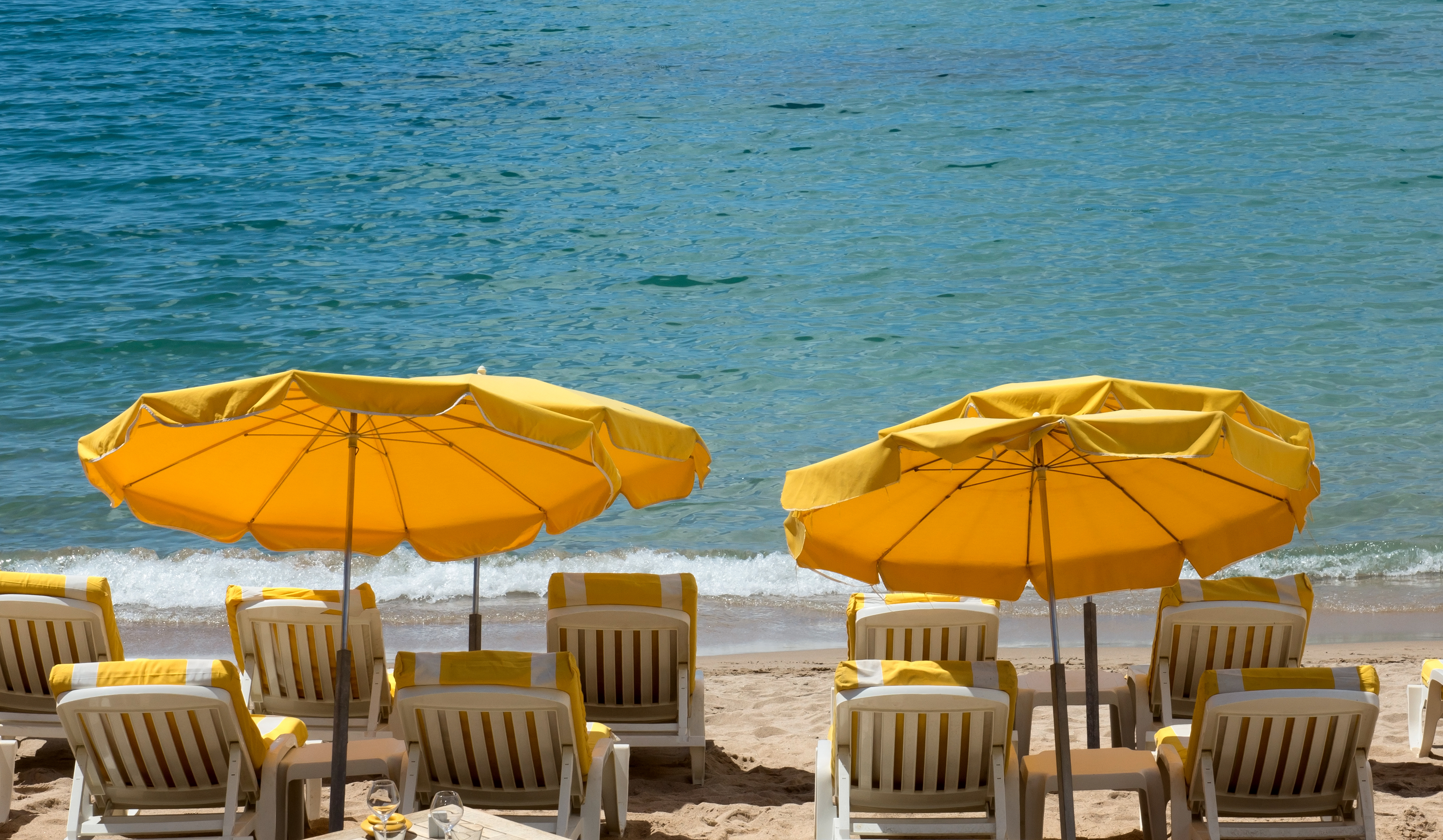 St. Tropez
When someone mentions Saint-Tropez, you automatically think of a destination for the rich and famous. You could not charter a superyacht in the French Riviera and not visit St Tropez, in fact, we recommend spending two to three days in this charming destination as there is so much to see and do. Once an old fishing village, it has evolved over the years to a world-renowned seaside resort for the wealthy and famous.
Enjoy an alfresco breakfast on board your private yacht before heading ashore to wander around exclusive designer shops. If all the shopping gets too much (said no woman ever!) head to the Dior Café for a glass of bubbles or French patisserie. Back on deck, you can enjoy the amenities your yacht has to offer in front of Pampelone Beach before heading to its impressive line-up of beach clubs, there are many but if we had to name our favourites you've got the elegant La Reserve, ultra-chic Lou Lou Plage, classic Le Club 55 or buzzing Bagatelle. If you love to dance the night away in your Jimmy Choo's, then head to L'Opera for a night of fun in St Tropez or sip cocktails on the chic rooftop of Les Toits Lounge – your options are endless!
Oh, and it isn't a trip to Saint-Tropez without indulging in a famous Tarte Tropezienne at the Tarte Tropezienne bakery! Don't be put off by the queues snaking out the door, it's well worth the wait – trust us!
The French Riviera hosts 50 per cent of the world's superyacht fleet, with over 90 per cent of all superyachts visiting the region's coast at least once in their lifetime, the choice is never an issue.
Enquire below with our charter team for yachts the French Riviera or your sample itinerary.