9 Tropical Destinations Perfect for Yacht Charter Vacations
Longing for the perfect tropical destination to plan your next escape? If you crave balmy nights, swaying palms overhead, aquamarine waters, incredible vistas and delectable fresh cuisine, we've unearthed the nine most spectacular tropical destinations for you to experience.
Exploring these destinations on a yacht makes them all the more unforgettable. Enjoy the luxury, convenience, and privacy of exploring paradise on your own terms. The client deals with our customer experience team to ensure preference sheets are completed, the yacht crew provision but the customer is never concerned with logistics.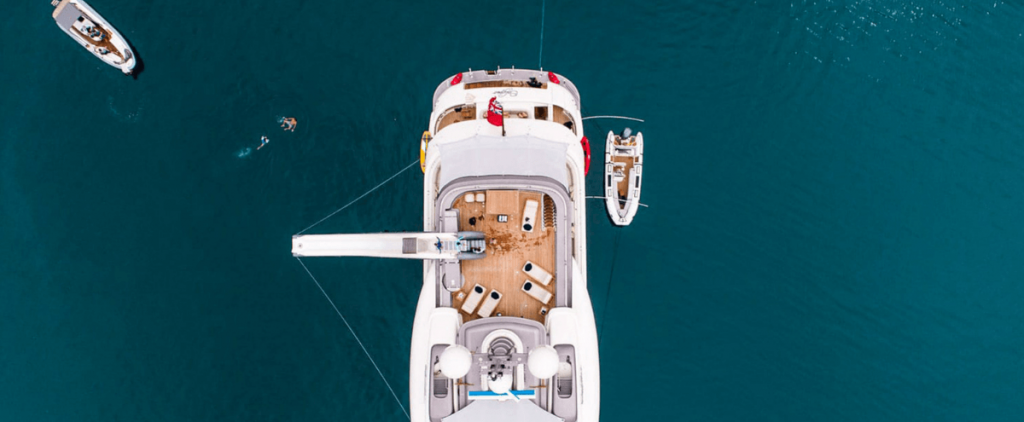 1. Eden Island, Seychelles
Eden Island is the ideal destination to escape to for some quiet time away from the hustle and bustle. This man-made island is located in the Seychelles archipelago and is a low-key, private location, perfect for a relaxing vacation.
While you're on Eden Island, you can relax on the secluded beaches with a book in hand, or anchor up your yacht and have your crew set up a massage for you on the aft deck to indulge in true luxury. The island is perfect for snorkelling or paddleboarding and is popular for fishing as well. If you manage to catch some fish your onboard, the chef can curate a delectable dish for you in the evening with the catch of the day – fresh seafood by the sea, there's nothing better.
2. Fregate Island, Seychelles
This island in Seychelles replicates a mini-Galapagos, filled with unique wildlife and long stretches of pristine natural landscapes. Exploring Fregate Island from a luxury yacht allows you to enjoy nature up close and in comfort, sailing across turquoise waters day and night, and enjoying indulgent sunset sips in the afternoon.

While visiting this island, you can take part in some deep-sea fishing, embark on long nature walks through the verdant forest, snorkel the vibrant thriving reefs, or try water sports like paddleboarding, water skiing or banana boat tubing. Once the day is at an end, enjoy a delicious meal prepared onboard for you with a few refreshing cocktails on the deck.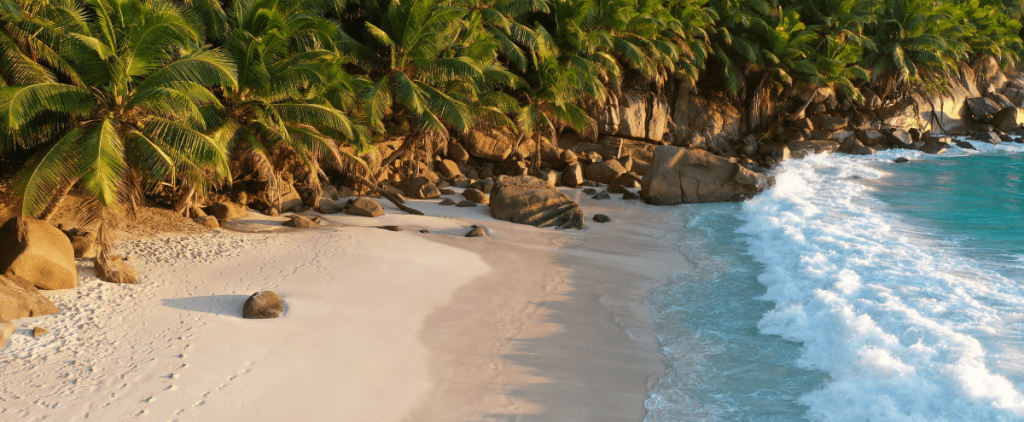 3. La Digue, Seychelles
Life moves slower on La Digue. This laid-back island is a good alternative to busier Mahé and its relaxed atmosphere is mesmerising. The island is dotted with Creole houses, palm-lined paths, endless beaches, and colourful flowers, all tied together with near-perfect turquoise waters.
There aren't a lot of tourist attractions on La Digue so you can enjoy the calmness. Spend your time wandering from beach to beach, snorkelling the calm waters filled with marine life, or indulging in some delicious cocktails in the sun. If you want to simply kick back and relax during your yacht charter, then this is the ideal place to spend some downtime.
4. Male, Maldives
Male is the capital of the Maldives, an island nation known for its mosques and unique architecture. This is a busy, crowded city but not far from the bustling centre, you'll be surrounded by turquoise waters. If you're ready for something which is a bit more happening after winding down by the beachside, this is a good stop to break up your yacht charter.
While you're in Male, you can explore the lively markets, colourful shopfronts and beautiful mosques. Once you've had enough exploring for the day, retreat back to your yacht charter and navigate the surrounding islands for a peaceful end to the day.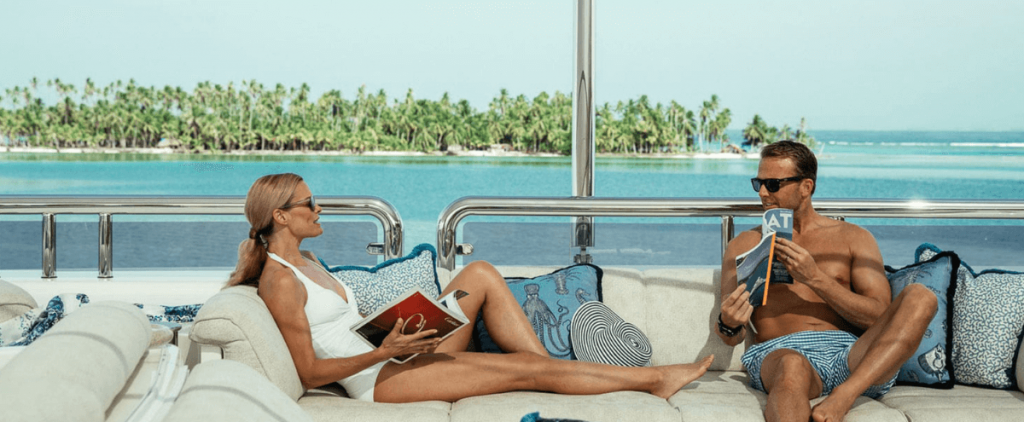 5. Baa Atoll, Maldives
The Baa Atoll is made up of many islands in the Maldives, each of them with its own reef making it the ideal destination if you want to explore marine life beneath the surface. You can cruise from one white-sand island to the next, stopping for dips in the deep blue sea and getting up close and personal with colourful corals and fish.
The Baa Atoll is a UNESCO-designated Biosphere Reserve, so the snorkelling and diving are absolutely world-class. Feast your eyes on hundreds of manta rays and the occasional whale shark if you're lucky. This is truly a unique experience to take part in on your yacht charter holiday.
6. Moorea, French Polynesia
Moorea is a picturesque volcanic island in French Polynesia, it's the second largest of the Îles du Vent (Windward Islands) in the Society Islands and is all that remains of an ancient volcano making it a popular location for sightseeing.
Moorea is a must-visit location and the ideal way to explore this stunning corner of the globe is via your own yacht charter. It's close to Papeete, easily accessible and offers a huge range of marine life, water activities, and stunning white-sand beaches. You can also get up close with the local marine life at the Lagoonarium, a protected part of the lagoon where brightly coloured fish dart through a beautiful coral garden.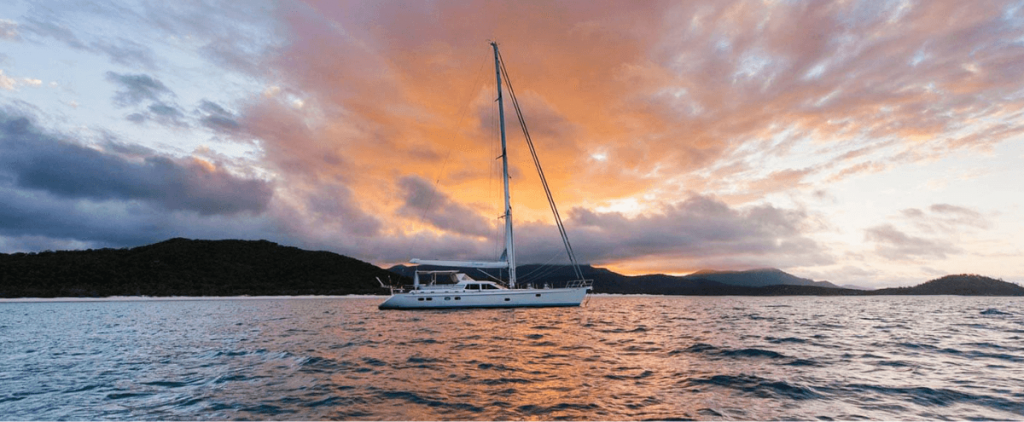 7. Taha'a, French Polynesia
Taha'a is part of the Leeward Islands of the Society Islands in French Polynesia. It's neighbored by the island of Raiatea and surrounded by a coral reef filled with lively marine life. This island is quieter than others in the area, so it's the perfect place to moor if you're looking for a private tropical vacation.
Taha'a offers dense tropical jungles, perfect for hiking or walking, as well as beautiful views of the bay from the privacy of your own yacht. You can enjoy a wide variety of water activities while you're on the island straight from your yacht with flat and clear waters, and indulge in delectable cuisine made by your private chef on board. If you need to reset and recharge, Taha'a is destined for you.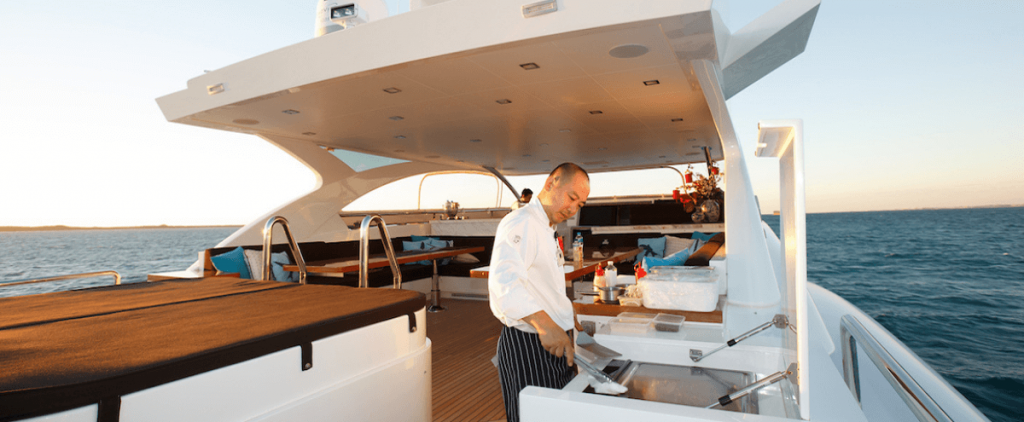 8. Tavura Island, Fiji
Tavarua Island is close to the main island of Viti Levu and is known for its world-class surfing. There are seven main surfing breaks on Tavarua, but you will need to be an avid surfer to conquer them!
If you are after something a little less adrenaline-fuelled, you can explore the surrounding coral reef on the island by heading off the swim platform of your yacht for a cruisy venture on the paddleboard or kayak. Head back to your yacht for a thirst-quenching beverage with a seamless view after a day soaking up the hot sun.


9. Vanua Levu, Fiji
Vanua Levu is the second biggest island in Fiji and offers the perfect combination of pristine water and land attractions. If you want to explore a natural oasis and experience a rich local culture, this destination is great to immerse yourself in.
Vanua Levu has two main cities to explore including Savusavu, which has become a popular diving destination among yachters. With a rugged coastline and mystical rainforest to explore, there is plenty to keep you busy while on the island. A popular spot to visit is the natural hot springs at Savasavu, there are many dotted along the coastline bubbling at the surface enticing visitors to take a dip in their warm waters.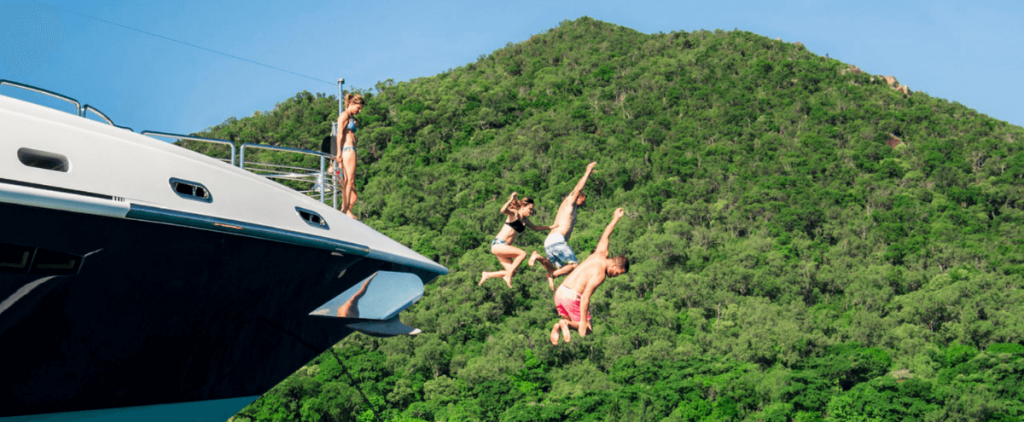 Book Your Charter with Ahoy Club
These tropical destinations all offer something unique and there is something destined for every type of traveller, whether you seek privacy and relaxation, or adventure and activities. There's no better way to experience these balmy destinations than onboard an Ahoy Club Yacht Charter.

When you hire a yacht charter through Ahoy Club, you can enjoy the ideal mix of privacy and luxury along with the assistance and advice of an expert team to ensure everything you need is at your fingertips. Contact us today to plan your next yacht vacation.