Laid Back Tranquility In Southern Europe
Along Southern Europe's largest fjord, lined with forests, where mountain ranges rise toward the sky, the path to Montenegro is paved. Entering on a yacht charter of Montenegro takes you through one of the most spectacular waterways in Europe.
Fortified towns welcome you from above before reaching land to find the warm faces of locals, famed for their kindness and hospitality.
For those wishing to enjoy world-class facilities in one of the world's most laid-back destinations, a private yacht charter of Montenegro offers spectacular sites and scenes and the utmost tranquillity.
BEST TIME TO VISIT
Montenegro enjoys a long summer without reaching too high during the peak. June to August make up the peak season, with average temperatures around 27ºC. Even May, September and October offer days around 20ºC.

Where you visit may impact the months you wish to travel. The mountains are naturally cooler than the coast. For this reason, you can expect the shoulder seasons to require warmer clothes for travelling inland and within the mountains.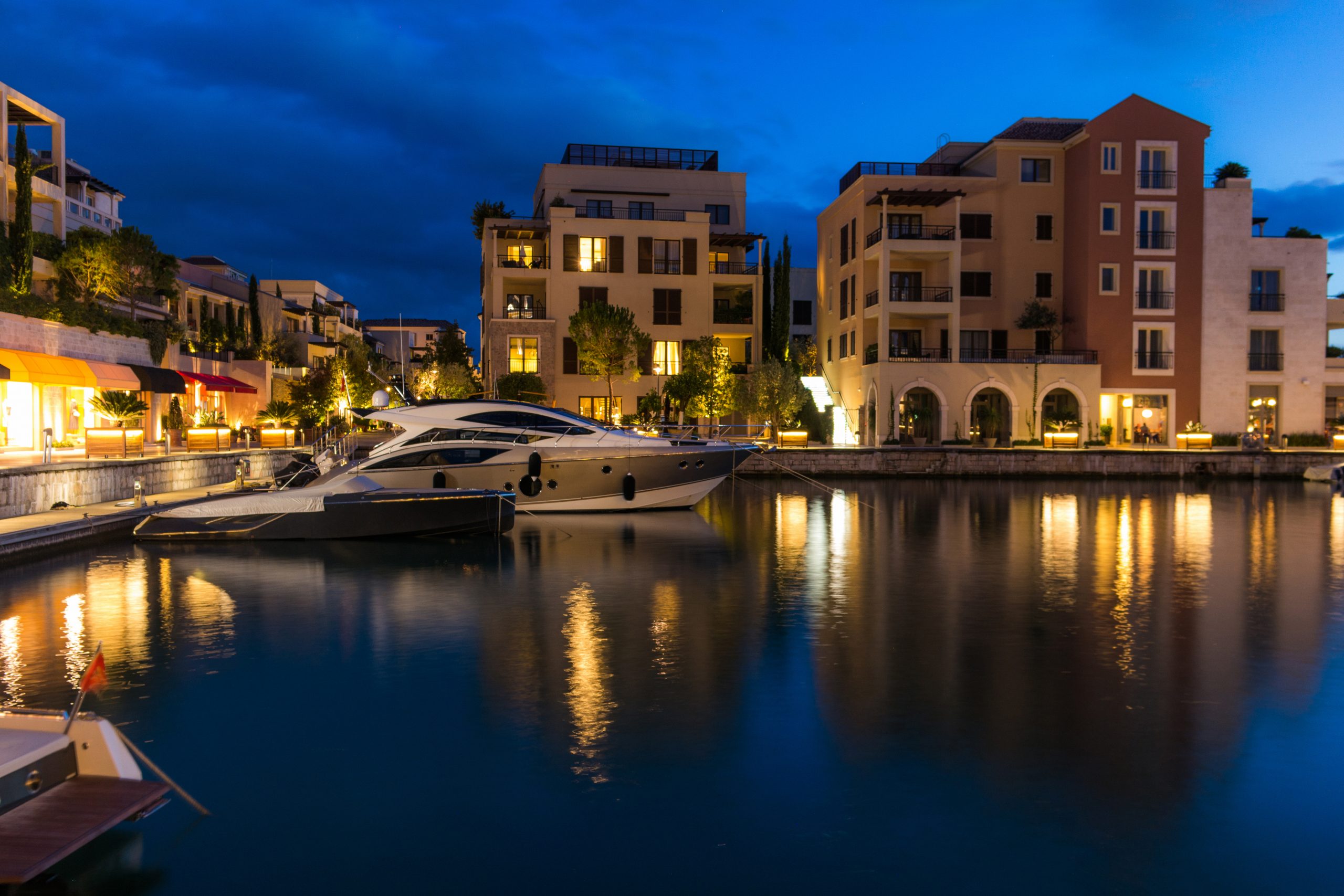 Activities & Experiences
Montenegro is known for its crystal blue waters, but it is named for its mountains, and its people ensure travellers forever wish to return.
Known for their commandments, including: "Love thy bed as you love thyself"; "If you see someone resting, help him"; and "If you have the urge to work, sit down, wait and you'll see it will pass" you quickly sense that life passes leisurely in Montenegro and this ideology is delightfully infectious.
Here are some of our favourite Montenegran destinations:
Lake Skadar
A birdwatcher's paradise, Montenegro is home to Lake Skadar, one of the largest bird reserves in Europe.
Here Flamingos flock each year, making for a stunning pink spectacle not to be missed by avian enthusiasts.
Durmitor National Park
Said to be home to wolves and bears, Durmitor National Park offers a pristine landscape, mountainous, open and at the same time dense.
Bears and not, this natural scene will certainly take your breath away.
Herceg Novi
Explore the 14th-century old town of Herceg Novi and then sail across to Dobrec Beach, one of our favourites, as it's only accessible by boat. There are also a variety of great restaurants to schedule a stop for lunch.
Sveti Stefan
Once you tire of walking, the Aman Spa at Sveti Stefan is the perfect place to indulge in a luxurious pamper before visiting one of the many divine restaurants in the area.
Where to Eat
Speaking of restaurants, these are some of the best to try and work into your Montenegro yacht charter itinerary:
Konoba Stari Grad for Ugoslavian Mediterannean fusions (Budva)
Stari Mlini for seafood (Kotor)
Conte Restaurant for high-end Mediterannean dishes with seafront views (Perast).
Budva Riviera
On your luxury yacht charter of Montenegro, you have access to unparalleled views from your waterborne perspective. A tender along the Budva Riviera to find your favourite pebbled beach is the perfect way to spend a leisurely day.
Kotor
Kotor is a captivating city with beauty and wonders to be found at every turn. At the port, you are surrounded by Venetian fortifications, quaint paved streets, UNESCO World Heritage Sites and local cuisine and artisan creations.
Climb up the city walls and up the hill to St John Castle for views out over the Bay of Kotor and the rest of the city.
Tara River Canyon
Whether you're brave enough to raft down or you simply go to take a glimpse, the Tara River Canyon boasts breathtaking scenes, with restaurants watching over and white water rafters rowing through
Cetinje
Considered the historical capital of Montenegro, Cetinje is home to the National Museum of Montenegro and many others for those wishing to discover the country's art, ethnography, and archeological history.
What To Expect When Booking A Yacht Charter In Montenegro With Ahoy Club
Booking a boat charter in Montenegro is made stunningly simple through Ahoy Club. Our digital platform hosts more than 4000 yachts and boats to cater to every need. Rather than scrolling through them all, our advanced experience builder technology asks you questions to learn about your particular desires. With these inputs, Ahoy Club presents only the most suitable options. Your charter of Montenegro is perfectly customised for you and your crew.
Once you've found your perfect charter, booking online is simple, and the real fun begins. With help from your personal Customer Experience Manager, you can find and arrange details for your perfect itinerary. Want to get a booking at the most exclusive restaurants in the country? Our experts have the connections. Our Customer Experience Managers know the areas they assist in, giving you the best tips to craft an enviable travel schedule.

Yachts in this region
View more Top Destinations