Cultural Cities and Picturesque Ports – Croatia has it all
Experience Croatia in opulent comfort, with the golden European sun above, crystal clear waters below and a fully staffed crew ready to cater to your every need. Indulge in the depths of this magical coast with a yacht charter in Croatia.
BEST TIME TO VISIT
When the days are long, and the sun is high, the Croatian coast comes to life. Summer is undoubtedly the season for luxury yacht chartering in Croatia.

Known for its Yacht Week events between May and September, Croatia's coast attracts the who's who of the world. Floating on crystal waters, indulging in the spectacle as travellers and locals fill the coast and ignite a vibrant on-water dynamic of events and entertainment.

With the summer sun stretching from the end of spring to the edge of autumn, travellers who prefer a calmer experience are recommended to consider the months of May and September. During these months, you can enjoy easier access to the best cafes, restaurants and beaches without the crowds of sumer travellers.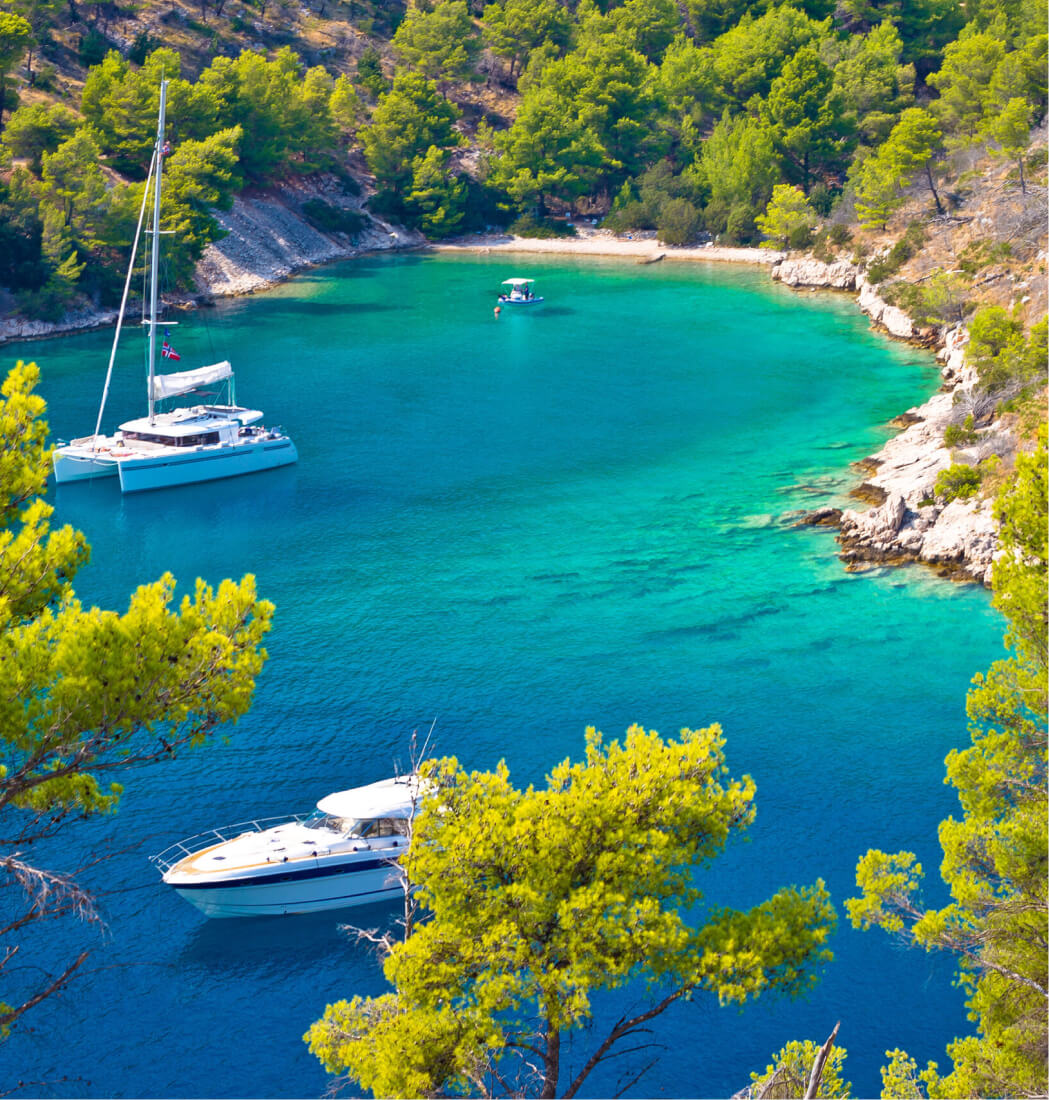 Activities & Experiences
When you hire a private yacht charter in Croatia, you are in complete control of how you want to enjoy your experience. On deck, you have unlimited access to turquoise waters and the Croatian coastline, as well as every comfort and convenience you could possibly need.
Beyond your luxurious dwellings, however, there are certainly some must-dos while you have a boat charter in Croatia:
Explore The Islands
Croatia boasts more than 1000 islands across its waters. Each one is unique, offering a different experience for its visitors. When organising a charter in Croatia, work with your captain and crew to arrange an itinerary to see the best islands in the area. Visit Hvar to mingle with the rich and famous, Vis for a quiet escape farther out from the mainland, or Mljet for a snorkelling experience like no other island in the region.
Fine Dine
Croatia is a foodie's dream and a seafood lovers' paradise. It boasts mouthwatering fine dining on the mainland, but the real crème de la crème of Croatian cuisine is accessible only by yacht. Six of the seven Michelin star restaurants located in the Adriatic region are best visited by yacht, including Kod Marka on Šipan, Gastro Mare on Pelješac, Laganini on Hvar, and Restaurant Monte in Rovinj, to name just a few.
What To Expect When Booking A Yacht Charter In Croatia With Ahoy Club
Ahoy Club's Croatia yacht charter booking experience is designed to be smooth and seamless, offering you access to 4,000 professionally crewed motor yachts, sailing yachts, catamarans or gulets across the world. But we don't leave you overwhelmed by all the decisions.
Ahoy Club is the number one digital yacht charter platform with an innovative experience builder that helps guide you to the perfect yacht. Our seasonal calendar ensures you know the best times to visit Croatia. And our interactive itinerary maker and preference builder works to get you everything you desire while narrowing down your search to find the best yacht and crew to handle all of your requirements.
Bookings can be made instantly online, contracts are electronic, and all guests are given a personal Customer Experience Manager who liaises with the captain and principal charterer (the person booking the yacht).
Ahoy Club's member discounts allow you to save as much as 30% on any Superyacht charter. Whether for a day, a weekend, a week or more, Ahoy Club and our Ahoy Concierge team can craft a fun charter experience, with every detail delivered, from start to finish

Yacht Charter In Croatia FAQ
Day or Term Charters in Croatia?
Ahoy Club only offers term charters for Croatia.
A Croatian term charter is any yacht charter that is over 24 hours. This could be two nights, 30 nights or more.
On our website, all term charter prices are quoted on a weekly basis when you simply search the yachts. If your search terms are less than one week, your quote will automatically be adjusted to list daily pricing
Yacht Seasonality Croatia
Yacht charters in Croatia have two basic seasonal rates: high season rates and low season rates.
High season rates cover the peak summer months of June, July and August. In contrast, low season rates apply to the shoulder months of May, September and October.
The price difference of a yacht charter between the high and low seasons is typically between $10,000 – $20,000.
Yachts in this region
View more Top Destinations