Yachting: Crazy About Crete | Yacht Charter Greece 2021
Famous for its 6,000 islands and islets – and for having one of the longest coastlines in the world, Greece is a dream destination when it comes to the best yacht charter destinations in the Mediterranean. Of the 6,000 islands, only 227 of them are inhabited. And of these, one stands out as the ultimate jewel in the crown of the Aegean Sea – Crete.
Filled w ith outstanding natural beauty, a rich historical past oozing culture, and of course, that all-important nightlife, you could easily spend two weeks sailing around Greece's biggest island.
1. Balos Lagoon
Found at Crete's westernmost tip, Balos Beach is discretely located inside one of the most beautiful lagoons to be found in the Mediterranean. Crystal clear turquoise waters frame warm white sands, which som etimes look pink thanks to the millions of crushed seashells ground down by the sea. The lagoon waters are shallow, calm and warm – making them ideal for children and those who just want to soak up the sun. A l ittle further out, the sea gets deeper and is perfect for a spot of snorkelling with Loggerhead turtles, monk seals and a whole array of marine life. The easiest way to reach Balos Lagoon is by yacht, giving yo u direct access to the area from Chania and Kiasmos.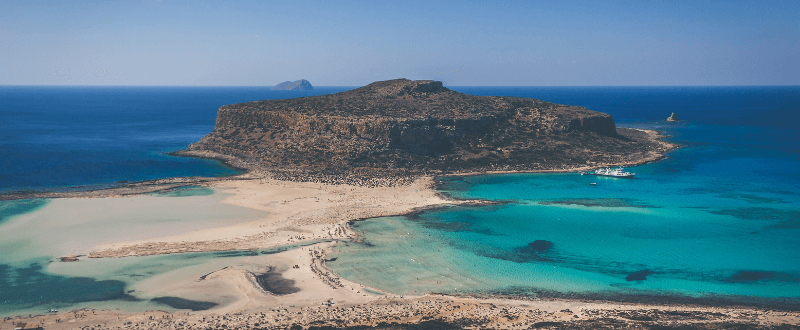 2. Rethymnon
Cosmopolitan resorts, beautiful beaches, cultural sites, fantastic restaurants, and picture-perfect scenery makes Rethymnon an absolute must-visit as part of your yacht charter in Greece. Spend the day explo ring the old Venetian harbour, navigating your way around the old town, check out the 15th-century Rimondi Fountain hidden deep in the city centre, and relax on Preveli Beach. In the evening, local tavern as serve up traditional Greek Meze, exquisite seafood dishes and cocktails perfect for cooling off from the early evening heat. Do you want culture? You'll find it at every turn in Rethymnon.
3. Heraklion
Located just a stone's throw away from Phaistos Palace, Knossos Palace, and some pretty spectacular beaches, Heraklion is found in Crete's most popular area. Like stepping into a fairytale brought to life, t he city of Heraklion is home to a Venetian port, Turkish fountains, ancient fortresses, commanding palatial ruins, and plenty of gorgeous beaches. One of the best beaches to visit is Amoudara Beach, found just 5km from Heraklion City and perfect for diving, windsurfing, water sports and cocktails under the sun. In fact, the region has 32 different beaches to explore with crystal-clear waters for snorkelling making a Greek yacht charter the ideal way to beach hop like a pro.
4. Spinalonga Island
Covering 8.5 hectares of rocky islet, Spinalonga is an imposing fort island located at the Elounda port's mouth. Once a 'quarantine island' for Greece's lepers, it has plenty to offer in the way of history, stark beauty and a prime location. Surrounded by cobalt blue sea and offering splendid views of Lasithi, it's a popular spot to dock megayacht and yacht charters in Greece while getting plenty of Instagram-perf ect photos. Come evening, the nearby town of Ayios Nikolaos is the perfect place to enjoy a light evening meal and a glass of ouzo or two under a blanket of uninterrupted Mediterranean stars.
5. Mochlos Island
There's something quintessentially Greek about Mochlos. One of the last undisturbed frontiers on the Northern coast of Crete, it's like stepping back in time to a place not destroyed by commercialisation and tourism. One of the main attractions in the area is Mochlos Island, the perfect place to enjoy a little bit of solitude and isolation – just you, the Mediterranean sea and the sky. In Mochlos village, there ar e a few local restaurants and tavernas to enjoy a bite to eat. Think of this as a place to empty your mind, recharge your batteries and just absorb the authentic, warm atmosphere. There's not really much to do in Mochlos, but this is what gives it the unique charm it has. Great for yachting, ideal for disconnecting.
6. Gulf of Mirabello
If you are looking for somewhere extra special to take your yacht in Crete, look no further than the Gulf of Mirabella. Home to Spinalonga Island, the gulf is protected from wind and waves by towering mounta ins and pine tree forests. With a sea that's as flat as glass, has crystal clear waters and its own microclimate, it's long been a popular choice with the superyacht crowd seeking glamour, luxury and exclusivit y. Thanks to its microclimate, yachting season starts a little earlier here than in the rest of Greece and continues a little bit longer. Fringed with small fishing villages, large towns and plenty of luxury ho tels, it's another Crete gem to add to your bucket list.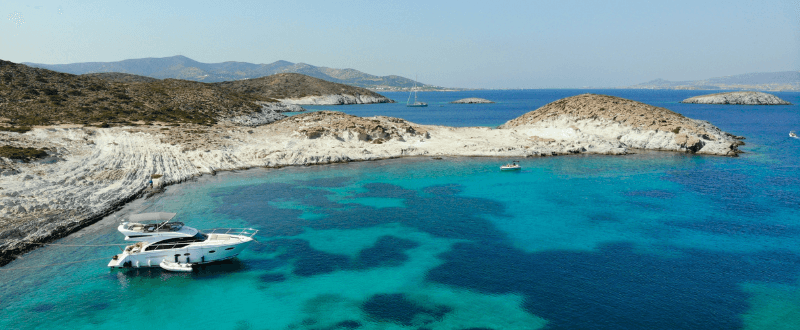 7. Sitia
Originally built during the Venetian era – only to be destroyed and rebuilt by the Turkish – Sitia is a town full of history that has managed to evade the influx of tourists seeking new waters. A lively coas tal town, it has plenty of cafés, tavernas and restaurants lining the seafront. One of the main draws to this area is its long, sandy beach with views over the main town. With space for yachts and boats to stop dockside, along with a more traditional 'working town' atmosphere, it gives you a glimpse into the world of the everyday modern local. Great for shopping, wining and dining, it's perfect for a day or two when yachting off the East coast of Crete.
8. Dragonada and Gianysada
Dragonada is the largest Dionysades Island in the sea of Sitia. Here, you'll also find the islands of Paximada, Paximadaki and Gianysada, all located on the Northeastern coast of Crete. Many centuries ago, t hey were a place to worship the Greek God Dionysus, also known as Bacchus (the God of wine, fertility and religious ecstasy.) On Dragonada, there's a commanding cave found on the Eastern side and a stunning yet tiny beach next to the port and Church of Saint Anthony. Definitely more of a place to enjoy the raw beauty of rock columns, calm seas, wildlife and ocean swimming; Dragonada and Gianysada make for a fantastic afternoon reflecting on ancient times from the luxury of your yacht.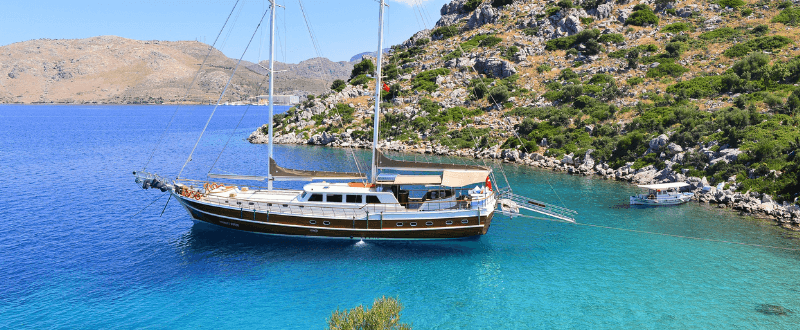 The Number One for Yacht Charters in Greece
When it comes to exploring Crete, the only way to truly soak up the best sights and explore what's on offer is by yacht. Ahoy Club has some of the biggest and best yacht charters in Greece, with options available for every expectation.
From the moment you step onboard to the destinations you sail around, we'll take care of everything so you can enjoy spending more time discovering the beauty of Crete and beyond without interruption.
Get in touch today and discover the difference of Ahoy Club on your next yacht charter in Greece.