What to Consider When Booking a Luxury Charter
There is a lot to consider when booking a luxury charter. Firstly, it's important to know why this kind of holiday experience is such a popular choice. Travelling on a luxury charter gives you access to some of the world's most remote and exotic locations. It allows you to experience unparalleled freedom and beauty whilst sailing the wide-open sparkling sea on your own private vessel. The perks are endless when hiring a yacht. You can find yourself exploring a range of incredible sights, discovering globally coveted coastlines and cultural cityscapes, all while experiencing maximum comforts with the highest level of service at all times.
To rent a yacht is to truly adventure at your leisure. Let the Ahoy Club team help you choose the right vessel and create a bespoke itinerary, tailored perfectly to your needs. From simple charters to elaborate explorations, Ahoy Club has all of the necessary knowledge to craft the getaway of your dreams. You can even visit a different location every day (talk about getting the most out of a holiday!) all without the stress and hassle of any unpleasant travel – forget unpacking and repacking.
The time between destinations offers some of the most staggering sights of unparalleled locations around the world. Ahoy Club removes the two most difficult parts of sailing our stunning globe: the technical skills needed to choose the right vessel and all of the prep it takes to plan such a sojourn. Renting a charter yacht makes cruising the world's most famous and faraway coastlines seem like a beautiful breeze.
Destinations to Visit
From the Caribbean to the Bahamas, to the Mediterranean and the South Pacific, you can pick a place based solely on your personal preference. Are you looking to experience serene seclusion or visit a vibrant town? Do you want to traverse natural wonders or wander charming city streets? Do you enjoy a thriving arts scene, interesting architecture, vibrant culture, rich history, authentic hidden haunts, or the pristine preserved wilderness?
The most amazing thing of all is that by renting a yacht, you don't even have to decide. All of the above is possible at once. Soak up the sunshine and indulge in alfresco dining on your private deck as you sail through the South of France, home to culture, art, and relaxation. Chartering in French Rivera is a popular favourite, known for its seemingly endless beaches and gorgeous weather all year round. If romance, privacy and seclusion are what you're looking for, sail through the Seychelles and its 115 isles chasing the sunset and exploring tropical beaches that are only accessible by private yacht.
For adventure seekers, a charter through Australasia and the South Pacific is a great choice. Boasting vibrancy and action, there is something to do all year round. Snorkel with exotic wildlife at the Great Barrier Reef, hop from island to island in French Polynesia, explore a breathtaking bounty of nautical and natural wonders. No matter the place, no matter the season, Ahoy Club is committed to choosing the charter that's best for you.
Ahoy Club is perfectly placed to secure any charter vessel, anywhere in the world for you and your guests with over 4,000 yachts globally across the seven continents.

The Perfect Yacht
An extensive fleet of the finest vessels will be at your disposal when renting a yacht with Ahoy Club, complete with an easy and accessible comparison tool. Ranging in size and yacht category, there is certainly a yacht to suit everyone. From day charters to term charters, catamarans to motor yachts, sailing yacht to gulets, it's all available within the Ahoy Club fleet.
Whilst there's so much to consider, Ahoy Club make it easy! If you're looking for a vessel that can get close to shore, a catamaran is a popular choice. Thanks to their shallow draft, catamarans can cruise in bays or anchor in shallow waters – perfect for chartering remote areas. Whereas, a motor yacht is typically faster than other vessels and perfect for larger groups given their spacious interiors and multi-decks.
Renting a yacht can also be geared toward the types of activities you may want to indulge in along your scenic sojourn. Deck out your yacht with all the best scuba diving equipment, jet skis, surfboards, or kayaks. Choose a vessel that includes a jacuzzi on board for releasing any extra stress leftover from home. Stay fit whilst living your best boat life with a full gym on deck. Pick out toys that all ages can enjoy, like a climbing wall off the side of the boat or a water trampoline. No matter what you're looking for, Ahoy Club has you covered.

A Dedicated Crew Onboard
A highly professional and experienced crew will be at your beck and call. They will be heavily involved in each and every aspect of your charter experience, from ensuring the menu matches your preference sheet to a themed night onboard or scuba diving lessons. Nothing offers peace of mind like around-the-clock availability and service. It's truly a seven-star service team at your disposal and they're determined to make all of your charter dreams come true.
From the initial booking to the very last second of your one-of-a-kind journey, Ahoy Club will be right there with you to make sure it's an out-of-this-world experience. It's time to kick your feet up and let our team and the crew take care of things behind the scenes.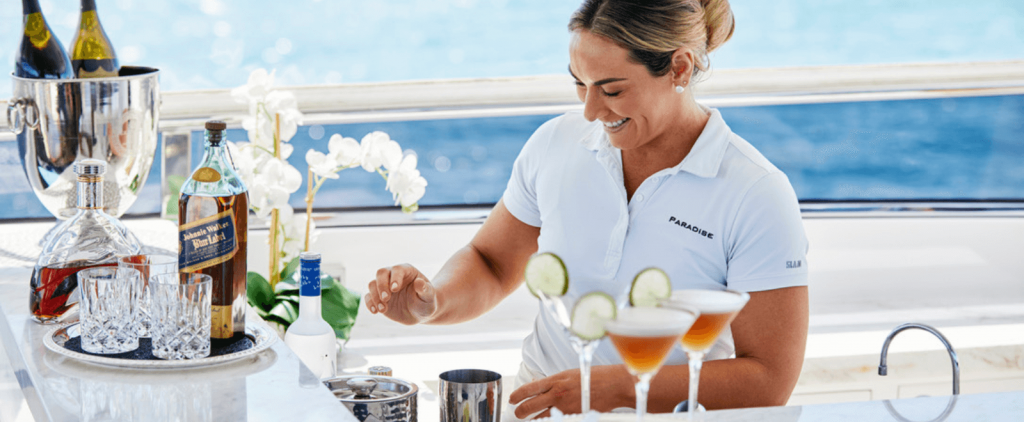 Itineraries Tailored to You
Designated milk-runs will help you to decide on an itinerary. This refers to ready-made routes that are used to navigate between islands in a certain area. It's common between strings of islands set close together and will allow for the easiest, and often most beautiful, path possible. Once your desired destination has been chosen and the yacht selected, the Ahoy Club experience team will have a one on one call with you to help build your perfect itinerary, make on land bookings at beach clubs or restaurants to ensure your charter is tailored to your needs and desires.
With such a strong knowledge of all charter locations, the Ahoy Club team are able to offer such savvy suggestions for where to go and what to do, that it is a bespoke yachting experience unlike any other. Both the itineraries and the charter provide total flexibility to address any needs, wants, desires, or whims. You'll be amazed by how much even a few travel trips can enhance your experience. It removes so much stress and hassle, by taking the weight of the planning from your shoulders to their hands. It's easy to overlook the nitty-gritty details of adventures ashore, but there can be so much to consider to ensure your land moments are just as precious as any onboard your private and luxurious yacht. You dream it and Ahoy Club make it happen.

Personalised Menus
After selecting your vessel, let us know of your favourite meals and beverages, your chosen sides and ingredients, whether you like comfort food or clean eating, and how often you would like to dine ashore or onboard and your dedicated crew will organise everything requested from start to finish.
Imagine waking up in paradise to the smell of freshly-made eggs and bacon on toast, made just how you like it or spend your morning salivating over an extremely juicy bowl of fruit as you watch the sunrise on your private deck. When travelling with Ahoy Club, you can indulge in anything you want, when you want. It's an experience completely tailored to you.

Charter with Ahoy Club
Among countless perks, the added safety of being able to operate in your own space has become a top priority in unprecedented times. It's also important to consider who you are travelling with. Is this a family affair, a romantic cruise, or a gorgeous getaway for a group of friends? This will likely determine what charter you choose, your destinations, the season, and of course, the personalised itinerary full of attractions and activities. The Ahoy Club team will know just what to do when presented with all of the information, ideas, and interests to create your perfect yacht charter getaway.