The Ultimate New England Yacht Charter Itinerary
Comprising the states of Connecticut, Maine, New Hampshire, Massachusetts, Rhode Island and Vermont, New England's famous Atlantic coastline is a paradise for luxury yacht charters wanting to take in the best that the region has to offer.
Sailing along the wild Atlantic coast is best when the weather is warm and the seas calm, which is typically from May through to late September. During the early summer months, the region is a cacophony of emerald green canopies, colourful plants, and the sweet fragrance of marigolds and violets, not forgetting the stunning beaches, townships, and coves waiting to be enjoyed.
From the southern charm of Boston to the ever-changing scenery of Nantucket, here's our perfect itinerary for your yacht charter in New England.
1. Rhode Island to Nantucket
Start your yacht charter in New England by climbing onboard your chosen yacht at Rhode Island. Rhode Island is the perfect place to embark on your trip, home to some of the biggest superyachts and an extensive yachting and sailing history, it's easy to see why it is called the city by the sea.
As you set sail, you'll make your way past some of the most legendary mansions in New England. From the Astors to the Vanderbilts, imposing architecture and views into the world of the mega-rich are everywhere to be seen.
From here, you can make your way to Nantucket, known as the whaling capital of the world. Spend a few hours hiking or biking around pristine beaches and wild Atlantan landscapes before heading back to your luxury yacht for dinner and pampering as the sunsets over the Atlantic.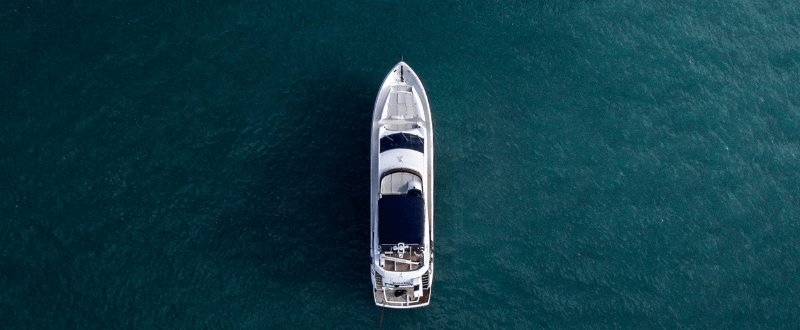 2. Nantucket to Edgartown
Famous for its whaling past, Nantucket is next up on the destination itinerary. A wild expanse of seagrass, sand dunes and historic buildings, it's now a superyacht destination for multi-millionaires and the elite crowd looking to enjoy the high life. With so much to do here, you'll definitely want to spend at least a full day enjoying what's on offer.
Tie up at Nantucket Harbour and make your way to CRU, a stylish and upmarket waterfront hotspot serving up sizzling seafood, decadent drinks and stunning views over the bay. Landmarks include the Old Mill, Brant Point Lighthouse and Hadwen House.
Of course, one of the biggest draws to Nantucket is its beaches. No matter whether you want to enjoy a spot of surfing, sunning yourself on soft sand, fishing or swimming, there's something for everyone. In the evening, sip on champagne cocktails and enjoy a few light bites at The Gazebo in Harbour Square before heading back to your yacht for some much-needed rest.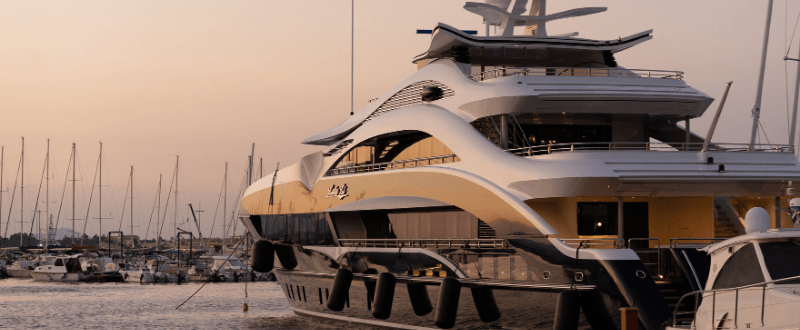 3. Edgartown to Boston
Edgartown, situated to the South of the Cape has a long and rich history of hosting American presidents and A-list celebrities at Martha's Vineyard. Roosevelt, Kennedy and Clinton have set up base here to retreat to some of New England's most spectacular coastline and scenery.
Upon arrival, you're greeted with a postcard-perfect scene, welcomed by the old lighthouse and jutting rockscapes before making your way past the pristine sandy beach. Spend the day exploring upscale shops, galleries and boutiques or enjoy a round or two at Farm Neck Golf Club.
Once you've exhausted the charms of the town, board your yacht and make your way to the cliffs of Gays Head for a spot of fishing before heading toward the cosmopolitan call of Boston.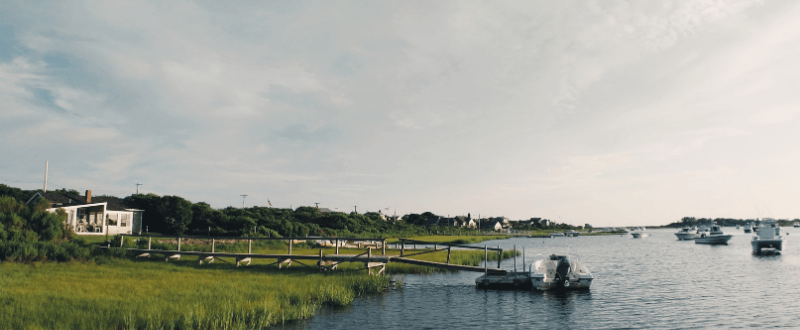 4. Edgartown to Cape Cod
The journey from Edgartown to Boston takes you past Cape Cod, which is well worth spending a day exploring. One of the most popular places to check out is Provincetown, with its west-end style theatres, Commercial Street, gorgeous beaches fringed by sand dunes and plenty of places serving up freshly-caught local seafood.
From here, sail across Cape Cod Bay to Plymouth – home to the first pilgrim settlement in the 15th century. Snap a few shots of the Mayflower replica, Plymouth Rock and the Plimoth Pawtuxet Village.
5. Cape Cod to Boston
Yachting from Cape Cod to Boston takes you past Scituate Lighthouse, Egypt Beach and into Massachusetts Bay. As you approach south Boston, you'll pass the Islands of Boston Harbour State Park and then make your way into the mouth of the Charles River and Boston Harbour.
Drop anchor for the night and explore the best the city has to offer, including waterside dining, a visit to Boston Aquarium, enjoying the nightlife at Irish pubs and upscale clubs, checking out the Freedom Trail and much more. The next day, it's time to make your way to your final destination – Portland.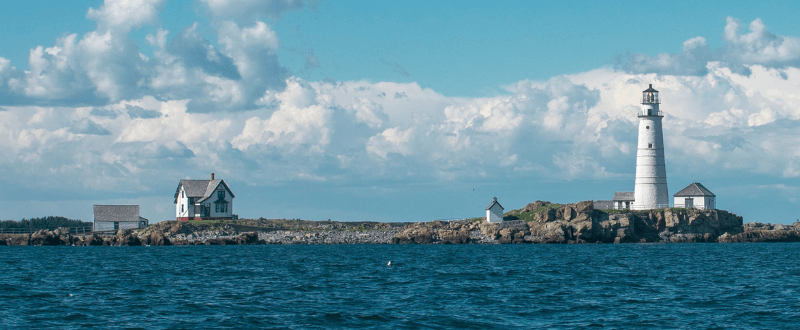 6. Boston to Portland
Located to the North of Boston is the quaint coastal city of Portland, that is known for its maritime history, gastronomy and agriculture. As you make your way to Portland, you'll pass Marblehead Historic District, which is the perfect place to grab lunch on the way.
As you arrive in Portland, you'll notice that the city does not attempt to be flashy in any way. However, it is known for New England's most magnificent lighthouse, which also acts as a base to discover coastal trails and lots of hiking trails.
Offering endless adventures from mountain to ocean and valleys to deserts, the city is also known for its abundance of markets and museums. Whilst exploring this wonderful city, make sure you check out the oyster bars that serve up ocean-fresh seafood combined with beautiful bay views. What better way to finish your seven day New England yacht charter than in the iconic town of Portland.
The Best Yacht Charter In New England
When it comes to New England Yacht Charters, Ahoy Club has luxurious superyachts and yacht charters waiting to whisk you off on your very own Atlantic coast adventure. From the second you step onboard to the time you disembark, your every need will be taken care of – guaranteeing you the most memorable trip of your life.
Of course, this itinerary is just one of many you could take. You choose the journey and we'll do the rest. Ready to set sail? Contact us now or check out our fleet to see why we're the best yacht charter in New England.