The Best Yachts to charter for a Wedding in Australia
When it comes to weddings, there's nothing quite as romantic as getting married on the water. With a flawless backdrop of uninterrupted horizon on one side and the coastline on the other, you get to curate your wedding day scenery. A yacht charter is the perfect way to add a touch of elegance, luxury and style to your nautical nuptials, whisking you and your wedding party out into the open ocean to celebrate saying 'I do'.
To help you plan the most memorable experience possible, Ahoy Club's team have curated some of our finest vessels made for magical weddings on the water. Whether you're looking for something small and intimate for your nearest and dearest or you want to delight in all the luxuries, here are five yachts to get started with.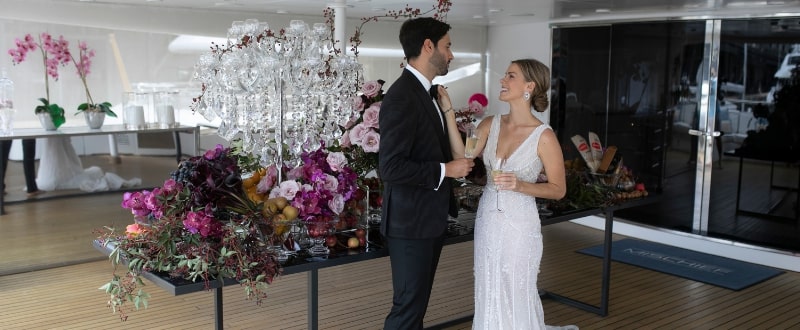 Can I Get Married on a Yacht?
The first step to tying the knot on a charter yacht is knowing what you want from the day. The size and style of the yacht will largely depend on how many guests you intend on inviting. The wedding theme and time at sea will also help you choose an appropriate yacht.
Will you marry on board, or will the ceremony be held on land?
Is the charter for the ceremony and reception?
Are you looking for a yacht charter to host the reception only?
What time of year are you planning your yacht wedding?
How many guests do you expect to join you?
What happens if a guest needs to leave early?
Will you have a sit-down wedding meal?
Knowing the answer to these questions will help our team curate the perfect yacht, location and schedule for your wedding day to ensure you soak up every moment of the important day.
LADY PAMELA
Number of guests: 30 | Sleeps: 8 | Length: 30m
With her sleek and stylish Italian design, LADY PAMELA is a fantastic choice for small and intimate weddings in Sydney Harbour. The main deck is perfect for enjoying the reception with your nearest and dearest. Inside, a luxurious blend of cherry wood, walnut, marble, granite and gold accents add a real touch of glamour to the occasion. In the saloon, large sofas, a modern entertainment system and a formal dining area are found. As your party kicks into full swing, the onboard bar, jacuzzi and BBQ keep guests refreshed and entertained. With four cabins available, including a master cabin, VIP cabin and two twin cabins, there's plenty of space for the bride and groom to change, along with space for the bridal party to get ready.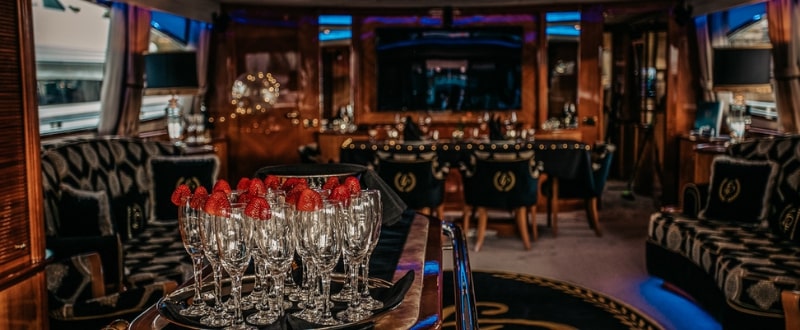 View My Lady Pamela Full Specs.
GHOST II
Number of guests: 110 | Sleeps: 12 | Length: 37m
Built to spend her time in Australian waters, GHOST II is a sleek and modern beauty fitted with all of the latest luxuries and conveniences you could want for your special day. Able to accommodate up to 110 guests for a day charter in Sydney Harbour. GHOST II is a dream vessel for weddings on the water. With plenty of deck and entertainment space available, enjoy an intimate alfresco dining experience before dancing the night away as the golden sun sets over the ocean. The balcony provides the perfect backdrop for classic wedding photography, while the jacuzzi and tenders will keep guests entertained at the post-wedding afterparty. Whether you're heading out to sea or intend on staying anchored, our team will ensure you and your guests experience a calm and steady day.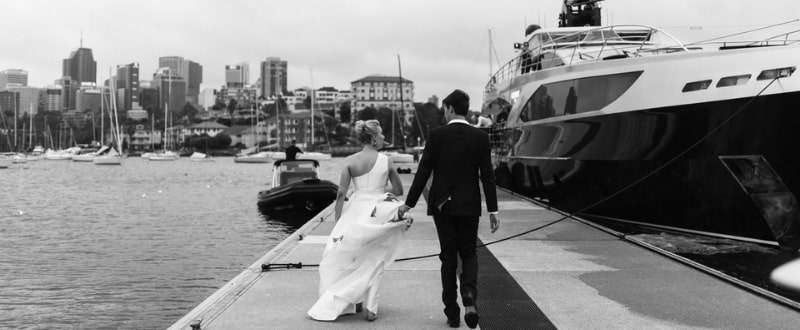 ONEWORLD
Number of guests: 100 | Sleeps: 12 | Length: 32m
Taking luxury to a whole new level, ONEWORLD features five stylish yet contemporary cabins able to sleep up to 12 guests along with all of the space you need for a wedding at sea. A state-of-the-art flybridge provides the perfect settings for exchanging your vows, whilst the generously sized saloon and dining areas are ideal for an opulent wedding reception. During the summer months, ONEWORLD can be found docked in Sydney Harbour waiting to whisk guests off on a luxury seaside wedding overlooking the Opera House, Sydney Bridge and the City skyline. For the rest of the year, she is located in sunny Queensland, where couples can hop aboard and head off on the ultimate Whitsundays wedding yacht charter.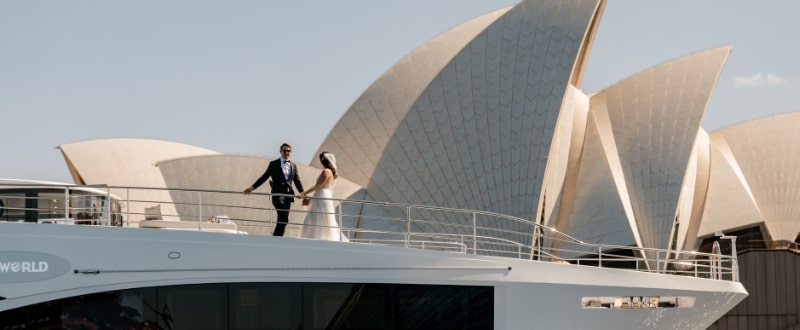 CHAOS
Number of guests: 36 | Sleeps: 8 | Length: 30m
Elegance reigns supreme throughout this beautifully designed charter yacht, with warm modern interiors and wide-open spaces you'll be able to indulge in pure luxury onboard CHAOS for your big day. Step inside to 4 opulent staterooms which sleep up to 8 people, multiple dining spaces and spacious entertaining areas which can accommodate up to 36 guests. The full-beam master is filled with natural light providing the ultimate wind-down space, featuring a walk-in wardrobe, large wide-screen TV and lavish furnishings. Enjoy a laid back alfresco dining experience on the upper deck or an intimate sit-down dinner in the saloon with your wedding guests. With a cruising speed of 12 knots, it's the perfect yacht for soaking up the coastline and capturing magical wedding day photos you'll cherish forever.
MISCHIEF
Number of guests: 200 | Sleeps: 12 | Length: 54m
Featuring dramatic reflective surfaces, nautical white, blue and black theming, and seductive curves that scream 'style', MISCHIEF, our largest yacht of this list, reflects everything that a luxury yacht should. The interior is designed by the renowned Blainy North boasting a large marble bar is the perfect place to share your post-ceremony bubbles, whilst the large main saloon has all of the space you need to enjoy a formal sit-down dinner of up to 80 people and dancing into the early hours on the sundeck. Fully equipped with everything you need for the most memorable experience possible, you and your guests can take advantage of the three decks, a jacuzzi that's often used as an icebucket for Dom Perigon, complimentary tender and access to the master guestroom for those needed mid-evening touch ups.
Say 'I Do' in Style with Ahoy Club
Ready to take the next step on your wedding planning journey? Discover the true meaning of 5-star luxury and class with unparalleled service levels from the moment you step onboard. Ahoy Club's experienced events team are available every of the way with your luxury yacht charter wedding.
Get in touch today to discuss your plans with us, and let us help you bring your wedding on the water to life. With a vast selection of luxury yachts, perfect for every type of wedding, we're here to bring your dream day to life.