Paradise Rediscovered | The Ultimate Maldives Yacht Charter
When you hear the Maldives being mentioned, most people immediately envision the stunning blue waters, palm trees and picturesque landscape. This destination is renowned for being a luxurious getaway for adults to relax or enjoy the many water activities on offer and is one of the most popular honeymoon destinations for island lovers. This tropical paradise is idyllic and best seen by yacht, so it's the perfect location to indulge with a luxury yacht charter.
With Ahoy Club, your ultimate Maldives yacht charter will be fitted with everything you could possibly need for a luxury getaway. Whether you're looking for features such as a pool or jacuzzi, your own personal gym to stay fit, or a chef on board, the dedicated Ahoy Club concierge will help make that happen.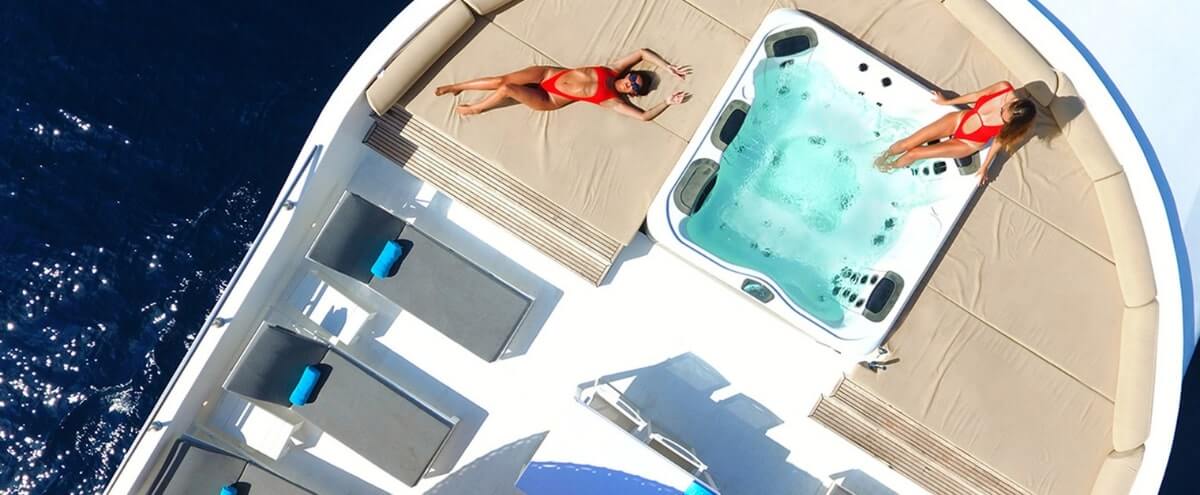 Perhaps your perfect vacation is the balance of shore and water activities as well as personal service on your own private yacht? The professional and experienced crew can manage all the water activities you desire, ensuring the equipment you need is on board and ready to go. Maybe you will fancy a cocktail at midnight or want to indulge with a mid-morning massage? Let the crew know and the services will be ready for you on board to have when you need them so you can tour the Maldives in style.
The ultimate Maldives Yacht Charter will allow you to discover the stunning waters and atolls of this region over eight days. Read more below about where you will anchor and what makes each stop so mesmerising.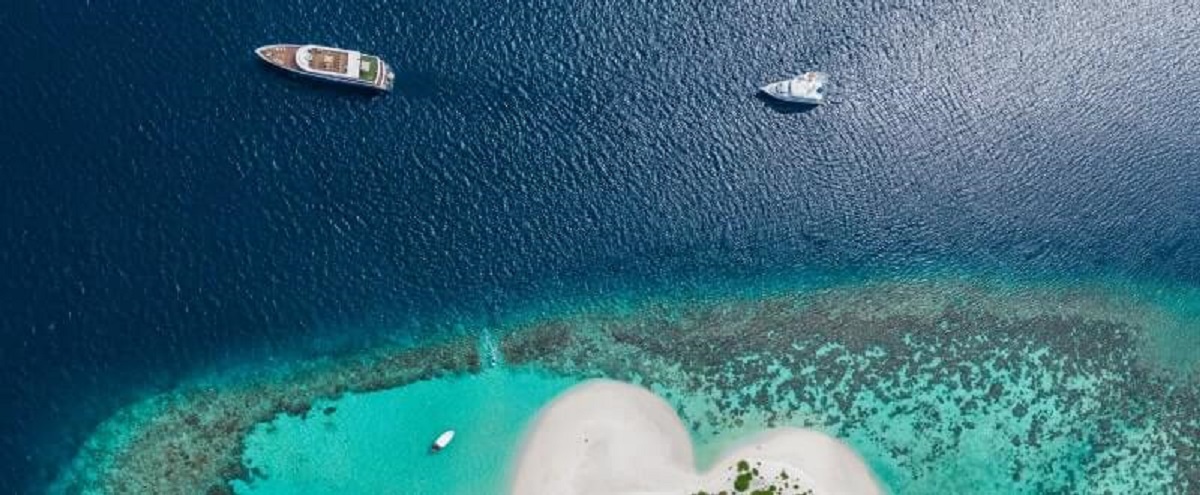 Male
Starting in the capital city of Male, this natural paradise is a much-loved destination for honeymooners and water sport enthusiasts. The surroundings are immediately calming, and while Male is only a small city, there is plenty to see on land and at sea.
Your crew will organize snorkelling gear ready for you to venture out to the sandbanks to see the colourful coral unique to the area. Staying above the water is just as stunning as you kayak or paddleboard the turquoise waters, taking in the beautiful coastline.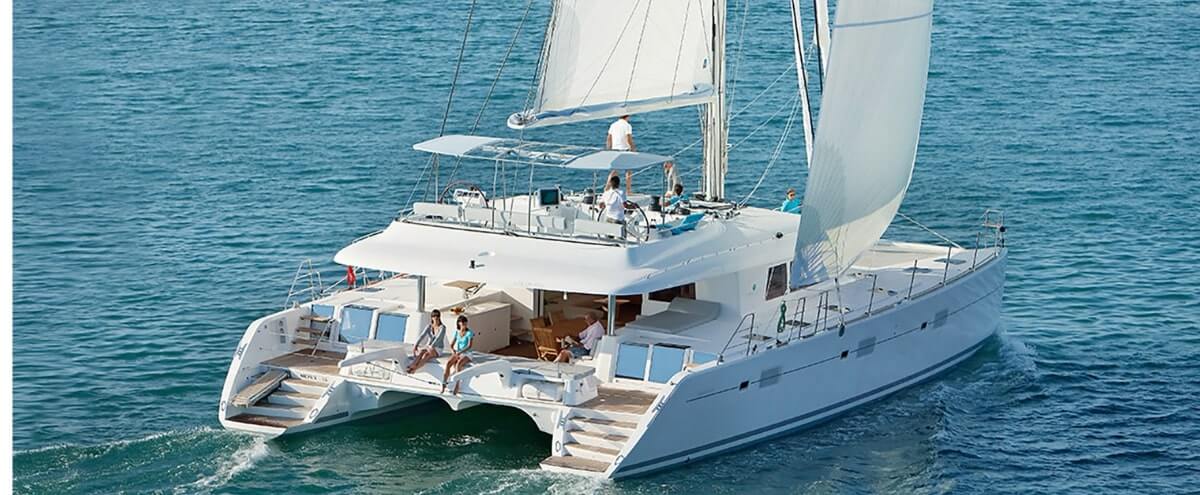 Lhaviyani Atoll
The peaceful islands of Lhaviyani Atoll are the home of some of the best diving in the world with divers coming from everywhere to see manta rays and reef sharks.
Not a diver? The view from the privacy of your private yacht is just as spectacular as you soak up the sun or relax in the Jacuzzi. The anchorage will allow 360-degree views of pure tranquillity and while the crew indulges you with everything you need to be relaxed and content.
Noonu Atoll
Enjoy a slow morning on the yacht taking advantage of the opulent amenities and enjoying a relaxed breakfast on deck before taking a dip in the sparkling aquamarine waters of Noonu Atoll.
Come back on board for a delectable lunch featuring local produce made to your preference by your private chef before exploring the area via jet ski or paddleboard. Dinner at sunset will be served Michelin Star style accompanied by the finest wine and champagne.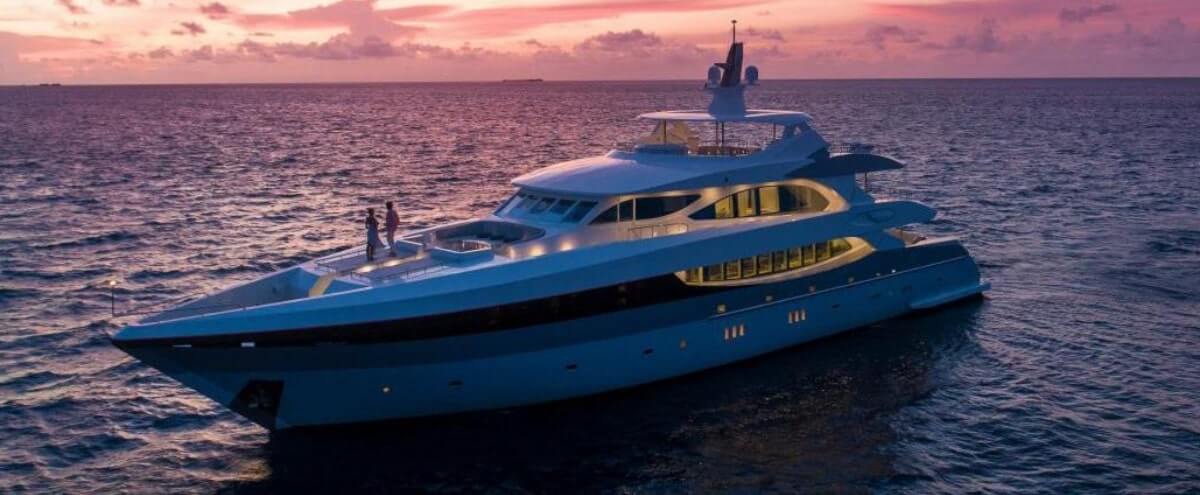 Shaviyani Atoll
Visited by snorkelers from all around the world, Shaviyani Atoll is the home of the sculpture coralarium, a man-made environmental sculpture. This must-visit museum gives visitors a great insight into the marine conservation of the area.
Lying shallow in the aqua blue waters of the largest lagoon in Shaviyani Atoll, there is nothing like this anywhere else in the world. Revered by installation art lovers from across the globe, the impressive installation was created to stimulate underwater preservation and coral regeneration. Enjoyed my snorkellers, this stop is a must-visit on your Maldives yacht charter.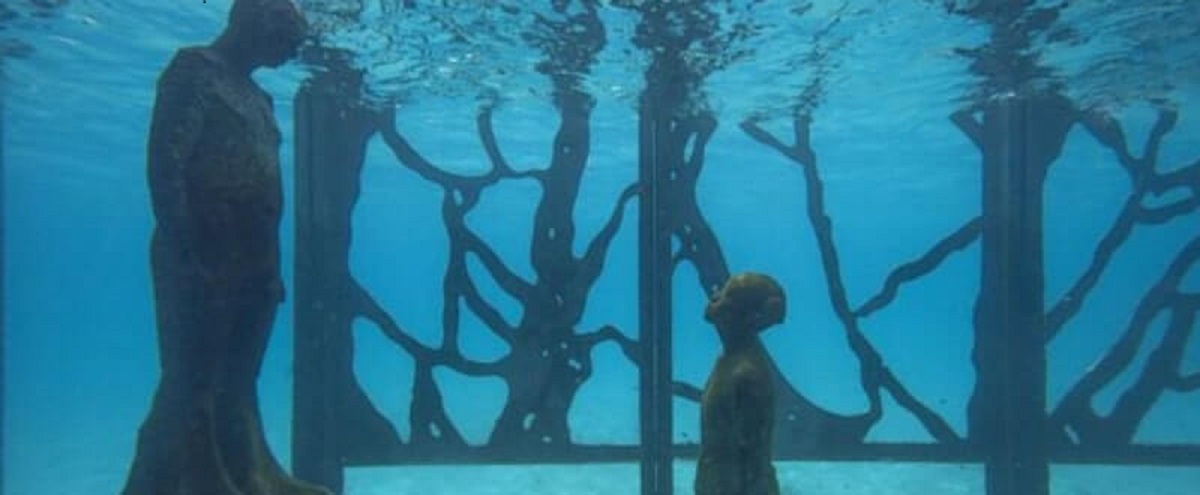 Baa Atoll
Baa Atoll is a UNESCO designated area and one of the most popular places in the Maldives to see several bigger marine species such as dolphins and white whales. This thriving coral reef is a biosphere reserve and is a loved destination for snorkelers and divers, appreciating the vast span of marine life that has been attracted to the region.
Along the shoreline, you are sure to see manta rays as you swim in the shallow blue lagoon waters, so it's definitely worth exploring shallow waters when you get to this stop.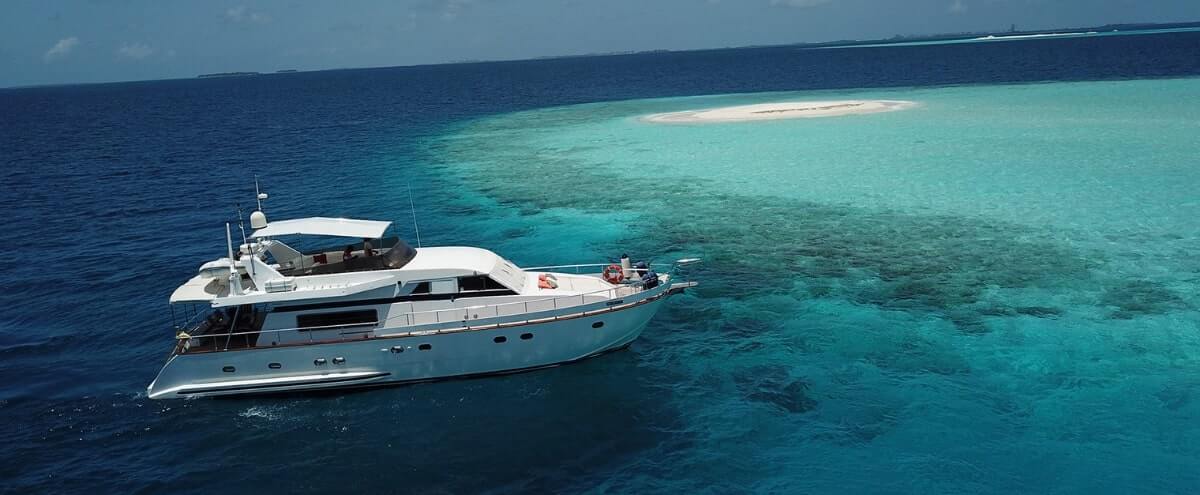 North Ari Atoll
The beautiful beaches of North Ari Atoll are waiting for you to relax on their stunning pearl white sands and immerse yourself in the peaceful surroundings.
Boasting some of the most pristine beaches you will ever lay your eyes on, this picture-perfect destination will instantly transform you into a dream state. At the end of the bay, blissfully head back to the yacht for cocktails by the pool while watching the sunset.
South Ari Atoll
From the privacy of your yacht, keep your eyes peeled for magnificent whale sharks, with South Ari Atoll being home to one of the biggest populations. Safe enough to get up close, snorkelling with these creatures is a once-in-a-lifetime experience and highly recommended.
By snorkelling closer to shore you will likely see green sea turtles and the hawksbill sea turtle, you'll be in awe of the 700 species of fish also present in these waters.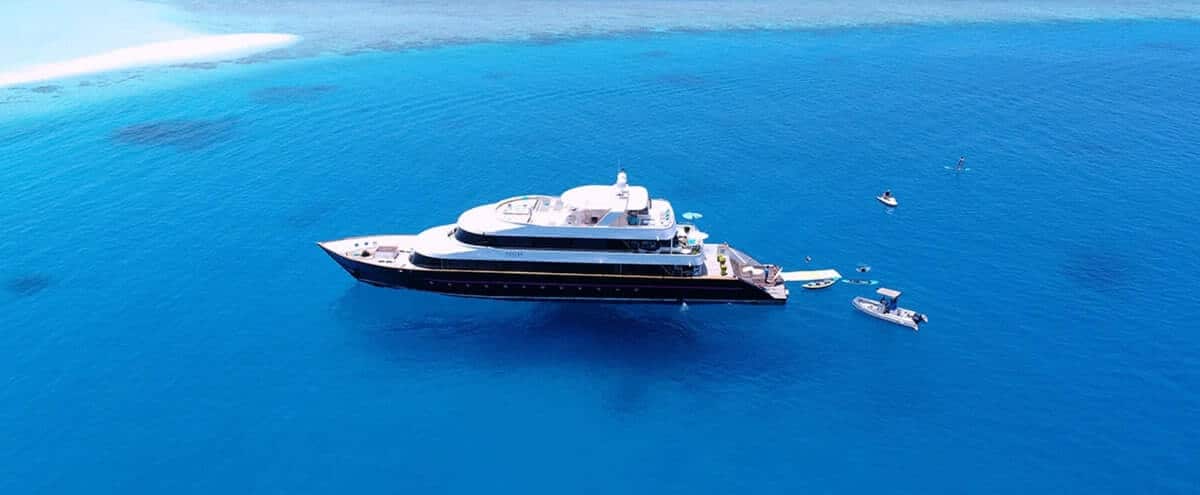 Meemu Atoll
A visit to Meemu Atoll is not complete without heading to the shore for some surfing for both beginners and those more experienced. Kayaking or paddleboarding are also great activities to do off the boat as the waters are crystal clear and boast perfect conditions.
This is the ideal location to end your ultimate Maldives yacht charter, enjoy an indulgent five-course themed feast on your last night alongside the finest champagne as you celebrate a magical final night under the stars.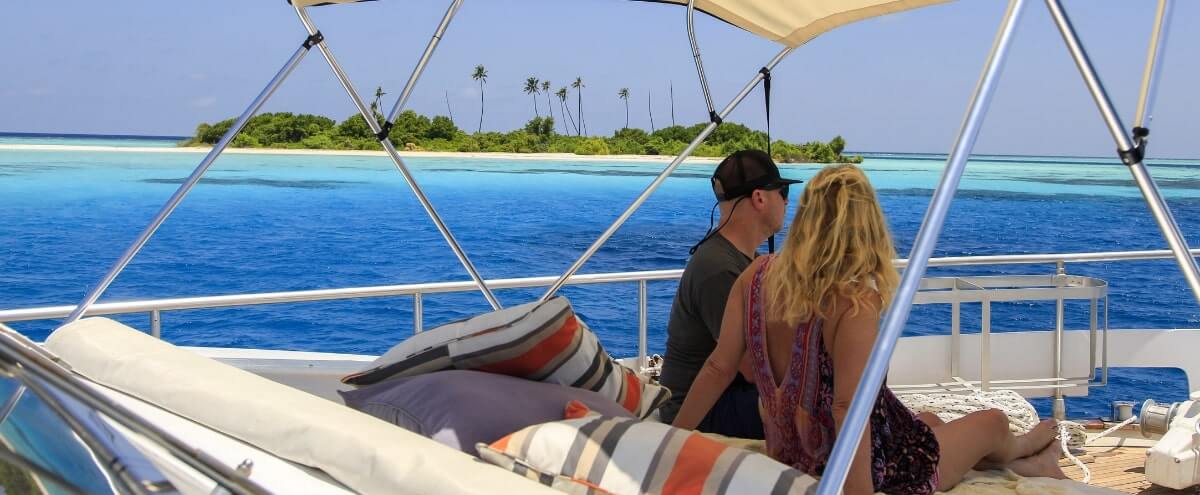 Why Charter with Ahoy Club?
When you charter a yacht with Ahoy Club you are guaranteed incredible customer service along with everything you could possibly desire to make this the luxury vacation of your dreams. Seven-star service will be at your fingertips for the duration of your holiday ensuring the ultimate Maldives yacht charter. Get in touch today and plan your luxury yacht charter with Ahoy Club!