Know your yachts: Luxury Catamarans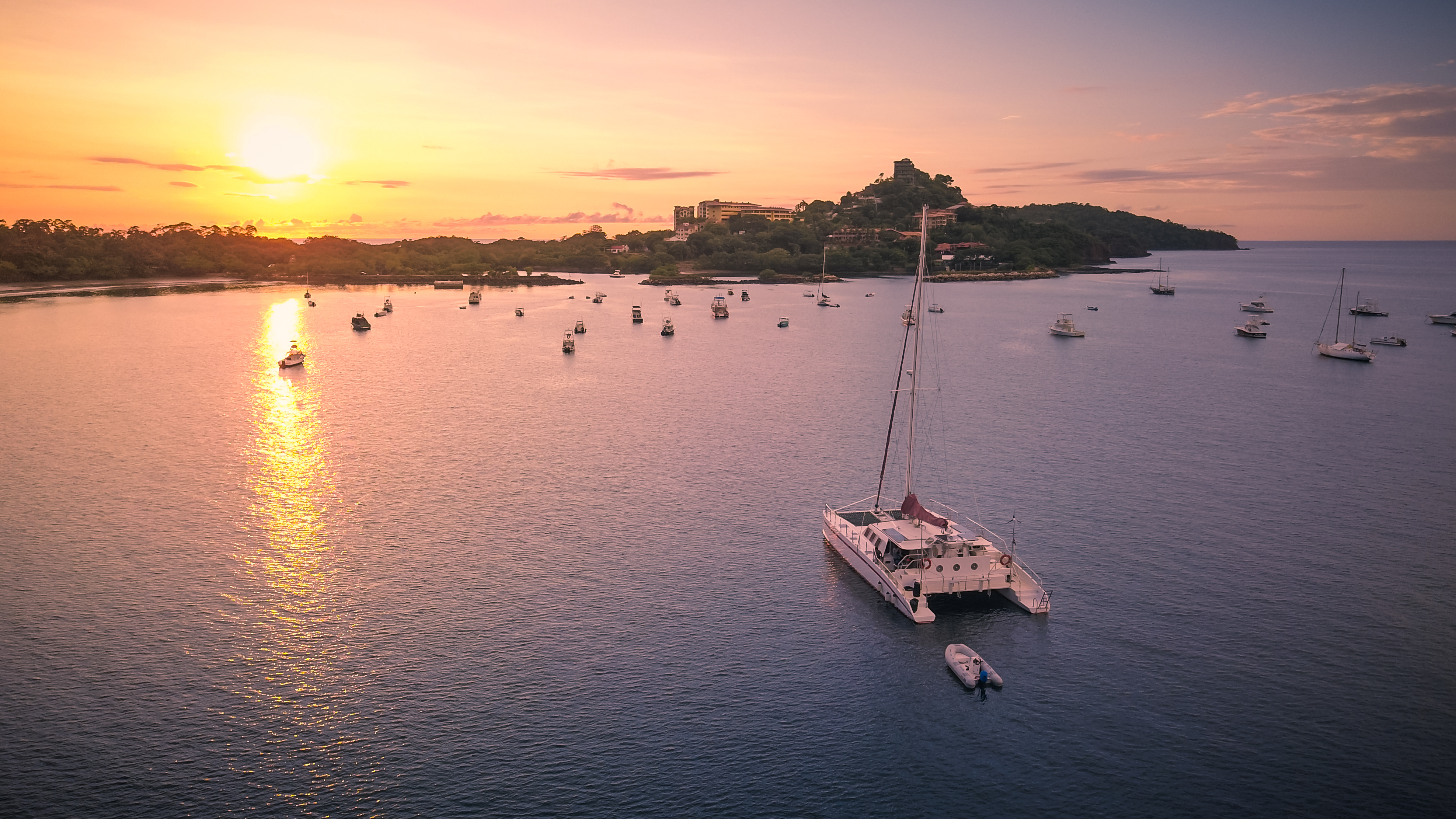 Imagine you are arriving into a marina onboard a beautiful catamaran vessel. You are guaranteed to turn heads because, if you've ever seen a Catamaran, I am sure you can agree, they have a unique and interesting look, different to any other boats you have seen. Not only are they aesthetically pleasing, but we love Catamarans because they are spacious, comfortable and perfectly combine the beauty of sailing a mono-hull and the luxury aspects of a motor yacht.
What is a Catamaran?
A Catamaran is a multi-hulled yacht. In other words, Catamarans combine two hulls as opposed to one, with one engine sitting in each hull. In the world of sailing, the two hulls are better known as pontoons, and they are large enough to accommodate full size guest cabins with en-suite facilities along with lounge and living areas. This progressive design is swiftly gaining popularity thanks to the comfort it provides at sea, with no compromise to the overall charter experience!
Catamarans: Sailing vs Power
Catamaran designs have undoubtedly evolved and adapted to modern times. Based on your preferences, you now have the opportunity to choose between hiring a sail or an engine-powered yacht.
Following the concept of a sailing yacht, Sailing Catamaran yachts are propelled by wind-power, captured in the sails. Thanks to their hull shapes that allow Catamarans to cut through the water faster and create less drag, they can cruise significantly faster than the average sailing yacht does. Still, the best is yet to come, one advantage that elevates Catamarans to the next level is their shallow draft that allows them to cruise much closer to beautiful sheltered beaches and anchor in turquoise shallow bays.
Much recently, a new type of Catamaran has been developed and introduced to the market: the Power Catamaran, which unlike the sailing one, is fully propelled by engines as opposed to the traditional mainsail. This is the perfect cross between the luxurious onboard features associated with a luxury motor yacht and the characteristics of a sailing yacht, without the need for sail rigging that is stored onboard, therefore freeing up deck space for the use of guest areas.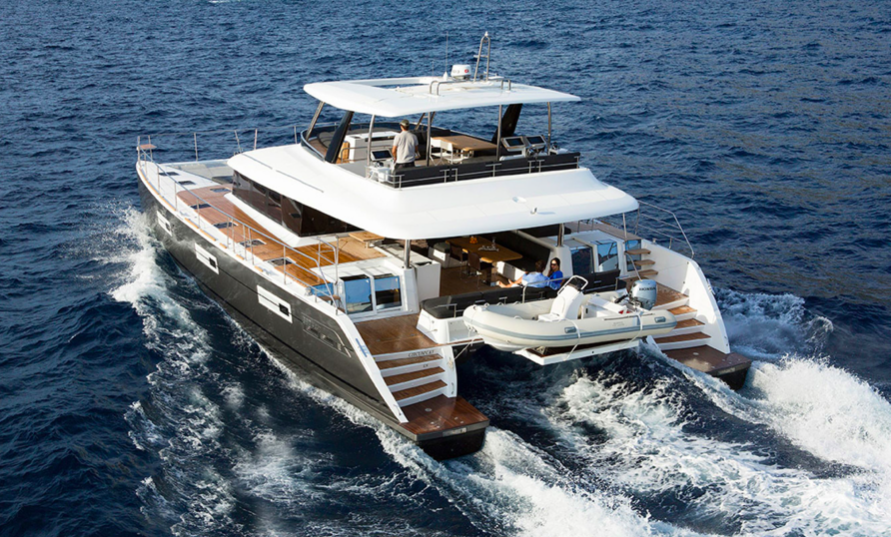 Why choose a Catamaran over your regular sailing or motor yacht?
Comfort
Thanks to their large onboard capacity, Catamaran charters are increasing in popularity with the number of vessels added to the charter market doubling in the East Mediterranean over the past few years.
With a full complement of professional crew (captain, stewardess and chef), luxury catamarans are offering the same level of comfort as motor yachts. Nowadays, both sailing and power catamarans are well-equipped and provide for longer autonomy in bays, have beautiful performance tenders and chase boats, a full selection of water toys, entertainment and amenities that ensure your charter will be fun-filled and memorable.
Simply imagine waking up every day in a different location and admiring the breath-taking views whilst enjoying breakfast outdoors, prepared by your top-notch chef!
Space
Catamarans are famous for the large living and lounging spaces they provide; as an example, the average 55 ft (16m) Catamaran boasts over 150 sqm (1614 sq ft) of living space!
Generally, in terms of accommodation, based on the desired size, Catamarans can sleep anything from four guests up to twelve guests in elegant double or twin cabins, each with its own en-suite facilities. Catamarans have large saloons that are much larger than sailing yachts, spacious cockpits, deck areas offering great space on the bow and aft deck. From 12 meters up in length, most catamarans are configured with a flybridge, specifically designed for sunbathing and lounging.
When considering all the above, it becomes obvious why catamarans offer luxurious spaces that not many yacht builds can match.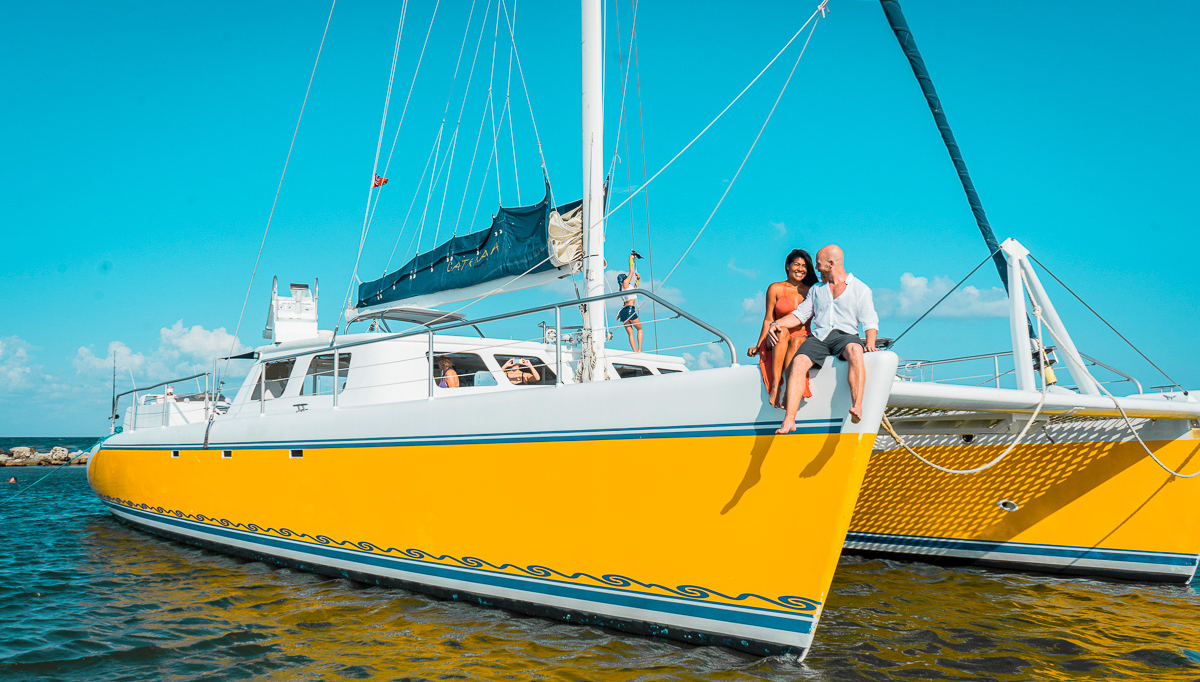 Stability
Thanks to two hulls, a catamaran vessel offers more stability than a mono-hulled sailing yacht or motor yacht, making it less likely to heel sideways during windy weather or rough seas. This comes as an added appeal and allows those prone to seasickness to properly enjoy a beautiful time on the water.
Draft (shallow waters)
Thanks for their shallow draft of only 1 – 1.5 meters (3.2 – 4.9 ft), Catamarans can cruise in bays & anchor in shallow waters that regular vessels are unable to get into it. This offers you endless possibilities of cruising unexplored and remote areas and makes your adventure much more special and unique.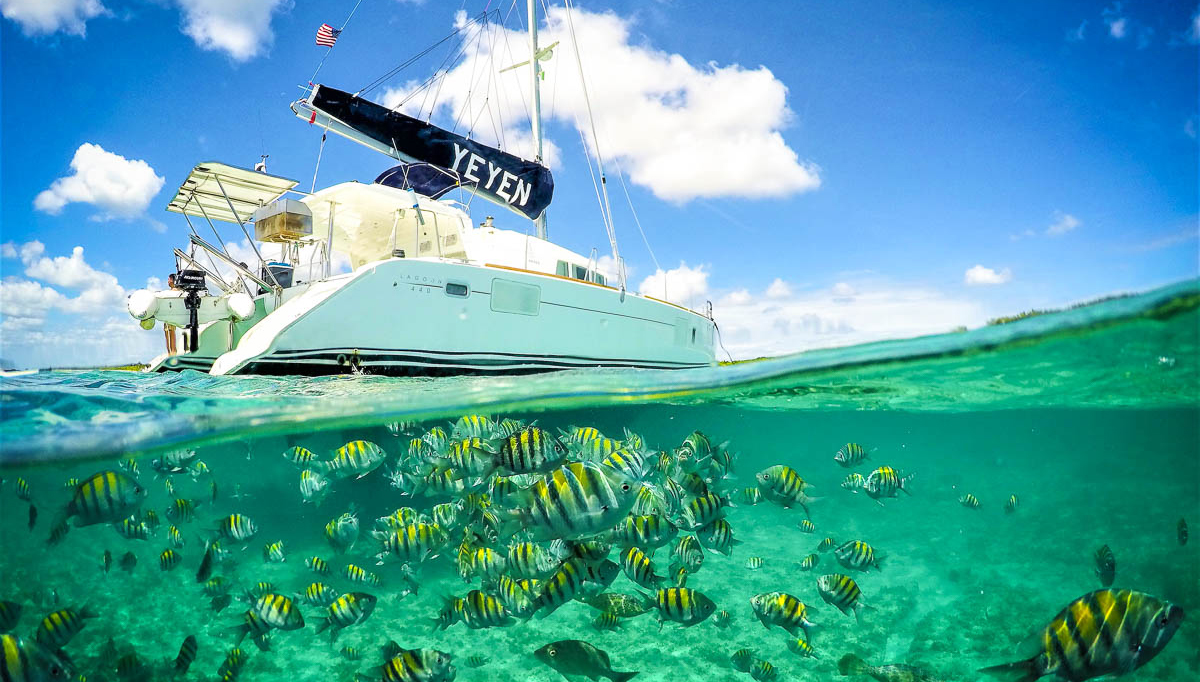 Privacy
Onboard a Catamaran, you will find the main saloon area in the centre of the deck, with cabins located in each hull, one forward and one aft. The large space between the cabins in ensures enhanced privacy and reduced disruptions to other sleeping guests. Thanks to this favourable characteristic, guests travelling with families, or as a group of friends can enjoy the privacy of their own hull – almost like hiring two yachts!
Costs
Catamaran's fuel consumption is generally very low at around 20 litres an hour, weather conditions dependant. This is not only environmentally friendly but also translates into savings, as a much lower Advanced Provisioning Allowance is paid, generally only around 20% as opposed to the regular 30%. In addition to a reduced APA, weekly charter fees are also significantly lower. You can expect to pay a fraction of what a week on a traditional motor yacht would cost, making Catamaran yacht charters the perfect solution for a luxurious holiday at sea, that doesn't break the bank!
Our team is at your disposal to discuss a tailored, personalised yacht charter experience that can be as adventurous or as laid-back as you prefer. Explore our worldwide luxury catamaran yacht charter fleet today and get in touch with an expert to start planning your dream holiday!