How to Step Up your Christmas Party with a Yacht Charter in Sydney
Do you want to put on the ultimate Christmas party this year? Looking for a new way to entertain and indulge your guests? Then you need to consider a yacht charter with Ahoy Club for your Christmas party this year in Sydney.
Hiring a yacht for that Christmas party will allow you to enjoy the best of Sydney Harbour over the summer season. It's the perfect way to take your party to the next level and ensure that your guests remember it for years to come.
So, if you're ready to start planning the best Christmas Party, here's what you need to know about Christmas in Sydney on a superyacht.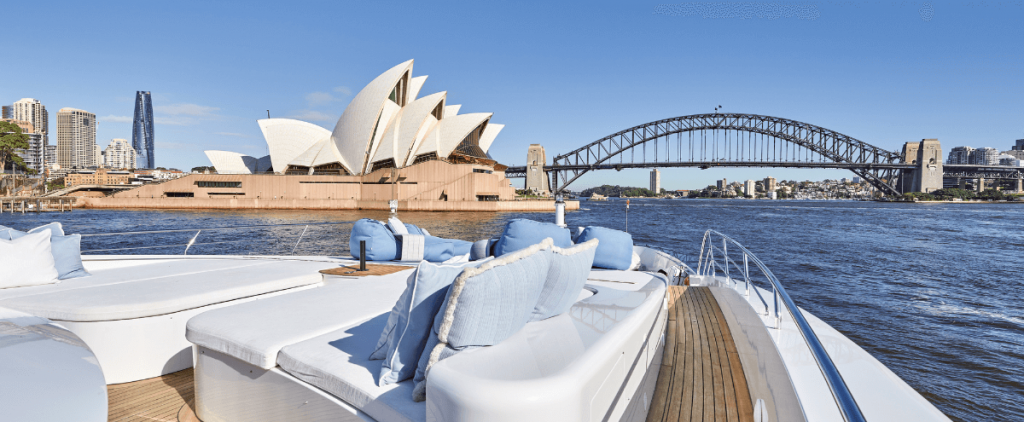 Sydney Harbour at Christmas
Sydney Harbour is one of the best locations in Australia at Christmas time. That's what brings thousands of locals and travellers to this city every December! Forget having a white Christmas, wouldn't you rather spend Christmas sunbaking and enjoying the sunshine in one of the most beautiful coastal destinations in the world?
In December, the weather in Sydney is usually warm, dry, and beautiful. Which offers the ideal weather for a party on board your yacht charter! Sydney Harbour and its surroundings play host to a range of events around the Christmas period too with plenty of activities to watch whilst onboard your yacht charter party, making it all the more exciting.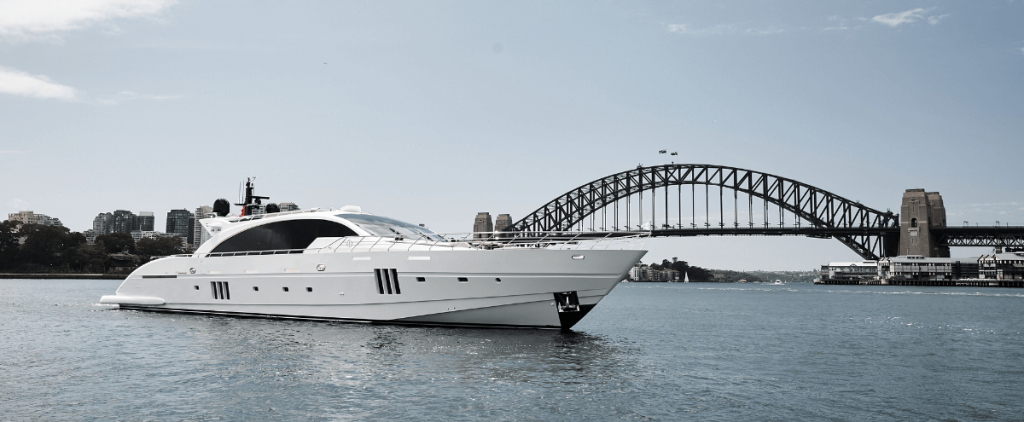 Choosing the Right Yacht for your Party
If you're going to have the best Christmas party there is, then you need to pick the right yacht charter which suits your needs. We offer a range of luxury yachts that will make your Christmas even more special and fun whether it be indulging in a set menu by your chef, sipping on Christmas cocktails or having fun with some watertoys,, there's something for everyone.
Find below what our exclusive luxury yachts have to offer.
Yacht Capacity
If you're going to have a truly spectacular Christmas party, then you need to be able to accommodate your guests comfortably, with enough space for all to mingle and entertain.
Ahoy Club offers over 100 yachts on Sydney Harbour to hire for the day. Whether it's 10 guests or 300 guests, Ahoy Club has the widest choice of vessels in Australia for event charters. Choose the modern 30m (98ft) CHAOS that can host up to 36 guests for a day charter on Sydney Harbour. With her expansive decks, TV screens, sundeck bar and watertoys, it's the perfect vessel for intimate entertaining. If you need more space, you can charter out the striking 54m (177ft) Baglietto superyacht known as MISCHIEF, which can hold up to 200 guests and even has its own bar, jacuzzi, inflatable watertoys and seated dining for up to 100 guests. If you are keen to decorate your space and give it your own creative styling, HAMPTONS SYDNEY is a perfect choice, with beautiful outdoor spaces and two expansive decks.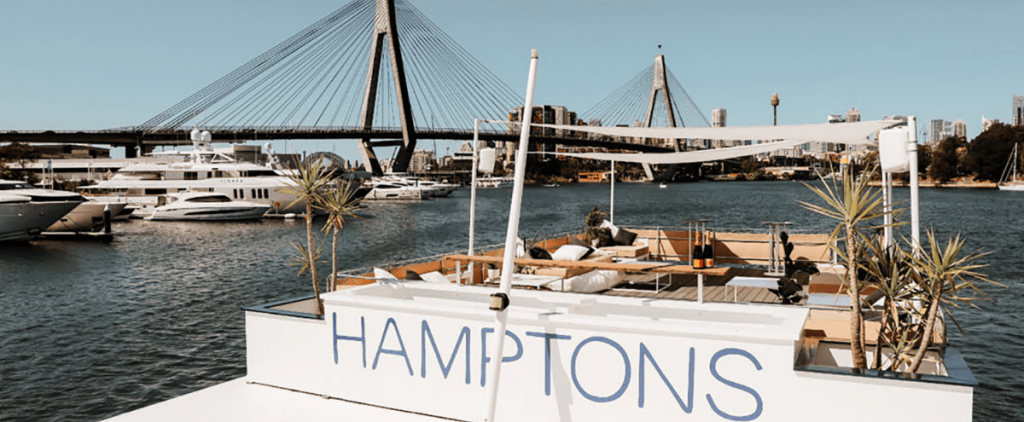 Experts in Event Charters
The last thing you want during your Christmas party is to have your time taken up while trying to organise everything. That's why Ahoy Club offers an event management service to every charter. Our team are on standby, ready to help you have an amazing time and take care of planning or logistics.
Once on the charter, the yacht's expert crew will provide seven star service that's unparalleled to any other venue in Sydney can offer.
Water Toys
Even the best partiers need a break sometimes, and what better way to recharge than with some fun in the sun? Our luxury superyachts carry a range of water toys from inflatable slides to paddleboards and lilypads.. It's the perfect recipe for some exciting water adventures during your yacht charter in Sydney or great for a team bonding day too.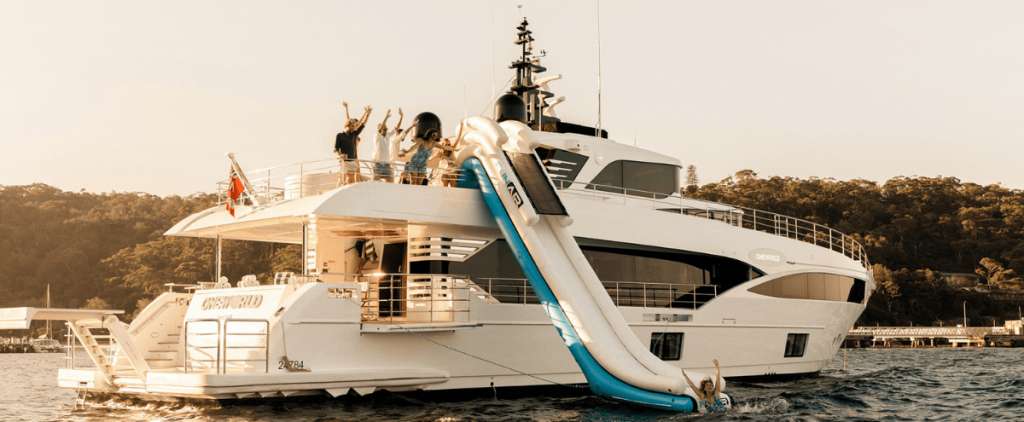 Complete Privacy and Luxury
Whether you're holding a private party over the festive season or a corporate event you'll enjoy complete privacy and luxury during your time on our superyachts. That is, of course, part of the experience with Ahoy Club, and the best way to enjoy the festive season!
Long Lunches
If you're holding an event during the festive season and need to add that extra touch of luxury and class, why not indulge in a long lunch during your superyacht party? With day hire, you'll enjoy all the luxury extras along with activities and facilities that will impress every attendee and make your event one to be remembered. Indulge at your leisure in a delicious array of cuisine, matched with fine wines, ales and specialty cocktails prepared by your crew.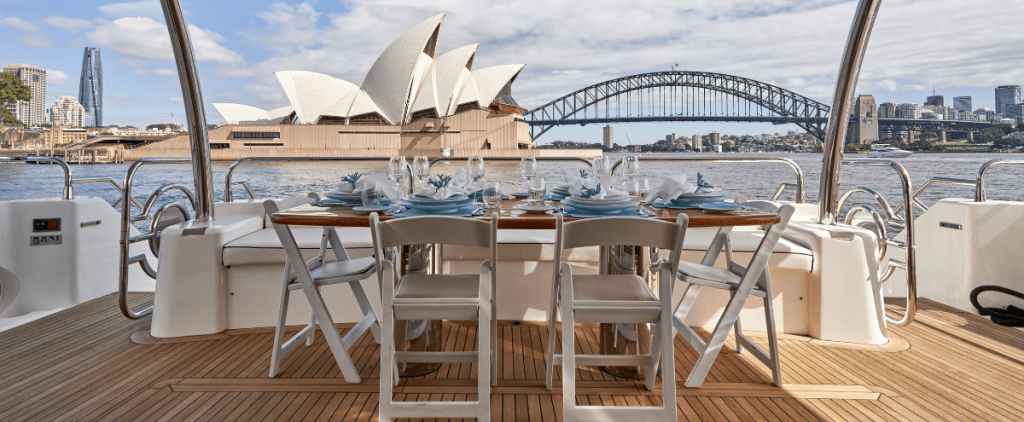 Multi-Use
Our luxury yachts are great for Christmas parties, but they can also be used for a range of other events. We offer a range of corporate options and activities, so if you're looking for an amazing reward for your staff or an elegant location for a corporate event, then consider a yacht charter in Sydney.
Book Your Christmas Party Charter Today
The festive season in Sydney is a time to celebrate the warmer weather and enjoy great company. What better way to do that than with a luxury yacht charter in beautiful Sydney Harbour?
With superyachts for every occasion, Ahoy Club is dedicated to offering the ultimate in convenience and luxury. So, if you're ready to take your next Christmas party or corporate event to the next level, contact us today to enquire about our yachts.