End of Summer Yachting in the West Mediterranean
Have you ever dreamed of yachting in the West Mediterranean? Longing for endless sunny days, sunsets over ancient sites, and warm waters? There's no other experience like the luxury and wonder of yachting throughout the Mediterranean region.
Between the warm weather, fascinating countries, friendly people, and ancient cultures, there's a lot to see in this part of the world. If you're preparing for a luxury vacation in the Mediterranean, these are the must-visit locations ideal for a yacht charter.


France
France is a top location for a yacht charter, filled with delicious food, fascinating architecture, and interesting little towns and cities, a lot of them accessible from the ocean.
Some places you should visit in France are:
-Monaco, with its luxurious casinos, designer malls, and incredible restaurants
-Beaulieu-Sur-Mer, a secret coastal town between Monaco and Nice, boasting an authentic slice of local life
-Ville France-Sur-Mer, a quaint and relaxing town just east of Nice
-Antibes, a culturally rich seaside town
-Cannes, home of the famous film festival and the ideal location for a luxury yachting experience
-St Tropez, the jet setting French Riviera city renowned for its nightclubs and beaches
-Nice, known for its culture, elegance, and centuries of history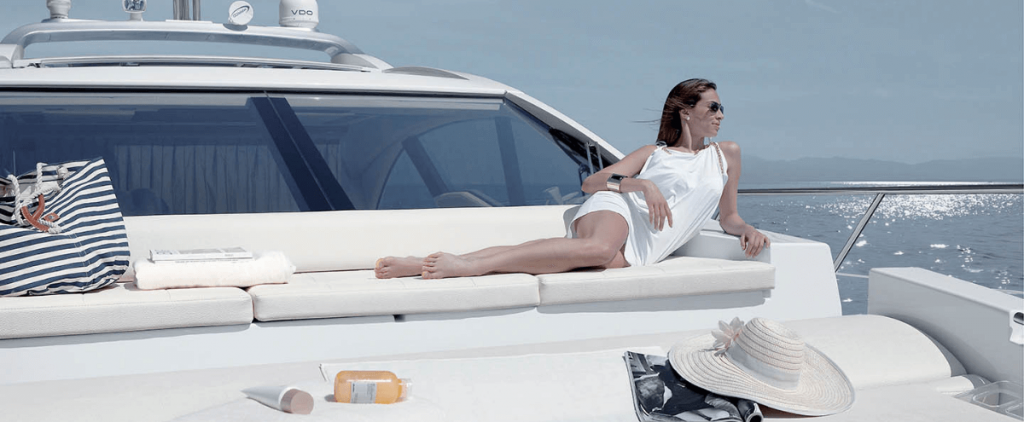 The Italian Riviera
With delicious food, history, and incredible landscapes, the Italian Riviera has it all. It's a wonderful addition to a West Mediterranean yachting cruise, as long as you like friendly people, beautiful scenery, and beaches!
Here are some of the best spots to visit when chartering the Italian Riviera:
-Genoa, one of the most important historical ports in Italy and home to the UNESCO World Heritage Site, Palazzi dei Rolli
-Portofino, a former fishing village now filled with seafood restaurants
-Cinque Terre, a string of seaside villages known for their beautiful harbours and delectable seafood delicacies
-Porto Venere, a lesser-known town that protects the trails, beaches, and dive sites of Porto Venere Regional Natural Park
-Forte dei Marmi, the ultimate beach destination and often dubbed the St. Tropez of Italy
-Livorno, a modern seaport with ancient fortifications and delicious seafood
-Porto Ercole, a historical seaside town with a beautifully rugged natural landscape
-Rome, the historical, cultural, and gastronomical centre of Italy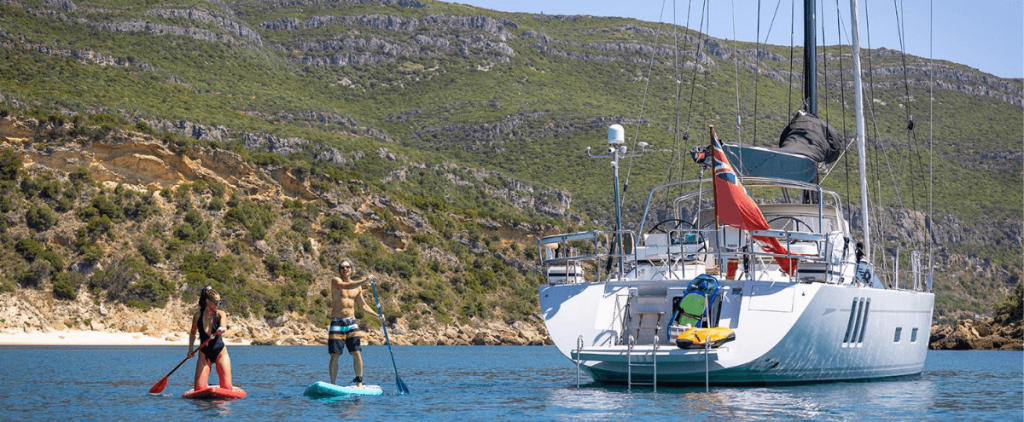 The Amalfi Coast
Italy's Amalfi Coast is a long stretch of coastline in Campania, Italy. It's known for its natural beauty, beaches, and the Italian luxury and charm of its small towns.

Here's where you should visit on your trip along the Amalfi Coast:
-Naples, a vibrant, unique city home to an unforgettable culture and delectable pizza
-Ischia, a volcanic island in the Gulf of Naples filled with natural hot springs, beaches, and Roman ruins
-Capri, a glitzy island popular among celebrities offering exquisite restaurants
-Amalfi, a town famous for Limoncello liqueur and one of the busiest superyacht destinations in the Mediterranean
-Ravello, a stunning little town where you can stroll amongst cliffside gardens and historical landmarks
-Positano, for amazing shopping and cafes that serve delicious gelato
-Sorrento, a modern city that has retained its historic heart despite the mansions overlooking the bay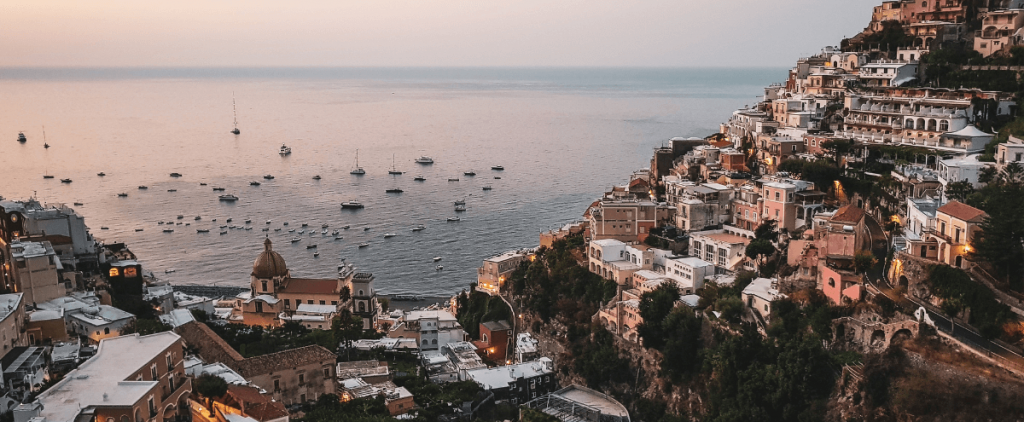 The Aeolian Islands & Sicily
The Aeolian Islands rise out of the ocean just off Sicily and offer a beautiful location to charter in the West Mediterranean. There are 7 UNESCO-protected islands, each of them a paradise of cobalt-blue water, volcanoes, and beaches.
Some of the best places to visit while you're cruising here are:
-Palermo, an ancient city with the most amazing cuisine
-Filicudi, part of the Aeolian archipelago and the least touristed
-Salina, a picturesque island that offers stunning scenery, water sports and white island wine
-Lipari, the largest of the islands and with lots of shopping, restaurants, and nightlife
-Panarea, a luxury destination at a reasonable price
-Stromboli, with its black-sand beaches and temperamental volcanos
-Taormina, a small town with stunning beaches and access to the island and nature reserve Isola Bella
-Catania, a big city where you can shop, eat, and enjoy all the amenities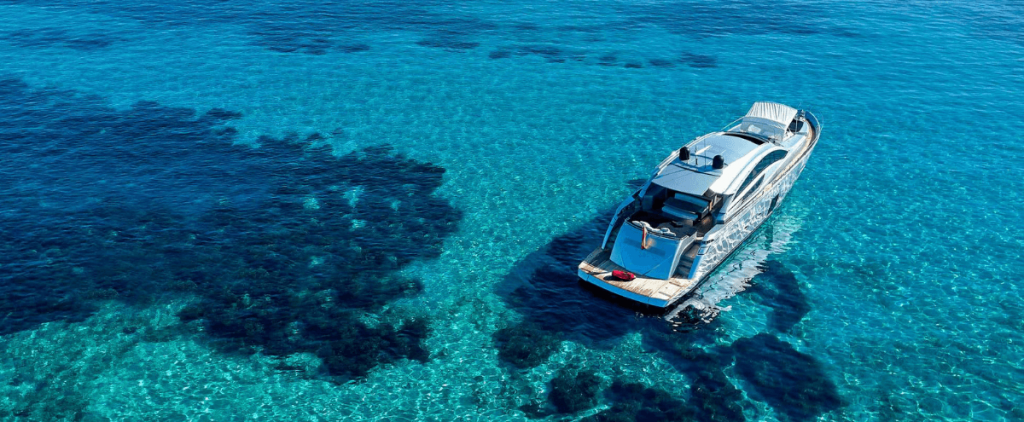 Corsica
Corsica is the fourth-largest island in the Mediterranean and one of France's 18 regions. It's known for its natural beauty, history, a huge range of outdoor activities, and picture-perfect white-sand beaches.
There's a lot to do on this island, which makes it a perfect stop during a cruise in the West Mediterranean, find the best spots below:
-Saint Florent, the second-largest marina and home to historical sites and the entrance to the Agriates desert
-Calvi, with beaches, the beautiful Calvi Citadel, and great restaurants
-Scandola, a nature reserve and Natural World Heritage Site on Corsica's west coast
-Girolata, a coastal village that's almost inaccessible by land
-Ajaccio, a port city filled with historical architecture and the birthplace of French Emperor Napoléon Bonaparte
-Roccapina, a literal beach paradise
-Bonifacio, where you'll see postcard-perfect tiny houses perched on top of a sheer cliff
-Porto Vecchio, a tiny old town with the most incredible beaches in the entire region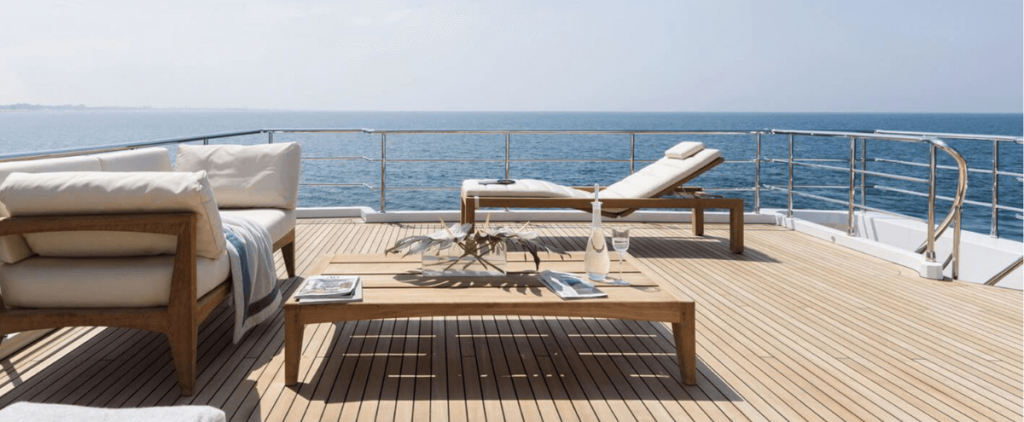 Sardinia
Sardinia is an island just off Italy and famous for its beaches and thousands of years of history. This is a must-visit while you're visiting the West Mediterranean.
Here's where to go in Sardinia:
-Maddalena Islands, a group of secret islands with secluded beaches and turquoise water
-Porto Cervo, a luxury destination popular among yachters
-Cala di Volpe, a luxury yachting destination
-Porto Rotondo, an amazingly picturesque seaside town
-Olbia, offering great cafes and historical monuments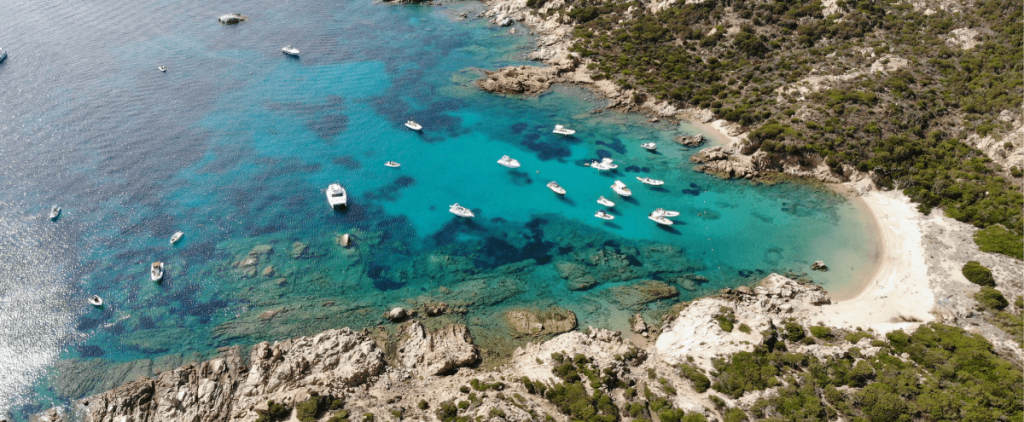 Malta
Malta is rich in history and culture, clear waters are perfect for diving and snorkelling is a regular daily activity, along with plenty of outdoor activities from hiking to cycling there are some amazing places to moor your yacht and explore, including:
-Blue Lagoon, small and crowded but beautiful
-Crystal Lagoon, spectacular and lesser-known
-Santa Maria, a tranquil and relaxing place to swim or dive
-San Niklaw, a protected bay
-Mellieha Bay, the largest and most popular beach
-St Paul's Island, a small island off Malta associated with the apostle
-Marsamxett Harbor, the main yachting harbour in Malta
-Valletta, the walled capital of Malta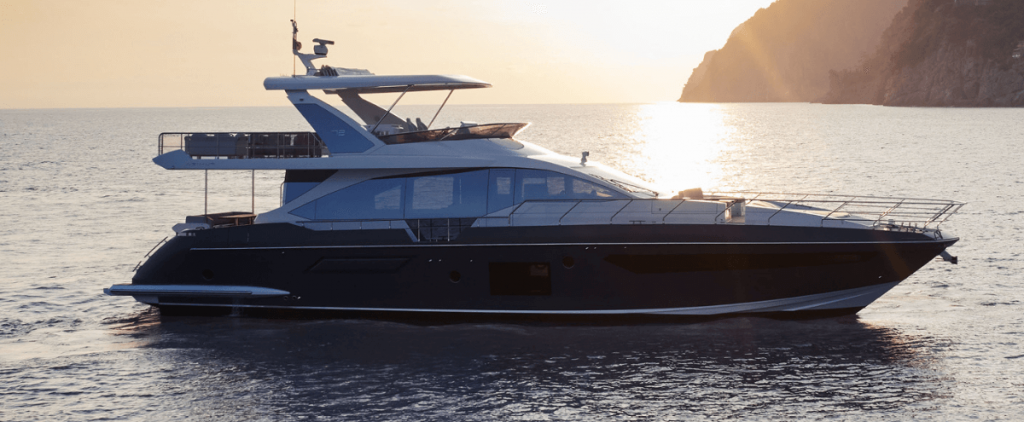 The Balearics
One of the most beautiful and popular destinations to visit across the Med is the Balearics, a magical archipelago off Spain and home to some of the best party destinations in the West Mediterranean, including the infamous Ibiza. While you're in this area, make sure you visit Mallorca, known for its secret coves and ancient ruins. This is where you'll find popular cities such as Andratx, Palma, and Puerto Soller.
Menorca is another popular island in the archipelago with endless beaches and a relaxed vibe. It also homes popular cities like ancient Pollensa and breathtaking Cala Morell to explore. If you get tired of the crowds, you can always head over to Formentera for the perfect beach experience or Isla es Vedra, made famous in Homer's Odyssey as the home of the sirens.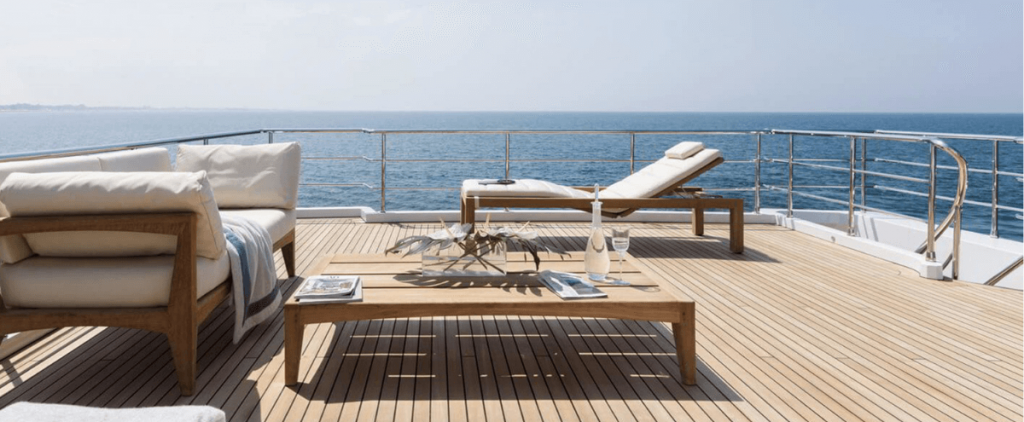 Book Your West Mediterranean Charter
For a five-star luxury experience amongst the most beautiful towns and scenery in the world, you can't go past a yacht charter in these stunning destinations across the West Mediterranean.

Hiring your own luxury yacht from Ahoy Club for the experience allows you to enjoy complete privacy, luxury, and impeccable service while you soak in everything that this part of the world has to offer. For more information or help booking the trip of your dreams, contact our team today.