Discovering Raja Ampat | Indonesia Yacht Charter Escapes
Indonesia is one of the most exciting and varied countries on the planet. It's filled with a unique culture, endless historical wonders, amazing food, and beautiful natural scenery.
If you want to explore this area in privacy and luxury with everything you need at your fingertips, then you should consider booking an Indonesia yacht charter. With a dedicated agent and customer service team to assist you every step of the way, an Ahoy Club yacht charter to Indonesia will be the ultimate trip of a lifetime.
There's a lot to see and do on your Indonesia yacht charter. Find below the best places to visit during your yacht charter in Indonesia.

Batanta
Batanta is the smallest of the four Raja Ampat Islands in Indonesia. This island is remote, and little-known outside of travel circles. It's stunningly beautiful, covered in thick forests and with tiny villages that are less developed than in other parts of Indonesia.
Batanta can be expensive and hard to get to unless you're on an Indonesia yacht charter, but it's worth the effort. The island is surrounded by pristine waters filled with beautiful coral formations, perfect for swimming, snorkeling, or scuba diving. It also has beautiful waterfalls and dense jungles filled with a variety of unique wildlife.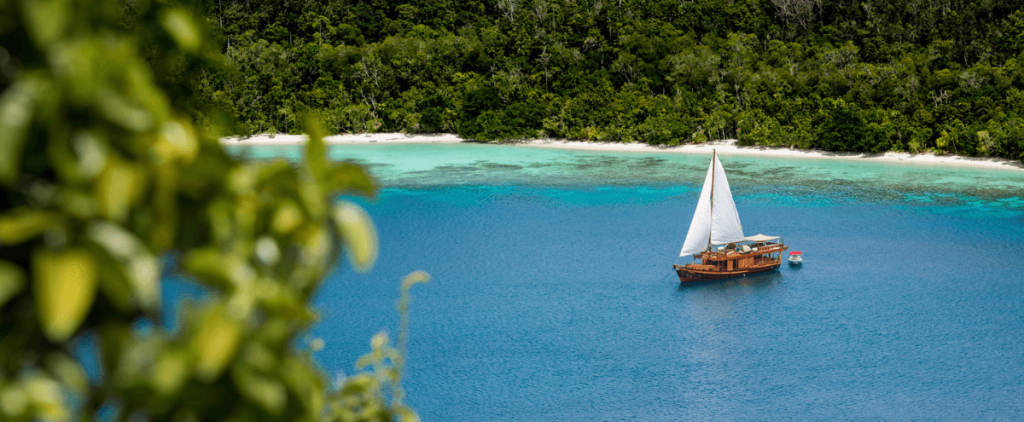 Fam Islands
The Fam Islands are the perfect spot for a secluded, island vacation, made up of a group of islands nestled in the Raja Ampat Archipelago. They're home to some of the most beautiful coral reefs in the whole Raja Ampat area and need to be seen to be believed.
Indulge in the perfect island experience at the Fam Islands, spend your time relaxing on the sandy beaches, snorkeling offshore, or taking a dip in the natural lagoons that dot the island, straight from your yacht charter. The diving is world-class as well, with the marine variety attracting marine biologists from all over the world. If you enjoy diving or underwater photography, make sure you spend time at Melissa's Garden, an oval-shaped reef offshore that's teeming with life and color. Even better, your yacht charter can drop you right off!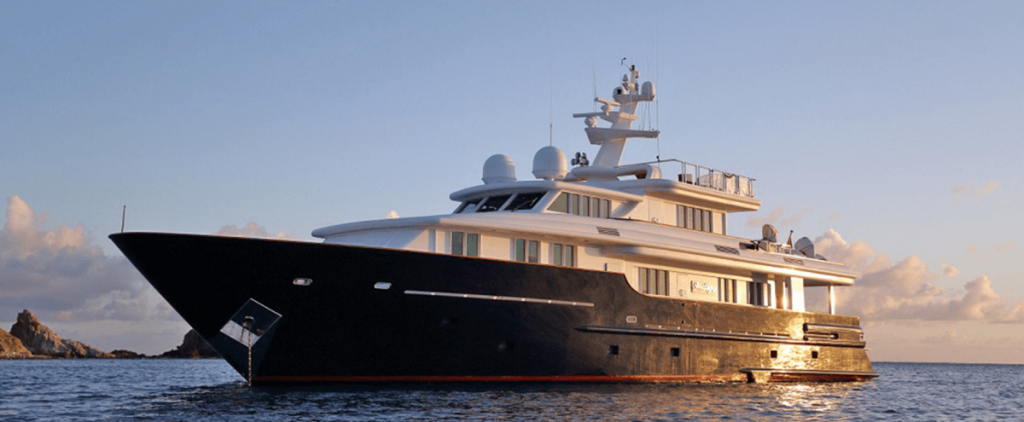 Kawe Island
For an unbeatable underwater experience during your Indonesia yacht charter, spend some time near Kawe Island, known as one of the Equator Islands. Because of its positioning in the Raja Ampat, this uninhabited island is a dream tropical destination.
The beaches of Kawe Island are truly spectacular and completely deserted, but it's the marine life that's the real star. Kawe is just across from the equator and attracts marine life from turtles to reef sharks and mantas, so get ready to see the best that the natural world has to offer. This is the perfect location to have the crew set up a private dining experience for you and kick back and relax.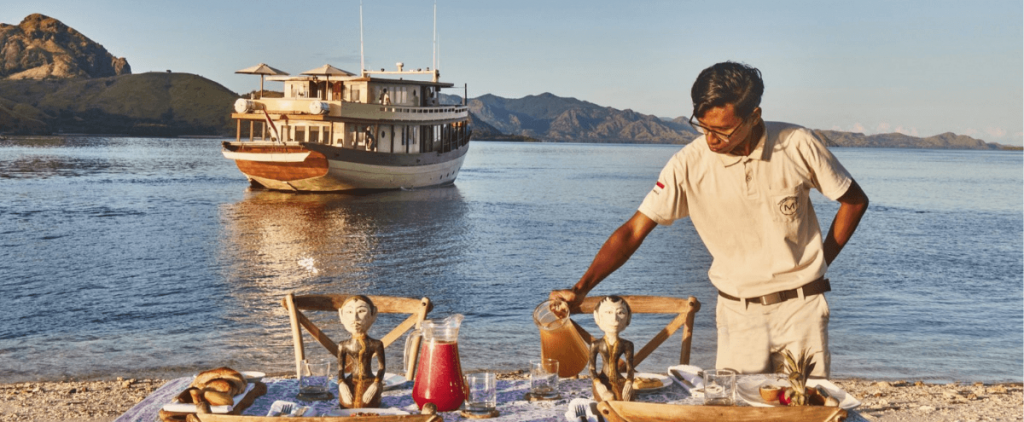 Wayag Islands
Some places on earth are so beautiful they don't look real, and Wayag Island is one of them. Located in the Raja Ampat district in the province of West Papua it offers amazing diving, swimming, and snorkeling, with a huge variety of flora and fauna to see. But the real appeal is actually above the water.
From the beautiful and endless stretches of Wayag's beaches, you can see lots of Karst Islands that sprout from the sea. The only way to get to Wayag is by boat, so you can enjoy this surreal scenery in near seclusion right from your own yacht charter.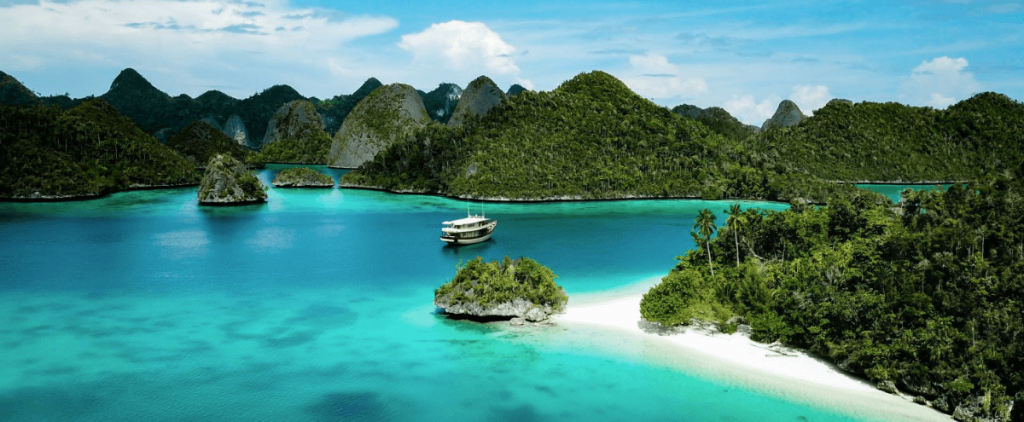 Wofoh Island
With pure white beaches and pristine coral reefs, there isn't anywhere else in the world like Wofoh Island. Wofoh Island is really two islands linked together by the reef in the north of the Raja Ampat archipelago. It has stunning, white sand beaches and lush forests, but it's beneath the water where Wofoh Island shines.
Wofoh Island has several popular dive sites including the Black Forest with its enchanting sea fans and a coral wall dive on the west side of the island. No matter where you choose to dive, snorkel, or swim, you'll get the chance to see a huge variety of marine life from barracuda to unicorn fish, turtles, and crocodile fish.
Your concierge team will liaise with the yacht's crew to make sure you have all the snorkeling or diving gear on board before you leave so that you can fully experience this location. After exploring for the day, head back on board for an ambient evening under the stars.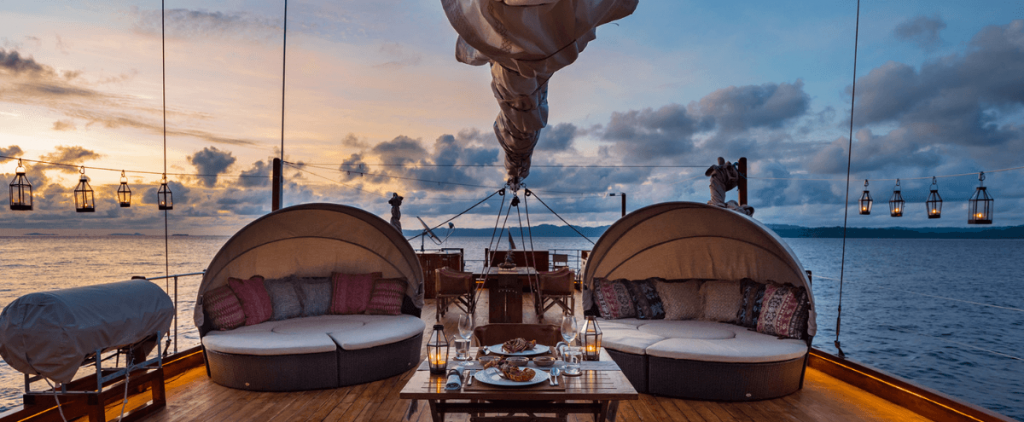 Kri Island
Kri Island is a long, thin island in the Raja Ampat archipelago and one of the most popular among travelers. It's densely forested and offers a huge variety of birdlife and wildlife, including the area's famous monitors.
Enjoy long walks along the beach and the island's water activities. Kri Island's snorkeling, swimming, and diving are absolutely amazing. You can snorkel off any beach on the island and see something beautiful and there are numerous dive centers on the island as well. Spend a day getting salty and sunkissed, and retreat back to your yacht for a refreshing cocktail and delicious meal while the sun sets in the distance.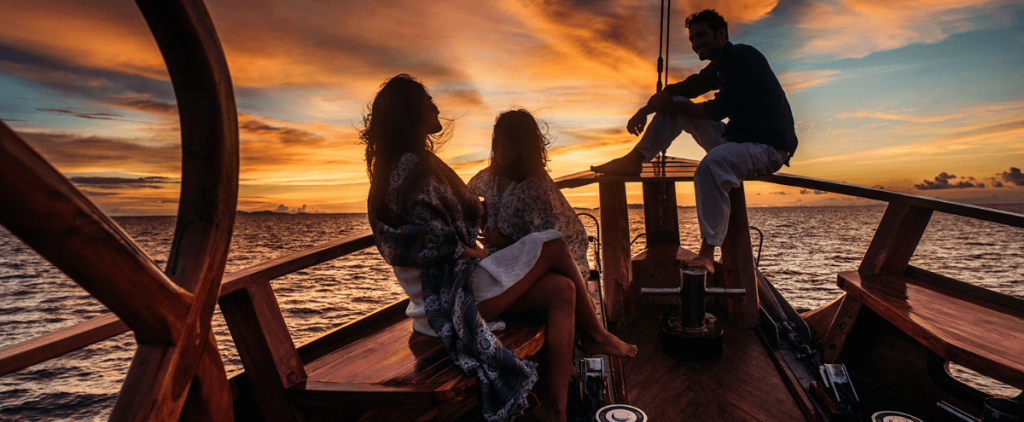 Matan Island
Matan Island is secluded, little known, and the best destination for an utterly private island experience. The waters are clear and clean, the beaches are sandy and deserted, and the marine life is incredibly diverse and fascinating.
If you want a completely private and secluded experience during your Indonesia yacht charter, you'll find it on Matan Island.
Sorong
If you want to do some shopping and indulge in local cuisine during your Indonesia yacht charter, then make a stop at Sorong. This city is on the western tip of New Guinea Island in Indonesia's Raja Ampat Islands. It's the largest city in the province and has been modernizing and growing rapidly over the last few years.
The gateway to the Raja Ampat Islands, Sorong is filled with history and culture. It has amazing local markets where you can pick up produce or souvenirs and temples where you can learn about the city's history. This is the ultimate spot to purchase local produce and take it back to your chef on board who will cook up delectable dishes for you to indulge in, breakfast, lunch and dinner!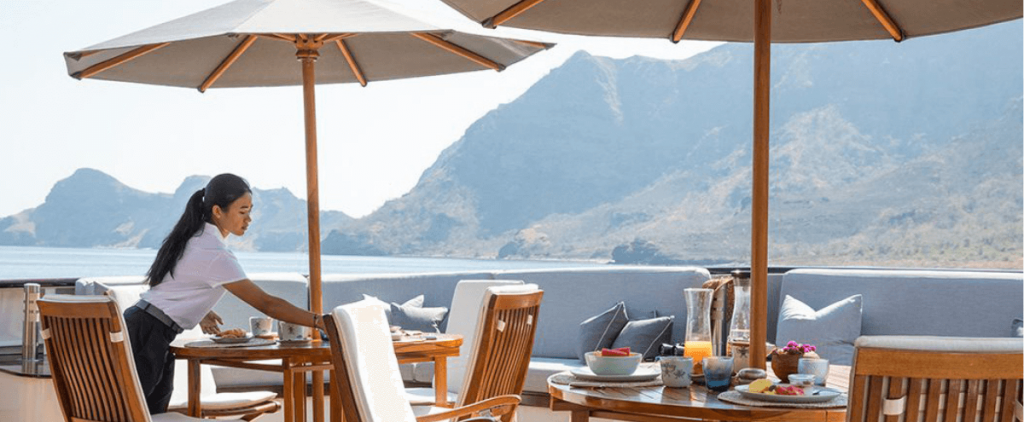 Book Your Indonesia Yacht Charter
Traveling with Ahoy Club can make a special trip a life-changing one. It's the ideal way to enjoy perfect luxury and privacy along with advice and guidance on where to go and what to do that will make every step of your trip trouble-free.
Talk to our team today about an Indonesia yacht charter and get started creating the luxury trip of your dreams now.