Dial A Dump's Ian Malouf makes waves with an Airbnb for superyacht own
Dial A Dump's Ian Malouf makes waves with an Airbnb for superyacht owners
Dial-A-Dump founder Ian Malouf with his superyacht Mischief. He is disrupting the global yacht charter business with Ahoy Club, which uses smart technology and an app to up-end the secretive, traditional world of the yacht broker and hefty commissions.
Sydney businessman Ian Malouf, who made his fortune cleaning up industrial waste with the Dial A Dump business, is now making waves among the world's mega-wealthy superyacht owners.
A new digital platform called Ahoy Club, which connects superyacht owners with cashed-up customers wanting to hire one of the luxury vessels for as much as $400,000 per week complete with a professional crew of 14, has up-ended a secretive industry.
Yacht brokers had previously been charging fat commissions of 20 per cent to strike the deals.
The business has been likened to a hybrid of Airbnb and Uber for superyacht owners and has amassed 2000 superyachts on its books in just six weeks. Billionaires still like to watch their pennies. Mr Malouf has cut the commission down to 4 per cent for the operation, which uses an app and has a dedicated team of technology boffins in Sydney overseeing the back-end support and logistics.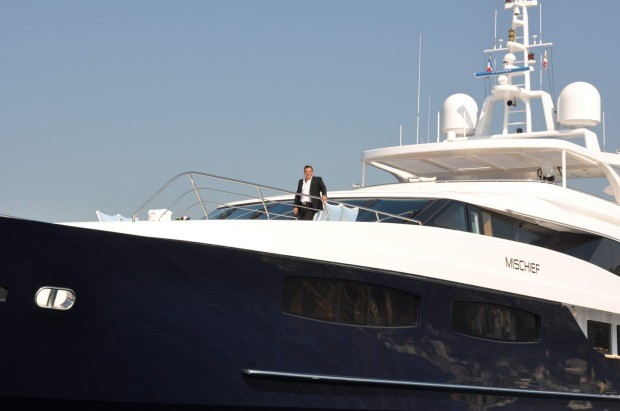 Ian Malouf made his fortune in the tough waste industry with his Dump A Dump business.
"Nobody likes getting ripped in for 20-plus per cent. This has probably been very overdue," Mr Malouf told AFR Weekend from his own superyacht Mischief, moored at Beaulieu-sur-Mer on the French Riviera between Nice and Monaco.
Mr Malouf said he had upset the yacht broking industry around the world. "It's a brawl with the brokers, we're not popular." The transparent pricing has been welcomed by owners.
'It had been a bit of a club for a long time'
Dial A Dump has been operating for 35 years, renting out skip bins and cleaning up industrial waste in a tough industry. It was in 2015 when Mr Malouf bought a 54-metre superyacht called Mischief that he began thinking about the economics of the industry and how technology hadn't really disrupted it yet. Mischief cost about $40 million. The yacht brokers were creaming it. "I thought through the industry and the bullshit that was going on," he said.
"It had been a bit of a club for a long time," he said. "We've given them a real tap on the shoulder".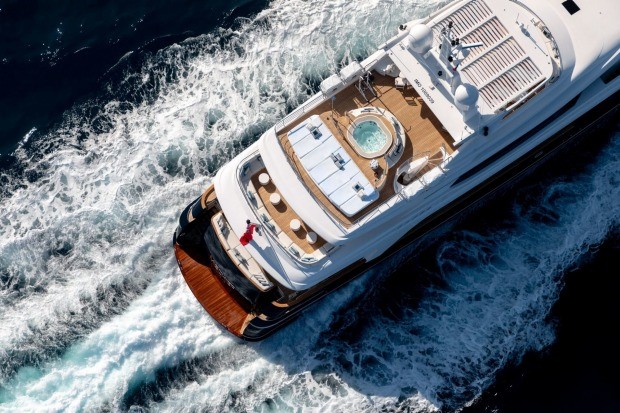 A professional crew and butlers comprising 14 staff work on the average superyacht, looking after 12 guests.
He expects competitors will move quickly to try and elbow him overboard, but there's a distinct first mover advantage. "Staying in front is going to be the true test," he said. There's an estimated 7000 superyachts sailing the world's oceans. They are between 24 metres and 75 metres long. Another category known as megayachts are larger again, but it's the more manageable superyachts where most of the demand lies. Owners saw the value in generating cash flow from a vessel rather than leaving it idle in a port.
"The Mediterranean is probably 80 per cent of the whole market," he says. The Caribbean is also popular. A 10-week period from mid-June to the end of August is the hotspot in Europe. He says Mischief fetches $400,000 a week and was fully booked last year for the peak season in the Mediterranean.
The headquarters of the Ahoy Club business is in London, but the technology is driven out of a Sydney office. A professional crew and butlers comprising 14 staff worked on the average superyacht, looking after 12 guests.
Mr Malouf tested the waters with being an entrepreneurial superyacht owner in 2015 by hosting a series of events in London aboard Mischief at London's Canary Wharf during the Rugby World Cup. He had celebrity chefs and former rugby union greats involved in the gatherings of up to 40 people.