Destination: Italian Riviera
Explore the Italian Riviera
The charm of the Italian Riviera will seduce and captivate you which is why it's one of the most popular charter routes in the West Mediterranean and a favourite of ours. Italy offers breathtaking landscapes, historical enriched cultures and of course, delicious food and wine. In this blog article, you will find some of our favourite stops for a charter itinerary however, our team will design your bespoke charter itinerary to suit your individual requirements. With over 1,400 yachts available to charter in Italy, you'll be sure to find the perfect yacht for you and your guests next adventure on the water.
Amalfi Coast
First up is the famous Amalfi Coast with its colourful and captivating small towns nestled along the winding coastal cliffside – unless you have been living under a rock, you'll recognise the postcard-perfect scenery a mile off.
One of the most picturesque towns on the Amalfi Coast is Positano, often billed as the "Jewel of the Amalfi Coast." There's no better way to see Positano's amphitheatre of coloured house and buildings on the cliffside than anchored by the water's edge. Tender into town and head for the hills for lunch at the exquisite La Tagliata. Indulge in authentic Italian cuisine with sweeping views as far as the eye can see. After lunch, lounge at the beach clubs or it's you seek a livelier surrounding, head to Spiaggia Grande. If you prefer to fill your holiday with culture and history than beach time, Pompeii is only an hour's drive away or visit the most beautiful gardens in Italy at Villa Cimbrone.
According to Greek mythology, Sorrento was home to the sirens, who lured passing sailors onto the rocks with their beautiful songs. It still attracts thousands of tourists each summer but now it's the panoramic views, wonderful food and relaxed atmosphere that do the luring.
Meander through the narrow streets of Sorrento's historic centre and discover trattorias, bars and shops or indulge in mouth-watering gelato. In Sorrento's artisan district you can purchase holiday mementoes of local crafts like leather and lace. But what you mustn't leave Sorrento without is some famous Limoncello. Enjoy as a digestif after dinner onboard your private yacht whilst the sun sets on another wonderful day in the Amalfi Coast.
There are many hot spots along the Amalfi Coast, and you could easily spend a week chartering this area alone. Our Concierge team are extremely experienced with the Italian Riviera would be delighted to send you a sample itinerary if you desire.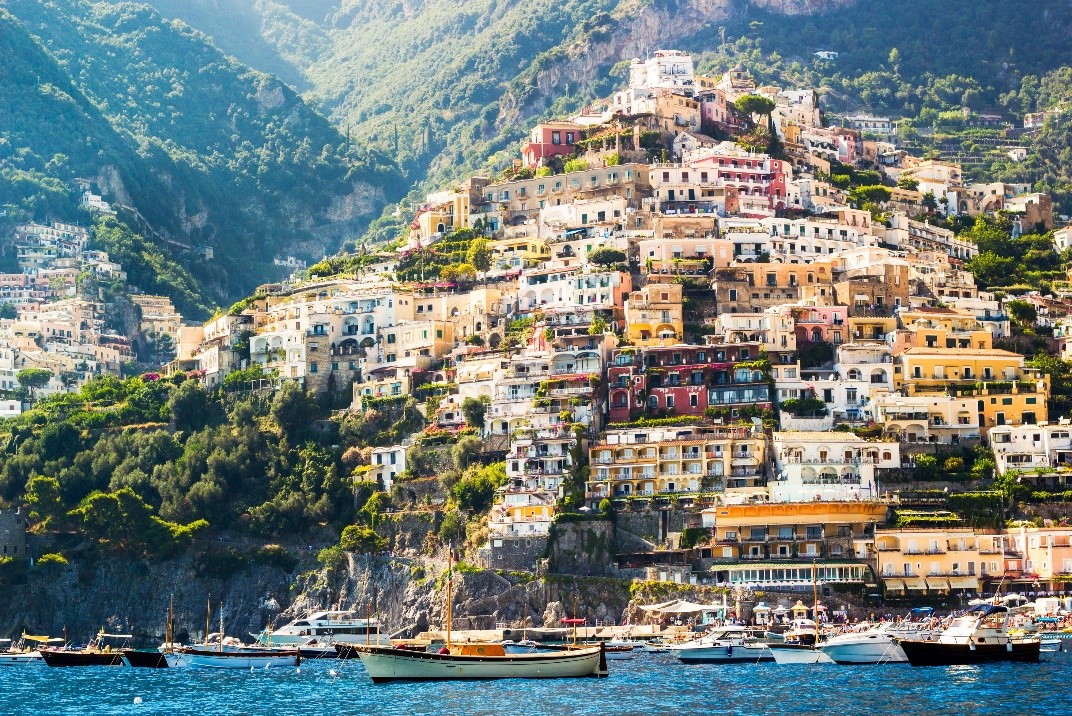 Capri
Open your blinds to see the rocks unfolding before you that keeps travellers coming back every year…The infamous Faraglioni. Capri oozes sophistication and beauty and is arguably one of the most photographed destinations in the Med.
If you are hoping for expansive sand beaches, then Capri will disappoint (lucky you've got a luxury yacht though!) but you should visit The Blue Grotto. This is Capri's top attraction, a cave in the side of the mountain that can only be reached by squeezing through a narrow opening at water level, so prepare to duck your head but definitely worth the experience as the water is illuminated from the sunlight outside of the grotto.
After building your appetite, the Zucchini Pasta and Sgroppinos are calling at one of our favourite restaurants in Capri, Conca Del Sogno.
As night falls, enjoy a themed dinner under the stars in Capri. This is a fun night for all the guests onboard your charter whether you choose a classic theme like La Dolce Vita or something more modern, it's fun for everyone and the crew will design your menu accordingly.
Island of Ischia
Capri often gets all the attention as it's the hotspot for luxury shopping and celeb-spotting, but Ischia is a stunning volcanic island in the Bay of Naples. As the island of Ischia is a volcanic island it offers many volcanic thermal spas to relax and unwind at – we recommend The Poseidon Gardens.
Take in some of the local histories, at Castello Aragonese or catch the sunset at Bagno Antonio, a small beach between Ischia Porto and Ischia Ponte.
Wake up in paradise and enjoy an alfresco Italian-style breakfast aboard your yacht charter before heading off to explore more of Ischia. If you enjoy hiking in nature, we recommend an hour-long hike to the summit of Monte Epomeo, the highest point on Ischia. If heights aren't your thing then head to Maronti beach for some lounging in the warm rays of Med sun.
Sardinia
One of the first stops on your list will be La Maddalena, renowned for its beaches, rocky granitic terrain, and lush vegetation. La Maddalena is one of the most exclusive yacht charter destinations in the Mediterranean and it's only 3 miles long. The waters are perfect for scuba diving fanatics and are swarming with marine life, it's the perfect place for enjoying your superyachts water toys.
Next on the itinerary should be Neptune's Grotto, a stalactite cave near the town of Alghero or alternatively, Sardinia is full of magnificent wineries located inland but very accessible by car.
Let your hair down in Porto Cervo with its renowned nightlife especially at Billionaire Club. The village itself is a fashionable playground for the jet-setters and was designed by the famous Architect Luigi Vietti.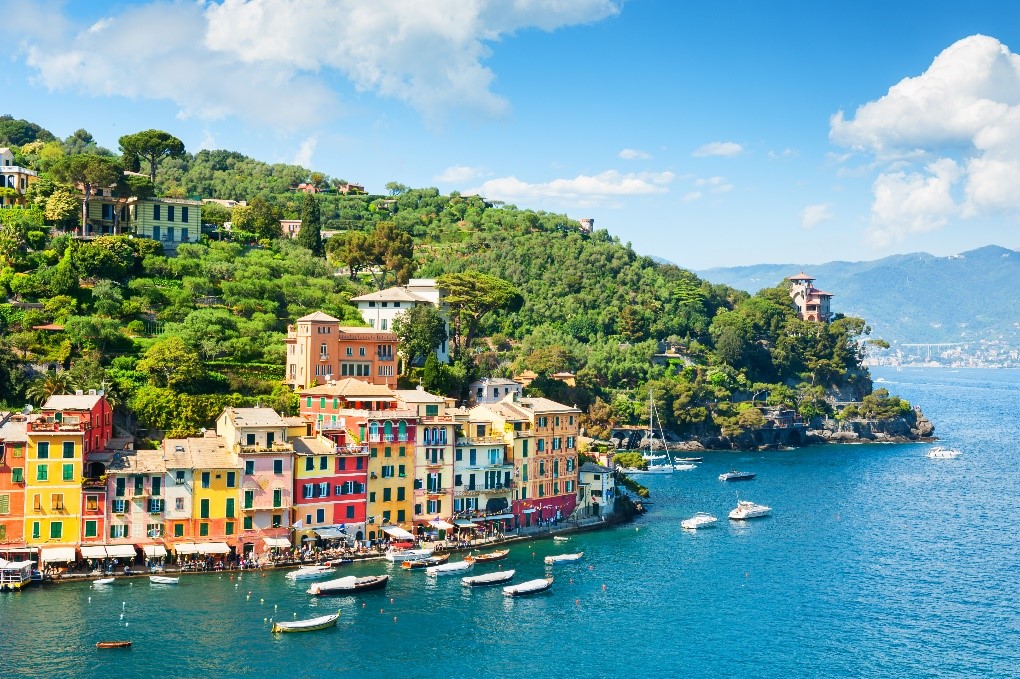 Portofino
Portofino is a fishing village transformed into an elite holiday destination for lovers of both simplicity and luxury. Explore the rustic town by strolling through streets dotted with outdoor seating and the air scented with freshly made pastries and Italian coffee. As a small town with less than 1000 residents, Portofino doesn't offer a central place for sunbathing like other Italian towns, but it does offer lots of Italian boutiques.
Sail along the coastline to Cinque Terre, which is famous for their medieval architecture and narrow colourful houses built into the cliff-side making a stunning view from the water.
With so many wonderful places to visit in Italy, it can be hard to know where you should embark for your yacht charter vacation, where to visit and where to disembark but that's where our team of expert come in. We will match an itinerary to suit you and your guests, we'll manage the bookings of restaurants, beach clubs or nightclubs along with the best beaches, walking routes and hidden coves.
Submit an enquiry below to find out more information on chartering a yacht in the Italian Riviera.