7 Days of Fun on a Superyacht...
Superyachts, Sun, Sea and Seclusion
Approximately, 23 weeks ago the world as we knew it changed, especially within the travel sector. Often, we travel to experience new cultures, awaken our tastebuds with local cuisines, enrich our knowledge for different destination and to treat our skin to some Vitamin C with better weather. Lately, travelling further afield has been a restrictive and many travel plans have been put on pause but at Ahoy Club we believe you still should book the holiday you deserve, in fact, we believe you deserve a break now, more than ever.
Yachting is the best holiday one could ask for. Chartering a yacht is a highly private and highly personalised experience where groups can enjoy the broadest range of holiday activities all from the comfort and luxury of their private yacht charter. Wake up in a new destination every day with no public commute, trade busy streets for quiet walking trails or hidden bays and swap public restaurants for private beach lunches – a holiday on the water is the perfect way to escape from the crowds this year. Read our weekly sample itinerary for a private charter packed with activities and you don't even have to go ashore…
Endless fun on the water
One of the perks about chartering a superyacht is the abundance of water toys at your disposal each day to keep you and your guests entertained for hours on end. Enjoy a leisurely kayak in the morning, depending on where in the world you are, you might spot some dolphins.
If you love the adrenaline, ensure your yacht has inflatable slides and climbing walls for you to enjoy in the afternoon. If speed is your thing then enjoy hours of fun on the water with Seabobs, Wakeboards, Jet Skis and Fliteboards.
If you're chartering in the Australasia or the Indian Ocean, there are many amazing diving spots where you can explore the colourful marine life.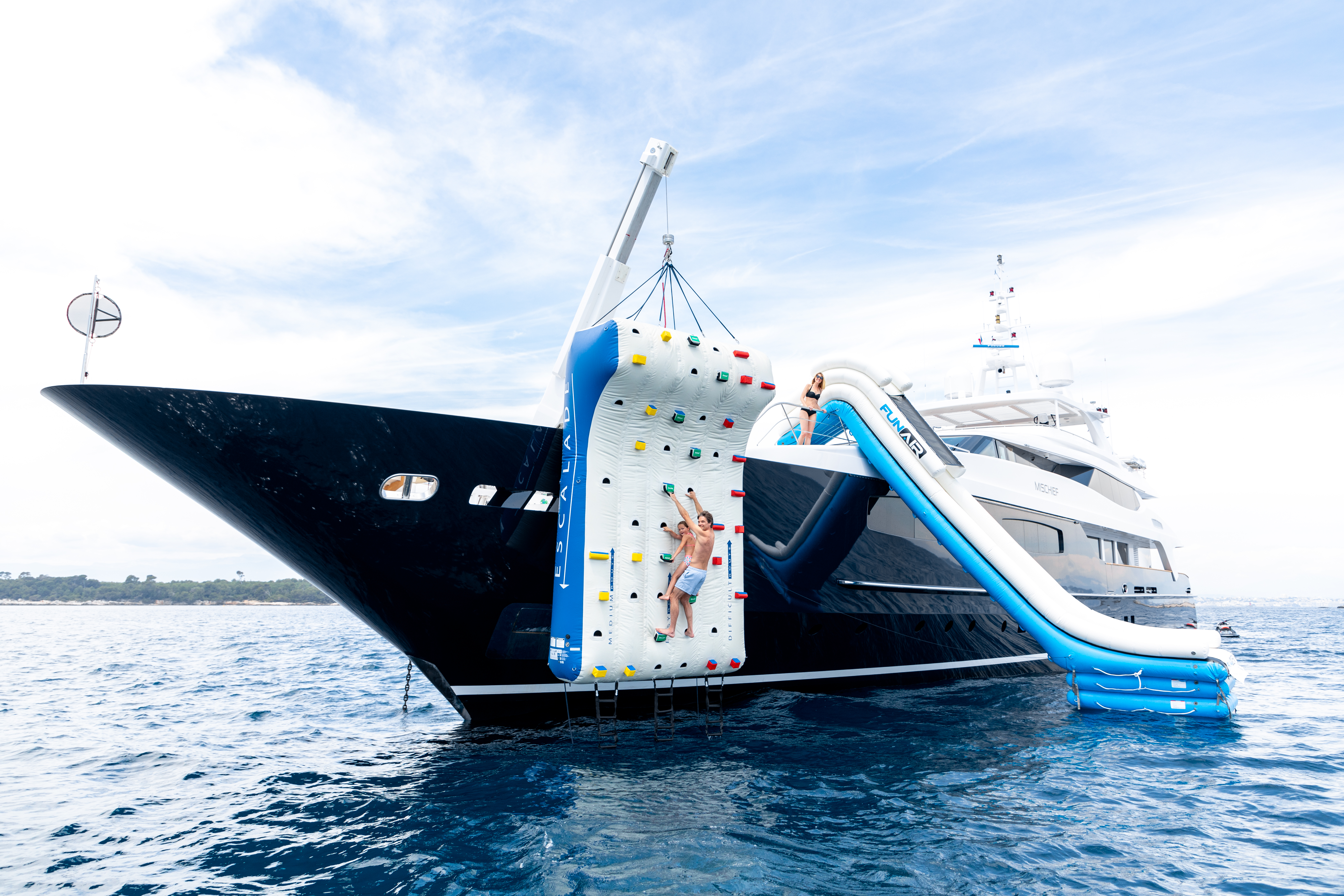 Keep active
Your yacht holiday is the perfect time to kickstart a healthier lifestyle. With an abundance of fresh sea air and vitamin D available daily from the natural elements, allow Ahoy Club to take care of the activity schedule for you. From daily yoga to virtual personal training, keeping active onboard is easier than you think. Many of our superyachts come with built-in fitness suites and gym equipment available at your discretion.
A night at the movies
You might not think having a cinema on board your yacht charter is something you desire, but it's definitely an added benefit and makes an enjoyable evening for all onboard. After a long day of bathing in the warm summer rays or enjoying the water toys at your disposal, there is sometimes nothing better than curling up with a variety of your favourite snacks prepared by your private chef and watching a movie under the stars.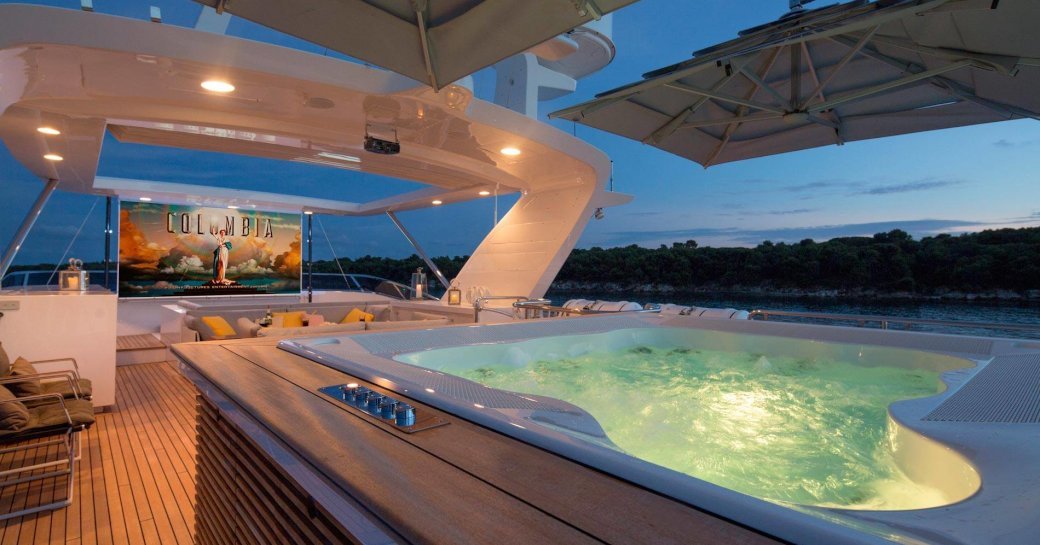 Themed Evenings
Reinvent an evening on your weekly charter with a themed dinner inspired by your favourite cuisine, film, or era. Whilst dining ashore at Ahoy Club recommended restaurants when chartering is often a highlight of the trip, dining onboard is often even better. Superyacht chefs are culinary masterminds and they have speciality dishes and a wealth of experience creating dishes for all types of cuisines so let them create a themed night for you to reflect your destination.
We often recommend a Mexican Fiesta, Masquerade Ball or Black-Tie event for our clients who wish to add an extra element of fun to their evenings onboard.
Wellness and self-care
If you want to completely disconnect from life's hustle and bustle and reconnect with yourself then a week on the ocean is for you. Our Ahoy Wellness Club is all about balance and designed for you to opt into as much or as little as you like – it's your week after all. Enjoy cooking classes, sunrise yoga or indulge in a massage or facial on board your private charter. Some of our luxurious superyachts come with fully equipped day spas, if this is an important feature, speak to one of our experts who will be able to advise on the yacht suited to you.
Relax and unwind at a Superyacht Beach Club
Life is busy and it's important we take time out to care for ourselves. A week on the water is perfect to reconnect, unwind and detox. Superyachts boast spacious decks for alfresco dining, lounging and other activities but have you ever considered adding a beach club to your yacht spec? Beach clubs are a stylish lounge area with a swimming platform at the aft of the vessel. They are a great additional space relaxing. Combining sun lounges, bars, spas and sometimes even pools; your superyacht beach club is the ultimate way to enjoy the sunshine and ocean without actually having to get wet. Perhaps you're in transit to your next destination or you want a day at the beach without the sand – here is your answer.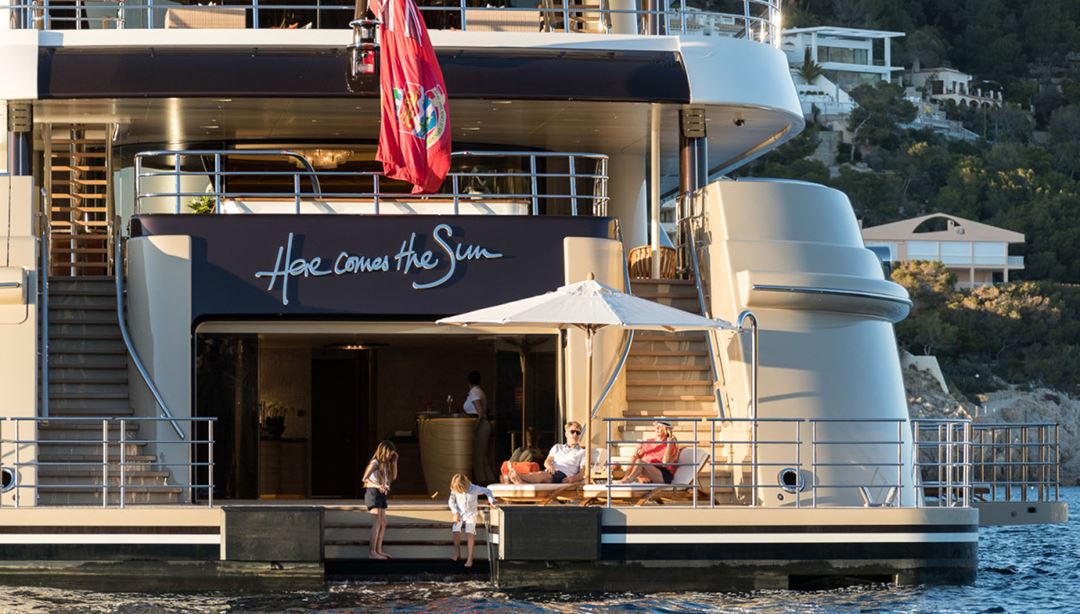 These are only a few of the great activities that you can enjoy on the water and away from the crowds on your next yacht charter holiday. For more information, please contact our Charter Team who can recommend itineraries, yachts and destinations suited to your every need.