Bali, Komodo and Rinca | Exploring Southeast Asia on an Indonesia Yacht Charter
Connecting two oceans and continents perfectly positioned on the equator for fantastic weather, Indonesia is one of the most beautiful destinations on Earth. A kaleidoscope of colourful coral reefs, volcanic island landscapes, prehistoric wildlife and breathtaking beaches – this tropical archipelago epitomises paradise on earth.
A popular destination for honeymooners and diving lovers, Indonesia serves up idyllic panoramic vistas with a mix of local cultures and cuisines.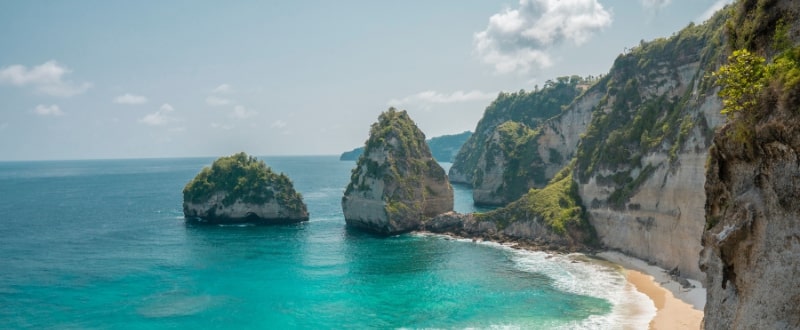 Bali
No visit to Indonesia would be complete without at least spending a few days on the island of Bali. Aside from its tropical charm, Bali is also the perfect place to embark on your yacht charter to explore some of the most beautiful Indonesian islands and islets. Check out the Sacred Monkey Forest Sanctuary, Mount Agung and Nusa Dua Beach while sampling local cuisine and fresh cocktails. Come evening, watch fire dancers on the beach surrounded by tiki torches and a warm breeze.
Satonda
A popular stopover for yachts and cruise ships sailing between Lombok and Flores, Satonda is home to Lake Satonda – a beautiful crater lake perfect for snorkelling, diving and swimming. This small yet perfectly formed island is a stunning nature reserve surrounded by protected reefs and full of exotic wildlife. Spend the day kayaking the lake and calm waters surrounding the island, kick back and relax on quiet beaches and hike your way to the 150m peak to soak up sweeping views over the ocean and neighbouring islands.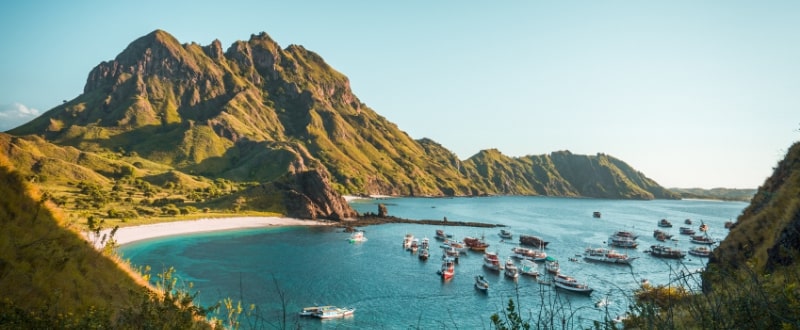 Gili Banta
Located to the North of Komodo National Park, the island of Gili Banta is a diverse paradise. Explore towering mountains, rugged beaches and stunning coral reefs with crystal clear waters and gentle currents throughout the year on this uninhabited island. With no villages, no restaurants and no resorts, the natural beauty of Gili Banta takes you back in time to an era before tourism and mass development in the Indian Ocean. Bays on the East of the island are deep and calm, providing a fantastic place to drop anchor. You may spot a dragon or two if you're lucky, but the number of lizards here is tiny when compared to Komodo and Rinca.
Komodo
Home to more than 1,700 Komodo Dragons, Komodo is a blend of lush forests, savanna plains, beautiful beaches and volcanic hills made for exploring. An absolute must-visit on Komodo is its famous Pink Beach – which has a stunning rose hue thanks to the nearby red corals. When exploring Komodo, you will need an experienced guide or ranger to escort you from location to location. Due to the illegal sale and attempted smuggling of 45 dragons in 2019, Komodo is now limiting the number of visitors to the island as a means of preserving the population. Pre-book your visit in Labuan Bajo and then enjoy a few days of swimming, snorkelling, scuba diving and sunning yourself at Manta Bay and the Pink Beach.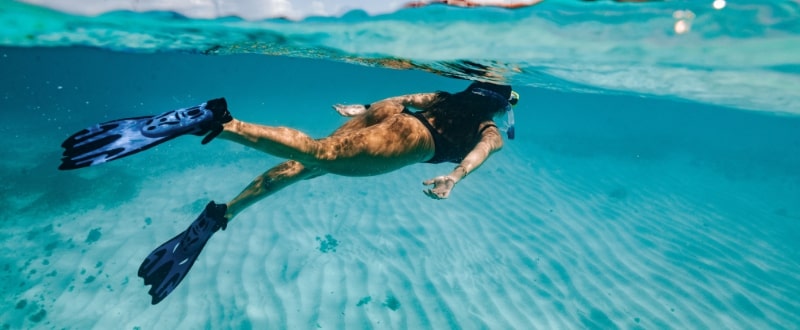 Gili Lawalaut
Another destination in the Komodo National Park, Gili Lawalaut, is home to some of the best dive spots in the Indian Ocean. The Northern and Southern bays provide the perfect place to drop anchor and enjoy night dives with squid, shrimp and rays, while the small landslip at low tide between Gili Lawa Laut and Gili Lawadarat gives you easy access to two islands in one. When it comes to the best places to dive, Crystal Rock and Castle Rock are fantastic for their soft corals, morays, batfish, tuna and crustaceans – along with some great small beaches for sunbathing and soaking up the views.
Labuan Bajo
Found at the Western tip of the Island of Flores, Labuhan Bajo is a bustling fishing town and the Capital of West Manggarai. An extremely popular boarding point for luxury yacht charters in Indonesia, the island is home to spice, tamarind, banana and coffee plantations, beautiful waterfalls, stunning beaches and lush foliage. If you're heading to the island of Komodo or Rinca, Labuan Bajo places you within easy reach, providing everything you need from restaurants and shops to accommodation while exploring neighbouring islands.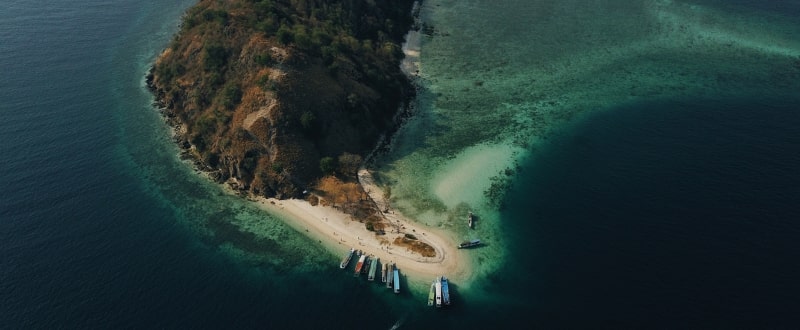 Rinca
While Komodo is home to the majority of the Komodo Dragon population in the Komodo National Park, Rinca also has a large population of 1,000+ dragons and is the best place to see them in their natural habitat. Home to lush forests, watering holes, grass fields, small beaches and one tiny fishing village, Rinca offers up 318 km2 of prime hiking and wildlife spotting. Aside from Komodo Dragons, saltwater crocs, wild boar, buffalo and tropical birds can be found in the mangrove areas of the island. While the beaches are beautiful and the waters clean, the dragons also like spending time sunning themselves here. You'll be more comfortable soaking up the sun from your yacht a kilometre or two away from the coastline with crew to assist if you need any refreshments..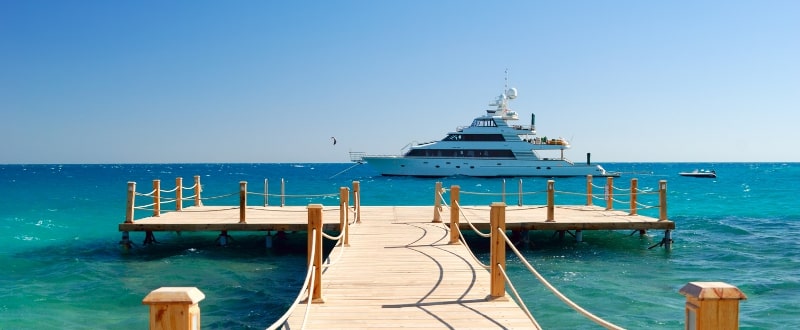 Sumba
Everyone has heard of Bali, Sumatra and Borneo, but the island of Sumba is still largely undiscovered by tourism. However, things are changing and it is cited as being the new Bali. Across the island, traditional villages and friendly locals welcome visitors while snorkelling is a must at the Coral Triangle. One of the best kept secrets is Air Terjun Tanggedu, Sumba's breathtaking waterfall. With two rivers running between layered, limestone cliffs converging into waterfall terraces, this is worth a daytrip through the Savannah. With 200 species of bird, Jurassic rock formations and unrivalled sunsets over the Indian Ocean, Sumba is the perfect climax to an amazing journey around Indonesia.
Explore Indonesia On a Luxury Yacht Charter
From the second you step onboard until the moment you leave, Ahoy Club guarantees you an authentic 5-star experience with the highest levels of service and meticulous attention to detail.
Ready to set sail on the Indian Ocean and explore some of the most beautiful Indonesian Islands in absolute comfort and style? Get in touch today or browse our charter yachts below to inspire your next visit and explore the many options we have available.